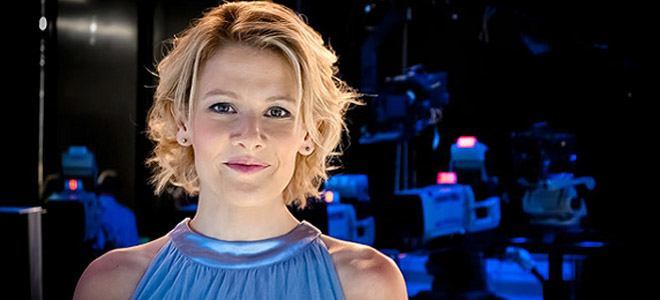 The Formula One circus rolls into Shanghai this weekend for the third race of a packed 2013 calendar. It has been three weeks since Malaysia and the controversy surrounding team orders at Red Bull, so it's set to be an exciting race weekend. To get you in the mood, we've got the second instalment of our Track Talk series, wherein we've talked to BBC 5 Live's pitlane reporter Jennie Gow about her favourite moments last season, her career so far and the greater visibility of women in motorsport.
Nationwide Vehicle Contracts: 2012 was a consistently exciting season and the first you covered in full. What was your favourite moment?
Jennie Gow: Valencia was an amazing race. I think Alonso crossing the line, pulling over, wrapping himself in the Spanish flag and weeping in front of his home fans was a very special moment. It obviously meant a huge amount to him and we all got caught in the emotion and atmosphere at the circuit.
Even the podium was a very special one (as we were thrown back to 2005 and the same podium as the French Grand Prix) with Alonso on the top step alongside Michael Schumacher and Kimi Raikkonen. For a race we all thought was going to be boring and processional, it was anything but.
NVC: What are the unique challenges of being a pit-lane reporter?
JG: Working in the pit-lane is an amazing experience. To be close enough to a Formula One car to be able to touch it and smell it is the things dreams are made of. However, it is a very unique challenge. We spend nine months of the year on the road together so there are times when we are like one big happy family. However, there are more pressured times when it's every man or woman for themself. There are always going to be moments when tempers are frayed and drivers or team members don't want to speak to you.
NVC: Do drivers and pit-crew members ever refuse to speak to the press when disaster strikes?
JG: The first time I covered a race was in Montreal and Fernando Alonso crashed out. He was so angry that he barged through the crowd of assembled media waiting to speak to him and that was the last we saw of him for an hour. It's a high stakes sport so when it goes wrong obviously, drivers and team members can be very emotional and sometimes, in those situations it's best not to speak to the media straight away in case you say something you regret later!
NVC: A lot of new circuits have joined the Formula One calendar over the past few years (India, Texas) with a few more (New Jersey, Russia) set to make their mark on the sport over the next few years. What is your favourite circuit on the calendar and why?
JG: The patriot in me will always answer Silverstone to this. There are some amazing new circuits around the world now and I think everyone was really impressed with Austin when we went there – and obviously a Grand Prix in New Jersey would be amazing, but the heritage of the older tracks is unbeatable in my opinion.
Monaco, Spa and Monza all rate high on the list but the home of motorsport and the place that gets my heart rate beating with a skip in it is definitely Silverstone. Let's just hope it's a little dryer this year than in 2012 so everyone can enjoy it!
NVC: If you could have a pit-lane interview with any F1 driver at any moment in their career, who would it be?
JG: That's a really tough question because we have been blessed with so many amazing drivers through the years. Graham Hill had such a twinkle in his eye, he would definitely be on the list. Alain Prost would have been fantastic to speak to during his battles with Ayrton Senna. But for me, if I could have sat down (knowing what I know now) with Senna just after he had come out of the infamous safety briefing with FIA President Jean-Marie Balestre when he spoke of his concerns ahead of the German Grand Prix in 1991. I think it would have been an explosive and spectacular interview.
NVC: Your website still carries a MotoGP feed and you covered speedway and motocross regularly in your early career. Do you miss reporting on two wheeled racing?
JG: I'm a speed freak so anything that moves fast I love reporting on. If it were hovercraft racing or lawnmower racing I would still be up for it! I started out reporting on bike sport and still keep an eye on results and news wherever I am in the world. I'm still in touch with some of the riders I have met along the way as well. They are very genuine, talented people and when I can I still try and go to races.
However, covering the F1 season is a pretty full on role and there isn't too much spare time to do that, which is a shame. I will be at the British MotoGP in September this season and still work on the bikes when I get a free weekend.
NVC: Did your job change dramatically when you made the transition to F1 reporting?
JG: There isn't a huge amount of difference between covering 2 and 4 wheeled motorsport in my opinion because my main role is to talk to and about the people and their stories. There are more people in the paddock in F1 but everyone has been really welcoming and there are some great characters lurking around the world of F1 so it's a fun and interesting job that varies every day and I love it.
NVC: You've been a presenter for events at the peak of two-wheeled and open-wheel motorsport: are there any other areas of motorsport you'd like to cover?
JG: I've presented rally too – I love it and it's a really accessible sport. Some of the motorsport I cover now isn't so accessible, so I really like that aspect of rally. I head to the Jersey Rally whenever I can and have been lucky enough to work on it for several years. It's a fab event with some amazing people and cars. I'd like to do a bit more rallying and I'm dying to get behind the wheel of one of those Mark 2's so maybe one day I'll get the chance!
NVC: Women are becoming more and more visible in roles on and off the track in Formula One - as presenters, engineers, test drivers and most recently as team principals. Nevertheless, it has been over twenty years since a woman has even been entered for a race. How long do will we have to wait to once more see a woman on the grid?
JG: I fear we still have some way to go until we see a woman competing in Formula One, although it saddens me to say it. I get asked a lot about why women aren't as good as men in motorsport… the honest answer is that we can be as good, if not better than men but it will take time. Most boys get into karting when they are really young and progress that way. At the moment girls are more like to be drawn to other sports than to spend time in karts, so I think it's a problem of heritage at the moment. If we can get more girls into karting at a younger age there is no reason why they can't develop the same skills as the boys.
NVC: Do you think more women are attracted to motorsport now that there are more role models?
JG: There are some great girls coming through at the moment; Alice Powell competed in GP3 last season (a feeder series into F1) and was the first girl to score points in the championship. But finding funding is increasingly hard so we need to get behind the girls and help them succeed. The more women that enter motorsport, whether that be in media, mechanics, engineering or driving, the more women will be attracted. I am a real advocate of getting girls involved at an early age and would love to do more to help those interested in working in motorsport to get more information and help.
NVC: When you're back at home, what do you drive?
JG: I would love to say I drive a fancy car like a McLaren or a Ferrari, but the simple truth is my car spends most of its life sitting around waiting for me to come home from one race or another. So I drive a Toyota Yaris. I actually bought it on the TV show the 'Used Car Roadshow' and they have it on repeat every now and then, which is hilarious (NVC: better still, here it is on YouTube). I had to choose between my Yaris or a retro-styled Nissan Figaro – very different cars and I'm always glad now when I'm carting around my massive suitcase that I chose the practical option over the sporty number!
NVC: What are your predictions for Formula One in 2013?
JG: That's a really tough question so early on in the season. There is still a long way to go and to quote Lewis Hamilton, 'This is a marathon, not a sprint'. However, with so few changes in the regulations from last season it's hard to see past Red Bull taking a strong position in the championship. Everyone is playing their cards very close to their chests at the moment but it looks like it will be another very close and thrilling season. I really hope so as last year was so amazing.
I think Kimi Raikkonen will do well this season and challenge for more wins and I expect the usual suspects, the Ferrari's, McLaren and Mercedes to be up there too. Whatever happens, all the races will be live on BBC Radio 5 Live and I can't wait to bring you all the best action from the pit-lane as it happens!
A huge thanks to Jennie Gow for answering our questions. In addition to hearing her on radio throughout this year, be sure to check out her blog and follow her on twitter. We have more interviewees lined up for Track Talk, so check back on future race weekends!