Formula One returns to one of the heartlands of motorsport this weekend, with the prospect of another fast weekend at the Autodromo Nazionale Monza for the Italian Grand Prix. Like Ferrari, the race is considered a home fixture for Toro Rosso. We recently got in contact with Toro Rosso driver Daniel Ricciardo to talk about the sport and the year ahead.

Of course, no sooner had we heard from Daniel than we got word of his promotion to the second seat at sister team, Red Bull Racing. The timing of the announcement was as much as surprise for him as the rest of us - though the move has been widely rumoured and strongly deserved. In response to a now redundant question, he had told us that "If it's news I want to hear, I am happy to wait. I would prefer to wait till December and get what I want then hear something tomorrow that I don't".
Read on to find out what Daniel thinks about the team he is leaving, his past triumphs and the champion he will soon be driving alongside.
Nationwide Vehicle Contracts: Like so many motorsport stars, you started racing at a young age. What gave you the ambition to start racing? Who was your racing hero growing up?
Daniel Ricciardo: My Dad did some racing when I was a kid and I think that's when I was first exposed to it and found a love for it. Then growing up I loved Ayrton Senna and Dale Earnhardt.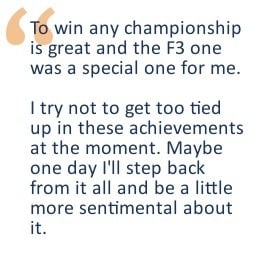 NVC: At what point did you know that motorsport could actually be a career for you?
DR: Not until I was about 17 when I did a race in Valencia, Spain. It was quite a big race and I exceeded my expectations amongst some talented drivers so that's when it clicked for me that it was really what I wanted to do.
NVC: Your past triumphs go a long way to explain your quick progress through the formulas. What does it mean to you to have won the Formula Three championship? Do you ever get nostalgic for racing in the feeder formulas?
DR: To win any championship is great and the F3 one was a special one for me. Lots of big names had held that title previously so that was a good feeling, but to win any race at an international level is a rewarding feeling. I try not to get too tied up in these achievements at the moment. Maybe one day I'll step back from it all and be a little more sentimental about it.
NVC: What do you rate as your biggest triumph in Formula One so far?
DR: I have enjoyed some battles with some of the greats. Schumacher in Suzuka, Webber in Singapore to name a few. I really enjoyed those.
NVC: What does a young driver in F1 have to do to get noticed by the top tier teams?
DR: Be fast and show control under pressure.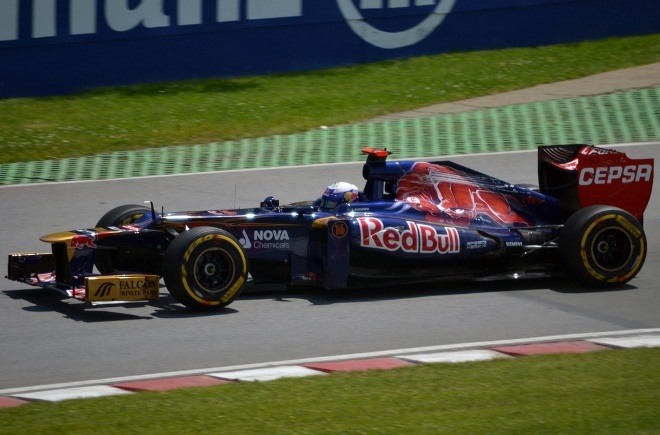 NVC: What do you think the future holds for Toro Rosso? Could the team ever be a championship contender, or is it best as a testing ground for talented juniors?
DR: I see the team moving forwards. I think there has been a strong turnaround in the last year for the team. To be a championship contender is something else for now, but the progress the team has made since I was there has been impressive.
NVC: You've now raced at countless circuits around the world. Where is your favourite, and why is that?
DR: Best circuit in the world for me is Macau. F1 doesnt go there but that is the best I have raced at. On the F1 calendar there are many great ones, I enjoy Canada a lot.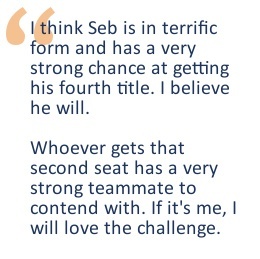 NVC: Off the track, what do you drive?
DR: In Europe a VW Golf GTI thanks to the team. Back home in Australia a Toyota Hilux.
NVC: Can you ever imagine being tempted away to other motorsports? Are there any championships or events you'd love to race in?
DR: I am a big fan of motorsports and yes I do enjoy other categories. At the moment I am only interested in racing F1. But I do enjoy all sorts from NASCAR to MotoGP. I would love to have a go on two wheels one day.
NVC: Can anyone catch Sebastian Vettel this year, or will we be looking at the sport's youngest ever quadruple World Champion by the end of the year? Does that kind of success cast a long shadow over whoever gets the second seat at Red Bull Racing?
DR: I think Seb is in terrific form and has a very strong chance at getting his fourth title. I believe he will. Whoever gets that second seat has a very strong teammate to contend with. If it's me, I will love the challenge.
Nationwide Vehicle Contracts would like to extend their congratulations to Daniel for securing Mark Webber's old seat, and thank him once again for sharing his thoughts with us. If you have enjoyed this interview, take a look through the Track Talk archive for more voices in motorsport.
Introductory photo of Daniel Ricciardo by Flickr user parepinvr4. Photo of Daniel Ricciardo driving for Toro Rosso at 2012 Canadian Grand Prix by nic_r