Motorsport is emerging in many countries around the globe, with its gravitational pull reaching newer countries that are emerging with a lot of young drivers that wish to make it to the top of the ladder.
One such individual is Indian race driver, Advait Deodhar, who is looking ahead at a competitive racing career, ever since he joined the Formula LGB4 series in July of 2012 and has not looked back.
The 23-year-old, who hails from Mumbai, is one of the young drivers along the likes of Parth Ghorpade, who are fighting their way forward. The former car design student talked to us here at Nationwide Vehicle Contracts about his feelings towards motorsport, as well as the general consensus towards what the Indian population's opinion is towards racing.
Nationwide Vehicle Contracts: Advait, thank you for taking the time to talk to us here at NVC. When was the first time that you raced any type of car, and what were your first thoughts?
Advait Deodhar: The first time I got into a racecar was a front wheel drive rally car in an Autocross rally back in 2008. But it was around 4 years later when I took my first "baby" steps as a racing driver in July 2012, competing in the Formula LGB4 series.
It was truly the moment that I had been waiting for my entire life – to drive competitively in a single-seater. My first thoughts were that this was where I really felt that I truly belonged here.
NVC: You started rather late when it comes to competing in racing from 2012. What was the motivation to get behind the wheel, especially with having the likes of Karun Chandhok being a motivational icon to get into Formula One?
AD: I always wanted to become a racing driver for as long as I can remember. I always loved speed, but back then, it was on a bicycle and competitive sailing.
Until I went to Italy, I always said that I'm going to race, but really didn't back up my words with action at that point in my life.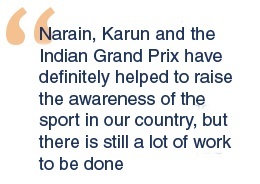 I ended up moving away from home and spent 4 years in Italy, growing up, studying and being away from family and friends. I lived in the mecca of motorsport and realized that I didn't want to draw cars for the rest of my life, as what I really wanted to do was to get behind the wheel and race.
In many respects, I felt that in later life, say turning fifty and looking back at what I had done, I didn't really want to have any regrets by not giving it a proper go as a racing driver.
By taking a lot of interest in those moving up via the feeder series, such as GP3 and GP2, it gave me more drive and motivation to go for it. If Narain and Karun could do it, why couldn't I?
NVC: You turned down the chance of joining Italian car design studios to pursue a passion that grew during your four years of studying in Turin. Would that be a fall back plan if the racing did not occur for any reason?
AD: By letting go of job opportunities and my residence permit, I am actually taking a big risk. I may sound rather naïve here, but I do not believe in "if." There is no reason as to why it shouldn't work out, but only if you work hard at something you love and give it absolutely everything you have, then there are no excuses for not having tried.
I'm someone who takes each day as it comes, and one way or the other, I'll be working in some capacity within motorsport for the rest of my career.
NVC: What has been the biggest obstacle to overcome as an Indian driver, as there are many that want to go racing following the fact that the Chandhoks and Narain Karthikeyan have made motorsport more popular in India? Even though cricket is the biggest sport there.
AD: It mainly comes down to a lot of the population not having a fuller understanding of the Indian motorsport scene. The funny thing is that a lot think that I am already in Formula One.
Because of the fact that Formula One doesn't get that much coverage in India, that is why a lot of the companies will back and sponsor cricket as a sport, because of its high-flying profile in the country.
But with the vast population that India has, there is a possibility that there are those that want to lend a helping hand for those young drivers trying to achieve their dreams. It is a case of finding those that want to help.
Narain, Karun and the Indian Grand Prix have definitely helped to raise the awareness of the sport in our country, but there is still a lot of work to be done.
NVC: What is the general consensus in India about motorsport when you discuss it with friends and family?
AD: It is clearly a case of mixed emotions.  Some people that I talk to say that it is cars going round and round in circles, whereas others find motorsport to be extremely exciting.
They also tell me that it is great that someone like myself is trying his best to climb the ladder to the very top. It still all boils down to a lack of knowledge, and because Formula One is prominent, that is where it starts and ends for the majority.
NVC: Are there many reservations that may see India struggle to have a top-flight driver in this economic climate?
AD: As of right now, F1 has only had two drivers, with the sole reason being a funding issue. Because of this, there are many young drivers that are talented, but have no opportunities to be showcased as a result.
There are many Indian companies that could potentially invest in an Indian driver, who is making his mark in a European series, which would be a great help. However, it is first of all a case of getting there, where no investment is really being given.
From a technology standpoint, a lot of the cars that are being currently raced in India have less than 95bhp, which shows that there is still work to bring more powerful cars to our country. The Formula BMW and Formula Ford 1600 series were introduced last year by JK Tyre and MRF, as there is an increasing need for these kind of championships in India to help drivers to progress before taking the plunge and move off to Europe.
NVC: You settled in rather well with the MRF, as well as competing in autocross along your journey so far. What made you realize that you had what it took to compete?
AD: It was my first ever attempt in a slicks and wings car, but was a good wake-up call.  I would say that my lack of experience and my performance in a very small period of time showed me that I have what it takes to compete in racing. Apart from that, I have an understanding of the racing world from the many different angles that come as part and parcel of it.
NVC: How are your plans going for 2014, as we understand that you're considering a campaign in the Formula Masters series?
AD: I'm working very hard to get the budget together for Formula Masters, but the going is tough at the moment.  For my career, it is the best "next step" to take after India, before trying to move back to Europe to compete in 2015.
I've been contacting every Chairman, CEO, MD and HNI motorsport enthusiast in India and beyond, but there has been mixed reactions from all parties considered, I am certain that it will come together, but that time will come when someone says: "Yes, let's work together on this."
NVC: Are you getting much in the way of investment and sponsorship to help with your campaign?
AD: I am the first Indian driver to use an investment plan to draw potential attraction and funding from potential sponsors. It does take some explaining, especially when you have to factor in that a lot of people may not understand the difficulties that drivers face, as well as how they progress along their careers.
This plan is what I feel is the catalyst for my career to move forwards in the right direction. I am currently in talks with a variety of finance houses, private bankers and equity firms, which should hopefully bring about some good news in the coming months.
NVC: Finally, you drove for Volkswagen in a stunt-driving event, driving several of the range that is currently available in India. How did that come about, and are they potentially going to ask you to do some work for them soon?
AD: Volkswagen's involvement within their Indian motorsport division is rapidly expanding, and they are doing a fantastic job with the work they are doing. The stunt show that I was selected to do in Mumbai took place in a mall, showcasing the new Polo GT, having taken part in a shootout organized by VW themselves, who were giving a chance to young drivers. The experience itself, overall, was simply fantastic.
I was one of 43 entrants that went to the Pune VW plant to take part, with a variety of events to test us all, including drifting, slalom courses and parallel parking. The cars we used were modified VW Ventos, which were put to the test during three elimination rounds. In many respects, it may have not been the best way in VW's eyes to market the new car, but it was a hell of a lot of fun doing it.
NVC: Advait, thank you very much for your time and all the best in 2014.
AD: Thank you very much.
Advait may look like he does truly belong in a Bollywood movie as the lead character, but beneath that handsome exterior lies a spirited and determined individual, who is fighting all the way. He could be the next driver from India that really makes his mark in racing and lets his success do the talking.
We would like to thank Advait for taking the time to talk to use here at NVC, and wish him and the team all the best of luck in 2014. We look forward to hearing what this driver ends up racing this year, and wish him the very best of luck. (For more of our Track Talk series you can read more interviews in the series here)