There are many that are trying to break into Formula One, and have had a great run of success along the way. One particular individual is a young US driver that was in the top three of the GP3 ranks, Conor Daly, who at the age of 22, was in the hunt for overall glory, but had his fair share of ups and downs that come as part and parcel of the world of racing.
The Indiana native recently competed in the Rolex 24 at Daytona, and got his first taste of sportscar racing with RTR Motorsport, with their run coming to an unfortunate end at 3.30am during the race. Fellow team driver Chris Cumming was the last driver to take the wheel, before an accident at the bus stop caused significant damage that retired the car from the race itself.
He moves forward to one day hopefully following in the footsteps of his father Derek, who raced in Formula One with Williams, before going to Indycar and sportscar racing. Conor kindly spoke to us here at Nationwide Vehicle Contracts about his thoughts on racing at Indianapolis Motor Speedway, his GP3 season and a indirect Hollywood connection, amongst other topics.
Nationwide Vehicle Contracts: Conor, firstly, thanks for taking the time to talk to us here at NVC. A good season overall for you with a win in Valencia and several podiums too, finishing third overall behind Daniil Kvyat and Facu Regalia. How did the season go from your perspective?
Conor Daly: It was good. It was a tough year, but it started off pretty well. I was in a good position until around Silverstone, especially with the whole jump-start issue, where a lot of people, including myself, didn't think that it was.
We also had another bad weekend in Germany, due to an unfortunate team mistake, as the wheels weren't connected going out for qualifying, so as soon as qualifying goes badly, your race weekend does too.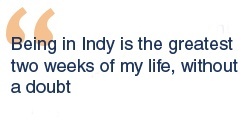 After that, it was back on track with a double podium in Spa, where I kind of put myself back in the championship fight going into Monza. Then Monza was of course where it all ended, possibly along with my European career unfortunately, when Dino Zamparelli took me out.
I was in a position already before we even got to the first corner, where I was P2 overall and ahead of the championship leader, who was my teammate, by several positions, which would have put me ahead in the title fight. Of course, you never know what might have happened, as it was a good position to be in. But when Race 1 goes bad, it's difficult to pick yourself for Race 2 when you start from the back.
I had a great race for the Sprint at Monza and really enjoyed it, and had a good weekend in Abu Dhabi, doing what we did to finish third overall. It was a shame, as I was going to take the fight to Dany and we were fighting all year round, so it was one of those things where I wish that I had been in a better position at the end of the year, but most of it was out of my control.
NVC: You've also been rather busy this season, especially competing in the GP2 series with Hilmar Motorsport at Sepang, finishing 13th and 7th in both races respectively. It must have been a bit of a big leap to take, even from GP3, which has moved from turbocharged to normally aspirated engines. What were your thoughts as a single-seater racer moving into that category?
CD: GP2 is fantastic, as I really enjoyed my time in the car and I think it went really well, to be honest. For the amount of track time that I had and after the penalty that we had in the first race, for all intents and purposes, it could have been reverse grid pole for the second race. It was cool to be involved and get that kind of experience, with me doing well and enjoying driving the cars, but unfortunately to be a part of it full-time, you need a budget, which is obviously the next challenge. We'll have to see how that comes about.
NVC: Then there was the Indy 500 that you raced in with Foyt Racing in the No. 41 Dallara-Honda, where Tony Kanaan finally got his face onto the Borg-Warner Trophy after years of trying. You missed out on the Rookie Orientation program due to racing with ART in Barcelona, but it must have been a unique experience getting into a category where your dad, Derek, has raced before.
But unfortunately, you were the first person to hit the wall during the month that leads up to the big race itself. Just give us an idea of what it was like in the car, slipstreaming at 200+ mph, when you're pushing hard from the very beginning.
CD: It's incredible. I have tell everyone, especially people in Europe to not judge Indycar until you actually know about it and seen races and what goes in, as well as even being in the car itself. Everything about the month of May and being in Indy is the greatest two weeks of my life without a doubt, and even though we had the crash that shouldn't have happened and some of the things that were going on, which were out of our control.
That didn't help, but it was all part of the experience, which added to the emotional finish of the race itself, as I was really happy to get through the entire race and being competitive in a lot of different aspects, so I loved it. It's so different, so fast, so intense, so difficult, a lot more difficult that anyone like me could have pictured.
I have so much more respect for everyone that has competed in the race and I tell this to other drivers that I wish they can have an opportunity to just try and qualify for the race, as it is just an incredible feeling. I'd love to do it again sometime, but I would also like to see a few guys from Europe and try it as well, because I think its an experience that you'll want to have, because its fast, dangerous and it's awesome.
NVC: Your team mate for the 500 was Takuma Sato, who had some welcome advice for you at the "Brickyard." What did he give you in terms of what you could learn from?
CD: Well, it was a great honour to race with Takuma, as I'd been watching him in Formula One since I was a kid, and I'd heard some great stories when I was at Carlin in 2011, as he also drove with them. He was a very good person to have on our team, as he was helpful wherever he could be. Of course, he's still Takuma Sato, has his interesting aspects and his "no attack, no chance" kind of persona.
It was even more of an honour to be his team mate and it was really cool. He's also a really smart guy, as he is very technical and studies a lot of the data that was gathered. A lot more so than I expected.
NVC: That's very true when it comes to Japanese drivers, such as Takuma and Kamui, who go into such metronomic detail when it comes to studying the data. It would be the case that it sets a good impression on young drivers like yourself, especially when it comes to going forward in your career, no matter it leads.
Your father, Derek, who made a name for himself in F1, Indycar and sportscar racing, has been your mentor throughout your career. He retired from racing the year after you were born, but he got the chance to test the 2004 Jordan F1 car. Did you actually watch him behind the wheel, or was it a case of watching on the TV back home in the States?
CD: I was actually over there for the prep at the workshop and got to even try out their steering wheel simulator at the time, as at the time, I was racing go-karts, so it was pretty cool for me. That was a great experience, getting to see him do that and what made it even funnier was that I was there in the very same workshop eight years later getting ready for my test with Force India.
He's still a very big inspiration as a mentor to me, and has been a really big help so far.
NVC: One thing a lot of people may not know about your father, is that he was involved with Sylvester Stallone in the film "Driven," and spent six days with Sly, who jumping into the role as former Indycar champion, Joe Tanto. Were you able to meet Sly himself?
CD: Unfortunately, I wasn't, as I was a bit younger back then, but he still has the picture of himself and Sylvester at his office at the driving school. I think everyone knows that movie, even if they think it was a farce. I thought that it was pretty cool at the time, but "Rush" has since destroyed it in every sense.
NVC: You've had a prolific career back home in the States, especially winning the Star Mazda title with Juncos Racing back in 2010, but you also went and won the MRF Challenge Formula 2000 series in 2012. What is it from your perspective, Conor, when it comes to supporting young American drivers like yourself and Alexander Rossi to get into Formula One?
CD: That's the big difficulty to be honest, because people wonder why there are no Americans in Formula One. This is due to the fact that we don't have the support to get there. It's difficult enough to get over to Europe like Alex and I have already done, and I was able to do that through the scholarships that I won in Star Mazda and then through a lot of assistance from Force India over the last two years.
I personally don't have any significant support from America from any companies, but I have three or four personal sponsors that have been able to help out with whatever they can. The majority of it, however, has come through Force India. That will be the case for both myself and Alex.
For me currently, I don't have anything close when it comes to being in Europe, as it all comes down to a funding issue. Rossi is fortunate to have a great relationship with Caterham and is in their GP2 program again this season, but if the price tag for one of their seats is 20 million Euros, so far both of us would be saying "How do we get that?" That's the unfortunate thing, as you have a lot of different companies in Europe who recognize the significance and huge level that Formula One is at, as well as its global scale.
They see the benefit in getting involved with a driver or a team, but when we talk to anyone in America, no one seems to see that. They say that it would be awesome to see an American in Formula One, but guess what, we do need help in getting there.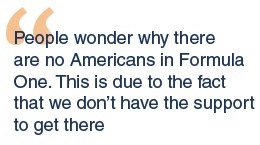 England has the Racing Steps Foundation and other schemes that help young UK drivers out to try to get to Formula One. Brazilian banks are always supporting their drivers, as well as Venezuelan oil companies. But that is the big issue, as we don't have anything like that when it comes to getting the support, especially when it comes to moving to Europe.
But when you get over here and win, doing rather well like I did last year, it was really rewarding, especially when it came to doing well against the best young drivers in the world, racing on Formula One weekends. To get any further, we are going to need some help…
NVC: Every driver has an embarrassing moment, be it public or otherwise, as you found out after winning the Stars Of Karting race in Shawano, getting dumped in the pool, which was posted on your father's YouTube Page. You also found out that a kart racesuit isn't waterproof or fireproof at the same time, and it must have been pretty cooling to get thrown in the pool after a hot and sweaty race?
CD: That was cool, as it was a part of that track in Wisconsin that there was a pool by the podium. It was the done thing that if you won, you're getting tossed in the pool, but I said "No, I don't want to be tossed in." Sure enough, I got wet and it made for a good video.
NVC: A lot of drivers like yourself are getting more active on Social Media, especially on Twitter. You've adopted a particular hashtag, which is used whenever you're racing: "#ShakeAndBake." So if you were cast in Talledega Nights, would you either be Ricky Bobby or Cal Naughton Jr? 
CD: I think its fantastic and hilarious and anytime I say it, people seem to love it. I just keep going with it, because it is funny and Will Ferrell is one of the funniest guys ever.
NVC: You have a bit of fun on public roads and on the track, especially when you celebrated your win in Valencia with some donuts, but didn't get fined like Sebastian Vettel did. We understand that you have a 2004 Subaru WRX STI, and how did you come to own one?
CD: I've always been a huge fan of the "Fast and The Furious" series, as well as being heavily into the tuner car scene. Ever since I was eight years old, I had a bank account where I put money into for my first car, so when I was sixteen, I got a Subaru. It's got 115,000 miles on the clock on it now and is still going strong. I'm a big lover of cars, so I hope to have a collection one day. I love having fun and sharing it with people all around the world that loves cars like I do.
NVC: What modifications have you done to the car since you've owned it? Say for example an ECU remap and possibly a new straight-through exhaust?
CD: I've put a lot into it, as I've got a engine rebuild, which has a bigger turbo on it, as well as suspension and a whole host of changes. It's currently running at 410 horsepower at the wheels, so it's good and the best of all, it's been reliable.
NVC: Conor, it's been a pleasure talking with you, and all the best of luck for the year, and we look forward to hearing what you'll be doing this season. 
CD: Thank you very much.
We would like to thank Conor for making space in his very busy schedule, and wish him and the team all the best of luck in 2014, as everyone eagerly awaits what this young US hopeful will be racing this season. (For more of our Track Talk series you can read more interviews in the series here)