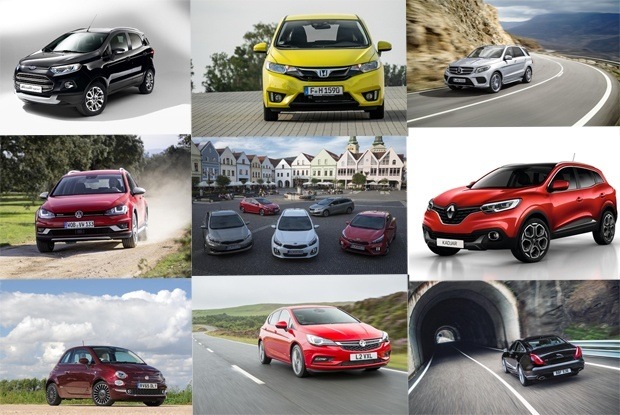 What's new and what we can expect in the future
What Car has put together a pretty comprehensive list of what our esteemed car manufacturers worldwide are blessing us with now and in the coming months (and even beyond), so let's take a look at what you will soon be able to lease from us here at Nationwide Vehicle Contracts.
Cars and small cars
The Fiat 500 has undergone a bit of a facelift, as we detailed in a recent blog that you can find here.
Fiat's small hatchback has been updated, with tweaks to its looks, engines and interior, and is now available in two body styles (hatchback and convertible), and with three trim levels: Pop, Pop Star and Lounge. Standard equipment across all three trims includes LED daytime running lights, seven airbags and the Uconnect™ infotainment system with six speakers, AUX-IN/USB ports and steering wheel remote controls.
The Honda Jazz also has had a bit of a makeover, keeping hold of its classic Jazz silhouette (with a longer body length) but added in some distinctive contemporary styling, including a powerful new face, strong character lines, improved refinement and a more spacious cabin. Oh: and there is a healthy amount of specification right across the range too! More details are available on our blog article here.
There is also a new five-door only Ford Ka on the block, and a new facelifted Seat Ibiza promised next year before the new version arrives some time in 2017. You can keep an eye on all of our Seat deals here.
Family cars

Joining in with the facelift frenzy is the Kia C'eed, Northern Car of the Year in 2013, with some minor changes inside and out, but with major improvements to interior noise reduction and ride and handling.
Promising to takke on the Ford Focus in every department, the new Vauxhall Astra is available, with 59 models in the Leasing list, with engines ranging from 1.0 to 1.4 and 1.6. With plenty of space inside, the Vauxhall Astra has sharp looks, great quality, smooth ride, good refinement and secure handling.
The popular Mercedes-Benz A-Class has found itself with some revised engines, new looks and a new motorsport-inspired edition. The diesel-fuelled A-Class offers some excellent fuel economy (80.7mpg), low emissions (89g/km) and surprising acceleration (0-62mph in 11.3 seconds) figures.
Skoda have recently made available some new versions of their spacious Skoda Superb hatchback and the Skoda Superb estate, both available in TDI and TSI versions with 1.4, 1.6 and 2 litre engines, with exceptional figures (depending on model) of 68.9 mpg for fuel economy, 109 g/km for emissions and 0-62mph acceleration of 8.9 seconds.
Also in the Coming soon for Family Cars we find:
Kia launching an all-new Optima ready to do battle with the Ford Mondeo and Volkswagen Passat
Toyota launching a hydrogen fuel cell-powered Toyota FCV called the Toyota Mirai that has two hydrogen fuel tanks that can be filled in just three minutes.
Volkswagen are promising that their new plug-in hybrid Volkswagen Passat GTEwill be able to return 141mpg.
And Infiniti will be launching the Infiniti Q30, the brand's first ever family car, using a Mercedes A-Class front-wheel-drive chassis, which they see as a direct competitor to the Audi A3 and BMW 1 Series.
Executive cars
Jaguar have released their Jaguar XF which we wrote about earlier this year. The Jaguar XF uses the same chassis components as the already popular new Jaguar XE along with similar styling and an improved infotainment system.
Coming very soon - later this year in fact - will be a new Audi A4 which Audi has promised will be "lighter and more efficient than the current model, as well as being more of a driver's car."
Also on the Coming Soon (and a bit later too) horizon is:
A new and updated Mercedes-Benz E-Class which will use S-Class technology and C-Class engines.
An all-electric Tesla Model 3
The Alfa Romeo Giulia which Alf Romeo see as their long-awaited replacement for the 159 saloon. The Giulia also sees a return to the family saloon segment for Alfa Romeo.
The BMW 5 Series, the latest in BMW's assault on green motoring with plug-in hybrid powertrains for the first time.
The Volvo S90 saloon, based on the same chassis as the XC90.
Luxury cars
Already available to lease is the Jaguar XJ, Jaguar's updated luxury saloon that features elegant and streamlined exterior style, cutting edge interior design, advanced safety systems, plenty of scope for individualisation and a 3 litre V6 engine built to satisfy different driving requirements.
If it's a luxury car you are looking for, then the future also holds:
The Mercedes-Maybach S600 which heralds the return of the Maybach badge, with a larger six-seat Pullman version to follow. The Maybach is expected to battle for the hearts, minds and wallets of those drivers who like an equally luxurious Bentley Flying Spur and Rolls-Royce Ghost.
The BMW 7 Series which is based on BMW's Vision Future Luxury concept that it showed off earllier this year. No details yet, but we are expecting lots of new technology, including touch-screens and iDrive plus 'carbon' bodywork.
The Bentley Grand Convertible which, although named as a convertible version of the Bentley Mulsanne, is the Bentley Azure reborn.
The Rolls-Royce Dawn - a convertible version of the Ghost-based Wraith coupé.
Estate cars
Already available is the second-generation Mini Clubman with its conventional rear side doors, hinged boot doors, and claim to be the biggest Mini to date.
Joining the Mini Clubman on the already available list is the recently released Volkswagen Golf Alltrack which we told you about recently in the blog here.
In a nutshell, we are talking a beefed-up version of the Golf Estate that gets four-wheel drive and the ability to off-road.

And its sibling, the Volkswagen Passat Alltrack has been promised very soon with its jacked-up suspension and four-wheel drive.
MPVs and SUVs
In what is an increasingly popular leasing segment, the number of new cars available and up-and-coming is almost mind-boggling.
Available now
:
The Volkswagen Touran fits between the VW Golf SV and VW Sharan.
The Ford Ecosport has undergone a refresh, as we told you here. The first SUV in the world to offer a 1.0-litre engine, you could do worse than look at this excellent combination of small car agility, affordability, fuel efficiency, SUV flexibility and space with specification options.
Ford's new SUV flagship though is the soon-to-be-released Ford Edge (late 2015) with its 10" touch-screen, roomy cabin, and (up to) 1788 litres of boot space. Aiming at the premium end of the market with the Ford Edge, you can read more in our blog here.
Then there is Honda's rival to the Nissan Juke, the Honda HR-V, a car aimed at "active people who enjoy both their work and home life. These people have a high sense of the balance between fashion and practicality". Complete with dynamic styling, class-leading interior space and versatility, advanced infotainment, safety technologies, class-leading fuel economy and CO2 emissions, you can read more about the Honda CR-V here.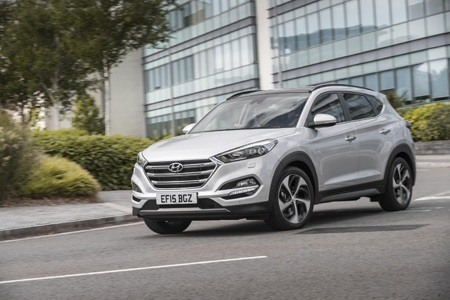 The class-leading SUV is still considered to be the Nissan Qashqai, but Hyundai have released their rival to the Qashqai in the shape of the Hyundai Tucson, "... is a bold new car that represents another leap forward for Hyundai," commented Tony Whitehorn, President & CEO, Hyundai Motor UK. "With a fantastic design and advanced technologies, it makes a strong statement about where the Hyundai brand is heading and provides a highly competitive vehicle in the important C-SUV segment." You can find out more in our blog article here.
Mercedes haven't wanted to get left behind in the SUV market so they have released the Mercedes-Benz GLE that we wrote about earlier this year here as it competes against the Porsche Cayenne and the Range Rover Sport.
Mercedes-Benz has created a car that's not only sporty, but robust: The Mercedes-Benz GLE 450 AMG Coupé combines two individual classes of vehicle, and is a sporty and robust car with a flowing side contour, elongated and low cabin, striking radiator grille with central chrome louvre and rear end design, and a 9G-
Range Rover has given its Range Rover Evoque a facelift with new trims, finishes and colours, as well as some impressive performance improvements.
Another rival to the Nissan Qashqai has arrived in the shape of the Renault Kadjar which was originally revealed at this year's Geneva Motor Show. You can read more about it here, but it is basically a bigger brother of the Renault Captur with some fluid, athletic exterior styling, a sporty and refined interior, and a range of particularly efficient engines which position it at the forefront of the segment in terms of low fuel consumption and CO2 emissions.
And finally, available now is the new and improved Toyota RAV4 that we wrote about here. The 5-door Toyota Rav4 is a robust crossover with excellent off-road capability that combines smooth, sleek and elegant design principles to deliver a refined and luxurious interior that's spacious and filled with premium features and equipment. There is also a hybrid variant available for the first time.
Coming Soon to the crowded market we find:
The Bentley Bentayga, a luxurious Bentley SUV that has undergone a complete transformation since its reveal as a concept.
The BMW X1, BMW's smallest SUV, which will be ditching rear-wheel drive in favour of front- and four-wheel drive, and the BMW X4 Performance.
The already-available Hyundai Santa Fe will be getting a facelift layer this year.
Lexus have planned their fourth-generation Lexus RX with improved powertrains and NX-inspired styling.
MG is another car manufacturer going after the Nissan Qashqai the expected release of its GS SUV.
And Mitsubishi aren't missing the party either by planning the Mitsubishi ASX (as yet another Qashqai rival) but with plug-in hybrid technology, the latest version of the Mitsubishi L200 pick-up, and the latest Mitsubishi Shogun too!
Seat are planning to release cars in the next year or two to compete against (you guessed it) the Qashqai and the Juke, along with a seven-seater model too.
The Tesla Model X is in the pipeline as a seven-seat all-electric SUV.
The Volvo S60 Cross Country is a jacked-up version of the S60 complete with all-wheel drive and two engine options.
To keep in touch with all that's happening, keep an eye on the Nationwide Vehicle Contracts Blog, or register interest with one of our representatives.
We'd hate you to miss out!