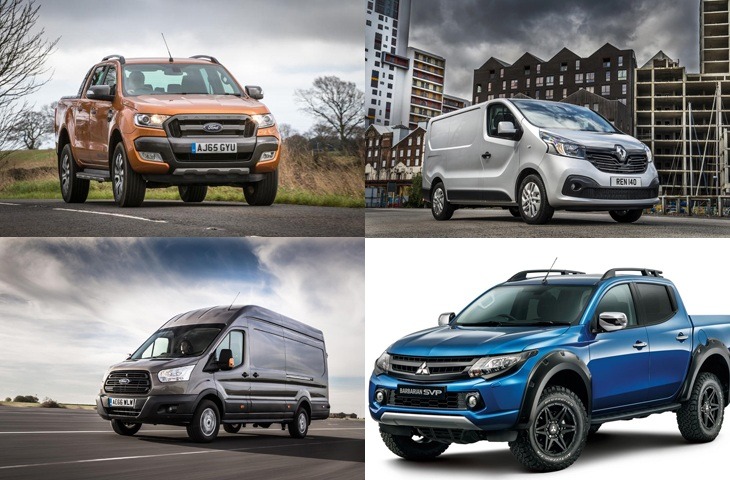 In October last year, we told you in a blog about the Tax Benefits available for company car drives driving double cab pickups such as the Ford Ranger, Isuzu D-Max, Mitsubishi L200, Nissan Navara, Toyota Hilux and VW Amarok.
Being used as company vans in place of more likely choices like the Ford Transit SWB, Peugeot Partner, Renault Trafic, and Citroen Relay there are pluses and minuses to any decision as to what is best for any particular business.
From looking good to the actual practicalities of work requirements, both have their positives, so let's take a look at the options a business may face when it comes to the choices between a Pickup and a Van.
Pickup vs Van
Pickup advantages
Debbie Wood, in an article on Parkers website, states that although "Pickups may not be the traditional choice when you're looking for a new company car, there are advantages - especially the tax savings on offer."
As most pickups fall under the tax umbrella of light commercial vehicles (LCVs), they are taxed differently to conventional company cars, with Benefit In Kind (BIK) set at a flat rate, irrespective of CO2 emissions or price. You can read more about this here.
You can also save on fuel too when it comes to private use, with LCVs taxed at a lower rate than the more conventional company cars.
There is the 'looking good' factor when you turn up at a customer to give a quote, and also the 'take the family out' options that are not available with a company van, especially when the pickup is a double cab. And they are also a lot more luxurious than a van. - although many van manufacturers have started to offer more and more luxury and technology.
Pickup trucks offer a large load space as well as excellent towing capacity.
Oh, and four-wheel drive is often a standard option on pickups too.
Van advantages
When it comes to van leasing, there is a great choice at Nationwide Vehicle Contracts. And although a pickup is considered a viable alternative, the majority of van leasers will choose just that: a van.
Obviously a van is most useful when the work involved and the usage of it is matches the workload.
If the business requires a lot of equipment being moved about, then, as good as a pick up may be, a van is better for that use.
If equipment needs storing overnight, or for a period of time, as good as a pick-up's security may be, a van's is better (or should be).
And, with van ply lining, you can ensure that damage to the interior of a van is protected, whereas this is not really an option in a pickup.
Vans will always be the mainstay of the Great British Worker - after all, whoever heard of opinions from White Pickup Man? And the use of vans will always be the first choice for many of the trades that use them, especially with the capacity for company decals to be displayed. But when it comes to van leasing, the rise of the pickup is something not to be ignored.
Looking to get your business on the move? Nationwide Vehicle Contracts offer a range of pick-up truck and van lease deals.
For more information, check out our van leasing page or call one of our leasing experts on 0345 811 9595.