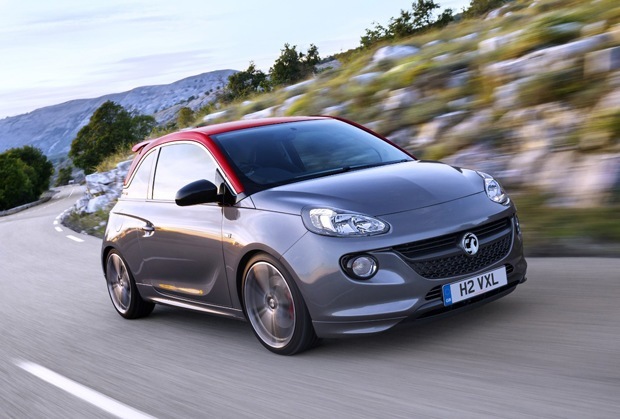 This Thursday (8th January) sees the start of Autosport International 2015 at the NEC, Birmingham; and also sees the UK debut of Vauxhall's top-of-the-range ADAM GRAND SLAM following previous previews at both Geneva and Frankfurt Motor Shows last year.
The ADAM GRAND SLAM follows the footsteps (or tyre treads) of Vauxhall's much-decorated ADAM range, and features a new version of the spirited 1.4-litre turbo ECOTEC powertrain that can hold up for examination a power output that exceeds 100PS/litre. And this powertrain is an exclusively developed turbocharged, high performance version of the existing ADAM's four-cylinder, 1.4-litre engine that exudes 150PS and 220Nm of torque and is allied to a specially-tuned chassis and a VXR braking system to give a performance far beyond what anyone could have expected when the ADAM launched to acclaim in the not-so distant past.
When it comes to design, the ADAM GRAND SLAM looks like it packs more muscle than the existing ADAM (and it does, but under the bonnet) with the front lip spoiler, side sill moldings and an extended rear bumper cut-out with a visible, bold exhaust tailpipe aiding and abetting the impression along with a distinctive rear spoiler above the rear window and the special ADAM logo on the C pillars; and there's ten body paint choices and four further roof combinations available too to choose from with the Red 'n' Roll roof design reserved exclusively for ADAM S customers.
And then inside there's a choice of four different seat arrangements, three of which are available JUST FOR THIS ADAM, including the Recaro Performance seats in Morrocana or nappa leather. Not only this exclusivity, but the interior could also reflect the Red 'n' Roll design with an optional leather package that includes a black and red steering wheel, a gear knob and handbrake in leather or red and white lighting for the instrument panels and doors.
The Order forms for the ADAM GRAND SLAM will be available later this month, but in the meantime, why not pop along to Autosport International with its unmissable combination of cars, stars and action from Formula 1 to karting via stunning classic and contemporary performance road car and supercar displays that make up the Performance Car Show running alongside.
And at Autosport International at the NEC you'll be able to also enjoy live racing, precision driving demonstrations, breath taking stunts and celebrity interviews in the Live Action Arena as well as getting the opportunity to take part in a high speed driving experience or wheel-to-wheel arrive-and -drive karting sessions.
All this on top of the ADAM GRAND SLAM UK debut? Gotta be worth it!