At this time two years ago it looked unlikely that the Ellesmere Port Vauxhall manufacturing plant would reach the end of the year, and here it is celebrating the fact that it has reached 50 years of manufacturing Vauxhall cars.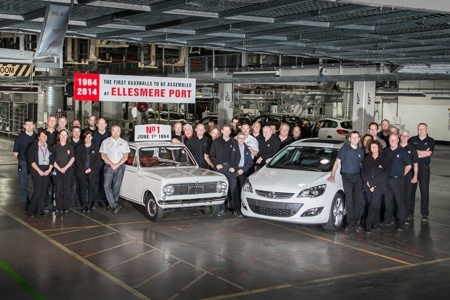 It was back on June 1st in 1964 that the first Vauxhall rolled off the production line at what was then the all-new Ellesmere Port manufacturing plant in Cheshire; a Vauxhall Viva HA, a model name long since gone and would cost £527 7s 11d when it was launched. The Vauxhall Viva HA was replaced in 1978 by the Vauxhall Chevette.

Such an iconic moment was it in the history of the Ellesmere Port factory that Vauxhall felt that they had to recreate it 50 years on; so, on June 5th 2014, they did just that, along with recreating the original press image of the first vehicle coming off the line in 1964, in the same production location with today's Astra alongside.

The Astra was chosen as Vauxhall's best seller, and also one of the longest servers on the production line having first rolled off it on 16th November 1981 as Vauxhall's first front-wheel drive car.

But the day really belonged to the factory built on the site of RAF Hooton with construction having started in 1962.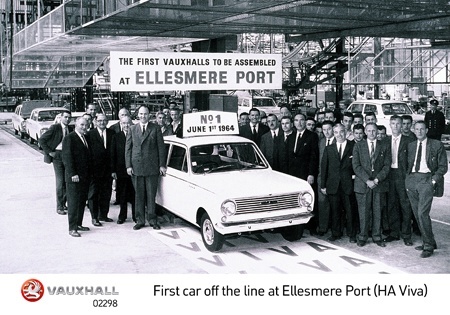 Originally it was to be called Vauxhall Hooton Park but as the name sounded too much, phonetically, to Luton – Vauxhall's other great site – it was changed to Ellesmere Port shortly before production began.

Created as part of a Government strategy to develop production plants, with the Board of Trade offering financial inducements such as 40% towards plant and machinery costs and 25% towards construction, Vauxhall were one of the three car manufacturers from the 'Big Five' to choose the region around Liverpool, The Wirral and Merseyside (alongside Ford and Standard Triumph.)

It's not been without its problems; in fact the plant has weathered a good few storms over the years, including a recent threat of closure. But the workforce are a strong set of people, and by working closely with the management team and UNITE The Union, the plant has secured its future into 2020 by winning the contract to build the next generation Vauxhall Astra – one of only two plants across Europe to do so; and a lead one too!.

Production of the new Vauxhall Astra starts in the autumn of 2015. Here's hoping it leads to Ellesmere Port continuing the fine work it is obviously doing.