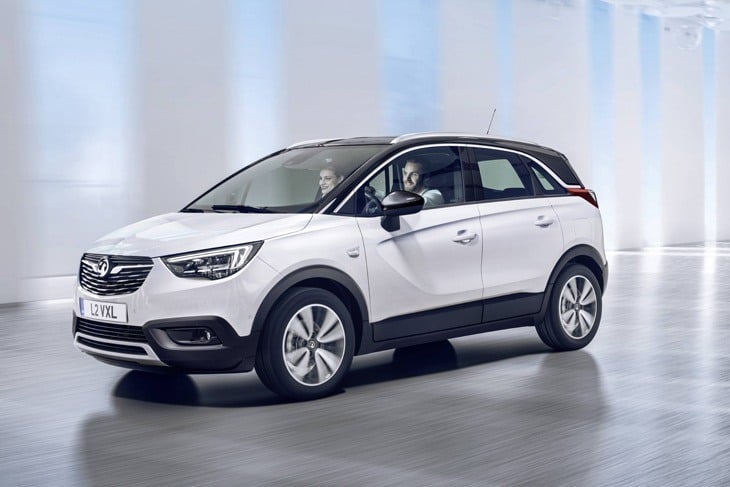 When Vauxhall released the Mokka X as their first real SUV model, they promised more. And that is now coming over the horizon with the release later this year of the all-new Crossland X (and to be followed later by the Grandland X).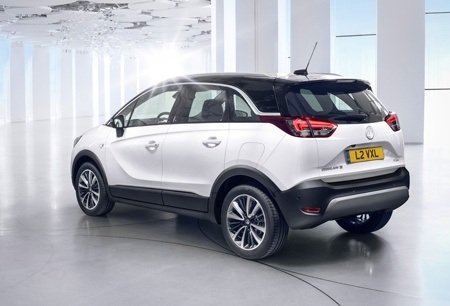 Crisp and compact on the outside, spacious and flexible on the inside, with unique two-tone paintwork and SUV-styling, the Crossland X is firmly aimed at the family, courtesy of its large cabin that offers both practicality and flexibility.
The all-wheel-drive Mokka X may be 70mm higher with larger wheels (aiming at buyers with a taste for adventure), but the Crossland X is more compact, meaning that it is more manoeuvrable in towns and cities. And with an elevated seating position and overall height, it's a viable option to Vauxhall's customer favourite, the Astra. It is also seen as an alternative to oter manufacturer rivals like the Renault Captur and Peugeot 2008, as opposed to the Mokka X's competitors, the Nissan Juke and Skoda Yeti.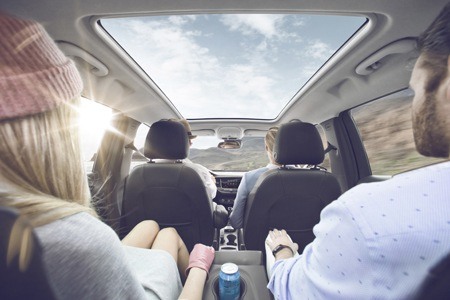 Looking at the Crossland X, the immediate impression is of a true urban crossover, with "bold design features in a compact, balanced package."
Rugged and sophisticated, the iconic Griffin logo on the grille tells you that it is a Vauxhall, along with the car manufacturer's signature LED daytime running lights. Chrome accents coupled with AFL LED headlights give the impression that the car is wider, and the crisp side lines and 'floating roof' visually lengthen it.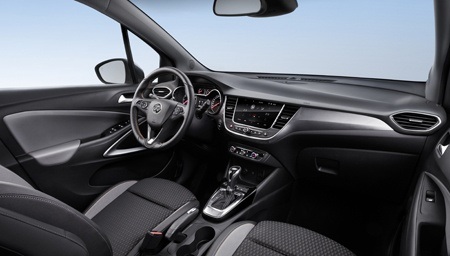 Like the Vauxhall ADAM, customers can order a different colour for the roof, but the main priority for Vauxhall designers responsible for the Crossland X was to provide exceptional driver and passenger comfort. And with the specially designed AGR-certified seats for the driver and front passenger, and adjustable seating position options in the rear, this has been achieved in spades. And obviously leads to more space when seats are folded down to increase boot space from its original 410 litres.
"Crossland X is as multi-talented as it is stylish," said Rory Harvey, Vauxhall's Chairman and Managing Director. "It will appeal to buyers with families who demand agility and convenience in urban driving, but with enough comfort and performance to cover long distances at the drop of a hat. Our customers' expectations are changing, so the timing is perfect for an additional model in the Vauxhall range, which caters for a new breed of buyer."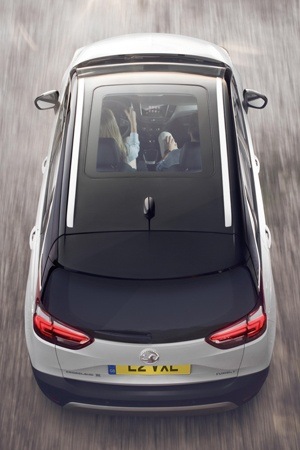 The Crossland X makes driving safer and more comfortable with cutting edge technology like:
Adaptive Forward Lighting (AFL) with full-LED headlamps
Head up Display
180-degree panoramic rear view camera
Advanced park assist
Forward collision alert with pedestrian detection and autonomous emergency braking
Lane departure warning
Speed sign recognition
Side blind-spot alert
Cruise control with speed limiter
Three-level Driver Drowsiness System.
Heated steering wheel and heated windscreen
Keyless open and start
...as well as exceptional connectivity via the Apple CarPlay and Android Auto compatible Vauxhall OnStar IntelliLink infotainment system with 8" touchscreen.
And there's also a wide choice of both petrol and diesel engines with manual and automatic transmissions available.
Forming the first part of Vauxhall's 'Five-Star' 2017, which will see five major product launches in just one year, the Crossland X goes on sale in the summer, and will be joined by another newcomer to the 'X' family, the larger SUV C-segment Grandland X later this year.
To register your interest in leasing a new Crossland X when it is released later this year, or any other Vauxhall car, contact one of our Customer Service Representatives now.