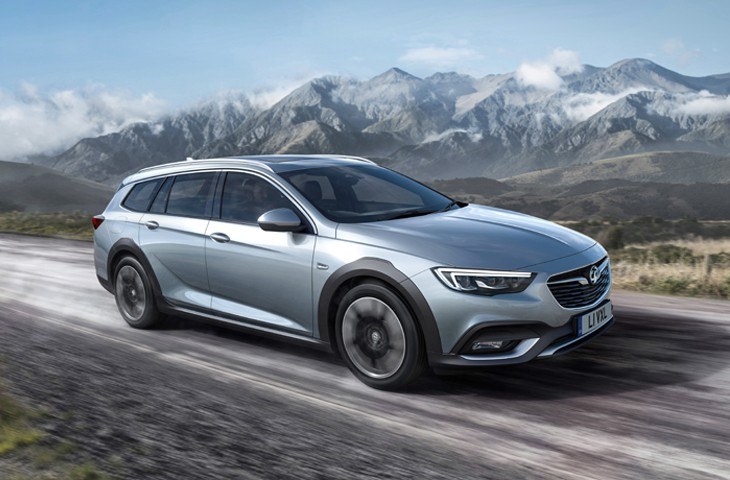 The latest addition to the all-new Insignia range, Vauxhall's all-wheel drive Insignia Country Tourer made its debut at the 2017 Frankfurt Motor Show, and now joins the Insignia family alongside siblings Insignia, Grand Sport, and Sports Tourer.
With an all-new architecture, wide range of innovative technologies, and all-round black protective cladding and silver front and rear skid plates, the newcomer has a tough and rugged off-road appearance whilst exuding presence on-road.
"The Country Tourer takes the Insignia story a step further. With its all-wheel-drive capability, raised ground clearance and rugged appearance, it adds another important dimension to the New Insignia range," says Rory Harvey, Vauxhall's Chairman and Managing Director.
Drive
The New Vauxhall Insignia Country Tourer comes with a broad powertrain portfolio, including a brand new top-of-the-range diesel engine, and is also available with a new eight-speed automatic transmission and ground-breaking all-wheel drive technology with torque vectoring.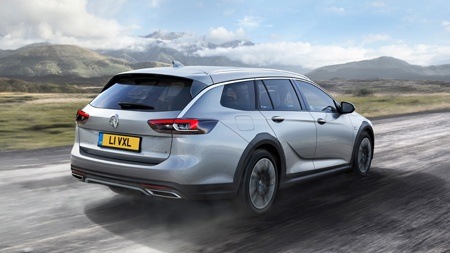 Boasting greater ground clearance of than previous, for those off-road times the Vauxhall Insignia Country Tourer boasts two electrically controlled multi-plate clutches to enable a more individual and precise transmission of power to each wheel. This helps to stabilise the vehicle when encountering the challenges it faces when away from roads, but it also helps the car to counteract understeer on tight corners taken at higher speeds by sending more torque to the outside rear wheel automatically.
An improved FlexRide chassis allows a smooth change when either (or both) roads or driving behaviour change by adapting the dampers, steering, throttle response and shift points (on automatic models) independently or in accordance with driver wishes depending on which driving mode is chosen - 'Standard', 'Sport' or 'Tour' - each recognising and responding to individual driving style.
Design
Brit Mark Adams is the lead designer behind the Country Tourer, a perfect complement to the Grand Sport and Sports Tourer models, and the new model is testament to the skill of both designers and engineers with its solid stance and great road presence.
The prominent landscape grille and slim headlamps combine with the moulded black protective cladding in the lower fascia, wheel arches and along the lower body side to help emphasise the rugged appearance, aided and abetted at the rear by the silver-coloured skid plate and dual exhaust bezels.
"We wanted our new Insignia Country Tourer to be robust in every respect, while simultaneously displaying the typical elegant Vauxhall philosophy of sculptural artistry and technical precision," says Mark Adams, Vice President Design. "It has the presence of a true flagship, combining a sophisticated athletic shape enhanced by rugged off road detailing."
Practicality with Connectivity
The new Insignia Country Tourer is extremely practical, featuring:
Automatic tailgate opening & closing
Keyless Open & Start
Total loading space of 1,665 litres (making use of the optional 40/20/40 foldable rear seats)
Standard roof railings (with a roof load of up to 100kg)
Increased wheelspace for a more spacious cabin
AGR-certified premium ergonomic front seats
Heated outer rear seats
Heated windscreen
Heated steering wheel
Vauxhall's innovative and award-winning adaptive IntelliLux LED matrix lights with 16 LED segments
Innovative active curve lighting function and dedicated LED spotlight
Head up display
Adaptive Cruise Control(ACC) with automatic emergency braking
Lane Keep Assist with automated steering correction
Rear Cross Traffic Alert.
Apple CarPlay and Android Auto compatible IntelliLink systems
Vauxhall OnStar
To discuss leasing a new Insignia Country Tourer, or any of the many great offers from Vauxhall available from Nationwide Vehicle Contracts, contact one of our Customer Service Advisers now.