Volkswagen already have two of the most successful SUVs in the European market on their books, so it's a bit of a surprise that the German car manufacturer has announce that they are planning to extend the range with the addition of the Volkswagen T-ROC.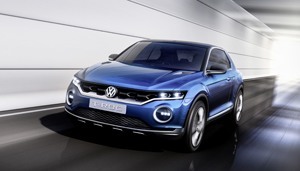 Sounding like an American rap artist, the T-ROC is a concept car at the moment and is one of the motors on the Volkswagen stand at the Geneva Motor Show complete with "progressive design, the front section with the LED headlights and two removable roof halves."
With "Progressive design" the T-ROC has a new overall design - particularly at the front of the motor - and interior style...but more about the inside at a later date; let's look at what we know about the outside.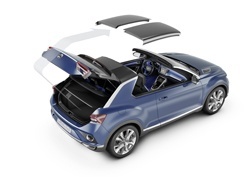 It's a two-door vehicle, powered by a 135 kW / 184 PS turbo-diesel direct injection engine with three different driving modes - 'Street', 'Off-road' and 'Snow' – and is without doubt an SUV with a difference; that difference being the look with its roof's middle section made up of two halves that can be flicked off and stowed in the boot as easily as an easy thing on easy street.
Driving with the 4Motion drive train, 7-speed DSG (dual-clutch gearbox), ABS, Hill Start Assist and Hill Descent Control is as easy as you would think, with the T-ROC seeming to do all the work (and it does!), depending on the mode selected. And that ease is helped by the T-Roc and its front and rear cameras helping to extend the driver's field of vision, itself helped in the dark by LED headlights.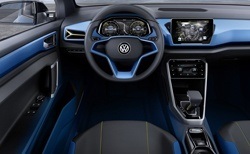 And if you are worried – or just curious – about the 2.0 TDI engine's fuel consumption, it's a pifflingly low 4.9 l/100 km.
Volkswagen are promising a lot of new models in the future in all sorts of model classes, and I am sure that we will be at the forefront of the reports on them; but for now we give you the Volkswagen T-ROC concept as it follows the CrossBlue (USA), CrossBlue Coupé (China) and also Taigun (India) concept cars into the future SUV world from Volkswagen.