Coming to a Volkswagen Polo near you this summer we find changes that VW Golf drivers have already found to their liking.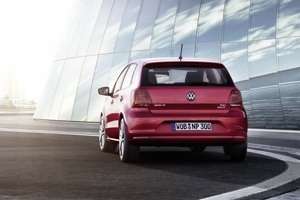 So those drivers of the Polo – and there have been 14 million of them since its 1975 launch – can now enjoy the range of advanced technology features that already make the Volkswagen Polo safe, practical, efficient and comfortable.
First up on the list for all new Polos is an Automatic Post-Collision Braking System which, as I so often say, does exactly what it says on the tin; automatically braking the vehicle after a collision to minimise the chance or consequences of a second impact by reducing significantly the kinetic energy created. With this in mind, as options, drivers can also choose a Driver Alert System and Front Assist with City Emergency Braking and Automatic Cruise Control.
Then there is the new (optional) Sport Select suspension system electronically controlled dampers to switch between the two suspension settings, while the efficiency of the car and the control of it is improved via a new electro-mechanical steering system.
Under the bonnet, you see that the newly revised Polo now has a range of new EU6-compliant engines (meaning that the fuel efficiency on the Volkswagen Polo has increased by up to 21% in comparison to previous models) with new three- and four-cylinder petrol engines leading the way. There are two 1.0-litre MPI units, with 60 or 75 PS and two 1.2-litre four-cylinder TSI engines with 90 or 110 PS at the lower end of the range with a 1.4-litre TSI engine with cylinder deactivation (ACT) also available, increasing power to 150 PS. Next year will also see a top of the range Polo GTI with increased power making a welcome appearance.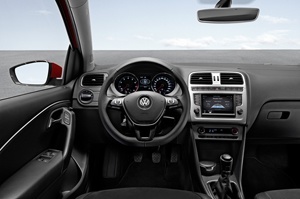 Here in the UK, the diesel-powered Polo BlueMotion will be no more, replaced with a new petrol-powered Polo BlueMotion TSI giving a fuel effective 68.9 mpg on the combined cycle, emitting just 94 g/km of CO2 via a new turbocharged three-cylinder 1.0-litre engine producing power of 90 PS.
This news may be a bit of a dampener for lovers of diesel engines, but fret not because lovers of diesel power are catered for by two new three-cylinder 1.4-litre TDI engines with 75 and 90 PS.
Outside of the bonnet the changes to the look of the new Volkswagen Polo exterior changes are pretty subtle but also effective, including a redesigned front bumper and grille, with a chrome line that separating the front fog lights alongside the optional LED headlights. From the back, followers of the Polo will notice more new lights and another new bumper the rear before almost salivating over any of the five new alloy wheel designs that drivers may choose to complete the look.
It doesn't just end there either, because inside the Polo lucky drivers find themselves faced with wholly redesigned instruments, a new steering wheel and a spruced-up centre console with new heating and ventilation controls just to make the new Volkswagen Polo easier to use; all this before you discover Volkswagen's modular infotainment system - that Golf drivers are already familiar with – that is now part of the Polo range, including the touchscreen system beloved of smartphone users that includes a proximity sensor.
More details will be available nearer to launch date for the new Volkswagen Polo in late July, but for now we wait, speculate and salivate.