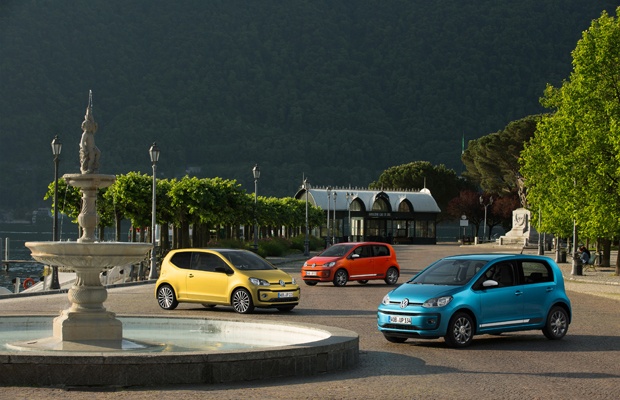 The exciting Volkswagen up! has been an impressive performer when it comes to the city class segment since its launch in 2011, thanks to its economical yet nippy 1.0-litre petrol engine, smart styling and impressive packaging.
And all these strengths have all been significantly enhanced in the new-look up! model that is now available to order from Nationwide Vehicle contracts for delivery later this year: a new-look model that features a subtly enhanced exterior design, the option of a new 1.0-litre TSI turbocharged engine offering up to 90 PS, extra equipment as standard, a significantly broader range of exterior colours, decals and roof colours, and more interior personalisation options for the ultimate in city car individualisation.
up!-graded styling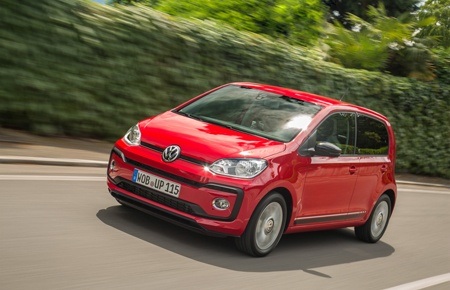 Available in either three- or five-door configurations, the new up! model has a new bumper, revised radiator grille and bonnet, and LED running lights to add to redesigned angular door mirrors and rear bumper.
And inside, the restyling continues with an all-new steering wheel design, new range of 7 colours in the seat cloth options, and revised dashboard that brings out the very best in the new equipment that includes Volkswagen's Composition media system, electric front windows, new USB port, and remote central locking.
When it comes to styling changes to the up! range, the addition of the new up! Beats model is looking to be a real bonus for the cool kid around town. Created in conjunction with high-end Californian electronics company Beats Audio™, and joining the familiar trims, the up! Beats joins the existing up! range (Take up!, Move up!, and High up! ) with some exclusive features such as a powerful 300-watt seven-speaker sound system with subwoofer in the boot, bespoke colour combinations, Beats graphics, red or black door mirrors, Beats badge on the B-pillar, 3D dashpad design, and a cream coloured interior.
Personal up-styling!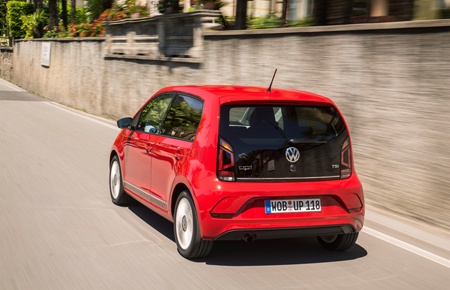 Volkswagen has increased the number of up! exterior paint colour options to 13 and, of these, seven are new colours including 'Costa Azul', 'Honey Yellow' and 'Savanna Gold'. On top of this choice, drivers will also have the tough choice of selecting a roof colour via the new Roof Pack, with a choice of black, white or 'Urano Grey'.
As if this wasn't enough, the Roof Pack also adds colour co-ordinated door mirrors and 65% tinted rear side windows, and there are also options that involve coloured alloy wheels in 'La Boca Goldbeige', 'La Boca Hot Orange', 'Polygon Fortana Red', 'Polygon Black' or 'Polygon Sandstorm Yellow' that are also reflected in the door mirrors and the styling decals, and five different dash colours in the interior, including the striking 'Pixels Red' and 'Pixels Honey Yellow'.
So that's a 13 x 3 x 4 x 5 = 780-1 chance of someone having the same looking car as you!
up! graded specifications
Volkswagen has packed the revised up! with standard class-leading features such as:
Take up!
'Composition' infotainment system
Remote central locking
Electric front windows
Driver's seat height adjustment.
Move up!
15" 'Fortaleza' alloy wheels
Colour infotainment touch-screen with the 'Composition Phone' system
Bluetooth connection
Four additional speakers
High up!
'Calzone' design of 15" alloy wheels
Navigation interface
Elegant ambient lighting
Multi-function steering wheel allowing the driver to access key controls such as the radio without taking his or her hands off the wheel.
Multi-function computer giving information about fuel economy, journey times and expected mileage before refuelling
up!-dated engines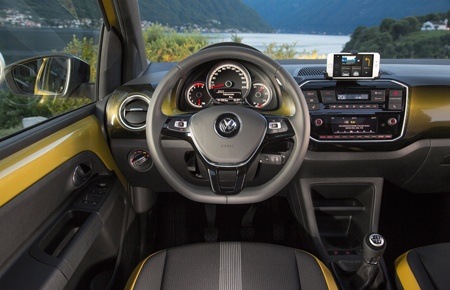 Under the bonnet, Volkswagen are very excited about their new engines that are available on the new up! model, especially that they have now added in the option to specify BlueMotion Technology (BMT). BMT saves fuel and cuts CO2 emissions in many different ways, including its use of Volkswagen Stop/Start technology to turn off the engine (and automatically restart) when the car stops and regenerative braking, which stores energy by charging the battery as the car slows.
The engine line-up of the new-for-2016 Volkswagen up! is made up of two petrol engines that offer three different power outputs.
First up (sorry!) is a naturally aspirated three-cylinder 12-valve petrol engine with an output of 60 or 75 PS, and this is closely followed by the option of a turbocharged petrol powerplant in the shape of a new three-cylinder 1.0-litre TSI engine with an output of 90 PS. The lower output engines are offered with a five-speed manual, or ASG automatic gearbox, depending on trim level, and offer economies of between 60.1 mpg (combined) and 68.9 mpg (combined) when it comes to fuel and 96 g/km to 108 g/km with emissions, depending on engine and gearbox choice..
With the new turbocharged engine, the 2016 up! reaches performance levels previously enjoyed by drivers with long memories and a touch of class as they are now similar to those of the icon of hot hatches - the original 1976 Golf GTI with a sub-10 second 0-62 mph time and a top speed, where legal, of 114 mph. The new motor comes with a manual five-speed gearbox.
Technology up!-grades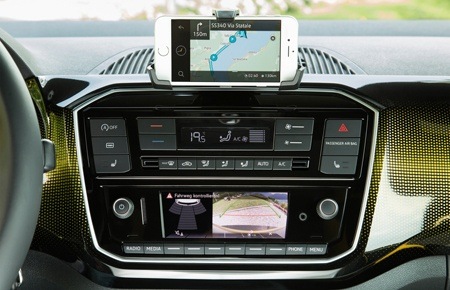 Driving the new up! is a relaxing experience, with Cruise Control and sensor-led ParkPilot leading the way, along with a rear-view reversing camera courtesy of the 'Composition Phone' system. This system features a 3.1" monochrome display, DAB radio and a CD player as standard in the entry-level Take up! trim, with all others featuring the 'Composition Colour' system as standard.
The 'Composition Colour' system features a 5" colour display screen and uses Bluetooth connectivity for audio, as well as featuring the 'Maps + More' Volkswagen App that connects to both iOS smartphones and Android operating systems that can be clicked into the USB-enabled docking station above the dash, enabling access to navigation, speakerphone, trip computer and other features. And right at the top of this is a piece of cutting edge technology called the handwriting recognition system that is used when the driver or front passenger is searching for names, phone numbers, addresses or music titles.
Safety technology is, of course, very important, and very evident in the new up! with the new model featuring both ESC and ABS alongside driver and front passenger airbags, an early crash sensor, ISOFIX system and City Emergency Braking.
And, as if all this is not enough, later this year we will see the arrival of Volkswagen's new electric e-up!
For more details on all the cars in Volkswagen's new up! range, available from Nationwide Vehicle Contracts, contact one of our Customer Service Representatives.