Introducing the GROOVE up! AND the ROCK up!
When Volkswagen released their up! car, we writers did wonder just how many puns and headlines we could get from what is, after all, a great looking and all-in-all fantastic small car. And having exhausted as many as we could over the weeks, it's good of VW to introduce two new ones this summer for us to not only feast our eyes on but also to test our vocabulary in describing them with wit, detail and as many puns as possible.
So, on behalf of all journalists and writers everywhere, to Volkswagen on the introduction of the new special-edition versions of the award-winning Volkswagen up! - the Groove up! and the Rock up! – thank you.
Both of these vehicles are based on the top-specification High up! model, but each of them has their own unique twist.
Let's get on down with The Groove up!

Perfectly formed as you should imagine, the Groove up! comes complete with a pumping Fender sound system, comprising off all you would imagine along with six speakers, a subwoofer and a 300-Watt amplifier. So the groove will certainly be in the heart of the car as you pump up the volume.
It will also be useful to let you hear the standard Maps & More personal infotainment device, which provides not only Bluetooth phone connectivity and music streaming, but also touchscreen satellite navigation – because you'll need to hear the voice on the Sat Nav busting out of those speakers above your bangin' tuuuunes!
Those driving behind the Groove up! and those looking from the side will see that it is available in both three-door and five-door model with 16-inch 'Upsilon' alloy wheels and black gloss door mirror caps; and 'peerer-insiders' will see heated front seats, a leather-trimmed steering wheel, a gear lever and handbrake with orange stitching, bespoke black seats with orange edging, and dark-tinted glass from the B-pillar back.
Now get your rocks off with the Rock up!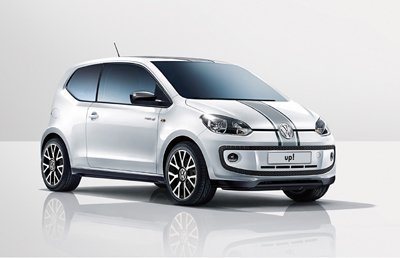 Despite its name, incredibly enough the Fender sound system is only available as an optional extra, but this three-door model with the smart 16-inch 'Upsilon' alloy wheels looks the business and looks like it is ready to rock with a distinctive styling stolen from an LP cover somewhere; an anthracite stripe runs the entire length of the bonnet, roof and tailgate and there is a full body kit that consists of gloss black front spoiler, side skirts, rear diffuser and rear spoiler. Keeping it back in black, the door mirror caps are gloss black – unless you order the whole car painted in the Deep Black Pearl paintwork, in which case they are chrome.
Inside, you can rock around the clock with a choice of black or grey seats in which to sit and enjoy standard equipment of the very highest level: air conditioning, heated front seats, the Maps & More infotainment system, a six-speaker audio system and remote central locking.
Want to remix the soundness of your car?
You can always add in some optional extras like the award-winning City Emergency Braking system - a sensor pack that includes rear parking sensors, cruise control and a multifunction computer – and for the five-door Groove up!, you can choose a forward-folding front passenger seat that will enable you to accommodate long loads.  The Groove up! is also available with a groovy panoramic glass sunroof.
Both the Groove up! and Rock up! feature the same engine ; a three-cylinder 1.0-litre 75 PS petrol engine, with a five-speed manual gearbox, that returns a combined fuel economy of 60.1 mpg while producing CO2 emissions of 108 g/km (meaning VED band B qualification of first year 'freeness' and just £20 thereafter.
Release dates for the future of car'n'roll are early July – just in time for the festival season!