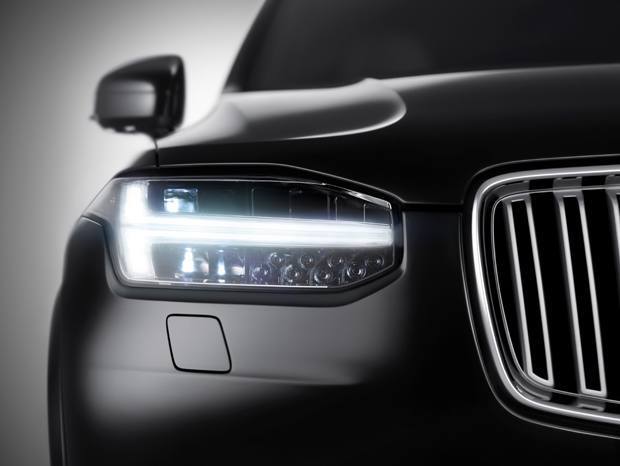 The anticipation is building towards the launch of Volvo's all-new XC90 at the start of September in Stockholm as the Swedish car manufacturer continues with its slow reveal of the car. (If you have missed any of the reveal so far, click here.)

The latest information from Volvo is that the XC90 will be the first car in its range to be built on the Scalable Product Architecture (SPA) modular chassis technology developed in-house at Volvo. And this is a big big step for Volvo, as SPA is seen as the cornerstone of their ongoing USD 11bn transformation plan; with the ultimate desire for the new XC90 to introduce SPA before it is rolled out across the entire product range in the future.

"SPA and the XC90 are firm evidence of our Volvo-by-Volvo strategy. The XC90's outstanding combination of luxury, space, versatility, efficiency and safety will bring the SUV segment into a new dimension, just as the original XC90 did in 2002," says Dr Peter Mertens, Senior Vice President, Research and Development of Volvo Car Group.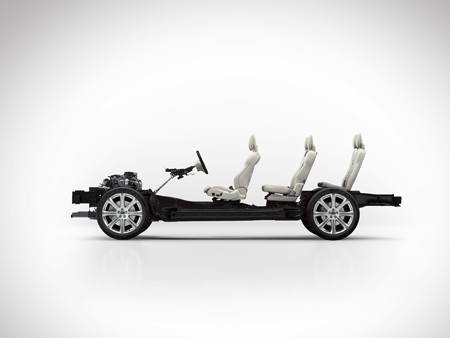 What's so good about Scalable Product Architecture?

According to Volvo, it allows the Volvo engineers more flexibility when it comes to new ideas for both design and driveability, for new safety features, for new car connection technology and for more space and comfort; and it also allows Volvo to set a new level for car building by using the same architecture throughout the company – whatever engine, electrical system or technology is being used.

"SPA gives us a fresh technological start. Around 90 per cent of the components in the all-new XC90 and upcoming models are new and unique. We are raising the bar to the very top of the premium league when it comes to quality and technology level in every vital area," says Dr Mertens.

Thomas Ingenlath, Senior Vice President Design of Volvo Car Group agrees: "This has created greater freedom for us to design cars with a confident stance, dynamic proportions and a number of distinctive design signatures. Our three recent concept cars have demonstrated this capability. Even though the all-new XC90 is an entirely different type of car, you will recognise the connection instantly when it is revealed."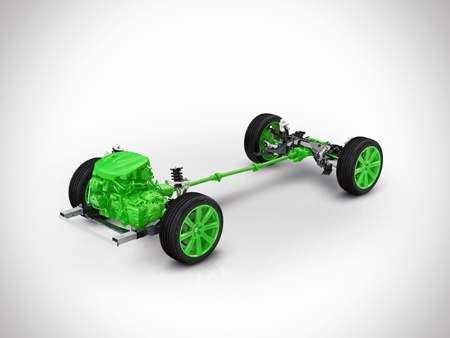 Explain, please.

Words and promises are easy, but let's look at hard production facts.

Using the new SPA chassis technology Volvo have managed to reduce the weight of the car and improved the distribution of that weight – a double-edged sword if you like – thus improving not only fuel consumption but also ride comfort and driving pleasure.

SPA also gives designers a lot more scope and flexibility inside the car itself, with the new XC90 featuring innovatively designed seats that give a lot more space for passengers in the second and third rows of the XC90 SUV – making it a genuine seven-seater. By using the sliding function on all seats, the second row can be used to create more legroom for passengers in the third row – or to increase loading capacity.

"SPA has enabled us to create the world's first no-compromise SUV," says Dr Mertens. "You get the agility of a much smaller and lower car, an in-command feel and generous interior space, plus an adrenaline rush delivered by powertrains that offer an unrivalled combination of power and low emissions. Of course, it carries the Volvo badge, meaning world-class safety is standard."

Scalable Product Architecture is also used to somehow increase Volvo's undoubted reputation for safety with no compromise made to design, size or weight, and thanks to the extensive use of high-strength boron steel, any car created under SPA can be made more compact and safer at the same time.

SPA cars are also more intelligent as they allow for an innovative electrical architecture to be used that makes it easy to integrate new technology when it comes to the fast-moving world of microprocessors, sensors and camera technology. As this technology improves and mutates so does the science of accident prevention and SPA in the new XC90 allows new multimedia and connectivity options to be introduced quickly and with the minimum of fuss.

"We have created a single nerve system with full control over all the connections in the vehicle. This is unique in the industry," says Dr Mertens.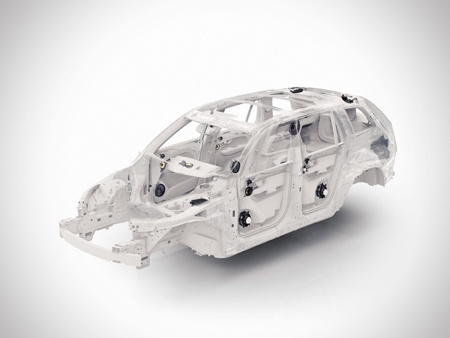 SPA and the new Volvo XC90

When it comes to the power behind the throne of the new XC90 you'll find a range of Drive-E engine options, combining outstanding performance and fuel-efficiency thanks to the family of two-litre, four-cylinder diesel and petrol engines having several levels of turbocharging that cover the whole range from high power and torque variants to fuel-efficient versions. For example, at the top of the range, the XC90 has a 'Twin Engine' that joins together seamlessly a two-litre, four-cylinder supercharged and turbocharged petrol engine with an electric motor so that the combination of power and clean operation can offer up around 400 horsepower while at the same time producing low CO2 emissions of around 60 g/km.

Don't worry about interior space or load space being compromised by the introduction of a bulky battery pack – SPA has sorted that out too!

So where is this 'Thor's Hammer' then?

I'm glad you asked, because Volvo has revealed images of the front end or 'face' of the new XC90 SUV, and that's where the T-shaped running lights are – and that's been christened 'Thor's Hammer' by the design team as they feel that it looks like the shape of the hammer used by the famous Norse god of thunder Thor.

"Anyone who looks in their rear-view mirror is going to know immediately that there is a new XC90 behind them," says Mr Ingenlath. "The XC90 is a car that has presence on the road."

The XC90 anticipation grows even more now I know that there is one of the Avengers behind me!