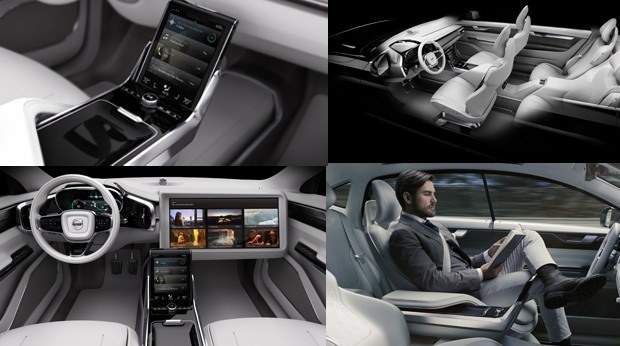 Cars that drive themselves are not an entirely new concept; in fact it was back in September 2013 that we published a blog telling you 'Everything You Want To Know About Self-Driving Cars'. And despite there being a lot of resistance to the whole idea of self-drive, car manufacturers are still looking at the concept as a going concern.
The background behind Volvo Cars' ongoing research into what they have termed 'autonomous driving' comes from their investigation into the daily commute which suggests that driving has all the joy sucked out of it at this time and on long motorway trips.
And that is the time that drivers are seemingly quite willing to allow the car to take over and get them where they want to go on its own!
Although the commute seems to be the main reason for the self-drive promotion, there are benefits to the elderly, infirm, disabled and others (such as new drivers) as well, although there is still a long way to go in both development and legality before they can become accepted road reality. This is explained in more detail in the article in Popular Science that our September Blog Article was based upon.
Concept 26 from Volvo
But any perceived driver reticence and road law encounters has failed to dampen the enthusiasm of car manufacturers as they continually search for technology to make a car drive as fun and easy as possible in all circumstances. So, with this in mind, Volvo has developed Concept 26.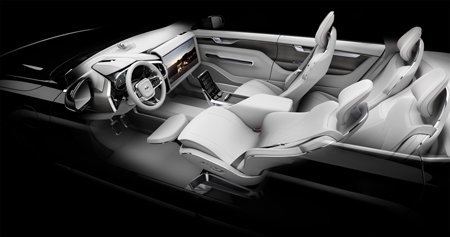 The name comes from what is believed to be the average daily commute to work in the United States of 26 minutes - and in those 26 minutes, it is suggested that that particular time could be spent "doing something more meaningful than sitting in stop-start traffic". I assume that they mean preparing for the day at work, or just enjoying the trip rather than stressing about the traffic outside, although that Sudoku puzzle does look very inviting...and you wouldn't want to miss Jeremy Kyle!
Robin Page, Vice President of Interior Design at Volvo Cars, explains what it is all about: "It's all about people. Our research clearly shows that some people will want to use their commuting time creatively when they have full autonomous drive available, while others will want to just sit back and relax, watch online media or listen to music. Autonomous drive will make all of this possible. This is what Concept 26 has captured by reimagining the entire car experience."
So how does Concept 26 work?
Right at the start of the whole concept, Volvo have looked not at the technology but at the driver's seat. Based on the concept of three modes - Drive, Create and Relax - the all-new patented seat design actively cradles the driver whilst transformation into one of the three modes takes place, creating "a new autonomous drive innovation platform that can adapt to new needs and technologies over time."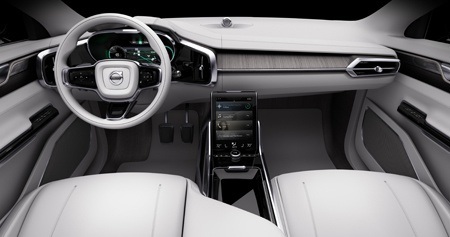 So, when the driver decides to let the car take over, (presumably) at the push of a button, the steering wheel retracts, the seat reclines and a large display emerges from the dashboard. This will display what the driver requires, from car information to social media and the likes, to enjoy the time spent in the car.
With Concept 26 opening up a new range of in-car possibilities - from entertainment to service provision and beyond - by using both existing and future technology, Dr Peter Mertens, Senior Vice President Research and Development at Volvo Car Group explains the huge potential for new business opportunities and high-tech collaborations that autonomous drive will bring.
"We have gone to great lengths to understand the challenges and opportunities that autonomous cars will bring to people in coming years, and our flexible approach to engineering and design, enabled by our new Scalable Product Architecture, means that we can readily bring this from concept to reality."
The Volvo Self-Drive Future
Research is ongoing into Concept 26 as part of Volvo Cars' ongoing Drive Me research project, with the ultimate aim of seeing an extended fleet of fully autonomous cars driving real customers on the roads of Gothenburg in Sweden in 2017. This is part of Volvo's announced aim of being a leader in autonomous drive technology, something that you would not bet against taking into consideration Volvo Cars' excellent reputation when it comes to safety.
"Volvo Cars is among the first to address the subject of self-driving cars and liability. We firmly believe that car makers should take full responsibility for the actions of the car when it is driving in full autonomous mode. If a manufacturer does not accept liability, it clearly implies that they are not confident about their autonomous drive technology," said Dr Peter Mertens.
Whether or not Self-Drive Cars will be something that goes mass-market is still open for discussion...but they said that about electric cars - and look at what is going on now with them!
Over 270 models from Volvo Cars are available for lease from Nationwide Vehicle Contracts, including the very latest XC90.