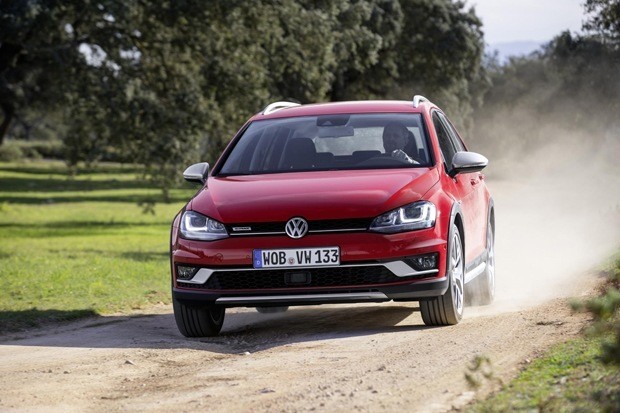 Check out the great deals that we have when it comes to the brand new Volkswagen Golf Alltrack by clicking here and you could soon be driving around almost anywhere in VW's latest off- and on-roader.
Heavily influenced by the soon-to-be-replaced VW Passat Alltrack, and from the same genre as both the Seat Leon X-Perience and the Skoda Octavia Scout, this latest VW Golf Estate grabs an extra 20mm of ground clearance, four-wheel drive and some plastic wheel arch and sill guards without looking like they've been jammed on as an afterthought.
Off-Roading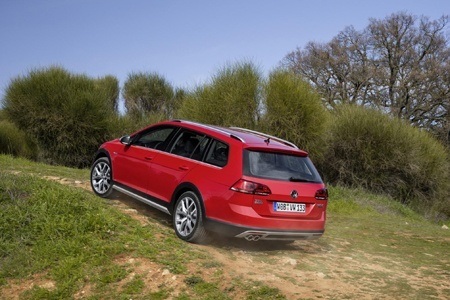 A VW Golf that off-roads? Are you reading that properly? You are indeed.
Admittedly we aren't talking scaling a major rock face (or even some scaly rocky terrain in all honesty), but when it comes to your averagely tough off-road layout then it's a very capable machine even when faced with the sort of risky climbs to level that could incur a bit of a nosebleed!
A lot of this is not only down to the Golf Alltrack four-wheel drive system that makes good use of an electro-hydraulic Haldex clutch system (that not only controls just how much torque is allocated to which axle but also has a locking centre diff function that is there for those particularly sticky situations), but also a (unique to the Alltrack Golf) off-road mode when it comes to the driver profile menu.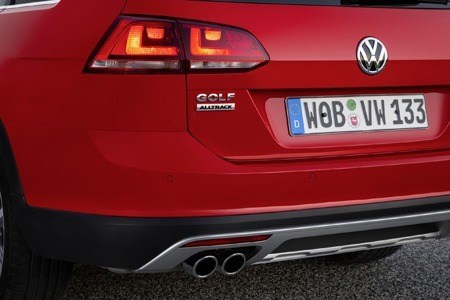 This off-road mode may seem a little difficult to use at first as it as it recalibrates both the throttle map and ABS to allow for the driving surface that you will encounter - in fact it almost seems not to be working at first before it bursts it life with a power that is truly surprising; even in two wheels. In contrast, off-road mode also contains a hill descent control that allows the car to inch slowly down steep slopes almost by itself!
VW's 4Motion four-wheel drive features EDS to ensure the very best traction at all times for really rough terrain, and the Alltrack also gets XDS+, which brakes the wheels on the inside of corners slightly to improve cornering performance.
And when it comes to the road holding capability, the chunky 17" alloy wheels sporting Goodyear tyres are there to help.
The VW Golf Alltrack is designed to be as efficient on-road as it is off-road, with the 4MOTION all-wheel drive system only channelling power to both axles when it detects a slip in traction. This means that, around town on when not in off-road mode, the VW Golf Alltrack is predominantly a front-wheel drive vehicle, essentially to help keep running costs down.
The power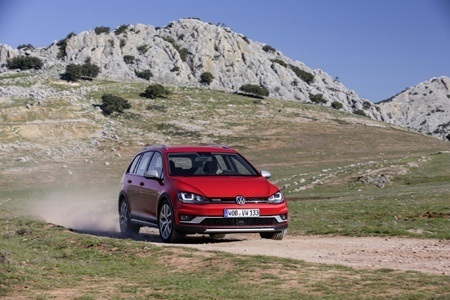 The Volkswagen Alltrack is a diesel-powered car with a choice of two engines (a 1.6 or a 2-litre) in three power outputs (108bhp in the 1.6, with either 148bhp or 182bhp on the 2.0 litre). Speedheads will be interested to know that by choosing the 182bhp 2.0 litre option you are getting the same engine as is available on a Golf GTD - complete with its dual-clutch DSG auto as opposed to the six-speed manual gearbox available on the other options.
0-62mph is reached in an average of 7.8 seconds on-road with the 2 litre 182bhp engine (12.1 with the 1.6 and 8.9 with the alternative 2 litre version) to a top speed of around 136mph, emitting 132g/km with a fuel economy of 56.5mpg (again with the 182bhp version). The other two versions offer slightly better fuel economy and less emissions.
The build and specification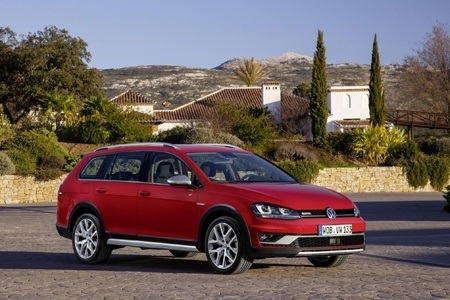 Essentially, we are looking at your normal VW Golf Estate when it comes to looks (with some added visual extras such as the redesigned front and rear bumpers, black plastic styling and chrome tailpipes) and that means lots of loadspace and lots of room inside, as well as some part-suede upholstery on the seats and a quick nod to the specifications that you get with a Golf Estate GT such as sat-nav, Bluetooth, alloy wheels, adaptive cruise, two-zone climate control and bi-xenon headlights.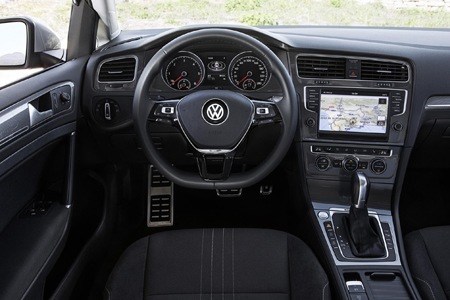 Add in a leather-trimmed steering wheel, Alltrack badging scattered around the cabin, a touchscreen infotainment system, and a driver alert system to sense when you're getting tired, and there is certainly enough comfort there to satisfy the most demanding of customers as they encounter some demanding terrain (at times.)
Rivals
Besides the Seat Leon X-Perience and the Skoda Octavia Scout, you could also put the Audi A6 Allroad and the Volvo V40 Cross Country into the same bracket as the Volkswagen Golf Alltrack - with Nationwide Vehicle Contracts offering some fantastic deals on many of these options.
You can find more details about the great deals from Nationwide Vehicle Contracts when it comes to the Volkswagen Golf Alltrack here.