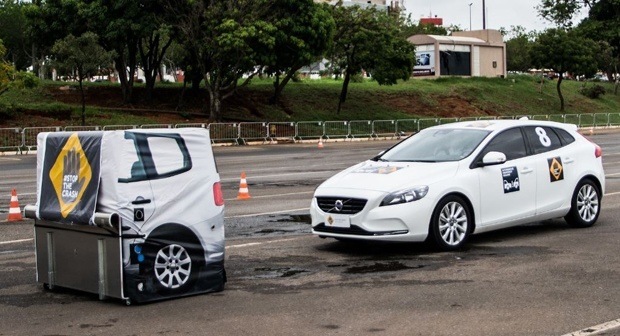 At the London Motor Show as part of the Global NCAP #STOPTHECRASH partnership, four major automotive names joined forces to ensure that consumers considering buying a new car know the life-saving questions they must ask before making their choice.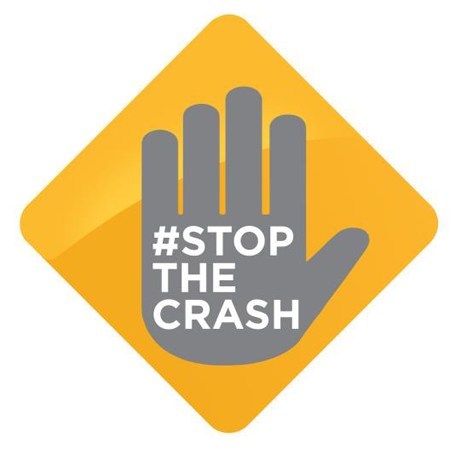 The partnership consisting of Thatcham Research, Bosch, Continental Tyres and ZF TRW asked suggested these three questions:
What Euro NCAP test rating does this car have?
Is Autonomous Emergency Braking (AEB) fitted to this car - and is it standard?
What else should I do to maximise the safety protection offered by this car?
The questions arrive at the same time as accident management firm Accident Exchange released figures from a survey that revealed that nearly 10% of all accidents over the last 12 months involved new 15 and 65-plate vehicles, with accident prone drivers tending to "prang their brand new pride and joy on the 57th day after the car was first registered, when averaged out." In fact, 32% of all 15 and 65-plate accidents happened within just two months of ownership - an estimated 196,000 vehicles.
And with the average cost of accident repairs being is £2,050, putting those cars back on the road is estimated to have cost nearly £402 million in just 12 months.
Autonomous Emergency Braking (AEB)
We all know about the Euro NCAP Rating system, and the importance of getting a car with a minimum of four stars (if we are concerned with car safety in the slightest), and the importance of answers to the three questions above can't be stressed enough if we are to reduce the annual UK toll of 100,000 rear end crashes and to make certain that drivers ensure the highest level of safety on their next car.
According to Thatcham Research: "AEB is a safety technology which monitors the traffic conditions ahead and automatically brakes the car in an emergency situation if the driver fails to respond. Rather than protecting the occupant in the event of a crash like the seatbelt and the airbag, AEB aims to prevent the crash happening in the first place avoiding all the associated misery and cost."
Take a look at this video.
Despite the fact that AEB is currently only standard fit on 17% of new cars currently on sale in the UK, statistics make the idea of AEB a real no-brainer with a 2015 Euro NCAP report finding that Autonomous Braking systems were responsible for a 38% reduction in real-world rear-end crashes.

"Autonomous Emergency Braking as standard should be the number one priority for anyone choosing a new car," stated David Ward, Secretary-General of the Global New Car Assessment Programme (Global NCAP). "The technology is already available in one form or another from almost every car manufacturer and in the absence of legislation to make it mandatory, we are encouraging consumers to use their power of choice to ensure that every new car coming onto the road has this life-saving feature fitted."
Other Safety Features You Should Look For
A recent report suggested that drivers are more likely to pay extra for satellite navigation and digital radio than they are to invest in safety features, a situation that #STOPTHECRASH believes has to change as a part of the move towards higher standards of road safety, especially taking into consideration the plethora of safety technological features that are now available - some of it standard on cars, but most of it optional.
After all, who would have thought back in the seventies that seat belts would be something we take for granted, along with the likes of airbags.
"Less than half of consumers are ticking the option box on safety features, which means a significant opportunity to save lives is being missed," said David Ward. "While the simplest way to increase uptake of safety technologies such as AEB is to make them standard on all new cars, better and more widely available information about how they work and the benefits they provide is the key to changing drivers' attitudes and we believe that vehicle manufacturers and automotive retailers have a vital shared role to play in this respect."
With today's safety features taking advantage of laser, radar, and cameras technology (amongst so much more), what are the other safety features that we should be looking at when we get a new car as we combine our need for safety with our fascination of technology.
Reversing Camera
In the real world, would you really try and move a 3,000lb+ object without being able to see where you are moving it too? That's how much a car weighs, and with a reversing camera, you can see just where you are going, and more importantly, who is in the way, be it pedestrians or other vehicles.
It can also help you park better.
Forward Collision Alert
By using both camera and radar, these systems sense danger ahead by detecting how close a driver is to the car in front, and can save you from rear-ending that driver ahead, especially if they have just slammed the anchors on themselves. It can also stop the vehicle hitting whatever has appeared in front of it, like an animal, a pedestrian, a tree or a wall.
Normal warnings are sounded by an alarm, or by steering wheel vibration, with advanced systems even applying the brakes if it senses an imminent collision.
Lane Departure Warning
These systems also use specialized sensors to keep an eye on the road ahead, and if the car drifts from its lane, an alarm sounds in the car to warn the driver. Drifting out of lane can be caused by a lack of attention, distraction or, in worse case scenarios, tiredness, and this system is especially useful in preventing accidents caused by this event, with more advanced systems having the ability to get the car back into its lane automatically.
Blind Spot Warning
Blind spots are dangerous, and pretty much unavoidable even with properly adjusted mirrors. With a Blind Spot Warning system, the car detects other vehicles or objects in the spot and normally lights near the side mirrors light up to tell the driver, meaning that changing lanes is a lot safer than before.
Other safety features are also available, and can obviously help you stay safe in your car. These include:
Electronic Stability Control (ECS)
Active Cruise Control
Driver Fatigue Warning
Traction Control
Brake Assist System
Tyre Pressure Monitor
What else can you do to ensure the safety of you and your passengers?
Android Auto, Apple CarPlay
I know that we said at the start of the blog that it wasn't a good idea to choose infotainment systems ahead of safety features, but now Android and iPhone users have access in in-car technology that allows them easy access to their smartphone's navigation, phone, entertainment, and texts via voice control rate than fingers is a safety bonus. And display on a screen on the dashboard is infinitely safer than checking a phone when behind the wheel.
Tyres
We have written a number of blogs over the years about tyre safety, and no matter how old the blog, the fact is that the effect that low tread depth can have on a car's safety is immense. Despite the fact that the UK legal limit for tread depth is 1.6mm, tests by Continental Tyres show that tyres only perform at 55% efficiency with this amount of wear, and they recommend replacing tyres when tread depth reaches 3mm.
But as recent research has shown that 40% of drivers have never checked the tread of their tyres, choosing instead to wait for a service, with 20% admitting that they do not even know how to carry out a tyre check, even this advice seems to be ignored, compromising safety, economics and driver confidence.
"Research shows that three quarters of all collisions occur at speeds under 20 mph," commented David Ward. "Even the most basic AEB system in conjunction with sensible tyre safety could prevent the vast majority of these incidents."
Seat Belts
In the event of a crash, seat belts are designed to keep you inside the vehicle as well as reducing contact with the steering wheel, dashboard, or windshield. Make sure that they are not worn or damaged, are adjustable, and that the pretensioning feature works.
Air Bags
Front air bags tend to come as standard in new cars, but don't eliminate the need for seat belts and are not designed to offer protection in rollovers, rear, or side impacts. Some cars now come with side air bags too!
Be aware that children can be killed or seriously injured by an air bag, so you should always put children age 12 and under in the rear seat - and never use a rear-facing child seat in the front seat of a vehicle equipped with a front passenger air bag unless the air bag is off.