Website NamesForCars.com suggests that the name that you give your car is "as important as the car because it creates a special bond between the driver and the car; a driver don't pick the car, the car'll pick the driver! It's a mystical bond between man and machine!"

And with many drivers having names for their cars, it's no wonder that the organisers of Mini World Live, which takes place at Rockingham Motor Speedway, Northants, on July 10, undertook a survey to find out what names MINI drivers give their cars.
Replies came from MINI drivers and owners all around the world, including places as far afield as Australia, New Zealand, Sri Lanka, Malta and the USA, and the results were as amusing as they were insightful.
The Results
According to the survey: 51% of the world's Mini population is male, but that doesn't mean that 49% are female. Apparently only 35% are female and 14% are neither – which either demonstrates the diversity of MINIs, the acceptance of sexual ambiguity by their owners, or the fact that they maybe aren't that bothered. But the fact remains that "anyone who's ever owned a Mini knows it's more than just a car."
The Names
So what names have owners come up with? There are some obvious ones and some not so obvious.
In the boy MINIs, Marvin is most popular, closely followed by Tommy (Tommy Cooper - geddit?) and Jack, although coming up on the rails are Minion names Dave, Stuart and Bob.
And when it comes to girls, alliteration is key for females with Minnie (perhaps unsurprisingly), Mollie and Millie being the three most favoured names.
Some of the more unusual names that MINIs have got included:
Pingu - because he's white with a black roof
Tetley - because he has more holes in him than a tea bag
Mojo Jojo - named after the evil monkey in The Powerpuff Girls
Leigh Halfpenny - named after the Welsh rugby international because both he and the MINI are smallish, gorgeous and powerful
Sheldon - named after Sheldon Cooper from the Big Bang Theory
Mavis - named by 80-year old John from Bangor, North Wales, after his late wife
Many MINIs will be on display at Mini World Live, and event manager, Katherine Chappell, commented on the survey by saying: "Mini owners have a real sense of community, and their cars are just as much a part of that community as they are. Minis, both old and new, are the most celebrated and characterful cars in the world, and with Mini World Live we want to celebrate that character."
MINI World Live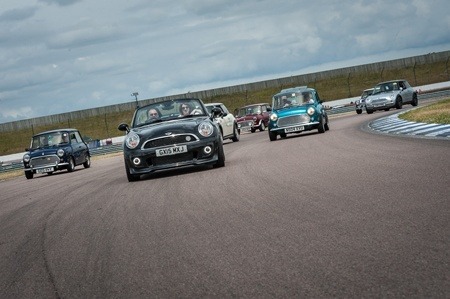 The show made its debut on the Car Show Calender last year, and was a huge success, attracting thousands of MINI enthusiasts to the Northants venue.
This year the show will feature attractions for fans of both classic and modern MINIs, including a concours competition, individual entries, a huge retail village, show and shine areas, club displays and on-track action, with visitors also able to enter a competition to win a MINI.
There is plenty of live music and refreshments along with the opportunity to camp on the evening before. More details are available at the MINI World Live website here.
For information about leasing a MINI from Nationwide Vehicle Contracts, click here.
Some facts about car names
There are some interesting facts about what people call their cars generally - and not just MINIs - according to the AA Driving School.
Young drivers are more than twice as likely as older drivers to give their car a name, with 39% of UK drivers doing it.
Young drivers aged 18-24 saying that they had named a car was 70% having done so in a AA-Populus survey, compared to just three out of ten (30%) of drivers over 65.
Women are far more likely than men to have named a car, with half (50%) saying they have done so compared to a third (33%) of men.
Of those drivers who have named a car*, a third (30%) said they decided on the name based on the car's registration number.
The second most popular way for choosing a name was based on 'the car's personality'.
Other popular ways to decide amongst those who have named a car were basing it on the make or model of the car (16%), the colour (8%), just a name they liked (8%), naming it after a celebrity (1%), naming it after their partner (1%) or their children (1%).
Most popular names
AA-Populus research also revealed some of the most popular and unusual names people give their cars. See if the name you have given your car is on the list below:
Names with 'Blue' in them such as Bluebelle, Blue Boy and Bluey.
Fred, Freddie or Freda
Betsey
Babe or Baby
The Beast
Penelope or Penny
Names starting with 'Little' such as Little Beauty, Little Star and Little Mighty
Bertie or Bert
Bessie or Bess
Bertha
Katy or Katie
Names starting with 'Old' such as Old Gal, Old Lady and Old Whitey
Celebrity names included 'Britney', 'The Batmobile', 'Herbie', 'Lightening McQueen' and 'Kit'
Jim Kirkwood, managing director of the AA Driving School, has his own ideas on not only why people give their cars names, but also on what they call them: "Most drivers spend a lot of time in their cars and depend on them for the smooth running of their daily lives, so it's perhaps not too surprising that they name them like another member of the family.
"The fact that young drivers are so much more likely to have named a car is probably a reflection of what a huge impact passing your driving test has on your life.
"Once you get a bit older, the novelty wears off a bit but to start with the joy of driving is very real. Having said that, overall the figures seem to suggest that this is a fun part of driving that stays with many drivers long after they have passed their test."
Now you know some of the most popular car names for Mini's, why not get one yourself and give it a name. Contact us today to see the offers we have available on Mini Coopers.