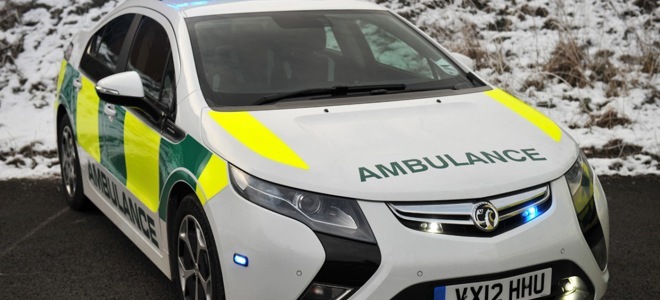 VAUXHALL AMPERA TO BE TRIALED IN AMBULANCE SERVICE
In a move seen as a nod of approval towards electric vehicles, and as part of their own commitment to reducing its carbon emissions, the Yorkshire Ambulance Service NHS Trust are trialing the use of the revolutionary extended-range electric Vauxhall Ampera as part of its emergency fleet – the first Ambulance Service in the country to do so..
Testing the Ampera over the next few months as part of the NHS Trust's rapid response emergency fleet in the York area, the YAS will be evaluating the vehicle and assessing whether or not it would be a viable addition to the Trust's fleet of more than 900 vehicles (Emergency and Patient Transport Service).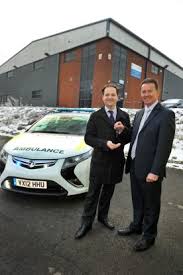 "We are very excited to be the first ambulance service to trial an electric vehicle that will respond to incidents, reduce our emissions and provide significant savings on fuel costs.  As it has both electric and petrol power we are confident that it is a viable alternative," commented Richard Smith, Fleet Manager for Yorkshire Ambulance Service who are committed to reducing their carbon footprint by 30% by 2015, as well as reducing their spending on fuel.
As stated earlier, the Vauxhall Ampera is the first electric vehicle to be trialed by an ambulance service on a long-term basis with the E-REV technology in the European Car of the Year 2012 making it as viable as you can get for emergency service vehicle use with both petrol and electric engines – negating any range anxiety that may exist.
The City of York Council has been particularly supportive in his trial by making plug-in electric charging points available across the city, showing off some green credentials that other councils would do well to take note of. Councillor Dave Merrett, Cabinet Member for Transport, Planning and Sustainability, said: "I very much welcome Yorkshire Ambulance Service's move to introducing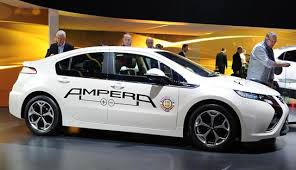 lower emission vehicles to its fleet. This is a first for the UK and an initiative I hope other emergency services will adopt."
And of course Vauxhall were pleased to supply the Ampera to the ambulance service to trial. Dick Ellam, Manager, Vauxhall Special Vehicles, said: "We are delighted that the Ampera was chosen to be the first electric vehicle to be trialled as a frontline ambulance vehicle by the NHS Trust, and we are confident that the Yorkshire Ambulance Service will be impressed by the Ampera's durability, performance and economy."