The Complete Guide to Electric Fleet Leasing

By Alex
20th April 2023
Electric vehicles are the future of motoring, and whether you like it or not, we will all be driving one at some point. In the UK alone, there are now over 735,000 battery electric cars on the road and a further 480,000 plug-in hybrids (ZapMap).
As well as being great for consumers, electric vehicles are hugely advantageous for businesses looking to get their hands on a fleet of electric vehicles.
An electric fleet looks great to your customers, decreases fuel costs, and offers several tax benefits that free up some cash flow for your business.

Why choose electric vehicles for your fleet
The main pull of an electric car fleet is the massive environmental benefits. Electric cars have zero tailpipe emissions, meaning they produce no carbon dioxide and contribute towards reducing air pollution.
Also, as a fleet manager, consider how an electric fleet will look for your business. It shows customers that you care about your business's sustainability and carbon emissions, which goes a long way to securing repeated custom in 2023.
Lower fuel costs
Although electric vehicles cost a little more to lease, you'll make up for this with savings in fuel costs. According to EcoExperts, the cost of running an electric car is 11p per mile, compared to 14p to 19p per mile for a petrol car (NimbleFins).
You can also charge your electric fleet in various ways. The most popular choice by fleet managers is to install 7kW chargers at your site, which charge the vehicle overnight for roughly £17. However, you might need to use the public charger network as well, which costs around £20 - £25 for a full charge (source: PodPoint).
Tax incentives
Vehicle rentals are VAT recoverable – If your electric fleet is used solely for business purposes, you can reclaim 100% of the VAT on your monthly payments. This reduces to 50% if the fleet is used for both business and personal use.

Payments are tax deductible – Because your fleet will be completely emissions-free, payments are tax-deductible up to 100%. However, to qualify for this, the rentals need to be even over the lease term, and you can't have the option to buy the car at the end of the contract.

Benefit in Kind (BiK) tax applies to those who receive a company car for private use. For electric vehicles, BiK tax sits at just 2% for 2023/24, compared to 22% for petrol vehicles.
The growth of the UK electric vehicle market
Another reason to go electric for your fleet is to get ahead of the rush towards electrification. In November 2020, the UK Government announced plans to phase out the sale of petrol and diesel cars by 2030, and by 2035 all new cars and vans would be emission-free.
To help achieve this, the Government is introducing a ZEV mandate in 2024 which will set annual targets for manufacturers' new car and van sales to be zero emission. As a result, manufacturers have placed a huge emphasis on their electric car production in the UK and Europe.
Ford wants to become all-electric for their passenger cars in Europe by 2030, and premium brands such as BMW, Audi, and Mercedes-Benz are producing more EVs every year. For fleet managers, this means there's a great range of electric vehicles to choose from.
Range
Whether you're a local or national business, keeping your fleet on the road is a must. That's why you must ensure that your electric vehicles have enough range to get your drivers from A to B without worrying about charging.
You'll also need to think about the charging capabilities of your fleet. If your drivers spend a lot of time on the road and must stick to deadlines, fast-charging capabilities will be needed to ensure they can return to the road as quickly as possible.
Charging infrastructure
Once you've decided you're going for an electric fleet, you need to consider the practicalities. How is your fleet going to charge itself? Fleet managers have various options available, such as installing charging points at your business, using the public charger network, or installing a charger at your driver's home.
This can be an expensive job, especially if you've got a large fleet. Luckily, the UK Government offers a range of incentives and grants for businesses looking to install charging infrastructure. We talk about this in more detail below.
Vehicle type
The last consideration is what type of electric vehicle to choose. Thanks to sheer market competition, fleet managers have a choice of most types of vehicles, such as coupes, SUVs, hatchbacks, saloons, and vans.
Consider the car's needs, such as the miles it will be travelling, cargo space requirements, ride quality, and charging capabilities.
Best electric vehicles for fleet leasing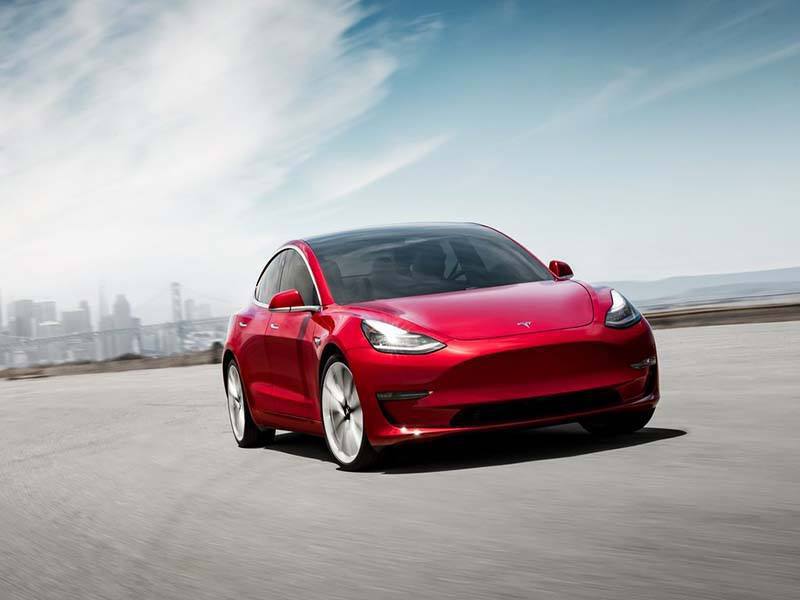 1

.
Tesla Model 3
The Tesla Model 3 sold over 19,000 units in the UK in 2022 and would be a superb choice as a fleet vehicle. With an impressive range of more than 230 miles and a fantastic set of technology systems, the Model 3 would provide a bit of luxury for your fleet.
You'll also get access to Tesla's supercharger network, which allows you to charge the battery from 10-80% in under 30 minutes.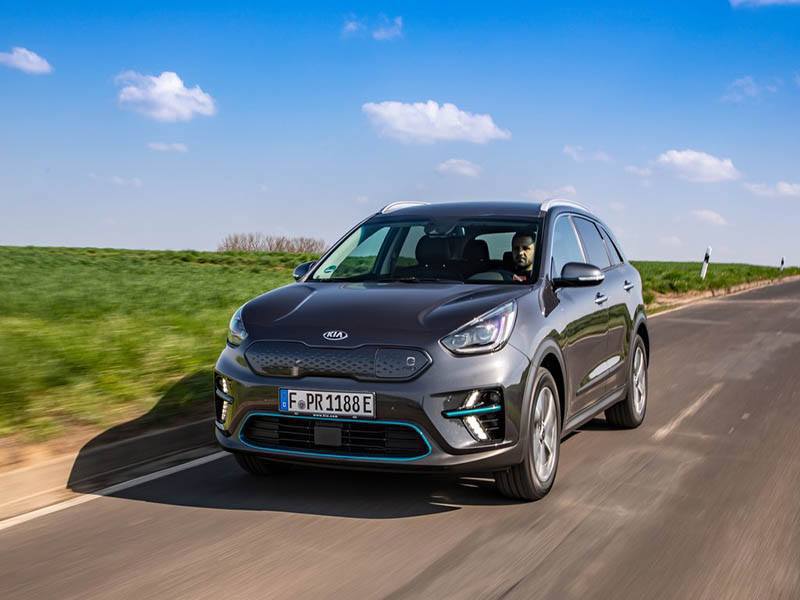 2

.
Kia Niro EV
The Kia Niro EV might not look as dashing as the Tesla Model 3, but it's an exceptionally good electric car. You get a 64.8kWh battery that returns an official range of 285 miles between charges, and it has 72kW charging capabilities, filling the battery from 10-80% in 43 minutes.
On the road, the Niro EV is an exceptionally comfortable ride, making it attractive to fleet managers who will be racking up the miles.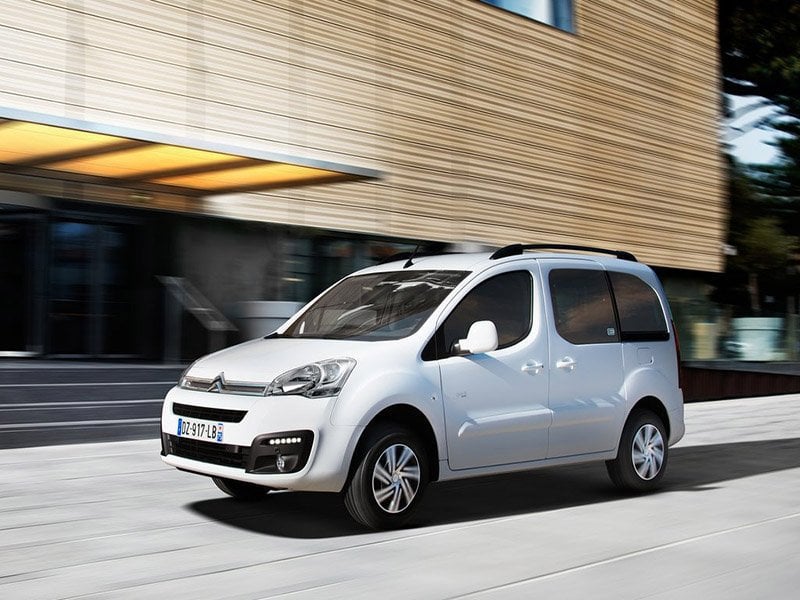 3

.
Citroen e-Berlingo
The Citroen e-Berlingo is the go-to small electric van on the market and is perfect for small and medium-sized businesses that want an electric van fleet. The e-Berlingo is powered by a 50kwH battery with an official range of 171 miles. You'll also be able to carry a payload of up to 800kg and choose between two body sizes.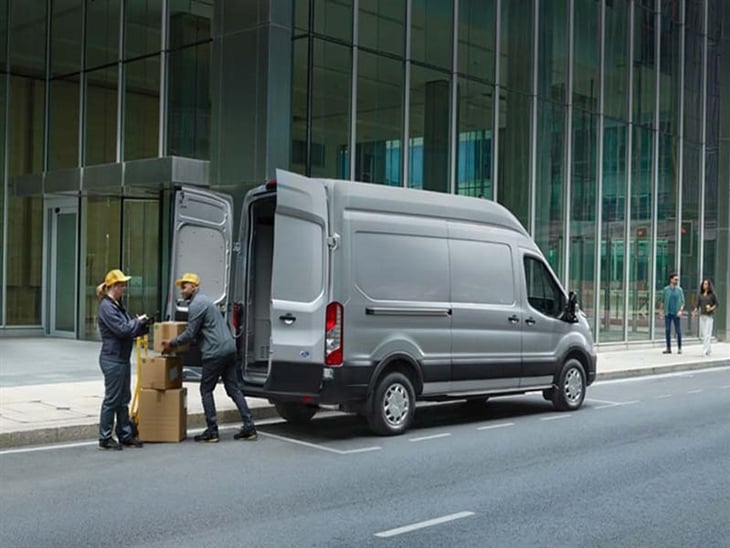 4

.
Ford E-Transit
The Transit has been a constant on UK roads for many a generation and is now available with an electric drivetrain. Coming with a powerful 68kWh battery that tops out at 261bhp, the Ford E-Transit is perfect for fleet managers who plan on hauling heavy loads. It returns a very competitive range of 196 miles and has charging capabilities of up to 115kW.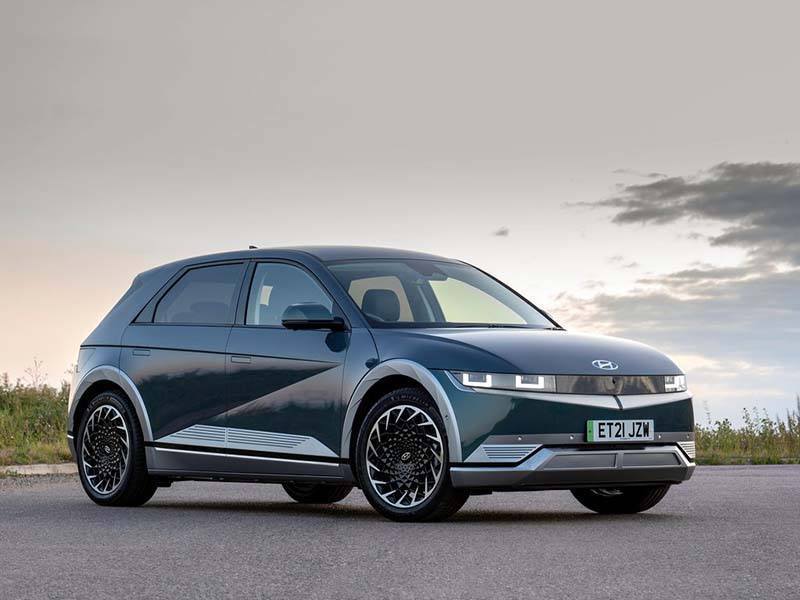 5

.
Hyundai Ioniq 5
The Hyundai Ioniq 5 has taken the crossover SUV market by storm in the last few years, coming with great practicality and a good electric range. Drivers get a choice of three batteries, with power ranging from 54kWh to 77kWh and an all-electric range stretching from 238 to 295 miles depending on battery choice.
The top-of-the-range models feature 238kW charging capabilities which can charge the battery from 10-80% in just 17 minutes.
Managing an electric fleet
Range anxiety
Range anxiety is a real problem for all electric vehicle drivers and worse for those whose business relies on their vehicle. If one of your cars runs out of charge on the road, it will look bad on your business.
As a fleet manager, you'll need to consider how many miles each vehicle will be driving each day and ensure that the vehicle you choose meets the requirements. For example, if your drivers are doing up to 200 miles a day, having an electric vehicle with a range of fewer than 150 miles will be counterproductive.
Charging infrastructure
If it's your first time going for an electric fleet, one of the essentials you'll need to consider is your charging infrastructure. Where to install chargers? How much do they cost? Will they be quick enough?
The most popular solution is to install 7kW chargers at your business to ensure your fleet charges overnight and is ready for the morning. The UK Government's Workplace Charging Scheme supports businesses with the up-front cost of installing charge points.
However, installing charging points on-site might not be enough if your fleet is used for personal and business requirements. Your drivers might want a charging point at home, which could cost between £500-£1,000 for a standard 7kW charger. Once again, the Government offers a grant where they provide funding up to 75% towards the cost.
Finally, you'll need to consider the charging infrastructure in the area around your business. Thankfully, this is straightforward, with Zap-Map providing a massive database of all charging points across the UK.
How to manage an electric fleet effectively
Planning charging schedules
An essential to driving an electric vehicle is always charging up. You don't want to be getting in the car before work and see the dreaded low-battery symbol, while at the same time, you don't want to be in the middle of nowhere when your battery runs out.
To prevent this from happening, its essential fleet managers plan a charging schedule for all their drivers:
Step 1. Ensure your drivers charge their vehicles overnight.

Step 2. Plan each driver's route. If travelling a long distance where you'll need to charge, use ZapMap to find a suitable charging location.
Efficient driving techniques
Range anxiety is always on the minds of electric vehicle drivers, so ensure your drivers know how to maximise their electric capabilities.
Accelerate gently – The faster you accelerate, the more battery you use up, so accelerate as gently as possible.

Watch your speed – In an electric car, the faster you go, the more energy the battery uses. Ensure your drivers always stick to the speed limit to prevent wasting battery power.

Maximise your energy regeneration – Most electric vehicles now feature regenerative braking, which slows down the vehicle by converting its kinetic energy into power. Ensure your drivers know how to maximise regenerative braking and make sure it's always on.

What finance option to choose for your fleet
Four options are available for businesses looking to get their hands on a fleet of vehicles: Contract Hire, Finance Lease, Contract Purchase, and Business Lease Purchase.
Contract hire
Contract hire is the most popular choice for leasing a vehicle and is perfect for a small or medium-sized business. You pay an initial deposit and fixed monthly payments for the duration of the contract, and then once the term is up, you'll return the vehicle to the finance company.
Finance lease
Only available for businesses, a finance lease allows you to use a vehicle without high upfront costs, handle the administration, and have the vehicle appear on your balance sheet. You have two choices of what to do.
You can either pay the entire cost of the vehicle, including interest charges, over an agreed period or pay lower monthly rentals with a final payment based on the anticipated resale value of the vehicle.
Contract purchase
Available for VAT-registered companies and businesses, contract purchase is for those who want to own the vehicle at the end of the contract term. Like Contract Hire, you pay an initial deposit and fixed monthly payments, but at the end of the contract, you have the option to buy the vehicle at an agreed price.
Lease purchase
A lease purchase is a long-term agreement where you lease the vehicle for a fixed monthly payment and then buy the vehicle at the end of the contract. It's most popular with businesses who want to retain the vehicle as an asset at the end of their lease.
How to choose the right financing option
The type of business leasing contract you choose is completely up to you and depends on your business's financial circumstances. If you want to avoid the cost of depreciation and are looking to update your fleet every couple of years, contract hire will suit you best.
If you're looking for the vehicle to appear as an asset on your balance sheet and have the choice to operate it after your contract, finance lease suits you best.
If you want to keep your fleet of vehicles after your contract term, choosing a contract purchase or lease purchase would be the best decision.
Government incentives for electric fleets
As a result of electric fleets being great for the environment, the UK Government offer a range of incentives to help convince fleet managers to go electric.
Tax breaks
If you've gone for an all-electric fleet of vehicles, there's a great range of tax benefits on offer. Your vehicle rentals will be completely VAT recoverable (50% if the vehicle is used for personal and business use). Your monthly payments will be tax deductible because your fleet is emissions-free (conditions apply).
Charging infrastructure grants
The Workplace Charging Scheme (WCS) is a grant by the UK Government that provides businesses with support towards the upfront costs of purchasing and installing electric vehicle charge points.
It covers up to 75% of the total costs of purchasing and installing the charge points. The scheme is capped at a maximum of £350 per socket and 40 sockets across all sites per applicant.
A similar EV infrastructure grant for staff and fleets is for small-to-medium-sized businesses in the UK. The grant covers 75% of the cost of installing the infrastructure required for a charge point and for future chargers to be installed.
There is a limit of £15,000 per grant, with applicants able to secure £350 per socket installed and £500 per parking space enabled with supporting infrastructure.
Switching to an electric fleet would be a great decision for your business. As well as helping protect the environment, your business will benefit from driving state-of-the-art electric vehicles that look great to customers. You'll also save money on fuel costs because electric cars are cheaper to run.
The UK Government provides various incentives to aid the switch to an electric fleet, such as various tax benefits and grants providing help towards the installation of charging infrastructure.
Is your business looking to lease an electric vehicle? Check out our range of electric leasing deals or call one of our specialists on 0345 811 9595 to discuss the options available.
Guide Information