The Audi A3 Cabriolet is an obvious choice if you are looking at a small yet classy Cabriolet, with competition coming from the BMW 2 Series Cabriolet and the Volkswagen Golf Cabriolet as they face up to the Audi's fast-folding fabric hood (18 seconds), its excellent fuel economy, and its aptitude for speed. Taking advantage of the seemingly few days that we get in the UK to drive 'top down', the speed with which the A3 Cabriolet performs its hood task makes that a key feature whichever of the 3 petrol and 2 diesel engines you choose for whichever A3 model.
Add in fuel economy scales that you wouldn't expect from a Cabriolet - leading to low running costs - and enough nip and grip to satisfy most drivers' needs, and the Audi A3 Cabriolet flair, internal luxury, comfort driving performance will give any driver the edge - along with plenty of admiring glances.
Audi A3 Cabriolet Key Features
A fabric hood that folds down in 18 seconds at speeds up to 31mph
A choice of 5 petrol and diesel engines
Fuel economy as high as 72.4 mpg
High-quality interior specifications (including a 5.8" display screen)
Part of the Audi A3 family
Power & Performance
Overall, the A3 Cabriolet is lighter (and therefore faster) than its predecessor on the market, and the addition of a 2.0-litre turbocharged petrol engine to the existing 1.4 and 1.8 options, and a 1.6 litre diesel to the launched 2.0 litre certainly help with the sportiness and performance - but not to the detriment of economy and C02 emission control.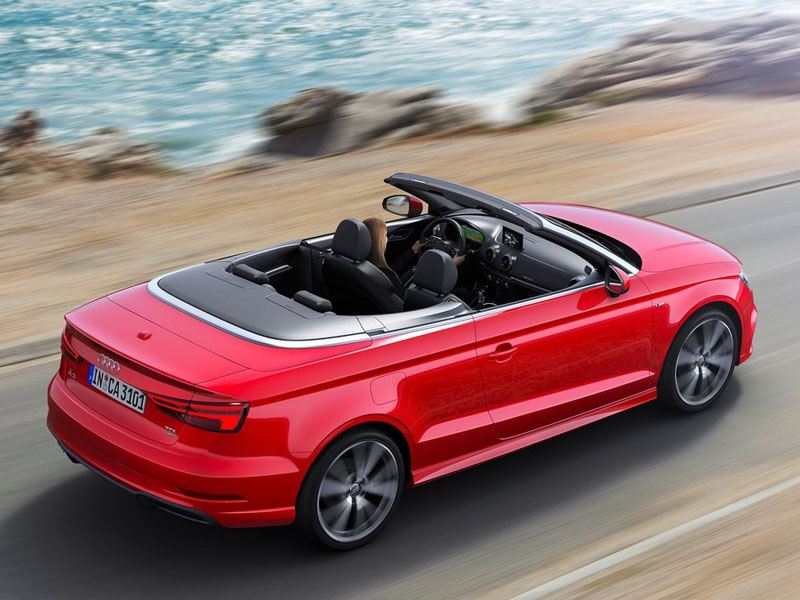 The new 1.6 litre diesel offers the best fuel economy at 72.4mpg and the lowest emission figures, but you can be assured (as you rush along with the wind in your hair) that all models and engine options are looking after your finances as well as the environment.
Leasing vs Buying
With fixed monthly rental costs and flexible mileage and contract terms to suit every need and every pocket, leasing is a great alternative to buying a brand new car – especially with the peace of mind that it offers with inclusive road tax and breakdown recovery. Here at Nationwide Vehicle Contracts with our huge range of vehicles on offer, you can also sleep easy in the knowledge that your finance has been arranged through the UK's largest vehicle lease providers.