Fergus is a talented automotive writer specialising in automotive and sports content. He has a Level 3 qualification in content creation and previously worked for Boxxer and The Best of Bolton.
Audi Q3 Sportback Review 2023
The Audi Q3 Sportback stands as a remarkable testament to the German automaker's dedication to combining cutting-edge design, exceptional performance, and innovative technology. The Audi Q3 Sportback offers a more stylish alternative to the high-tech Audi Q3.
Rivals to the Audi Q3 Sportback include the BMW X2, Range Rover Evoque and Volvo XC40.
Our Audi Q3 Sportback review covers:
Audi Q3 Sportback Key Features
Striking and captivating design with sleek and athletic coupe-like roofline
Spacious, well-designed interior equipped with a suite of advanced safety features
530-litre boot, expanding to 1,400 litres with rear seats down
Range of powerful and efficient engine options
Three trim levels are available: Sport, S Line and Black Edition
Audi Q3 Sportback Pros and Cons:
Pros:
Striking Design
Luxurious Interior
Advanced Technology
Cons:
Expensive
Limited Rear Visibility
Potential for Limited Rear Headroom
Design, Practicality and Boot Space
The design of the Audi Q3 Sportback is one of its most defining features. It combines the practicality of an SUV with the sporty and sleek lines of a coupe. The exterior showcases Audi's signature design elements, including the bold Singleframe grille, distinctive LED headlights, and sharp creases that create a sense of dynamism. The sloping roofline is a key design highlight, giving the Q3 Sportback a distinctive and elegant silhouette. This design choice not only adds to its visual appeal but also sets it apart from the more conventional SUV shapes on the market.
Moving inside, the interior design is equally impressive. Audi's attention to detail and use of premium materials are evident throughout the cabin. The dashboard layout is modern and driver-focused, with a central infotainment screen and a digital instrument cluster. The quality of materials, precise stitching, and thoughtful placement of controls contribute to an upscale ambiance that aligns with Audi's luxury reputation.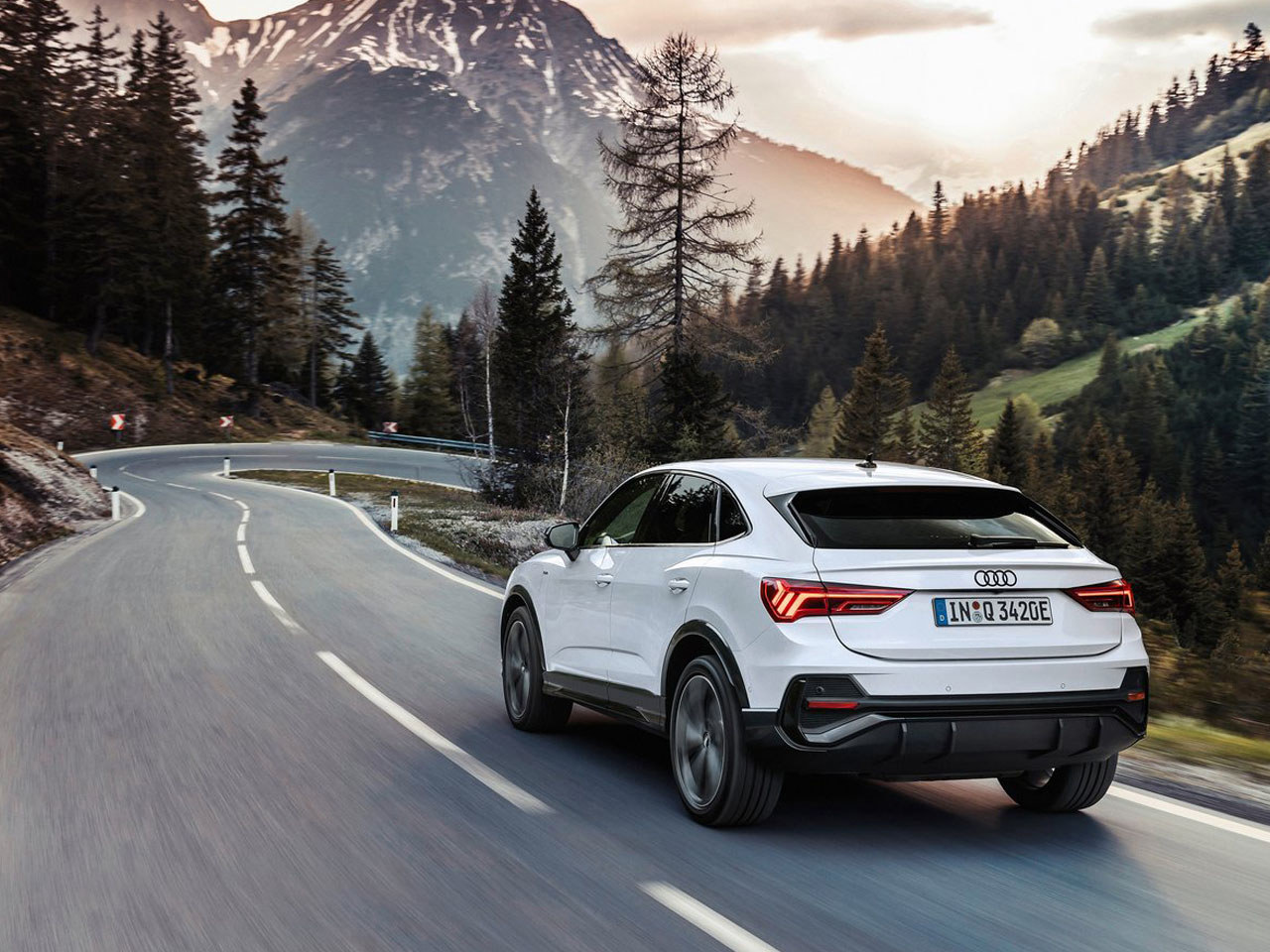 The Q3 Sportback manages to strike a balance between its sporty design and practicality. While the coupe-like roofline might suggest compromised interior space, Audi has worked to ensure that occupants still have ample room. The front seats offer comfortable space, and the rear seats provide decent legroom and sufficient headroom for most passengers. However, taller passengers sitting in the rear might find their headroom slightly limited due to the sloping roofline.
One of the areas where the sporty design does have an impact is the boot space. While the Q3 Sportback offers reasonable cargo capacity, it's important to note that the sloping roofline reduces the vertical space available in the trunk. The Q3 Sportback's boot capacity is usually around 530 litres with the rear seats in place and 1,400 litres with rear seats down expanding the cargo area to accommodate larger items.
Interior and Trims
The interior of the new Audi Q3 Sportback is a showcase of luxury, technology, and thoughtful design. Audi has spared no effort in creating an upscale and comfortable environment for both the driver and passengers.
High-quality materials, precise stitching, and attention to detail are evident throughout the cabin. Soft-touch surfaces, premium leather upholstery, and metallic accents contribute to an ambiance of refinement. The dashboard design is sleek and modern, featuring clean lines and an uncluttered layout. The central focus is on the touchscreen infotainment system, which is seamlessly integrated into the dashboard. Physical controls are logically placed, allowing for easy access to essential functions.
The Q3 Sportback comes equipped with Audi's MMI (Multi Media Interface) infotainment system. Depending on the model year and trim level, it may feature a dual touchscreen setup with haptic feedback. This system offers navigation, smartphone integration (Apple CarPlay and Android Auto), Bluetooth connectivity, and a host of entertainment and information options. The vehicle typically features Audi's Virtual Cockpit, a customizable digital instrument cluster that provides various display modes, including a full-screen map view, vehicle information, media controls, and more.
Three trim levels are available: Sport, S Line and Black Edition.
In the Sport variant, the Audi Q3 Sportback is equipped with 18-inch alloy wheels, LED headlights, as well as brake lights, rear parking sensors, cruise control, lane-keeping assist, and automatic emergency braking. The interior features include sliding rear seats, a 10.25-inch digital driver's display, fabric seats, and a leather steering wheel. Additionally, a 10.1-inch touchscreen infotainment system is included, complete with built-in sat-nav, smartphone mirroring, DAB digital radio, and Amazon Alexa functionality.
For the S Line iterations of the Audi Q3 Sportback, enhancements encompass 19-inch alloy wheels, more assertive bumpers and side skirts compared to the standard version. Exterior features extend to a black grille with aluminium inlays, tinted windows, and contrasting matte black and silver trims on the bumpers and side skirts. Inside, there are sliding rear seats, aluminium dashboard trims, partial leather front sports seats, and a black roof lining. Stainless steel pedal trims are standard, accompanied by a 10.25-inch digital driver's display and a 10.2-inch touchscreen infotainment system equipped with sat-nav, smartphone mirroring, and Amazon Alexa functionality.
Differentiating from the S Line model, the Black Edition introduces select black trim elements to achieve a more assertive appearance. It also boasts 19-inch alloy wheels and a flat-bottomed steering wheel. However, the additional cost of the Black Edition may not offer substantial value in our view.
Power and Performance
There's a selection of three TFSI petrol and two TDI diesel engines, alongside the TFSI e plug-in hybrid option – mirroring the engine choices offered by the standard Q3. Each engine is identified by a numerical value corresponding to its power output, with higher numbers indicating more potency. The petrol variants, namely the 35 TFSI, 40 TFSI, and 45 TFSI, deliver 150hp, 190hp, and 245hp, respectively. On the diesel front, the 35 TDI and 40 TDI offer 150hp and 200hp, while the 45 TFSI e plug-in hybrid presents 245hp.
Solely the 35 TFSI engine offers the option of a manual or S tronic dual-clutch automatic transmission. The rest of the engines come equipped with automatic transmissions as standard, and those boasting 190hp or more include the quattro four-wheel-drive system.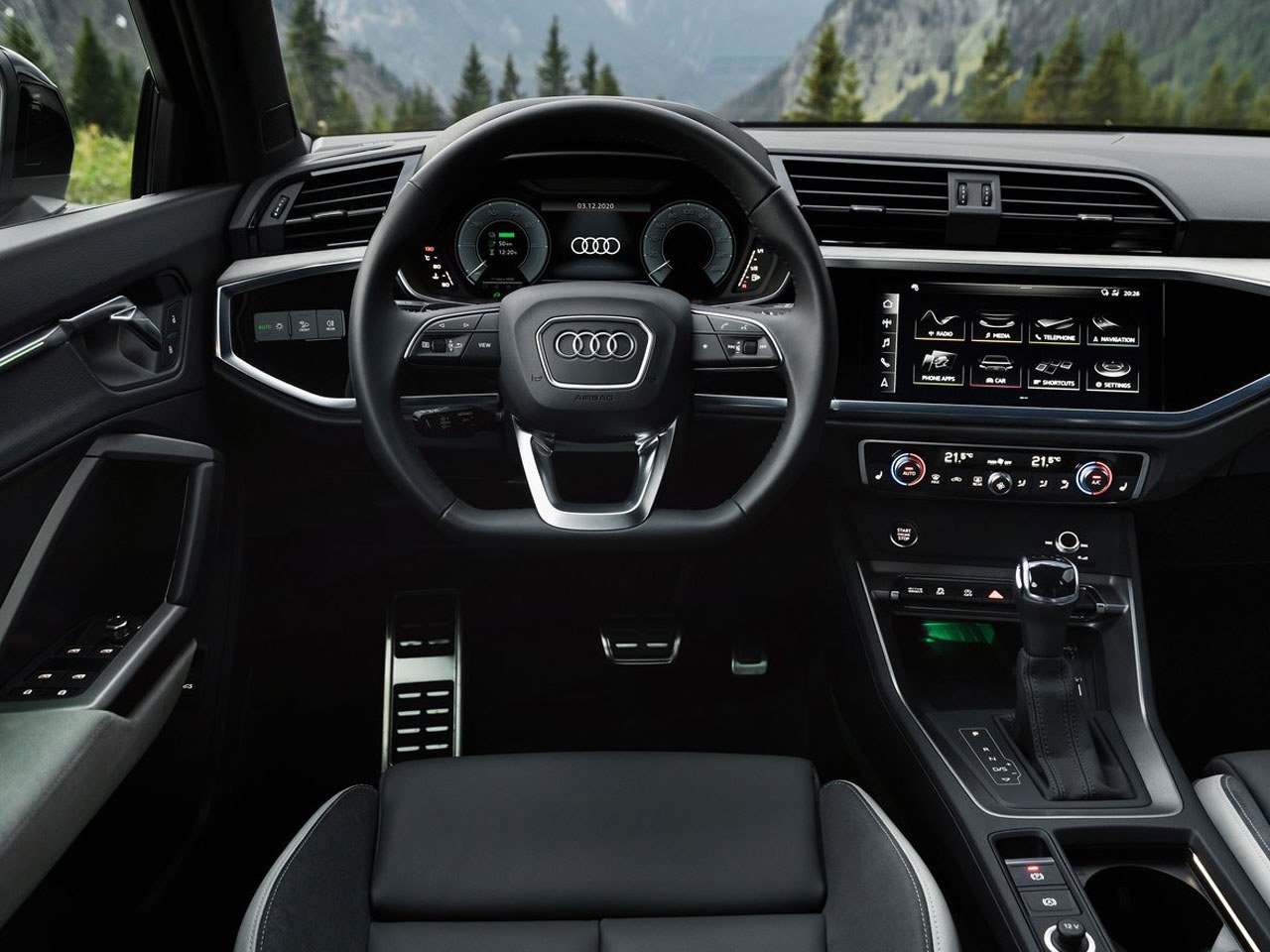 Given its relatively compact size, the Q3 Sportback handles urban driving with ease. Frontal visibility is excellent, but rearward visibility is slightly compromised due to the sloping roofline. The small back window and substantial blind spot created by the design can be challenging when reversing into parking spaces.
On the motorway, the Q3 Sportback demonstrates its prowess as a comfortable cruiser. It maintains a quiet and composed demeanour even with the firmer sports suspension. The vehicle feels solidly built and capable, with all engine options proving more than capable of handling sustained speeds of 70mph. While the more powerful engines excel at acceleration and are better suited for carrying a full complement of passengers and luggage, they offer an improved ability to merge onto highways and handle heavier loads.
Overall if you're in the market for a compact luxury SUV that delivers on all fronts, the Audi Q3 Sportback is undoubtedly worth a closer look. It sets a new standard for what a modern SUV should be, and it's a true joy to experience on the road.
Leasing vs Buying
The Audi Q3 Sportback is now available for purchase at a starting on-the-road price of £33,930.00*, or it can be leased with monthly payments starting from £370.12.
If you're considering leasing an Audi Q3 Sportback, we proudly offer excellent car leasing services in the UK. Our leasing deals include a manufacturer's warranty, road tax, breakdown insurance, and free delivery to most areas of the UK mainland (excluding specific regions).
Leasing an Audi Q3 Sportback can often be a more financially advantageous option compared to purchasing outright, thanks to the fixed monthly payments, variable mileage options, low initial rental, and flexible contract durations.
It's important to note that the 'on-the-road' price mentioned includes a year's road fund license, DVLA first registration fee, and a number plate fee. Please be aware that this price is accurate at the time of publication and is subject to change. To get the most up-to-date information, we recommend contacting your nearest retailer.