The 3-door BMW 4 Series Convertible enhances the sporty excellence of the 4 Series Coupe with the irresistible thrill and elegance of open-top driving. With a refined interior specifically designed with the driver in mind, the BMW 4 Series Convertible comes with a high quality range of standard features and a choice of powerful petrol and diesel engines.
Nationwide Vehicle Contracts has some fantastic leasing offers on the BMW 4 Series Convertible at exciting prices.
BMW 4 Series Convertible Key Features
• An overall sportier version of the 4 Series Coupe;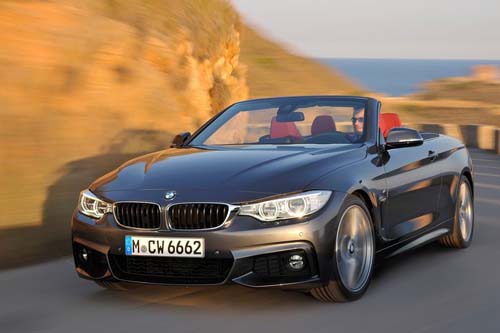 • Three-piece folding metal roof raised or lowered in 20 seconds;
• Recalibrated chassis for a more thrilling ride;
• High quality range of standard features;
• Choice of three powerful petrol and diesel engines
Power & Performance
The BMW 4 Series Convertible has a similar chassis to its coupe counterpart. However, the springs, damping, axle characteristics, camber angle, track and roll centre have been recalibrated to deliver a sportier ride overall.
There's a choice of three engines, each of which is available with either six-speed manual or eight-speed automatic transmission. The entry level 2.0 litre 184bhp four-cylinder diesel, if fitted with the automatic gearbox, is perfect if you want to balance your sporty thrills with efficiency. With this configuration, the BMW 4 Series Convertible is capable of 58.9mpg, with CO2 emissions as low as 127g/km.
Of the two petrol engines, look no further than the range-topping turbocharged 3.0 litre 306bhp 435i. Capable of achieving 0-62mph in just 5.6 seconds, this is the obvious choice if you want to unleash the maximum sporty potential of your BMW 4 Series Convertible.
Style & Substance
The three-piece folding metal roof can be raised or lowered in just 20 seconds at speeds of up to 8mph. A new sound-absorbing headliner reduces win noise levels by 2dB, resulting in a much quieter and relaxing interior ambience. And thanks to innovative electro-hydraulic systems, even with the roof down you have an impressive 220 litres of storage space in the boot. With the roof up, this is boosted to 370 litres, 20 litres more than the old 3 Series Convertible.
The interior of the BMW 4 Series Convertible has been optimised with your needs as a driver in mind. It's elegant and refined, with everything within easy reach and exactly where you'd expect it to be, but the low driving position will make even the most comfortable of rides considerably more thrilling – especially with the roof down.
The BMW 4 Series Convertible is available in five different trim levels – SE, Sport, Modern, Luxury and M Sport. Standard across the range are such high-quality features as leather upholstery with Sun Reflective technology, whilst optional extras include a wind deflector and a three-temperature Air Collar heating system.
Leasing vs Buying
When you lease a BMW 4 Series Convertible from Nationwide Vehicle Contracts, expect a lower initial deposit, flexible contract and mileage terms, fixed monthly payments and inclusive road tax and breakdown recovery. In many ways, leasing can be more convenient and cost-effective than buying. If you're looking to impress with a convertible, Nationwide Vehicle Contracts also have some exciting leasing offers on the Audi A5 Cabriolet and the Mercedes-Benz E-Class Cabriolet.