Fergus is a talented automotive writer specialising in automotive and sports content. He has a Level 3 qualification in content creation and previously worked for Boxxer and The Best of Bolton.
BMW 5 Series Touring Review 2023
The new BMW 5 Series Touring is an exceptional addition to the BMW lineup, combining style, performance, and practicality in a way that's truly impressive. You'll appreciate its suitability for long-distance cruising and the versatility it offers for your driving needs.
Rivals to the BMW 5 Series Touring include the Mercedes E-Class Estate and Audi A6 Avant.
Our BMW 5 Series Touring review covers:
BMW 5 Series Touring Key Features
Iconic kidney grille, sleek LED headlights, and well-sculpted lines
Interior provides a premium experience with high-quality leather and wood trim options
570-litre boot, expanding to 1,700 litres with rear seats down
Offers a range of engine options
Two trim levels are available: SE and M Sport
BMW 5 Series Touring Pros and Cons:
Pros:
Elegant Design
Spacious Interior
Engaging Driving Dynamics
Cons:
Expensive
Complex Infotainment
Limited Third-Row Seating
Design, Practicality and Boot Space
The design of the BMW 5 Series Touring is a harmonious blend of elegance and functionality. It inherits the classic BMW design language with its iconic kidney grille, sharp LED headlights, and sleek body lines. The Touring variant, with its wagon body style, adds an extra layer of practicality without compromising on style. The 5 Series Touring exudes an understated yet sophisticated look. Its proportions are well-balanced, and it manages to be sporty without being overly aggressive. The elongated roofline and the gently sloping rear create a cohesive and aerodynamic silhouette.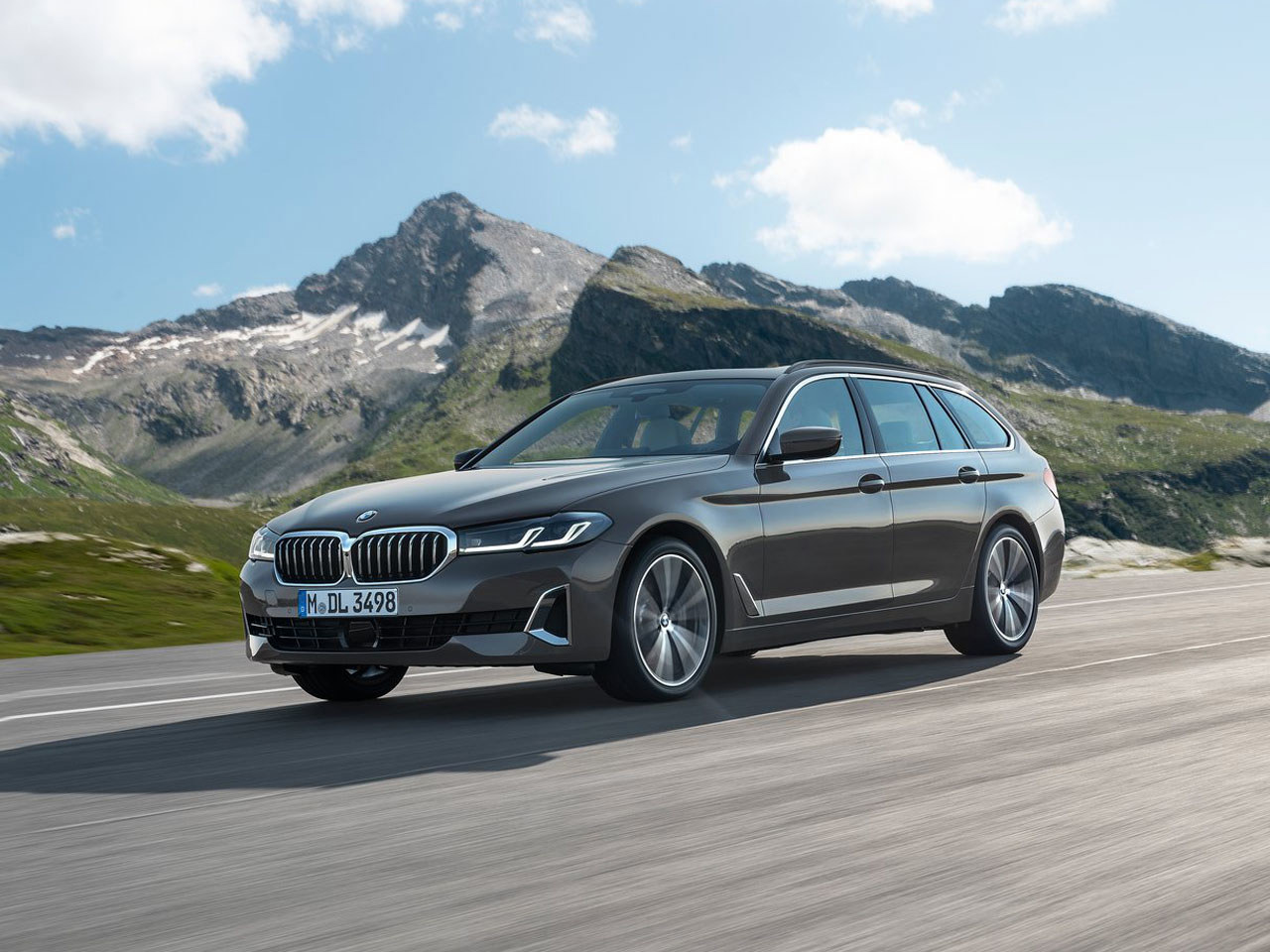 The BMW 5 Series Touring is designed with practicality in mind, making it an excellent choice for various lifestyles and needs. The rear seats offer ample legroom and headroom, ensuring the comfort of passengers, even on longer journeys. This makes it an ideal choice for families or those who frequently have passengers in the back. The wide rear tailgate and low load lip make it easy to load and unload items from the boot. Additionally, BMW often includes features like a power-operated tailgate for added convenience.
The BMW 5 Series Touring's boot space is a standout feature, and it's one of the reasons why many buyers opt for this model. It offers a substantial cargo capacity ranging from approximately 570 to 1,700 litres when the rear seats are folded down. This means you can easily fit bulky items like suitcases, golf clubs, or even small furniture. The 40/20/40 split-folding rear seats allow you to configure the boot space to accommodate both passengers and cargo as needed. This versatility is a significant advantage when you have a mix of passengers and luggage to transport.
Interior and Trims
The interior of the BMW 5 Series Touring is a showcase of luxury, craftsmanship, and advanced technology. BMW has paid meticulous attention to detail, ensuring a comfortable and premium driving experience. High-quality materials are used throughout the cabin. Depending on the trim level and options chosen, you can expect leather upholstery, wood or aluminium trim accents, and soft-touch surfaces. These materials contribute to a sophisticated and upscale ambiance.
The front seats are well-cushioned and offer excellent support, making long journeys comfortable. Depending on the trim level, you can opt for various seat adjustments, including power-adjustable seats with memory settings. Rear passengers also benefit from spacious seating with ample legroom and headroom.
The 5 Series Touring comes equipped with BMW's iDrive infotainment system. This system features a large touchscreen display positioned prominently on the dashboard. It's intuitive to use and offers features such as navigation, smartphone integration, and access to various vehicle settings. Higher trim levels may include a larger and more advanced touchscreen. Many configurations offer a digital instrument cluster, known as the BMW Live Cockpit Professional. This replaces traditional analog dials with a high-resolution digital display, allowing you to customize the information displayed to suit your preferences.
Two trim levels are available: SE and M Sport.
The entry-level SE trim offers a well-equipped package that caters to various needs. It includes essential features like satellite navigation, Bluetooth connectivity, a spacious 20GB hard drive for music storage, and a dual-screen setup – a 10.25-inch display on the dashboard and a driver's display that replaces traditional analog gauges. Additionally, SE models come standard with convenient amenities such as heated front seats, cruise control, front and rear parking sensors, and automatic headlights and windshield wipers.
For those seeking a sportier experience, the M Sport models represent the pinnacle of the 5 Series Touring range. These variants come with performance-oriented enhancements, including lowered suspension, larger alloy wheels, and more aggressive bumpers. Inside, you'll find a distinctive black roof lining, chrome trims, and numerous M badges, all of which contribute to setting this range-topping model apart from the standard versions. Just like the SE models, M Sport variants offer the same comprehensive dual-screen infotainment system with satellite navigation, Bluetooth connectivity, and ample storage on the 20GB hard drive.
Power and Performance
When it comes to the 5 Series Touring, there are fewer available versions compared to the saloon variant, but all the standout engines are at your disposal. On the diesel side, you have the impressive 520d, known for its blend of power and efficiency, alongside the robust six-cylinder 530d. If you lean towards petrol options, there's the 520i and 540i, as well as the plug-in hybrid 530e model, which combines a petrol engine with an electric motor and battery pack. It's worth noting that all non-plug-in models now incorporate mild-hybrid technology, enhancing overall efficiency.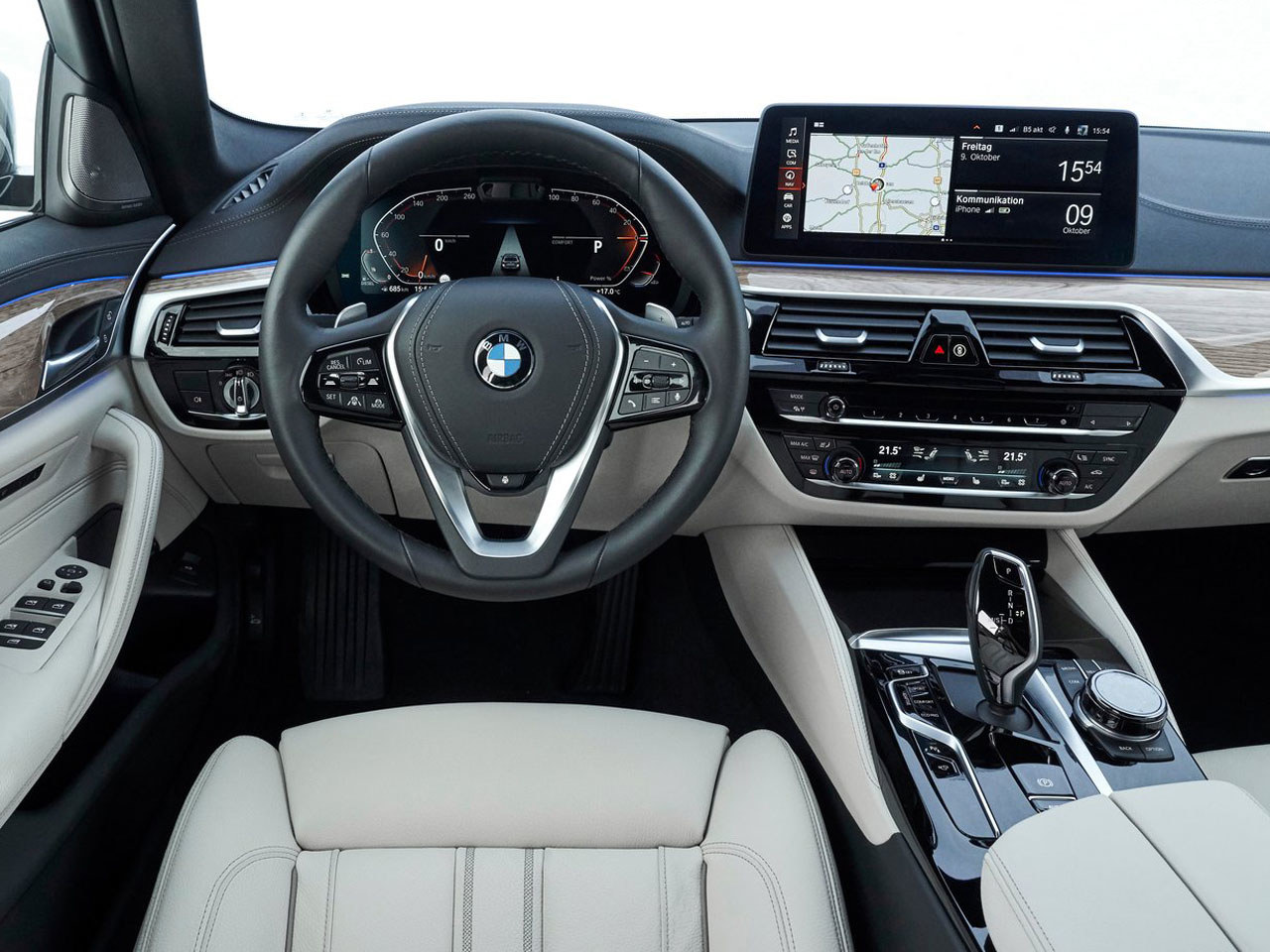 In terms of driving experience, the 5 Series Touring mirrors the excellence of the saloon iteration. It offers a confident grip and enjoyable handling in corners, while maintaining a smooth and comfortable ride on uneven surfaces and highways. This balance of attributes makes it an exceptional choice for long-distance journeys, yet it remains effortlessly manoeuvrable in urban settings.
Overall, the new BMW 5 Series Touring is a compelling choice for those in the UK who seek a blend of luxury, performance, and practicality. Whether you're cruising on the motorway or navigating the city streets, this vehicle excels in various driving conditions. Its versatile interior and advanced technology further solidify its position as a top-tier luxury estate car in the UK market.
Leasing vs Buying
The BMW 5 Series Touring is now available for purchase at a starting on-the-road price of £45,135.00*, or it can be leased with monthly payments starting from £528.76.
If you're considering leasing a BMW 5 Series Touring, we proudly offer excellent car leasing services in the UK. Our leasing deals include a manufacturer's warranty, road tax, breakdown insurance, and free delivery to most areas of the UK mainland (excluding specific regions).
Leasing a BMW 5 Series Touring can often be a more financially advantageous option compared to purchasing outright, thanks to the fixed monthly payments, variable mileage options, low initial rental, and flexible contract durations.
It's important to note that the 'on-the-road' price mentioned includes a year's road fund license, DVLA first registration fee, and a number plate fee. Please be aware that this price is accurate at the time of publication and is subject to change. To get the most up-to-date information, we recommend contacting your nearest retailer.