A luxurious and sporty 5-door saloon, the BMW M5 Saloon comes top of the class in many ways. Now in its fifth generation, the BMW M5 Saloon has motorsport DNA that's felt not just in its thrilling by default performance, but also in its striking, elegant and aerodynamic design.
Nationwide Vehicle Contracts has some exciting leasing offers on the BMW M5 Saloon at impressive prices.
BMW M5 Saloon Key Features
• Fifth generation of the class-leading luxury saloon designed for maximum performance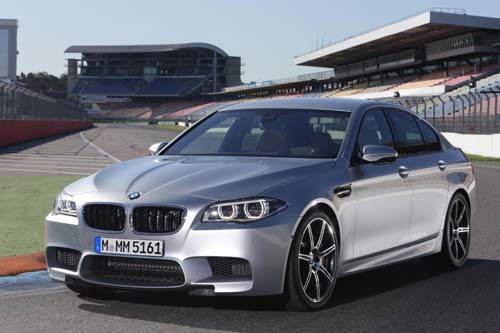 • Bold, elegant and aerodynamic exterior style
• High-quality driver-orientated interior in black leather and M design
• Active M Differential technology for precise handling and optimum traction
• Formidable M TwinPower Turbo V8 Petrol engine
Power & Performance
The BMW M5 Saloon is fitted with a 4.0 litre 560hp M TwinPower Turbo V8 petrol engine. This formidable high-revving unit performs just as good as it sounds, and it sounds incredibly powerful. Generating 680Nm torque, the BMW M5 Saloon is capable of achieving 0-62mph in just 4.3 seconds, whilst brake energy recuperation and automatic start/stop ensure that not a drop of fuel goes to waste.
But if that's not enough, the BMW M5 Saloon is also available with a Competition package. A series of tweaks to the chassis and the suspension results in enhanced engine output, more direct steering and even a sportier sound, meaning that this is the ideal choice if you want the ultimate motorsport feel.
Active M Differential technology provides optimum traction and precise agile handling even on slippery surfaces, whilst the intelligent M Servotronic system dynamically adapts steering power and resistance based on your speed. Finally, the seven-speed M double-clutch transmission, specificall designed for quick reactions, allows for almost instant gear changes without the transmission of power being interrupted.
Driver Assistance
The BMW M5 Saloon is a car that's been designed to deliver maximum driving enjoyment. This is mostly achieved through the irresistibly sporty performance. But the impressive array of driver assistance features serve to take away a lot of the normal tedium of driving, leaving you free to focus all of your attention on just enjoying the ride.
The iDrive Touch Controller lets you effortlessly and intuitively access all manner of infotainment systems at the touch of a button, whilst the BMW Head-Up display allows you to keep track of key journey information without taking your eyes off the road.
Driving in the dark is no longer a problem thanks to BMW Night Vision. An infrared camera surveys the area up to 300 metres ahead of the vehicle. This advanced system highlights pedestrians, cyclists and other potential hazards on the Control Display. To further remove the stress of night-time driving, the anti-dazzle highbeam recognises other road users and selectively excludes them from the headlight distribution.
Interior Design
There's no denying that the BMW M5 Saloon looks beautiful on the outside, and the commitment to quality and sportiness extends to the inside. The driver-orientated interior of the BMW M5 Saloon has been carefully crafted to allow you to feel not just the excitement and exhilaration of the sporty performance, but also maximum comfort on longer journeys.
The new multifunction M leather steering wheel features ergonomic thumb rests and gearshift panels, placing almost complete control of the car right at your fingertips. Meanwhile, the black leather and M design, along with the M specific seats, contribute to an overall feel of luxury and refinement.
Leasing vs Buying
With our lower initial deposits and our flexible mileage terms and contract durations, leasing from Nationwide Vehicle Contracts can be a lot more affordable and convenient than buying. When you lease a BMW M5 Saloon from Nationwide Vehicle Contracts, you'll also find that our competitive fixed monthly payments include road tax and breakdown recovery.