Based on the much more conventional BMW X3 SUV version, and with a top-of-the-range X4 35d model that has Porsche Macan S Diesel and Audi SQ5 as direct rivals, the BMW X4 looks decidedly sporty with an aggressive stance and a design style that screams 'SPORT' at the top of its voice, earning itself a 'sports activity coupe' tag along with its BMW sibling, the X6.
The design of the BMW X4 means that some practicality in comparison to the X3 is sacrificed for a passer-by's wolf-whistle, but if you are prepared to accept nods of approval against loads of luggage carrying, then the X4 is for you.
With all BMW X4 models featuring four-wheel drive, a choice of 2.0 or 3.0-litre turbodiesel engines and a very generous level of standard equipment even at the SE trim entry level, one of the hardest choices you will have to make is whether or not to stick at the superb SE or move on up to even more luxury and technology.
And that's not a bad choice to have to make.
BMW X4 Key Features
• Four-wheel Drive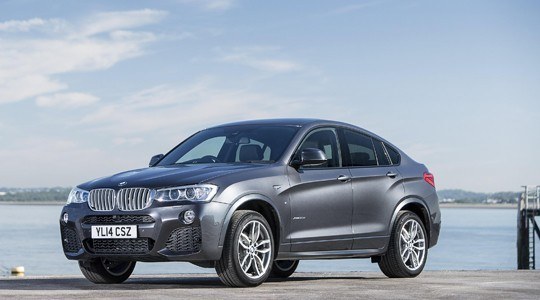 • Great standard equipment spec at entry levels
• A choice of 2.0 or 3.0-litre turbodiesel engines
• 0-62mph in just 5.2 seconds
• 52.3 mpg at best value
Power & Performance
Three trim levels are offered – SE, xLine and M Sport – and two engine options - 2.0 or 3.0-litre turbodiesel - with the 2.0-litre turbodiesel engine available in the X4 20d returning 52.3mpg and emitting 143g/km of CO2, and the 3.0-litre turbodiesel that you find in the X4 30d boasting 47.9mpg and 156g/km in comparison.

The fastest car (the X4 35d) manages 0-62mph in 5.2 seconds, but it is the X4 20d that is making the most headlines with its frugality and power combining in the best manner to make it a wise choice for any future driver.
Leasing vs Buying
Leasing is a great alternative to buying a brand new car – with low initial payments, fixed monthly instalments and flexible contract terms. Here at Nationwide, where you will find a huge range of vehicles at competitive lease rates, we also offer you inclusive road tax, breakdown recovery, and free UK mainland delivery on top.