Citroen C4 Picasso Car Leasing & Contract Hire

Complete Care Terms and Conditions
Complete Care is available to drivers aged between 21-70 with no more than 2 "at fault" claims in the last 2 years and no more than 6 points on driving licence. The driver must not have been subject to a driving ban in the last 5 years and must have held a full UK/EU licence for at least one 1 year. Prices are based on the postcode of the customer. 72% of our customers would qualify for the advertised price however a confirmed rate will be sent in writing upon request.
In the event of an incident resulting in damage, loss or theft to the vehicle, the customer will be required to pay an excess known as a Customer Incident Charge (CIC) if they are found to be "at fault". The CIC varies depending on the number of "at fault" incidents for the vehicle and is an escalating charge as follows:
First incident is £250

Second incident £350

Third and subsequent incidents £750
If a repair is lower than the CIC, then the customer will only be charged for the loss, also known as a Customer Elected Payment (CEP).
Full eligibility criteria, restrictions and policy exclusions are available upon request.
Why Lease The C4 Picasso?
The new 5-door Citroen C4 Picasso is just as spacious, practical and versatile as its predecessor, but it's now more compact, more dynamic and efficient than ever before. No longer merely a smaller version of the Grand C4, the Citroen C4 Picasso is now a fantastic car in its own right, offering truly impressive safety technology and flexibility.
Nationwide Vehicle Contracts have some exciting leasing offers on the new Citroen C4 Picasso at excellent UK car lease prices.
Citroen C4 Picasso Key Features
• Streamlined redesign for 2013;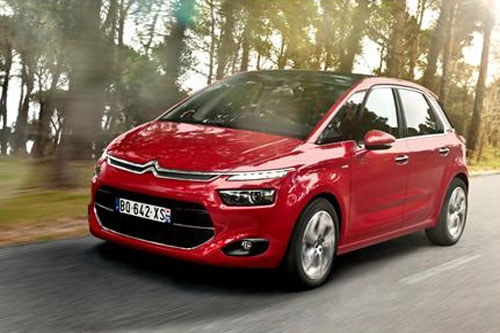 • More compact but more spacious with 60 litres more storage space;
• Five individual seats with plenty of legroom for all;
• Advanced driver assistance technology;
• Extensive choice of powerful yet efficient petrol and diesel engines
Power & Performance
The new Citroen C4 Picasso appears to be bigger on the inside than the outside, but that's not the only feature to likely to defy expectation. The extensive choice of advanced petrol and diesel engines make the Citroen C4 Picasso remarkably efficient for an MPV, to the extent that some models are even exempt from road tax.
There are two petrol options – the entry level 5-speed manual VTi 120 and the more powerful 6-speed manual THP 155. However, for the optimum balance between reliable performance and truly astounding efficiency, look no further than the petrol range.
At entry level is the 5-speed manual HDi 90, which is also available as an e-HDi with semi-automatic ETG6 transmission. The e-HDi option averages 74.3mpg and emits just 98g/km of CO2, making it exempt from road tax and the obvious choice for those who value low running costs. But noticeably more powerful and only marginally less efficient is the e-HDi 115, which is available with either 6-speed manual or the ETG6 gearbox.
Driver Assistance Technology & Safety
With its compact size, the new Citroen C4 Picasso is perfectly at home in the city, and the 360 degree Park Assist feature makes reversing into those tight urban spaces easy. This system can even correctly identify whether a space is suitable before engaging, then all you have to do is reverse, accelerate and brake. The car handles all the tricky bits.
But the Citroen C4 Picasso also has your back when you leave the city and take to the motorway. Active cruise control can sense when the car in front is slowing down and will adjust your speed accordingly in the process.
The Lane Departure Warning system vibrates your seat belt should it detect that you've accidentally drifted, whilst the Blind Spot Monitoring system knows if a vehicle has moved from behind up to three metres away, allowing you to keep track with a bright orange light in the wing mirror.
Space & Flexibility
Despite being more compact than its predecessor, a clever redesign of the wheelbase has made the interior of the new Citroen C4 Picasso more spacious than ever before. And with the large panoramic windscreen, the whole cabin is flooded with light to create a pleasant airy atmosphere.
Rather than a bench, there are instead three full size seats in the rear, each of which folds flat with ease for total modular flexibility. And because the floor is completely flat, there's first class levels of legroom for everyone.
Finally, the boot has been expanded by 37 litres to give you at least 630 litres storage space, which can be significantly boosted by folding the rear seats. There are plenty of storage features throughout, including secure compartments in the rear footwells.
Leasing vs Buying
Driving becomes surprisingly affordable when you consider leasing as an alternative to buying. When you lease a new Citroen C4 Picasso from Nationwide Vehicle Contracts, the low-running costs are complemented by fixed monthly payments, flexible contracts and mileage terms and inclusive breakdown recovery and road tax (where applicable). If you're looking for a practical yet compact family MPV, we also have excellent leasing offers on the Ford C-Max and the Renault Scenic.