Donna Kelly has over 12 years of experience in the motoring industry, writing, test driving and tweeting about cars. Her weekends are spent trackside, covering racing events.
Citroen C5 Aircross Review 2022
The Citroen C5 Aircross is a comfortable family car that packs lots of tech into a stylish and roomy package. It's also great to drive and spacious inside, whilst being less bulky than its predecessor.
Rivals to the Citroen C5 Aircross include the Hyundai Tucson, Nissan Qashqai, Volkswagen Tiguan, SEAT Ateca, Kia Sportage and Ford Kuga.
Our Citroen C5 Aircross review covers:
Citroen C5 Aircross Key Features:
Stylish, neat design with its contrasting colour accents and intricate 3D brake lights
Spacious minimalist interior layout that you can personalise
580-litre boot, which expands to 1,630-litres with the rear seats folded
Available with a plug-in hybrid, diesel or petrol powertrains
Three trim levels, including Sense Plus, Shine and C-Series Edition
Design, Practicality and Boot Space
The Citroen C5 Aircross boasts an imposing style and carries elegance on the road. It's different from most modern SUVs, which tend to be stylish and sporty with larger wheels and an uncomfortable ride. However, the C5 Aircross has a unique neat design with contrasting colour accents and stands out appearance-wise compared to its rivals such as the Hyundai Tucson and Nissan Qashqai.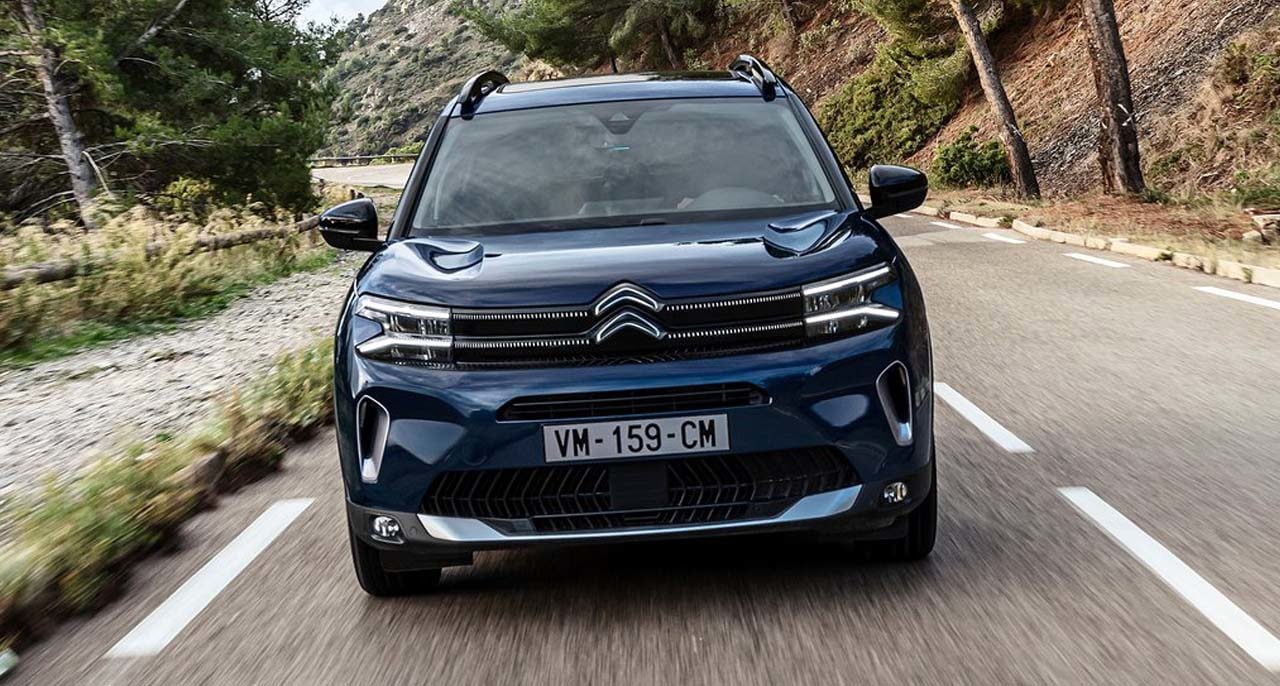 Inside, the C5 Aircross also outperforms its rivals with its tidy, minimalist layout that you can personalise by choosing from a range of design and colour schemes for the interior. You'll find enough space for all passengers to ride comfortably with all seats capable of moving forwards or backwards and even recline them independently.
At the rear, the C5 Aircross has a boot space of 580-litres, which expands to 1,630-litres with the rear seats folded. That's more boot space than in a Hyundai Tucson or Kia Sportage. Plus, if you move the rear seats to the front, the capacity rivals the larger Skoda Kodiaq, making the Citroen C5 Aircross a practical SUV leasing option.
Interior and Trims
The Citroen C5 Aircross' interior comes standard with plenty of soft materials, a stylish design, and a reasonable amount of technology, but options include better infotainment systems. The interior is far more interesting than the plain cabins in a Volkswagen Tiguan and Hyundai Tucson.
Unlike most mid-size SUVs, the C5 Aircross comes with a digital driver's display as standard. The display replaces traditional dials with a 12.3-inch screen that lets you choose exactly what information you want to see.
Three trim levels are available, including Sense Plus, Shine and C-Series Edition.
The entry-level C5 Aircross Sense Plus has a 10" touchscreen user interface with Citroën Connect Nav, a 12.3-inch customisable TFT instrument display, a Glossy Black colour pack, and an 18" diamond-cut bi-tone "Pulsar" alloy wheels with Class A tyres.
The Shine trim adds City Camera Pack, a reversing camera with Top Rear Vision, a Dark Chrome colour pack and 18" diamond-cut bi-tone "Pulsar" alloy wheels with Class A tyres.
The top-of-the-range C-Series Edition comes with Hands-Free Tailgate, a panoramic opening glass roof with an electric interior blind, Perla Nera Black roof and Anodised Bronze colour pack.
Power and Performance
Under the bonnet, the C5 Aircross offers plug-in hybrid, diesel or petrol powertrains. The 130hp diesel with the optional eight-speed automatic transmission is an excellent option for fuel economy, and the strong pull fits the character of the C5 Aircross better than the high rev 130hp petrol.
The plug-in hybrid variant combines a petrol engine with an electric motor to produce 221hp and can travel 30 miles on electricity alone. Its low CO2 emissions make for a great company car leasing choice.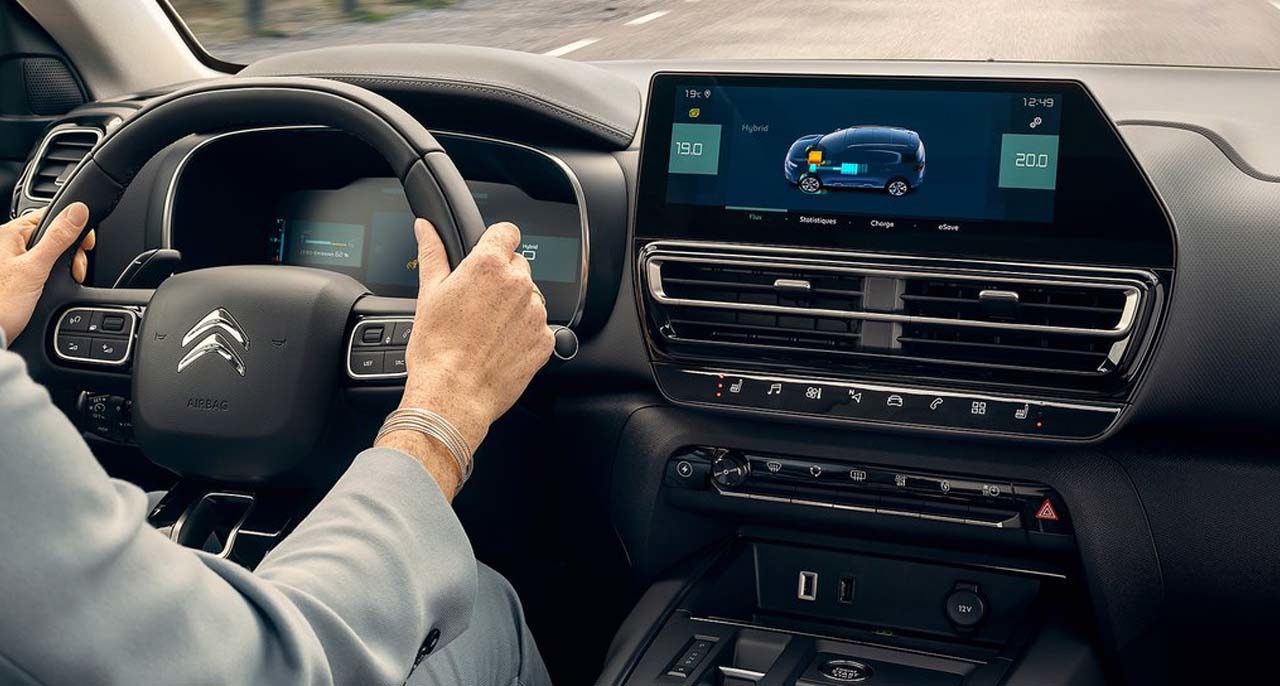 The C5 Aircross is great to drive as it benefits from Citroen's Progressive Hydraulic Cushion suspension. The suspension works by replacing the usual bump stops in a car's suspension with a pair of hydraulic dampers, making for a smoother ride.
Overall, alternative SUVs are sportier to drive and have better infotainment systems, but none are as relaxing to drive as the Citroen C5 Aircross, making it a one-of-a-kind prospect. If you're looking for a comfy family car leasing option, the Citroen C5 Aircross should definitely be on your shortlist.
Leasing vs Buying
Prices for the new Citroen C5 Aircross start from £26,750.00 OTR* or to lease from £269.44 per month.
Want to know more about leasing the Citroen C5 Aircross? Nationwide Vehicle Contracts is one of the largest car leasing providers in the UK. All of our leasing deals include the manufacturer's warranty, road tax for the duration of the lease, breakdown cover, and free mainland GB delivery (exclusions apply).
Plus, with fixed monthly rentals, a low initial outlay and flexible mileage and contract terms, leasing a Citroen C5 Aircross might be cheaper than buying outright with a bank loan or dealer finance.
*'On the road' price is correct at the time of publication and includes one year's road fund licence, DVLA first registration fee and number plate fee. Prices are subject to change. Always check with your nearest retailer.