Fergus is a talented automotive writer specialising in automotive and sports content. He has a Level 3 qualification in content creation and previously worked for Boxxer and The Best of Bolton.
Citroen C5 X Review 2023
The Citroën C5 X is a sophisticated and versatile vehicle that blends the characteristics of a sedan, wagon, and SUV. Its design strikes a balance between elegance and functionality, making it an appealing choice for a variety of drivers.
Rivals to the Citroen C5 X include the Cupra Formentor, Volkswagen Tiguan and Skoda Superb Estate.
Our Citroen C5 X review covers:
Citroen C5 X Key Features
Modern refined design with sleek lines and aerodynamic shape
Spacious and comfortable cabin with quality materials and well-designed seats
545-litre boot, expanding to 1,640 litres with rear seats down
Choice of three different options including a hybrid variant
Three trim levels are available: Sense Plus, Shine and Shine Plus
Citroen C5 X Pros and Cons:
Pros:
Versatile Design
Spacious Interior
Innovative Styling
Cons:
Handling
Hybrid Performance
Infotainment Complexity
Design, Practicality and Boot Space
The Citroën C5 X boasts a unique and innovative design, blending elements from different vehicle types to create a sophisticated and versatile vehicle. It combines the sleek and elegant design of a sedan, the practicality of a wagon, and the elevated driving position of an SUV. The exterior design features clean lines, a bold front grille with Citroën's signature double chevron, and distinctive lighting elements that give the car a modern and distinct appearance.
Inside, the C5 X offers a spacious and comfortable cabin with a focus on providing a premium and ergonomic experience. High-quality materials, thoughtful layouts, and a minimalistic design contribute to an elegant interior. The seats are designed for comfort and support, ensuring a pleasant ride for both the driver and passengers.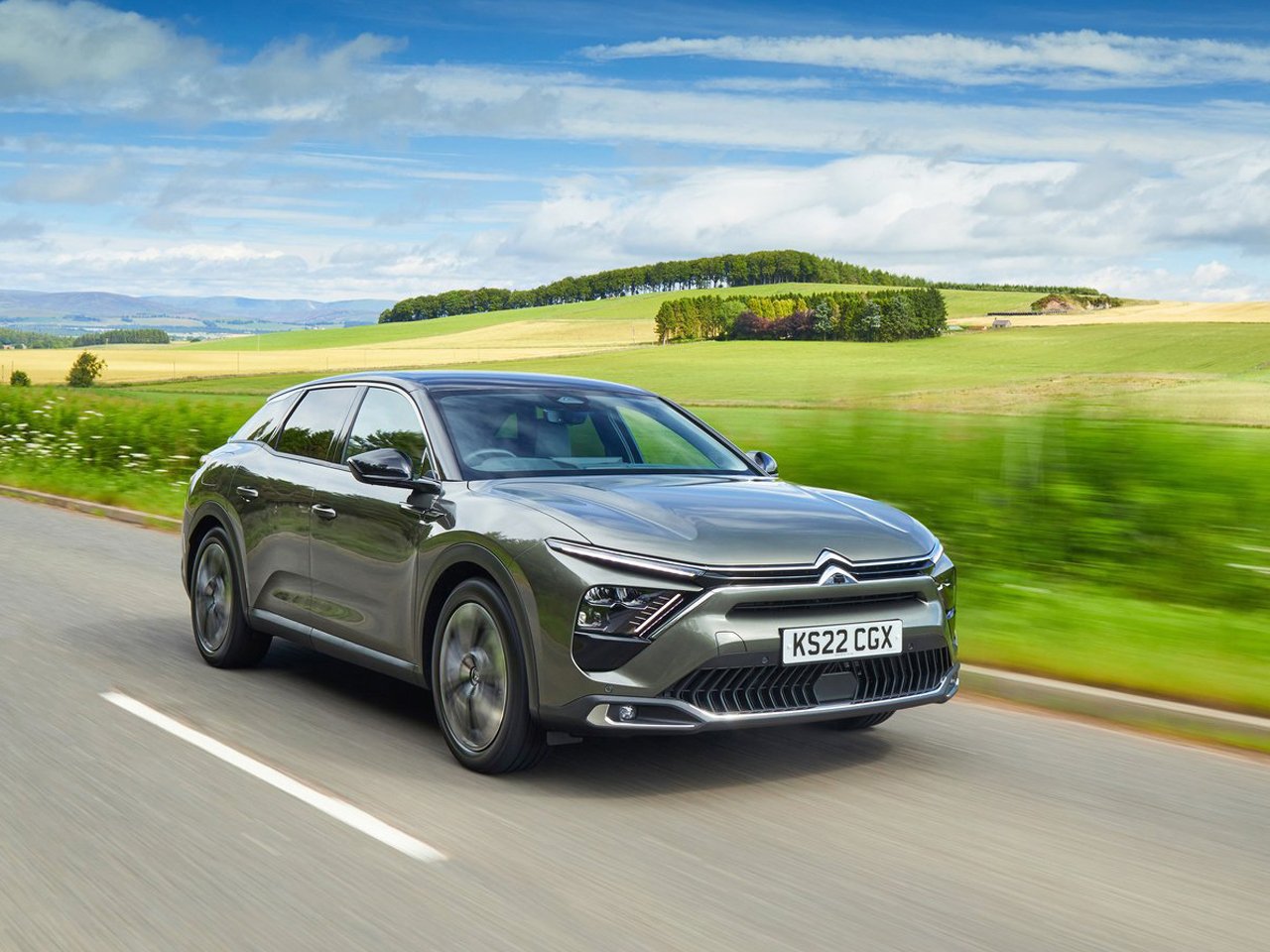 The Citroën C5 X excels in practicality, catering to the diverse needs of different lifestyles. Its versatile design allows for a seamless transition between daily commuting, family use, and cargo transportation. The rear seats can be folded down to create a flat loading floor, providing ample space for larger items or increased cargo capacity. The C5 X's interior layout ensures easy access and manoeuvrability, making it practical for passengers and drivers alike. Additionally, the C5 X may feature various storage compartments and thoughtful design elements that enhance day-to-day usability.
The boot space in the Citroën C5 X is generous and adaptable to suit varying cargo needs. With the rear seats up, the C5 X typically offers a substantial 545-litre boot capacity suitable for everyday errands, groceries, or luggage for a family trip. When the rear seats are folded down, the boot space expands significantly expanding to 1,640 litres with rear seats down allowing for the transportation of larger items such as furniture, sports equipment, or bulkier household goods. The flat loading floor makes it easy to load and unload items, further enhancing the practicality and usability of the boot space.
Interior and Trims
Citroën tends to emphasize comfort and quality in their vehicles. The C5 X's interior is likely to feature high-quality materials, soft-touch surfaces, and attention to detail for a premium feel. Expect comfortable and well-designed seats, potentially with features like adjustable lumbar support and heating. The interior design is likely to prioritize spaciousness and ergonomic layouts to enhance the overall comfort for both the driver and passengers.
The C5 X is expected to have a modern infotainment system with a touchscreen display, likely supporting smartphone integration (e.g., Apple CarPlay, Android Auto), navigation, Bluetooth connectivity, and various entertainment options. It's common for modern vehicles to come equipped with advanced driver-assistance systems (ADAS), such as adaptive cruise control, lane-keeping assist, automatic emergency braking, and more, enhancing safety and convenience.
Three trim levels are available: Sense Plus, Shine and Shine Plus.
The C5 X offers a choice of trim levels, including Sense Plus, Shine, and Shine Plus. The base model is equipped with 19-inch wheels, LED headlights, and a partial leather interior. Its infotainment system features a 10.0-inch touchscreen with satellite navigation, front and rear parking sensors, and a high-definition reversing camera for clear visuals.
Moving up to the Shine model, you'll find black Paloma leather seats, a heated steering wheel, upgraded interior mood lighting, and a larger 12.0-inch infotainment screen. This trim also includes wireless smartphone charging and radar-controlled active safety braking. The adaptive cruise control is efficient, and the lane-keep assist system strikes a good balance without being overly intrusive.
At the top end, the Shine Plus trim offers additional luxuries like heated front seats, acoustically insulated front and rear windows, a power-assisted tailgate, and a blind spot detection system complemented by a 360-degree parking camera setup.
Power and Performance
In terms of engine choices, the Citroën C5 X offers three options, but enthusiasts of Citroën's renowned diesel engines will be disappointed as there's no longer a manual transmission available.
There are two petrol engine variants producing 130hp and 180hp respectively, both driving the front wheels via an eight-speed automatic transmission. Additionally, there's a 225hp plug-in hybrid model, integrating a petrol engine with a larger battery and a secondary electric motor. This hybrid model claims an official all-electric range of 34 miles, although real-world usage may yield less than this stated range.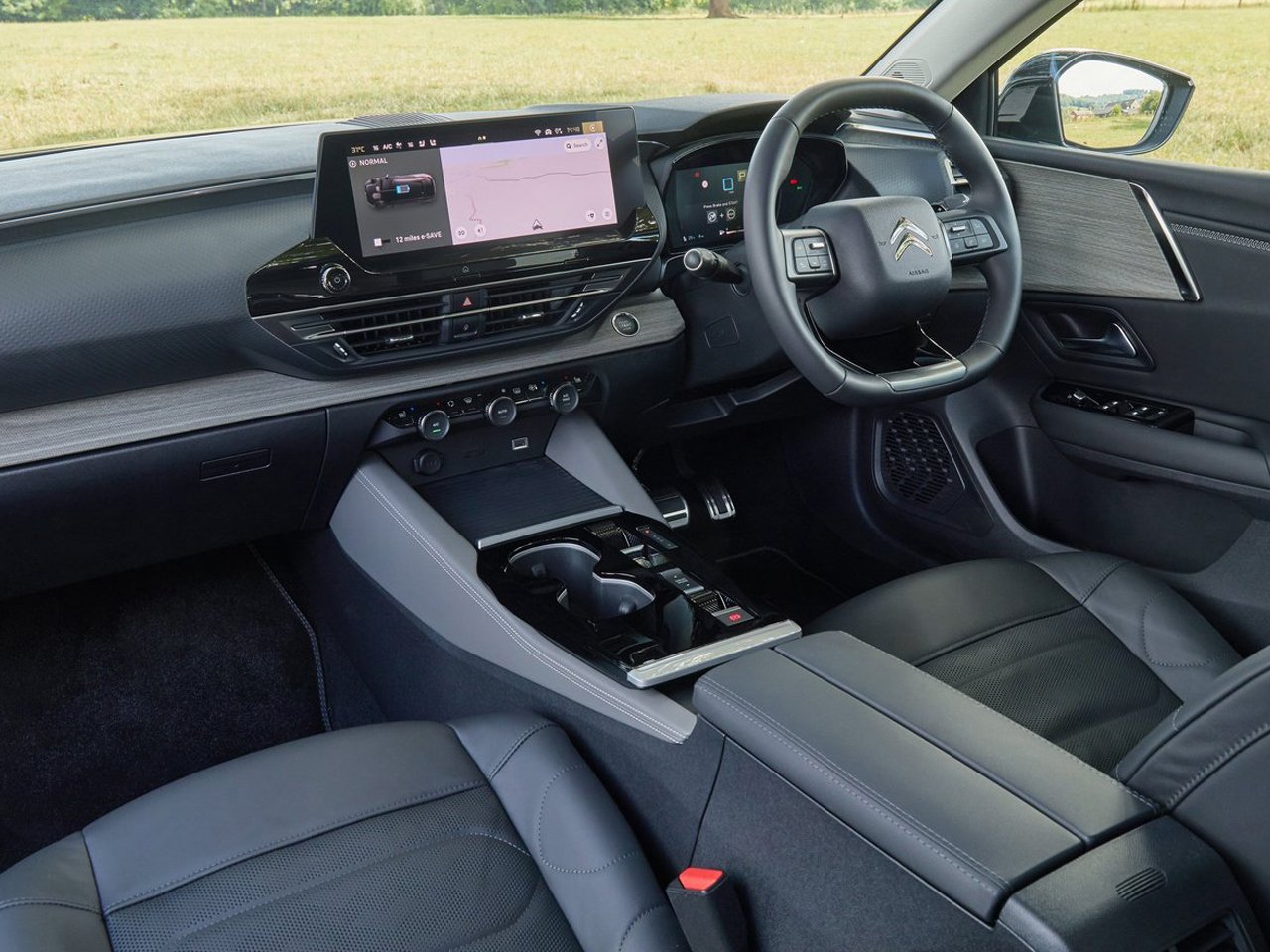 While large cars usually face challenges in urban settings, the C5 X compensates for its size with exceptional comfort. Its soft suspension system ensures a remarkably comfortable experience for both the driver and passengers, even in city driving conditions.
On the motorway, the C5 X excels in providing a tranquil and comfortable ride. It effectively minimizes wind and road noise, maintaining a serene environment within the cabin even at 70mph. Tire noise is also well managed, even on rougher road surfaces.
Despite its plush and cushioned suspension, the C5 X surprises with its agility on winding roads. While not as sporty as some counterparts like a Cupra Formentor, it handles corners well, demonstrating controlled roll and good grip. The steering, although light, lacks feedback but becomes familiar with use.
Leasing vs Buying
The Citroen C5 X is now available for purchase at a starting on-the-road price of £27,630.00*, or it can be leased with monthly payments starting from Price On Request.
If you're considering leasing a Citroen C5 X, we proudly offer excellent car leasing services in the UK. Our leasing deals include a manufacturer's warranty, road tax, breakdown insurance, and free delivery to most areas of the UK mainland (excluding specific regions).
Leasing a Citroen C5 X can often be a more financially advantageous option compared to purchasing outright, thanks to the fixed monthly payments, variable mileage options, low initial rental, and flexible contract durations.
It's important to note that the 'on-the-road' price mentioned includes a year's road fund license, DVLA first registration fee, and a number plate fee. Please be aware that this price is accurate at the time of publication and is subject to change. To get the most up-to-date information, we recommend contacting your nearest retailer.