The Dacia Sandero is a spacious, practical and affordable 5-door hatchback that delivers impressive and reliable performance and enough room to seat five adults in comfort. With the versatile interior, the abundant advanced technology and such features as Electronic Stability Control and anti-lock brakes, the Dacia Sandero can more than hold its own against many much bigger cars, but does so at a significantly lower price.
Nationwide Vehicle Contracts have some excellent leasing offers on the Dacia Sandero at competitive UK car lease prices.
Dacia Sandero Key Features
• Competitive features and performance at an affordable price;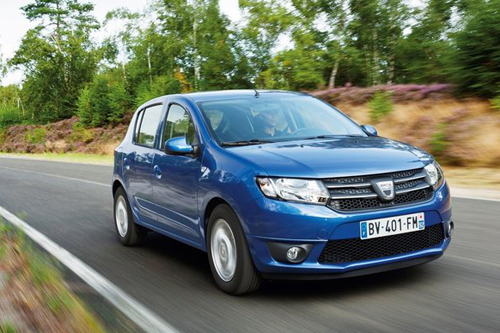 • Spacious interior with enough room to seat five adults in comfort;
• Electronic Stability Control & anti-lock brakes;
• Extensive range of comfort and convenience-boosting technology;
• Choice of powerful and efficient petrol and diesel engines
Power & Performance
The Dacia Sandero can be fitted with either a diesel engine or either of its two petrol engine alternatives. All of these engines deliver an impressive combination of solid, reliable performance and efficiency.
The entry-level 1.2 litre 16v 75hp petrol engine is more than adequate. Another petrol option is the TCe 90hp, but perhaps the best choice overall is the dCi 90hp diesel engine. It's just as powerful as its petrol counterparts, but the performance is balanced with truly remarkable efficiency. It's capable of 74.3mpg on a combined cycle with CO2 emissions as low as 99g/km.
Transmission is 5 speed manual as standard. Active safety features such as Electronic Stability Control (ESC) and anti-lock brakes (ABS) give you steady and dependable control when cornering and swerving.
Technology & Convenience
The Dacia Sandero is available in three trim levels, with the range of equipment varying depending on the trim level selected. Across the range, though, you can find such features as air conditioning, cruise control, a fully-integrated Radio/CD player system, Bluetooth, USB and AUX connectivity and rear parking sensors. There's also an optional ultra-modern touchscreen multimedia system that incorporates satellite navigation.
The Dacia Sandero can seat up to five adults in comfort with enough room left over for 320 litres of boot space. The split-folding rear seats significantly boost your luggage capacity, meaning that the Dacia Sandero also happens to be a remarkably versatile option.
Leasing vs Buying
With our flexible approach to mileage terms and contract duration, you'll find leasing the Dacia Sandero from Nationwide Vehicle Contracts to be a reassuringly streamlined and stress-free experience. We also combine vehicle lease, road tax and breakdown recovery into one single fixed monthly payment.