Best Small Electric Cars 2021
By Fergus
20th July 2021
With the automotive industry trying to improve its environmental impact, manufacturers across the globe are adapting by producing zero-emission vehicles that cater for all needs. For example, a small electric car isn't just great for driving around town but also great for the environment as they produce low to zero emissions. Add in the UK Government's road to zero emissions plan and there's never been a better time to lease an electric car.
Whether you're looking for a small electric car to drive around a busy city centre or just a daily runner to the shops, Nationwide Vehicle Contracts has put together a list of the top 10 small electric cars to lease in 2021 based on style, range, zero road tax rates practicality, and overall driving experience.
The electric vehicles featured in this article:
What is a small electric car?
Small electric cars are often defined as city cars, superminis and small hatchbacks that have an average length of between 2695mm to 4726mm. Thanks to their small size, they're generally easy to park and manoeuvre, making them excellent choices for people who drive around the city a lot. Check out our Understanding Car Body Types and Understanding Car Size and Dimensions guides to find out more about vehicle sizes.
Benefits of a small electric car include:
Cheaper to maintain
Better for the environment
Fast, easy home charging
Zero to low road tax
Low insurance
What is the best small electric car for the money?
The best small electric car for your money has to be the Volkswagen ID.3. The Volkswagen ID.3 along with the Tesla Model 3 are among the best-sellers for electric cars, with ID.3 overtaking Tesla Model 3 in the sales charts in late 2020, according to FleetNews.
For the Volkswagen ID.3 to be compared to the Tesla range is pretty impressive, as Tesla is known for dominating the electric car market due to its remarkable capabilities. But why is the Volkswagen ID.3 the best electric car for money? Well, if we compare it to Tesla again, their capabilities are pretty similar. With the ID.3 not being far off Tesla for range, offering 336 miles on a full charge compared to the Tesla Model S range of 390 miles.
As for price, the ID.3 offers incredible value for money valued at around £32,300, or from as little as £258.06 inc VAT* when leasing. Check out our latest lease deals on the Volkswagen ID.3 to view our latest lease offers.
*Prices correct at time of publication and subject to change.
What is the cheapest small electric car to buy?
The cheapest electric car on the market at the moment is the Skoda CITIGOe iV which has a price range of around £16,955, once the government's £3,500 plug-in car grant has been applied. The CITIGOe iV is the first all-electric vehicle from Skoda and is a great city car that offers plenty of space for up to four people.
The Skoda features a 36.8kWh battery pack and an 82bhp electric motor giving the CITIGOe iV a range of up to 162 miles on a full charge. To charge the all-electric Skoda from empty to 80% complete using a 7.2kw AC wall box takes four and a half hours. However, using a 40kw DC charger takes around an hour for the same charge.
If the Skoda CITIGOe iV isn't for you, there are plenty more low cost alternatives to pick from, including the Nissan LEAF to the Seat Mii Electric. To find out more, check out our handy Top 10 Cheapest Electric Cars guide.
What are the best small electric cars to lease in 2021?
If you're looking to lease a small electric car, it's vital to understand which is best for you. Below we run down 10 of the best small electric cars you can lease right now.
Top 10 Small Electric Cars
1

.
Peugeot e-208
The Peugeot e-208 is a brilliantly nippy small electric car for commuting to and from town regularly. The e-208's sculpted bonnet, rear piano black trim and three-claw LED light design give it a distinctive, stylish look. Peugeot's 'e' badging really sets it apart from the regular 208 and the special Peugeot badge that changes colour in different lights is a great futuristic feature.
The Peugeot e-208 has a 50kWh battery which offers a range of 217 miles between charges. Its 136hp electric motor makes it great for darting through gaps in traffic on busy city streets. Charging is also easy too, taking just 30 minutes from flat to 80% fully charged using a fast public charge point, or around seven hours when charging the e-208 at home using a 7kW wall charger.
Inside the Peugeot e-208, there's room for five adults, although space can be a little tight in the back. A high-resolution 7-inch touchscreen infotainment system is also offered as standard and is relatively easy to navigate.
Pros:
Decent electric range
Fast 100kWh charging standard
Great, high-tech interior
Cons:
No proper cable storage
Not a lot of rear space
Confusing infotainment screen
2

.
BMW i3
If you're looking for a small electric car that's easy to drive around town and has a stylish, upmarket interior, the BMW i3 is well worth considering. While the BMW i3 is pretty costly for a small electric car, its build quality and futuristic looks make it stand out against other electric alternatives.
The BMW i3 has a range of 188 miles between charges and a 170hp electric motor that delivers almost instant bursts of acceleration while commuting. The i3 turning circle is also very tight, and its huge windows help when parking in tight spaces in the city.
Inside the i3, you're met with a modern plush cabin with plenty of room to be comfortable. While the two seats in the back aren't quite as generous, there's still enough space for kids to stretch out and the i3's uniquely shaped rear windows mean the back does feel impressively airy. Features include BMW's iDrive system with a high-resolution 10-inch infotainment screen and sat-nav, perfect for navigating your way around town.
Pros:
Futuristic interior
Good infotainment system
Nippy and fast
Cons:
Small boot
Expensive
Not a lot of space inside
3

.
Vauxhall Corsa-e
The electric Corsa-e is another brilliant choice for those looking to get a small electric car. The Vauxhall Corsa-e has a smart exterior design with a bold grille and striking LED headlight clusters at the front, that sets it aside from the original Corsa.
The Vauxhall Corsa-e has a 50kWh battery and a 136hp electric motor, powerful enough to give it nippy performance around town. The Corsa-e also has a range that will take you up to 209 miles on one charge. To charge the Corsa-e batteries from flat to 80% full will take 30 minutes using a public rapid charge point or just over seven hours if you were to charge the Corsa-e from home with a 7kW wall charger.
Inside the Corsa-e has a cosy feel to it and you won't have any problems getting comfortable. While the back seats inside the Corsa-e aren't very spacious, boot space is the same as the standard Corsa thanks to its clever battery placement. The technology inside is also relatively decent, with a 7-inch touchscreen infotainment system and sat-nav available.
Pros:
Great range
A good amount of space inside
Looks good
Cons:
No cable storage
Space in the back isn't great
The interior feels a bit dull
4

.
MINI Electric Hatchback
Mini has designed the Mini Electric to look as much like a regular Mini as possible. In size and shape, it's the same as the three-door MINI hatchback, and you also have the usual MINI options of all in terms of wheels and paints if you don't fancy the electric version's three-pin-plug style wheels and fluorescent accents. In fact, the new Mini Electric looks a lot like Mini's sporty Cooper S model with its shape and unique badging.
Matching the Mini Electric's sporty good looks is a 32kWh battery and electric motor, giving the Mini an impressive 181bhp. It has a range of 145 miles between charges, making it ideal for driving around town daily. To charge from empty to full at home using a 7kW wall box charger will take just under five hours, however, if you use a 50kW rapid charger, you can top up from 10-80% in just 28 minutes.
Inside, the Mini Electric's interior is similar to the standard Mini Cooper. The only noticeable difference is the new digital dials that display your range, power use, and speed and trip info clearly. You'll also find MINI's usual infotainment system, which includes a sat-nav with charging station info and Apple CarPlay, all of which can be controlled via touch or a rotary dial and menu shortcut buttons between the front seats.
Pros:
Punchy electric performance
High-quality interior
Sharp handling
Cons:
The range isn't great
No cable storage
The rear seat and boot space are average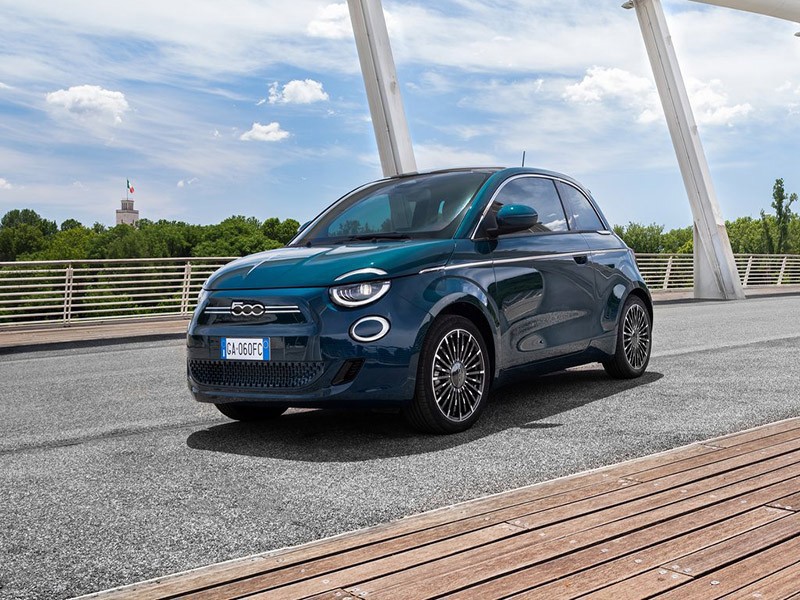 5

.
Fiat 500 Electric Hatchback
Keeping its all-important renowned looks, the Fiat 500 is now available in electric form both as a cabriolet or hard-top. One difference you'll spot on the new Fiat 500 Electric is its new curved daytime-running lights which shine out through the bonnet, as well new flush door handles and hidden indicators, which make it stand out on the road.
The Fiat 500 Electric comes with either a 23.7kWh battery and a 95hp motor or a 42kWh battery with a 118hp electric motor. The 23.7kWh battery provides the 500 Electric with a range of 115-miles, whereas the 42kWh battery gives you a 199-mile range. To fully charge the Fiat 500 Electric from home using a 7.4kW wall box will take just over six hours. However, using an 85kW public fast charger can top it up from empty to 80% charged in 35 minutes.
The Fiat 500 Electric interior is completely different from the original Fiat 500 with a new seven-inch digital dial display replacing its traditional dials. You also get a 10-inch touchscreen on the dashboard with a wireless Apple CarPlay. In the front, there's room for two adults with decent storage options. However, the back seats accommodate two only, and its little room isn't great for comfort.
Pros:
Looks great
Decent electric range
Nippy performance
Cons:
Interior is a bit basic
Hard to get to and cramped rear seats
The boot is small and not practical
6

.
Renault Zoe
The Renault Zoe is a great small electric car with superior technology inside. The Zoe has a stylish body, and modern LED lights positioned perfectly to give it a modern electric car look.
The Zoe is capable of more than just trips to the shops and commutes around town. This small electric car has an impressive range of 240 miles on a full charge. To charge the Zoe at home using the standard 7kWh charger will take around eight hours, whereas a rapid charge to 80% using a 50kWh charger will take just 70 minutes.
Inside, the Renault Zoe is styled with a slick dashboard layout, a classy infotainment system and a digital driver's display. The Zoe's seats inside are really comfortable and there is plenty of space up front while driving. However, space is limited in the back of the car, and it can feel pretty cramped.
Pros:
Affordable
Has the latest tech
Impressive range
Cons:
Interior feels cheap
Not a lot of room in the back
Fast charging capability costs extra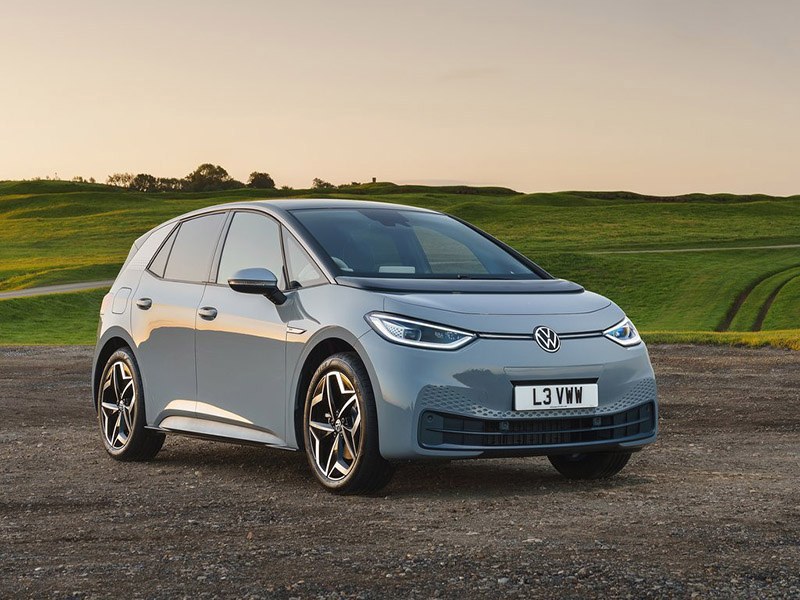 7

.
Volkswagen ID.3
The Volkswagen ID.3 is a fully electric hatchback with plenty of room inside. The ID.3 is perfect for drivers who travel in and out of busy cities as it offers an enjoyable ride, even on tedious motorways. The ID.3 is also great to look at with its sleek body and prominent LED headlights which complements its bold style.
The ID.3 is available with three different battery packs, with the largest pack boasting an impressive range of around 336 miles. Acceleration is also instantaneous and its 204hp comes in handy when you are nipping in and out of gaps in city traffic.
Inside, Volkswagen has gone for a minimalist look with a large 10in touchscreen infotainment unit which overlooks the dash top, along with a smaller digital display that can be operated with the controls on the steering wheel. Passenger space is also excellent inside the ID.3, with room enough for all passengers to ride comfortably.
Pros:
Impressive interior space
Decent infotainment system
Fantastic range
Cons:
Interior feels cheap in places
Quirky switchgear is confusing
Fiddly infotainment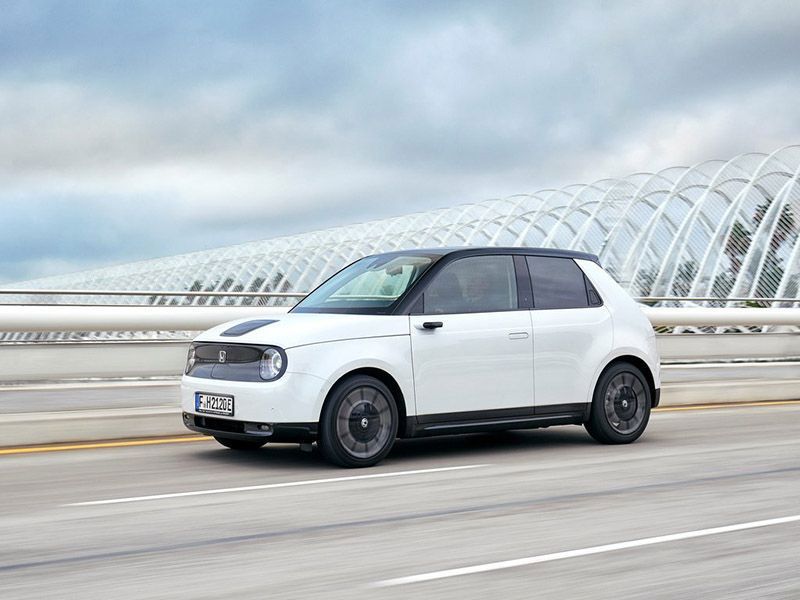 8

.
Honda e Hatchback
If you're on the lookout for a quirky small electric car then look no further than the Honda e. The e Hatchback retro looks make it stand out from the crowd while its unique compact proportions make it perfect for whipping around town.
The Honda e has a 35kWh battery and a modest range of 136 miles. With136hp, the e Hatchback is most at home nipping around the city centre traffic. Charging time varies from around six hours at home using a 7kWh charger or just 30 minutes from 10-80% with a rapid charger.
Inside the Honda e is just as quirky with a screen for everything. Two screens in the middle handle the car's infotainment system, plus a set of digital controls for the driver while another screen on each side that displays the digital door mirror images. As for space, there's plenty of room in the front but the back seats are best left for children, over adults.
Pros:
Striking looks inside
Unique interior
Agility in town
Cons:
Expensive
Poor range
Small boot space
9

.
SEAT Mii Electric
The SEAT Mii Electric is Seat's first all-electric model and is also one of the most affordable new electric cars you can buy. The Mii's smaller size means it's well suited to nipping through rush hour traffic and sneaking into super-tight parking spaces, perfect for someone who is always driving in the city.
Inside the SEAT Mii, you are met with a minimalist interior with a relatively basic smartphone-based infotainment system. As for space in the Mii SEAT has managed to store all the batteries under the floor. This means you get 251 litres of space, ideal for any cargo you need to carry on your journeys.
The most significant difference between the standard SEAT Mii and the Mii Electric is unsurprisingly under the bonnet. The SEAT Mii Electric model comes with an 84hp electric motor and a battery pack with a range of 162 miles between charges. For the SEAT Mii Electric's price and what you get in return, it's an excellent choice for a small electric car.
Pros:
Great value small electric car
Refined and fun to drive
Reasonable range
Cons:
No touchscreen infotainment
Only four seats, small boot
Not a lot of room inside
10

.
Renault Twizy
Want the smallest of electric cars? Then the Renault Twizy is just for you! Best described as an electric quadricycle that's halfway between a car and a motorbike, the Twizy offers fun handling, a quirky design and 100% electric engine, making it the perfect alternative to a city car.
The Renault Twizy has a 6.1kWh battery which takes around 3.5 hours to recharge anda 17bhp electric motor that drives the rear wheels giving it a total range of 62 miles on a full charge. As to be expected, the performance of the Renault Twizy isn't great, however, for a small electric car, it's great for nipping around the city.
At just 2.3 metres long and 1.2 metres wide, you will undoubtedly stand out from the crowd while riding in the Renault Twizy and inside, it's just as crazy with the driver and passenger sitting inline instead of next to each other.
Pros:
Head-turning looks
Nippy city runabout
Fun to drive
Cons:
Poor range and performance
Poor ride and refinement
Exposed to weather
Guide Information