Electric Car Charging Points

By Donna
17th October 2019
As electric cars and plug-in hybrids become more popular with motorists up and down the UK, the number of public charging stations is growing by the day. But with some different types of charging station available, there is understandably some confusion.
To help explain the process involved, Nationwide Vehicle Contracts has put together a short guide with everything you need to know about electric car charging stations in the UK, including information on the different types of electric car charging points available and the location of every charging point in the country.

What is an electric car charging point and how do they work?
An electric vehicle charging point, also known as an EV charging station, is a unit that supplies electric energy to recharge the battery on electric cars and/or plug-in hybrid vehicle.
An electric car charging point works by converting AC electricity from the power source into DC power for the vehicle battery. To charge an electric car, you'll need to plug it into a charging point. Just like charging a mobile phone, you simply plug the car's charging cable into the electrical socket and leave the car to do the rest – it's that simple!
In the UK there are four main places you can charge your electric car:
At home using a three-pin domestic plug (3kW) or wallbox home EV charge unit (7kW - 22kW)
At work using a commercial wallbox charging unit (7kW - 22kW)

At public locations like retail shopping centres using a fast public charger (7kW, 11kW or 22kW)
At motorway service stations using a rapid public charger (50kW - 120kW)
Different electric car charging connectors
When charging an electric vehicle, there is a number of different connectors that are used to plug your vehicle into a charge point. The type of connector varies by vehicle and the power rating of the charge point.
Most electric vehicles have either a Type 1 of Type 2 connector for slow/fast charging and CHAdeMO or CCS for DC rapid charging, with the exception of Tesla Model X and Model S vehicles which use Type 2 connectors for DC rapids.

Apps such as ZapMap can help make things easy. You set the electric car you own, and the app will show you compatible chargers nearby. In a worst case scenario, you'll be able to charge – but you might not get the fastest possible charging speed.
Different electric car chargers
The length of time it takes an electric vehicle to recharge is determined by a number of features including:
The type of charging station
How much power, measured in kilowatts (kW) the charging station can provide
How much power the car can accept – the higher the wattage, the faster the charge
There are three main types of EV charging in the UK – rapid, fast, and slow. These represent the power outputs and therefore charging speeds, available to charge an EV.
Types of EV Chargers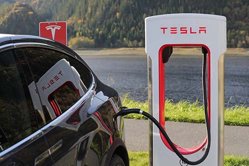 1

.
Rapid chargers (50kW to 120kW)
There are two types of rapid chargers available in the UK - AC (Alternating Current) or DC (Direct Current). Rapid AC chargers operate at 43kW while most Rapid DC units offer 50kW of power. Both of these chargers will give you an 80% charge in as little as 30 to 60 minutes depending on battery capacity. Tesla also has its own range of Superchargers which are Rapid DC and charge at around 120kW, however these chargers use a bespoke Type 2 connection, although adaptors are available.
It is worth noting that while rapid chargers offer the quickest charging time, not all electric car are compatible with rapid charging. The entry-level Nissan Leaf, for example, only accepts a maximum charge rate of 3.7kW, meaning it'll take around eight hours to fully charge. Go for Nissan's 6.6kW option and that time halves. Public charging points that offer rapid charging also aren't as common as fast chargers, with Zap-Map putting their numbers at just under 1,000.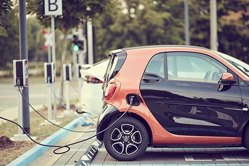 2

.
Fast chargers (7 kW to 22 kW)
Fast chargers are the most common type of charger in the UK and provides power from 7 kW to 22 kW, charging an EV battery in three to four hours. Common fast connectors are a tethered Type 1 or a Type 2 socket (via a connector cable supplied with the vehicle). Fast chargers are also ideal for home use.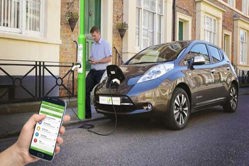 3

.
Slow chargers (3kW)
A slow charger offers power up to 3kW and usually takes between 6 and 12 hours for a pure-EV or 2-4 hours for a PHEV. Types of slow chargers include three-pin domestic plug or lamp post chargers on public streets. As such, most slow chargers are used for overnight charging. On the plus side, you can use using a cable which connects the vehicle to a three-pin plug to slow charge, or a Type 2 socket.
Most EV drivers purchase a portable charging cable that matches their vehicle's connector type so that they can charge on public networks.
How much does it cost to charge an electric car?
Depends on where you charge it but let's take a look at some of the main locations you are likely to charge your vehicle. You can also read more in our Electric Car Charging Costs guide.
Charging an electric car at home
Charging at home is often the most convenient and cost-effective way to recharge an electric vehicle. Most EV drivers charge their electric car overnight, preferring to wake up to a full battery every morning.
To charge an electric car at home, you will need a home charging point installed. Most home chargers are either rated at 3kW or 7 W giving around 15 to 30 miles of range per hour of charge. You can also use a standard three-pin plug with an EVSE cable to charge your electric vehicle but as they are not designed to withstand these loads, this should only be used as a last resort and should not be used long term.
In terms of cost, using an average domestic electricity rate is about 14p per kWh, to fully charge the Nissan Leaf 40kWh Acenta Auto – Britain's best-selling pure-EV – would cost you around £5.60 (3.3p per mile) for 168 miles of range. Fuel for a typical petrol car or diesel car costs around 12p per mile - so the cost for driving the same distance would be around £20.20, representing a saving of £14.60.
It is worth noting that in most cases, home charging requires off-street parking to avoid trailing cables across public footpaths and public areas. This means that if you live a flat or don't have access to an allocating parking space or driveway, home charging may prove difficult to install.
Charging an electric car at a public charging point
If you need to charge your electric car whilst out and about, you can use a public charging point. The UK has a large number of public EV charging stations typically located at retail shopping centres, supermarkets and parking outlets, as well as on inner-city streets. These are run by a number of different companies including BP Chargemaster (Polar), Ecotricity, Pod Point and Charge Your Car.
In terms of cost, although many EV charge points are free to use, some require payment costing on average around £1.50 per hour. Fast and rapid chargers are generally more expensive to use, with an Ecotricity charger at a motorway service station costing around £3 to connect for up to 45 minutes, plus 17p for each kWh of electricity.
Payment and access methods across networks also vary widely. Some charging points require you to use an RFID card to activate the charge point while others use a smartphone app. Payment methods also vary with some networks operating 'pay as you go' systems while others require membership and/or subscription fees.
Charging an electric car at work
An increasing number of companies are also installing workplace EV charging units for use by their employees and visitors. For drivers who are unable to charge at home, charging at the office makes it easy for them to also drive and enjoy the benefits of an electric car.
Workplace charge points are similar to home-based units, although power-ratings tend to be higher with more 7kW and 22kW units installed. Most business units are also double socket, allowing them to charge two cars at the same time. To encourage businesses to install charging points, the Government offers a Workplace Charging Scheme grant which provides up to £500 per charging socket, up to a limit of 20, towards the up-front costs of the purchase and installation of electric vehicle charge-points.
In terms of cost, most businesses allow their employees to use the charging points for free during working hours while others decide to make their charge point part of the public network, which means signing up for access to that particular provider, if you hadn't done so already.
What charging stations are available in UK?
According to Zap-Map, the UK's leading charging point platform, there are over 10,000 public electric car charging points currently available in the UK. What's more, those numbers are expected to continue increasing, with 700 new locations added in the past year alone.
To find out where your nearest electric charging station is, use the handy tool from OpenChargeMap by entering your location into the search bar at the top.
Guide Information