EV-friendly staycations: The best UK staycation spots for electric car drivers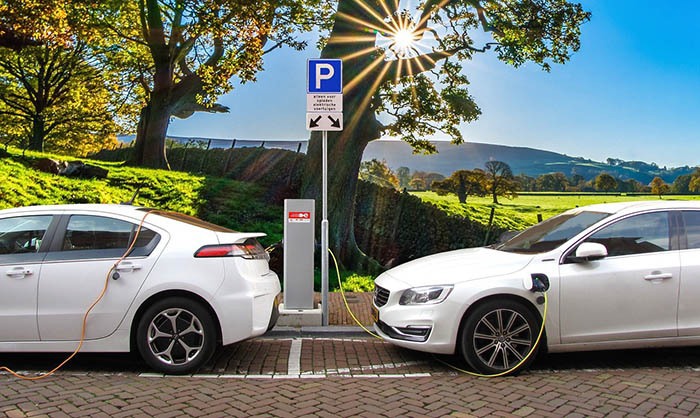 2021 will be forever remembered as the year of the 'staycation'. With some Brits still avoiding the risk of holidays abroad, many are in favour of exploring what the glorious British Isles have to offer.
Staying within the UK also means you can explore in your own vehicle. It isn't only staycations on the rise, 2021 was a strong year for electric vehicles (EVs) sales which saw a 132% growth[1] compared to last July. With new charging points being installed in the UK daily, it's a great time to tour the country in an EV.
In order to see where an EV drivers' first port of call for a staycation should be, we've looked at where in Britain is best suited for the eco-conscious traveler. From the cost and number of car parks, to the number of charging spots and EV friendly garages, and even the number of Airbnb's with a charger, we've created a run down of Britain's most electric vehicle friendly vacation spots.
Ranked: The top 50 locations to visit in Britain with an electric car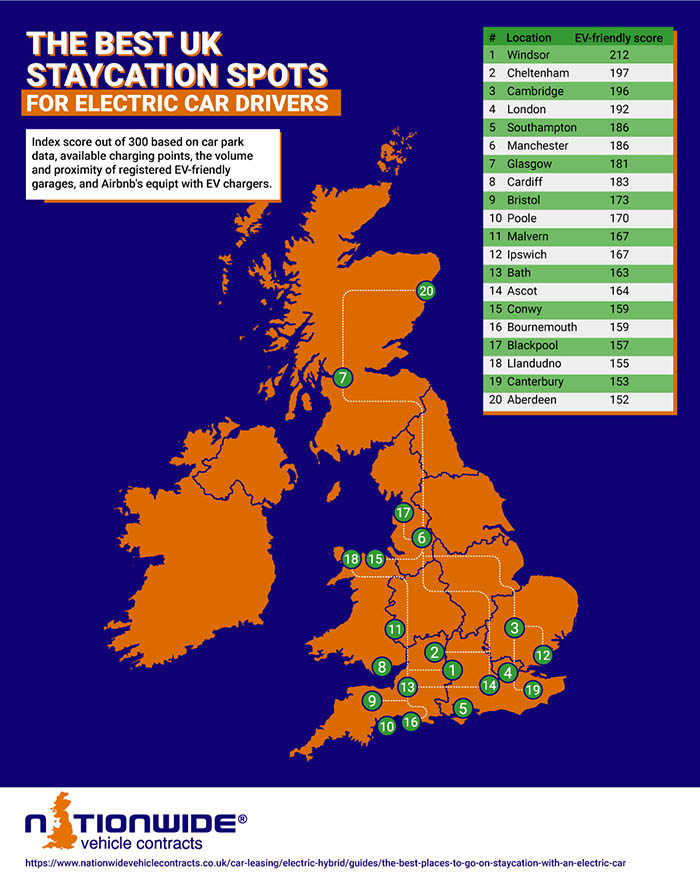 #1 Windsor, Berkshire is the best staycation location for the electric car driver
Out of all the towns and cities across the UK analysed the historic market town of Windsor in Berkshire takes the top spot for being the most EV-friendly staycation destination. Windsor scored an impressive EV friendly rating of 212 out of a potential 300. The town which boasts Windsor Castle, one of the official residences of Her Majesty Queen Elizabeth II, sits comfortably in the top spot.
With 3 EV friendly garages within a 20 mile radius of the center, and the closest only 2.5 miles away, any hybrid or electric driver is well covered should the worst occur. On average, parking costs £10.33 a day and there are 12,453 spaces in the town to choose from - a relatively modest sum for a royal borough. It has 13 working electric charging points in its postcode district which puts it at an impressive 80 chargers per every 50 km². Windsor also offers around 78 Airbnb's which are set up for EV charging, meaning you can charge while you sleep from the comfort of your accommodation.
#2 Cheltenham, Cotswolds is the second best staycation destination for those with an electric car
Cheltenham in the Cotswolds comes second on the list with a score of 197 out of 300. The spa town is already a celebrated holiday destination, known for its world renowned festivals of culture, including the Cheltenham Literature Festival, the Cheltenham Jazz Festival and the Cheltenham Science Festival amongst others.
Now it also can also add one of the most EV friendly staycation spots in the UK to its list of accolades. It's high score is partly due to its affordable parking averaging at £9.91 a day with 6,892 spaces to choose from. It is also down to the town having 24 electric charging points (equating to 42 for every 50 km²) and 3 of its registered EV friendly garages are all within 20 miles of the center, the closest located just 1.3 miles away. However, for a town so well equipped for EV's, surprisingly it only has 11 EV friendly AirBnbs in the close vicinity.
#3 Cambridge, Cambridgeshire is the third best staycation location for the electric car driver
The historic university town of Cambridge in Cambridgeshire is third on our list with a total EV friendly score of 196 out of 300, placing it just behind the number two spot.
The city, which houses one of the world's most celebrated universities, has 16,949 parking spots for travelers to use to see it's picturesque historical buildings, costing an average of £14.91 for eight hours. While it has just 12 EV ready Airbnbs, only one more than Cheltenham, it does have 24 electric charging points - which works out as 53 per 50km². The City, known for its punting, also has 3 EV registered Garages within 20 miles, the nearest of which is located 5.4 miles from the town.
#4 London, Greater London is the fourth best staycation location for electric car drivers
The nation's capital takes the number 4 spot on our list. Despite being notoriously un-car friendly, London has been making a concerted effort to reduce emissions from traditional vehicles, and so in recent years has been seriously encouraging people to switch to electric vehicles. This might explain why the city has managed an index score 192 out of 300.
London has a staggering 14,451 EV charging points, that's 416 per 50km². It has an impressive 300 Airbnb's already set up to host and charge Electric Vehicles. It also has 7,829 appropriate parking spaces, but the famously expensive city charges an average of £34.35 for 8 hours of parking. This coupled with only its closest EV friendly garage being 5.7 miles from the center, is what counts against it on our list.
#5 Southampton, Hampshire is the fifth best staycation location for the electric car driver
The port city of Southampton in Hampshire, on England's southern coast, has taken the number five spot. The port, located close to the new forest and only seventy miles south of London, was once the home of Jane Austen, but is perhaps most famous as the departure point of the steampowered HMS Titanic.
Electric modes of transport will be just as at home in the city which scored an EV friendly rank of 186 out of 300. This is due to it's impressive 13,313 parking locations costing an average of £7.19 a day - the lowest price in the top 10, its 67 working charging points (17 per 50km²) and that's without counting the 5 Airbnb's in the city equipped for electric cars.
#6 Manchester, Greater Manchester is the sixth best staycation location for the electric car driver
The North-West city of Manchester scored an EV friendly ranking of 186 putting it in sixth place on our list. The city, famous for its music as the birthplace of The Smiths, The Happy Mondays and Oasis, has no less than 21,373 parking spaces (even more than London!) at an average price of £16.99 for eight hours. It has 3 EV friendly Garages within 20 miles and the closest is 1.8 miles from the centre. Having 114 EV charging points means 9 per 50km², and Manchester has a very impressive 230 EV ready Airbnb's, almost double that of any other city except for the capital.
#7 Glasgow, Lanarkshire is the seventh best staycation location for the electric car driver
The first Scottish location on our list is the city of Glasgow. Scotland's most populated city it's only one to make the top ten with an EV friendly score of 181 out of 300. It ranks it at number seven due to its impressive 192 EV charging points, equivalent to 36 per 50 km². Glasgow also has 26,516 parking locations, at £11.71 on average for eight hours. Despite boasting 8 Airbnb's equipped for the EV's, it only has 2 EV friendly garages within 20 miles which is the lowest number in the top ten.
#8 Cardiff, Glamorgan is the eighth best staycation location for the electric car driver
The only Welsh city in the top 10 is its capital Cardiff, which comes in eighth on our list. The capital of Wales has 13,300 parking locations costing an average of £11.51 for eight hours, 43 charging points (21 per 50 km²) and 3 EV friendly garages within 20 miles - the closest within a mile from the centre. Though for a capital city it's Airbnb's are surprisingly behind the times, with only 3 being set up with working EV charging stations.
#9 Bristol, Avon is the ninth best staycation location for the electric car driver
With a EV friendly score of 173, ninth place goes to Bristol, which won the European Green Capital Award in 2015. The South West English city is renowned for its eco-friendly bohemian ethos, it's no surprise it houses 124 EV charging points, equating to 43 per 50 km². As one of the UK's most popular tourist destinations it is home to 7,415 parking locations, at an average of £16.36 for eight hours. Its closest register EV garage is 1.3 miles from the centre and it has four Airbnb's suited to facilitating EVs.
#10 Poole, Dorset is the tenth best staycation location for the electric car driver
Rounding out the top ten is Poole in Dorset, situated just to the East of the UK's dramatic Jurrasic coast. The large coastal town boasts a stunning coastline, as well as an EV friendly score of 170. It has 23 electric charging points and 4 Airbnb's suitable for EV's, but only two registered EV garages located a lengthy 5 miles from the centre. It has 11,530 parking spots, but the cheapest average parking cost for 8 hours, which will only set you back a very economical £6.54.
How many trees are needed to offset CO2 in the EV staycation locations?
The adoption of electric vehicles is a good way of helping to reduce CO2 emissions. This is especially true in more densely populated areas where congestion is a problem, which is only exacerbated by the presence of holidaymakers in already busy areas of the country.
Eco-conscious tourists can have a less harmful impact on the planet by travelling in EV's, but with the encroaching environmental crisis, is that enough?
To see the scale of the problem, we calculated the number of trees which would need to be planted to offset the yearly CO2 production of the most congested EV staycation locations.
| Rank | Staycation location | County | CO2 per passenger produced yearly due to commuting (kg of CO2) | How many trees are needed for each passenger to produce enough oxygen to cover their yearly CO2 usage (no. of trees) |
| --- | --- | --- | --- | --- |
| 1 | Bournemouth | Dorset | 2,189 | 101 |
| 2 | Brighton | East Sussex | 1,682 | 77 |
| 3 | Newport | Isle of Wight | 1,484 | 68 |
| 4 | York | North Yorkshire | 1,412 | 65 |
| 5 | Bath | Somerset | 1,277 | 59 |
| 6 | Exeter | Devon | 1,277 | 59 |
| 7 | Belfast | County Antrim | 1,260 | 58 |
| 8 | Inverness | Scottish Highlands | 1,197 | 55 |
| 9 | Glasgow | Lanarkshire | 1,160 | 53 |
| 10 | Oxford | Oxfordshire | 1,121 | 52 |
Bournemouth tops the list as the most congested location. The Dorset resort town produces 2,189 kg of CO2 per passenger per year. It would take 101 trees to be planted per passenger in order to create enough oxygen to neutralise these levels of carbon dioxide. At 24 trees more than any other destination on the list, this places the coastal town firmly in the top spot.
Second, just down the coast, Brighton passengers create 1,682 kg of CO2 yearly, a level which requires 77 trees to be planted in order to offset it.
Newport on the Isle of Wight is the third highest producer of CO2 per passenger, 1,484kg per passenger, requiring the planting of 68 trees.
5 tips for planning a staycation with an EV
While electric vehicles usage is on the up, Hybrid and Electric cars road users will still find themselves in the minority on British roads for a while yet to come.
Even with enormous investment into making the roads EV ready, the UK's infrastructure is still geared towards gas guzzlers, meaning resources such as charging points will be in high demand in popular locations. But EV drivers can follow these five tips for their next staycation.
1. Plan ahead of your trip
Preparation is key. Plan your journeys in advance to avoid being caught out with a flat battery. There are many tools, apps and forums which will help you locate charging stations to help you prepare for your trip across the UK. Your best resource is most likely other EV drivers who may have already traveled to the same areas you're planning on visiting. Get online and learn about other people's experiences to ensure your own trip goes smoothly.
2. Be smart with your charging by using the 80/20 rule
If you're not new to EV's then the likelihood is you're already familiar with the 80/20 rule. However, as EV ownership is booming this year, newer converts to electric vehicles may be unaware of this handy tip which will save both time and potential hassle.
Keep your battery between 80% and 20% charged, unless you're charging at home. The reason being, charging to 80% massively optimises your charging time. It takes just as long to charge your EV from 80 to 100% as it does to charge it from 20 to 80%, so when charging remotely, unless absolutely necessary, charging to 80% should be enough to get you where you're going, but will mean only half the time spent charging.
The 20 part of the 80/20 rule is much more common sense - plan to recharge your can when you hit 20%. That way, if there is a problem, the charging station on the motorway is out of order for example, you still have enough range to put a Plan B into action.
3. Drive Conservatively
This is both for safety and battery conservation. Lots of British roads near popular destinations, away from motorways, are winding and have poor visibility. However, while sensible driving in these conditions is a valid safety tip, it's one which will also help preserve the battery on your EV. Driving fast or unevenly is the easiest way to quickly drain your vehicle's battery. Especially on longer trips, you can travel much further without recharging by simply making your journey as smooth as possible. Follow this tip and it will make for a more comfortable trip on all counts!
4. Look after your battery, especially in heat
The maximum temperature to keep the battery to maximise your EV's charging is between 20 and 40°C. Anything over 50% can be extremely damaging, especially to lithium-ion batteries. Rapid charging and erratic driving both have the potential to heat up your battery and this is something to be aware of. This is especially true on hot days, where the ambient temperature is going to also be a factor in how quickly your battery heats up.
You can offset this by allowing your battery to cool for a few moments between driving and charging. Different models and makes will be able to handle the heat to different degrees, so check with the manufacturer, or on forums for best practice, but it's something all EV drivers need to be aware of!
5. Enjoy the Trip
While some of the advice on this page might make it sound like EV's are a hassle in comparison to the old school petrol cars most people are used to. The reality is that electric, hybrid and plug-in hybrid cars are no more hassle or complicated to run and operate than traditional vehicles, they're simply different. They also require a slightly different approach and mindset, which once you've mastered, will become second nature to you. A trip away in your EV is a great opportunity to really get to grips with your vehicle and start to love it! Enjoy your EV and enjoy your staycation, you deserve it!
Want to switch to an eco-conscious vehicle for your next holiday?
Fancy your own EV Staycation? We've got a fantastic range of electric, hybrid and plug-in hybrid cars amongst our enormous selection of vehicles, all available for affordable monthly prices. With free delivery available across mainland GB, you could be plugging in in no time.
Methodology
Nationwide Vehicle Contracts analysed over 50 of the UK's most in demand staycation locations documented online. To find the most electric vehicle friendly we created an index analysing a range of data points including the number and distance to EV friendly registered garages, the number of parking spaces and average price per day, the number of EV charger in the postcode district, and the number of Airbnb's with EV chargers. Each metric was scored and ranked to give a total index score out of 300.
[1] Data from Zap-Map: EV sales saw a 132% growth year to date when comparing 2021 to 2020 as of the end of July.
Guide Information