The Best Cars For Boot Size
By Fergus
9th November 2021
If you're looking for your next car lease deal and boot space is of importance, you're in the right place. Whether you need a vehicle that offers the biggest boot for work or a space for your growing family and all their things, we've got you covered.
To help make choosing your next car a little easier, car leasing experts, Nationwide Vehicle Contracts, has compiled a list of 10 of the best cars for boot size, based on load capacity, practicality and ease of use.
The best cars for boot size featured in this article include:
Top 10 Cars for Boot Size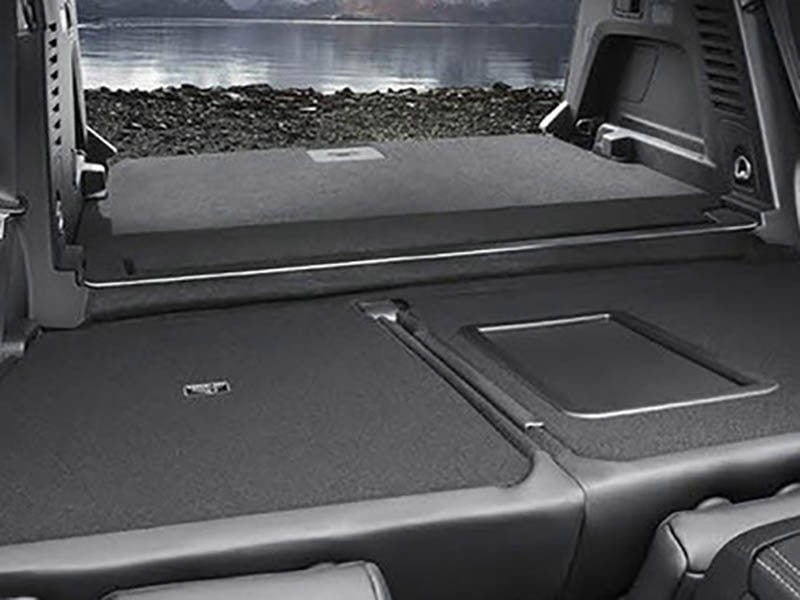 1

.
Peugeot 3008
The Peugeot 3008 Crossover is a great-to-drive, economical family SUV with plenty of room inside and an impressive 520-litre boot - no wonder it's the first car in our top ten list.
In the back, rear passengers benefit from wide opening doors, which are shaped for easy access. Child car seats are also easy to install thanks to the tall ride height of the 3008 and standard Isofix points on the two outer seats for increased safety.
Given the large-SUV look of the Peugeot, The 3008's spacious interior makes sense, but it's more practical than you may think. The 3008's 60/40 split rear seats easily fold down with the handy release levers just inside the boot opening, making it easy to fold down the backrests and lie completely flat once lowered. Safety is also top-notch, thanks to a five-star crash-test score from Euro NCAP.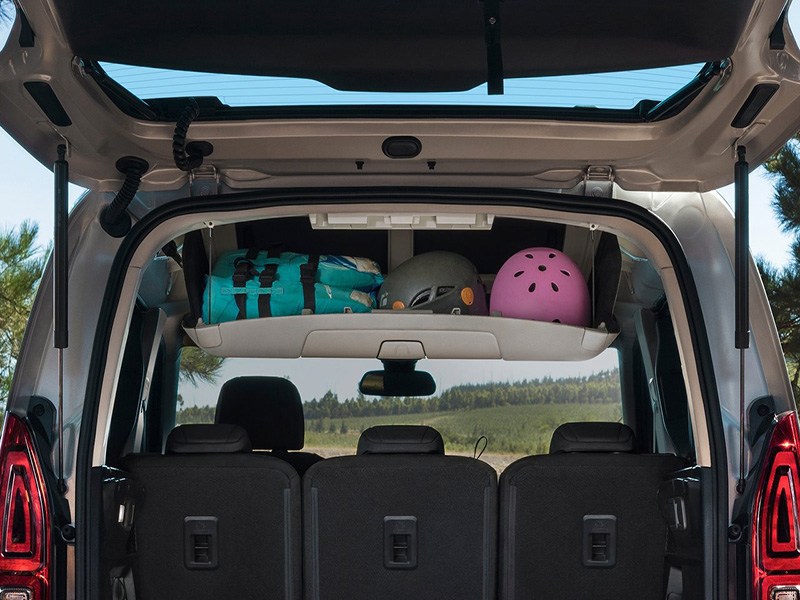 2

.
Citroen Berlingo
Next up is the new Citroën Berlingo MPV, a practical car with excellent passenger and boot space, low running costs and great value for money.
Inspired by the Berlingo van, the Citroën Berlingo MPV has an enormous boot space of between 775 to 1,050 litres, which expands to between 3,000 and 3,500 litres (depending on the version) with all the rear seats folded down.
The Berlingo rear seats fold with a flick of a lever in the boot or on the seats themselves, and all the individual chairs drop into the floor for a near-level load area. The boot door is also enormous, and the glass hatch opens separately, which is excellent for loading any cargo.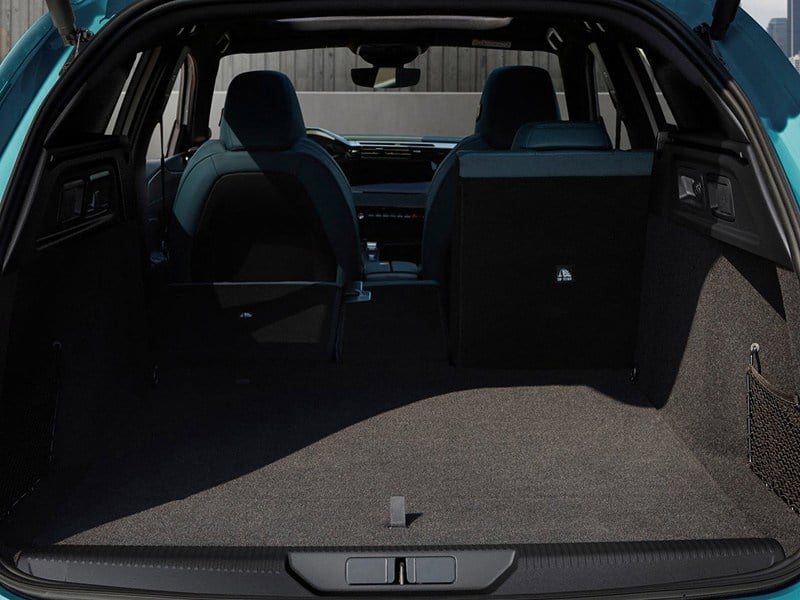 3

.
Peugeot 308 SW
The Peugeot 308 SW is a great family estate car with a massive boot, seating for up to seven people and plenty of practical features as standard.
The 308 SW boasts enough space for all your shopping bags and family essentials with its impressive 608-litre boot. Fold its rear seats down, and this expands to a massive 1,634 litres, making it one of the biggest boots in its class. Plus, lifting items in and out of the 308 SW's boot is a breeze thanks to its wide opening, low load lip and low overall boot height.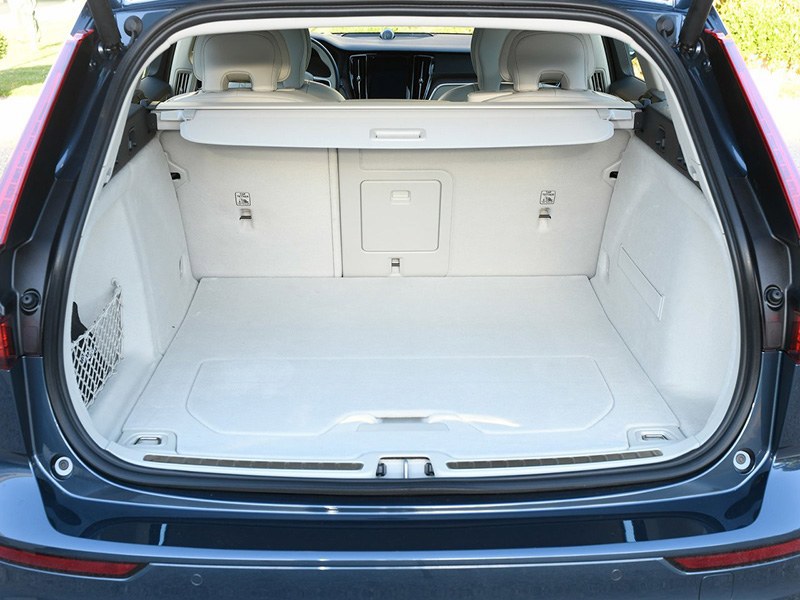 4

.
Volvo V60
The Volvo V60 is a high quality, tech-packed, spacious and stylish premium estate vehicle that offers excellent rear space.
As expected from a Volvo, the V60 doesn't just look great, but it's also incredibly practical. The V60's boot space can hold up to 529 litres, which rises to 1,441 litres, with the rear seats folded flat. The Peugeot 508 SW just slightly beats it with a 530-litre boot, however, the Volvo's boot is still one of the biggest in its class.
The V60 also has some great practical features, like its fold-up shopping area with an elasticated strap to stop your shopping from flying around the boot. Plus, some Volvo V60's, such as the Inscription models and upwards, have rear seats that can also fold electrically and completely flat with headrests automatically tucking out of the way.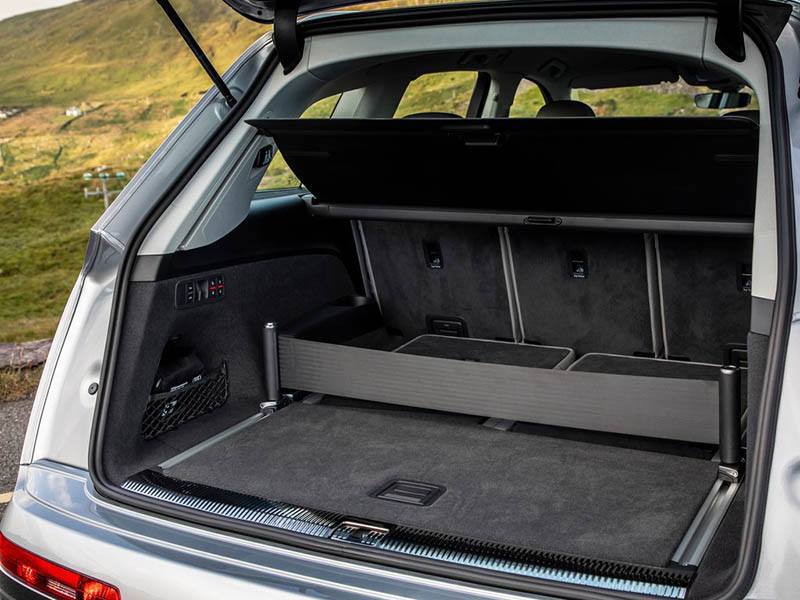 5

.
Audi Q7
If luxury is what you are after, the latest Audi Q7 is one of the best on the market, with excellent body control and overall driving experience.
With seven seats and a very flexible layout, the Audi Q7 offers a decent amount of space for both passengers and their luggage. At the rear, with all seven seats up, the Q7 can hold up to 295 litres of boot space, which can be expanded to an impressive 770 litres when you collapse the third row of seats. If you want even more space, fold all the rear seats down, and the Q7 offers 1,955 litres to play with, as well as plenty of useful options such as powered luggage compartment covers.
Thanks to its huge boot opening and standard powered boot lid, loading big objects such as prams and sports equipment is easier than ever before. Getting in and out of the second-row seats is also easy thanks to large rear door openings and slim sills, with enough shoulder room for three adults to comfortably sit side by side.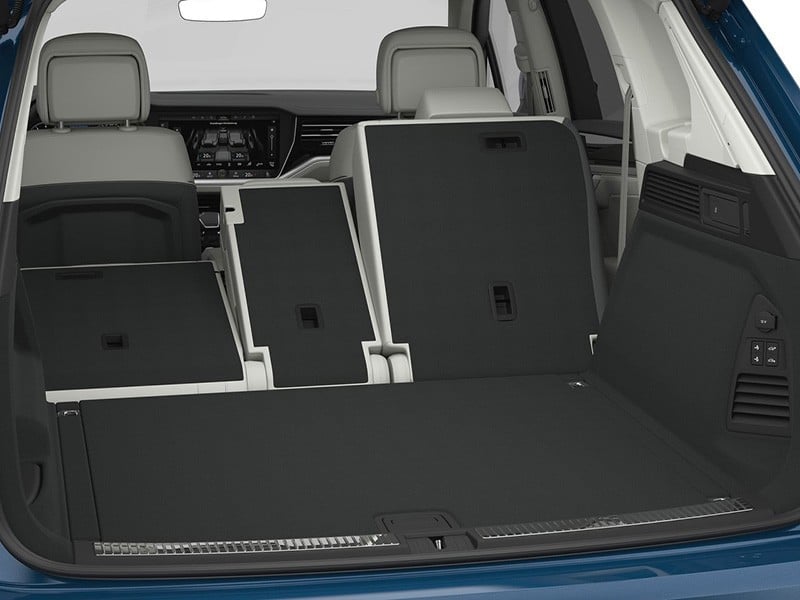 6

.
Volkswagen Touareg
If you're looking for a comfortable and refined luxury SUV that's practical for the whole family, the Volkswagen Touareg is a great option, offering a spacious cabin and incredible boot space.
The Touareg has a boot space of 810-litres, increasing to 1,800 litres with the rear seats folded down. The Touareg's rear seats fold easily with a pull of the straps until the seat base pops out in 40/20/40 formation. The seats don't fold completely flat, unfortunately, unless you remove the headrests.
The boot's loading area is square-shaped, and if you opt for the air suspension, there's a function that lowers the car's back to aid access. Plus, the boot has a low loading lip of 808mm from the ground, making it ideal for loading and unloading your luggage.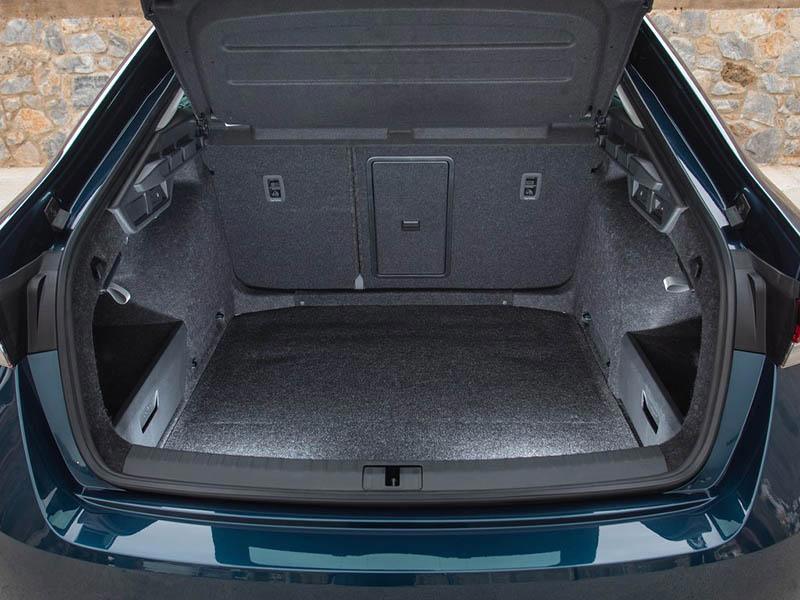 7

.
Skoda Octavia
No other family hatchback can match the Skoda Octavia when it comes to boot space and a practical interior.
The Octavia's huge 600-litre boot space offers all the space you need and can be expanded to 1,555 litres if you fold the rear seats down, competing with cars from the class above, offering great practicality. The Octavia also has a useful flat floor loading bay which helps when loading awkward items.
The Octavia also boasts numerous clever features to simplify life, including a 12-volt power supply, shopping bag hooks and bright boot lights ideal for easy loading and unloading shopping during dark nights.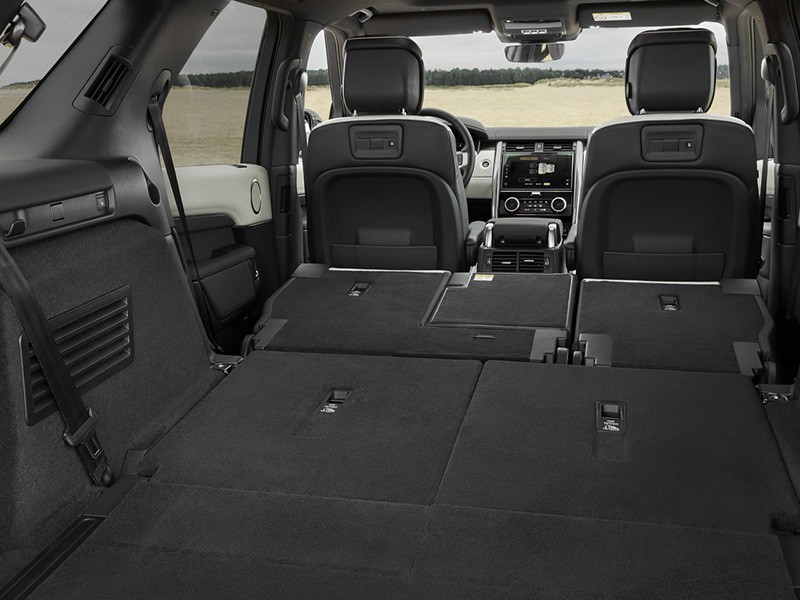 8

.
Land Rover Discovery
The Land Rover Discovery is one of the most practical vehicles on the market, coping with everything from the school run to crawling up a rough rocky dirt track.
The Discovery offers 258 litres of luggage space with all seven seats upright. This can be increased to 1,137 litres with the third-row seats folded down. Drop the second row of seats, and the Discovery boot space expands to 2,406 litres meaning there's as much room in the boot as in some small vans.
Plus, the Discovery's boot isn't just massive, it's also a great shape making it easy to load, unload and close thanks to its powered tailgate.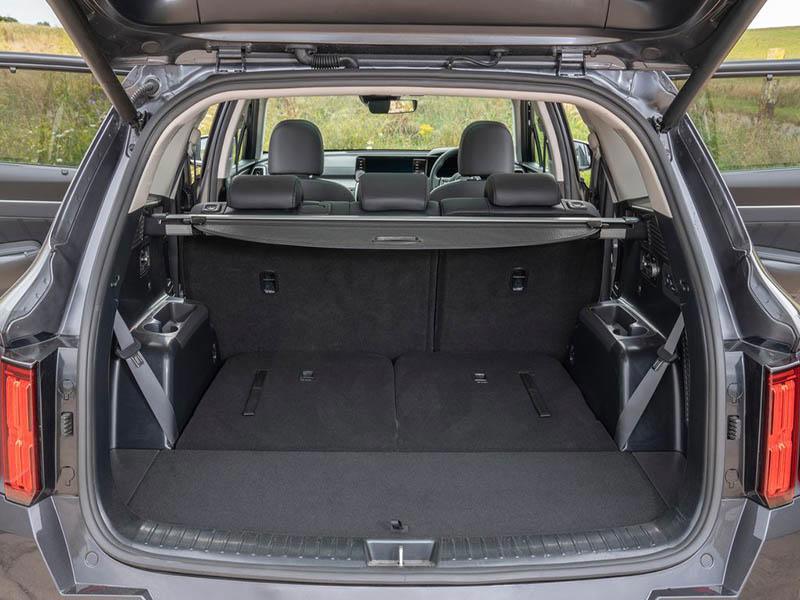 9

.
Kia Sorento
The Kia Sorento is a great, spacious and luxurious seven-seater with a range of engine options.
The Kia Sorento doesn't compromise on boot size. There are 142 litres of boot space in the Sorento, with all seven seats in place. Then with the third-row seats folded down, there are 616 litres of boot space expanding to 2,011 litres if you drop all the seats in the second and third row. Plus, in the Sorento, you can fold the second-row seats easily with a touch of a button from the boot area.
The first two rows in the Sorento also offer great headroom and legroom for adults and all models with four-wheel drive and plenty of tech as standard.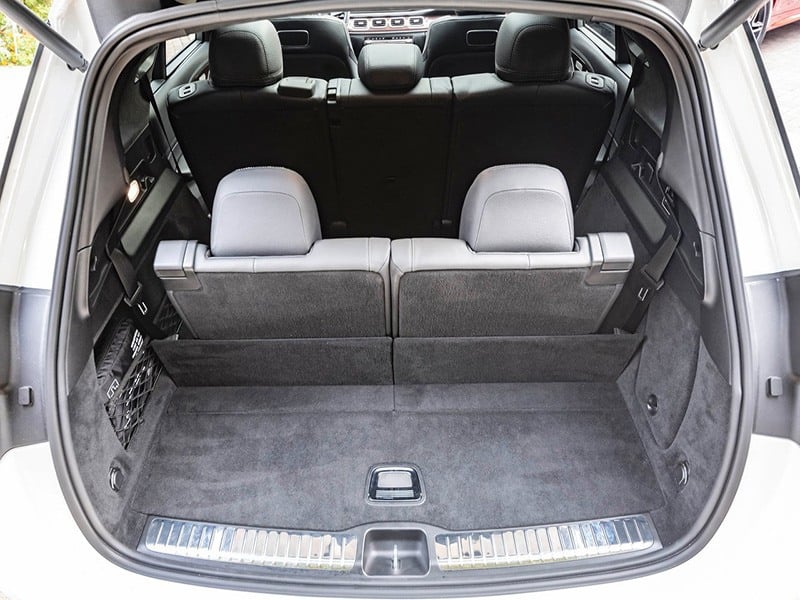 10

.
Mercedes-Benz GLE Estate
Last but not least, with its chunky styling, impressive interior space and decent sized boot, the Mercedes-Benz GLE remains a popular lease choice with growing families.
The GLE's square and angular 630-litre boot size (with the third row of seats folded down into the boot floor) offers enough space with all seats in place for your shopping bags and luggage for family trips. Fold the middle seats forward, and this extends to an impressive 825 litres.
The GLE's low boot load lip and handy shopping bag hooks also make loading large items easier and stop items from rolling about in the boot.
Thinking of leasing your next family car?
Check out our comprehensive guides on family car leasing and amazing car lease offers, or call Nationwide Vehicle Contracts on 0345 811 9595 to speak to one of our experienced sales advisers and to discuss the options available to you.

Guide Information