The Best Seven Seater Cars for Families
By Fergus
16th September 2021
Here at Nationwide Vehicle Contracts, we understand the struggle parents who have growing families face when choosing their next new car lease deal. Finding a vehicle that will accommodate all your needs can be extremely difficult and frustrating, especially for large families.
To help make choosing your next family car easier, stock lease car specialist, Nationwide Vehicle Contracts, has compiled a list of our favourite seven-seater family cars based on space, practicality, fuel economy and value for money.
The top seven-seater family cars features in this article include:
Top 10 Seven Seater Cars for 2021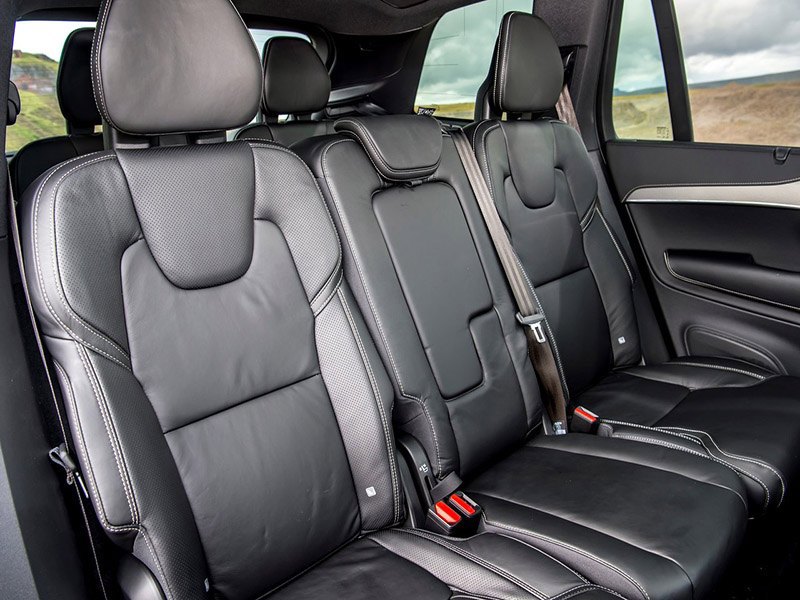 1

.
Volvo XC90
First up is the luxurious seven-seater Volvo XC90. The XC90 is one of the best looking seven-seater SUVs on the market, with its T-shaped headlights, square-set front end, rounded wheel arches, and raked windscreen pillars that give it a sleek and aerodynamic look.
Inside, the Volvo XC90 is incredibly practical. Its huge interior boasts comfortable and roomy seats and, unlike many seven-seaters, the third row is reasonably sized for adults. This allows all passengers inside to ride comfortably, with the third-row seats the same size as the middle row and positioned slightly inwards for a better view forward.
As for boot space, the Volvo XC90 has an impressive 356 litres of space, rising to 1,007 litres if you fold the third row down. Plus, the XC90 has a low loading lip and a 'hands-free' powered tailgate as standard, making it easy to pack away shopping or unload a child's buggy.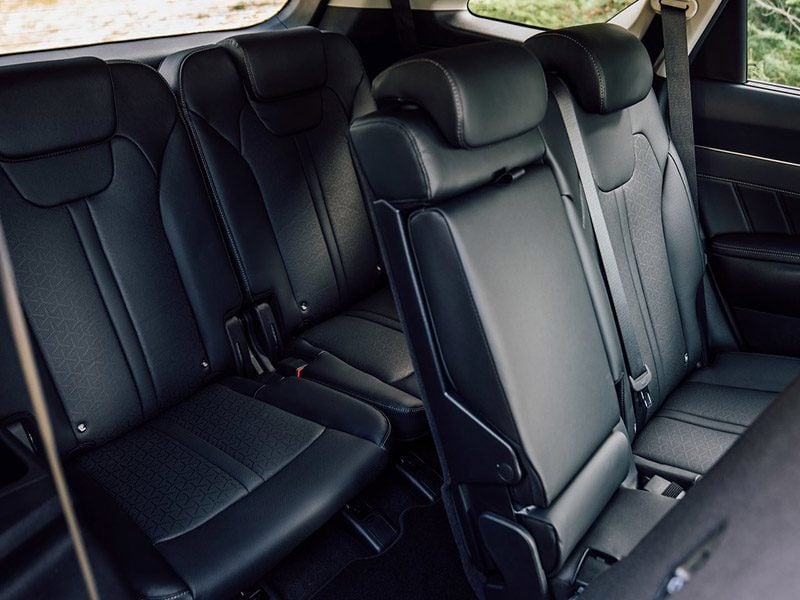 2

.
Kia Sorento
If you plan to use seven seats often, the Kia Sorento is certainly worth a look. Inside the Sorento, seven passengers can ride comfortably and safely, reflected in the Sorento's five-star rating from Euro NCAP.
Space inside the Kia Sorento is massive, making it the perfect choice for those looking for an SUV with a lot of room. The cabin offers plenty of head and legroom for adults, even those sitting behind a tall driver. Passengers seated in the third row, however, may find space a little tight. Kia has also added ventilation controls and USB charging points for third-row passengers to use.
At the rear, boot space in the Kia Sorento is competitive for its class, offering 187 litres with the third-row seats up, which can expand to 616-litres with the seats folded down. There is plenty of storage in the centre and side console with cup holders and a large area for charging devices.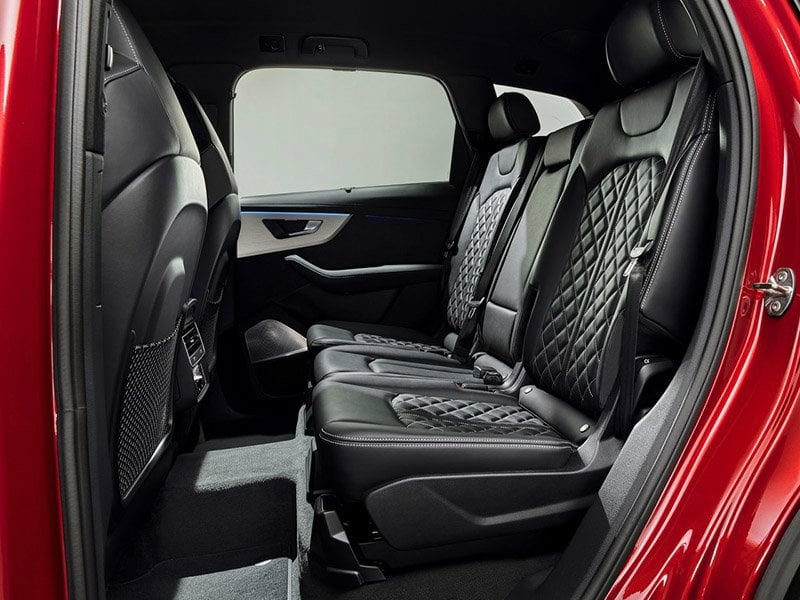 3

.
Audi Q7
The Audi Q7 is one of the best luxury seven-seaters on sale. This full-size SUV offers good-sized passenger seats and comes packed with exceptional technology, including traffic sign recognition, all-around parking sensors and automatic emergency braking, helping to keep you and the family safe and stress-free.
The Q7's eye-catching angular headlights and vast grille help it stand out on the road. Inside, there's a spacious, airy feel with excellent leg and headroom in every one of the seven seats. The third row is designed mainly for children, but smaller adults can squeeze in for shorter journeys, although they may feel cramped due to a lower roofline and higher floor. Every passenger seat inside the Q7 features ISOFIX mounting points for child seats as standard.
With all seven seats up, the Q7 offers 295 litres of boot space that expands to 770 litres when you collapse the third row down. There are also useful options, such as a powered luggage compartment cover to help make busy family life easier. Add in a five star NCAP rating, and there's not much to dislike about the Q7.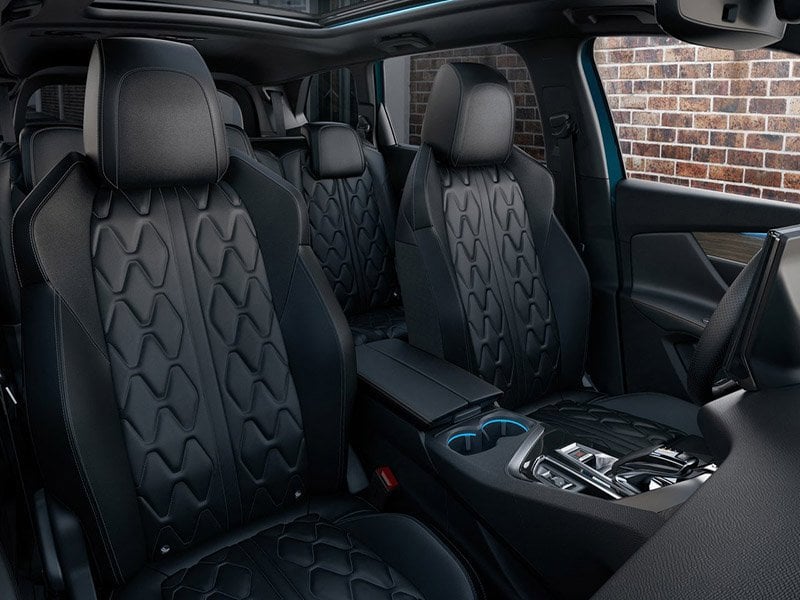 4

.
Peugeot 5008
The Peugeot 5008 is a trendy looking seven-seat SUV inspired by the five-seat Peugeot 3008. Recently updated with new headlights, fang-like daytime running lights, and a restyled and attractive grille, the 5008's longer roofline and extended rear overhang allow for a third-row set of seats and a bigger boot space, making it an excellent choice for growing families. The 5008 also has some decent safety features, including autonomous braking and lane-departure warning as standard across the range.
Inside, the Peugeot 5008 doesn't offer as much space as other cars in its class, but there's still enough room for all passengers to ride comfortably. Unfortunately, overall visibility isn't great due to its exterior design, with a few blind spots while driving. However, Peugeot has fixed this by adding blind spot detection and lane-keep and high-beam assist to Allure models and above.
The 5008 offers 167 litres of boot space with the third-row seats up. Fold the third-row seats down, and this expands to 952 litres of space, making the 5008 one of the most spacious cars in its class.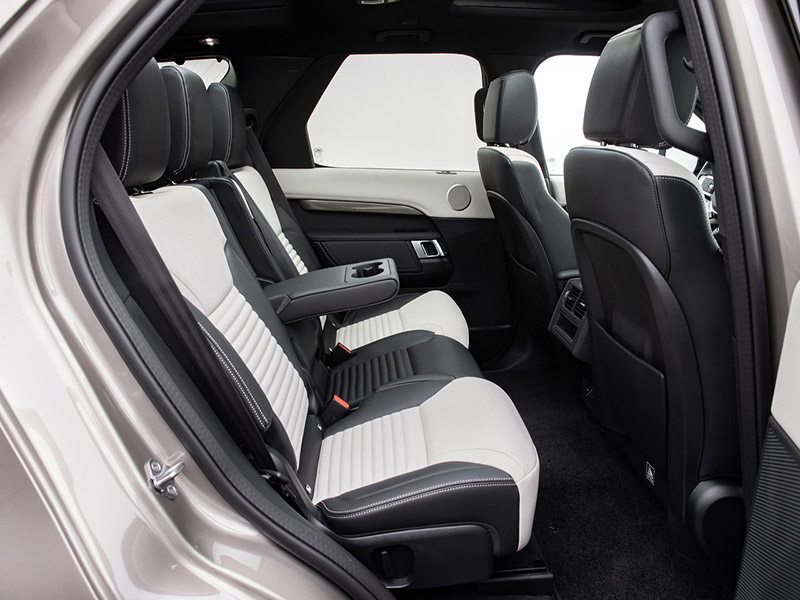 5

.
Land Rover Discovery
If you're looking for a seven-seater with a four-wheel drive, look no further than the Land Rover Discovery. Not many seven-seater SUVs on the market can comfortably fit seven adults in all seats, but the Discovery does it really well. It recently received some updates in 2021 with improvements to the drive, engines and technology.
The Discovery's roomier interior means it's one of the best cars for comfort. There's space for six-foot passengers to stretch out in the front five seats, and there's room enough for adults to sit in the third-row seats. Boot space is also great, with up to 258 litres with all seven seats up, making it ideal for a weekly shop or a child buggy. This increases to 1,137 litres with the third-row seats folded down, making the Discovery hard to beat for space.
All models across the Discovery range have autonomous emergency braking as standard, which helped the car achieve a maximum five-star Euro NCAP safety rating. No wonder this safe, stylish seven-seater SUV is so popular.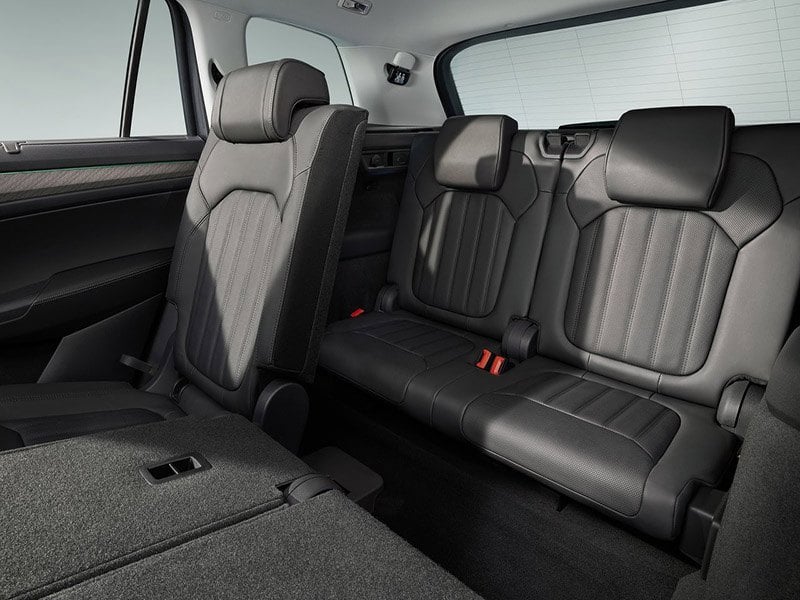 6

.
Skoda Kodiaq
The Skoda Kodiaq SUV is a great all-rounder family seven-seater car. Comfortable, practical and pleasing to drive, the Kodiaq is affordable to buy and run. It also impresses when it comes to safety, with seven airbags fitted as standard across the range. This, along with autonomous braking with a pedestrian monitor and multi-collision brake, helped the Kodiaq achieve a full five-star Euro NCAP safety rating.
Inside, the Kodiaq is comfortable and spacious, with lots of occupant space upfront, as well as impressive headroom in the rear. Legroom isn't as good as other vehicles in its class, but it's more than adequate not to feel cramped. Children or small passengers will fit comfortably in the third row of seats, but most adults will find it a bit of a squeeze.
The Kodiaq has a 270-litre boot capacity with all the seats in use, but this increases to 765 litres in five-seat form, depending on which position you set the 60:40 split sliding middle seats. Boot loading is also easy thanks to the powered tailgate, which is particularly helpful as the Kodiaq sits relatively high off the ground.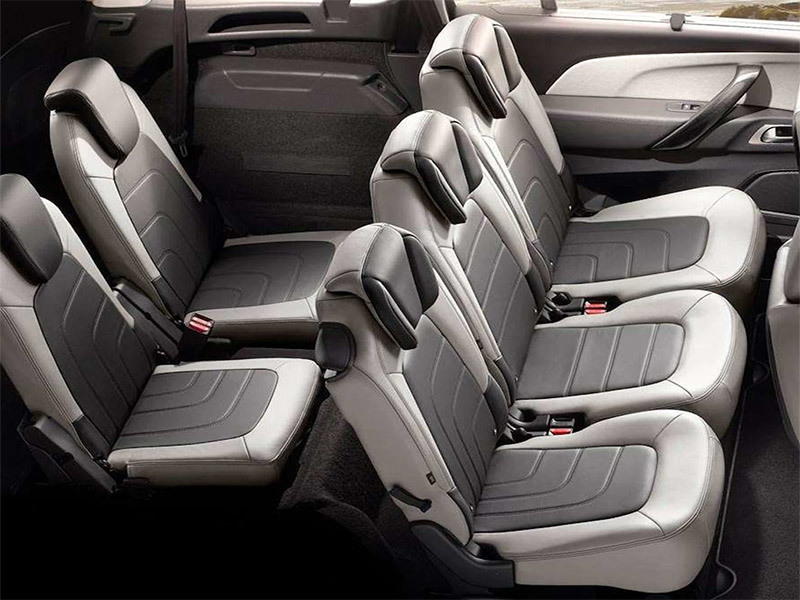 7

.
Citroen Grand C4 Spacetourer
If style is at the top of your wish list, the Citroen Grand C4 SpaceTourer is well worth a look. With its low-line headlamps and double chevron front grille, the C4 SpaceTourer boasts a minimalist yet smart appearance. Safety is also impressive, with a bundle of safety features offered as standard, including ABS with Emergency Braking Assist, automatic hazard lights, and curtain side airbag protection. These features helped the Grand C4 SpaceTourer achieve the maximum five stars in Euro NCAP crash tests.
Inside, you won't have any trouble getting comfortable in the Grand C4 SpaceTourer, as there's loads of head and legroom and plenty of seat adjustments to help you find your perfect driving position. Unlike most cars of its size, the Grand C4 SpaceTourer comes with three separate middle seats and a completely flat rear floor, allowing for more shoulder and foot space for three adults to sit side-by-side. Third-row passengers can also ride in comfort as the seats can fit most sized adults.
The Grand C4 SpaceTourer offers one of the biggest boots, with all seven seats in place, holding up to 165 litres. With rear seats folded into the floor, this expands to 793 litres of luggage space when the middle row is slid into its furthest forward setting.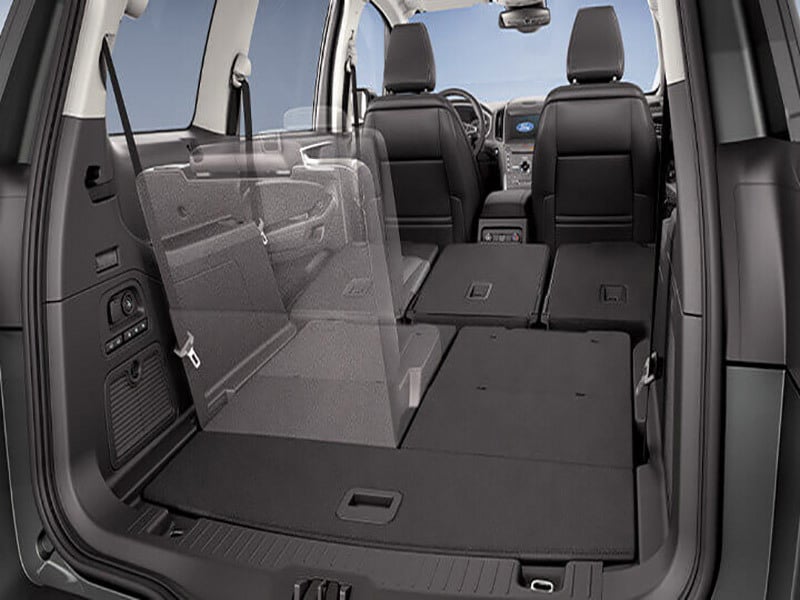 8

.
Ford S-Max
The Ford S-MAX is a perfect choice of car for a keen driver with a large family. There's more space than you'll get in a 4x4, and running costs are pretty decent too. The S-MAX offers many safety features as standard, gaining a full five-star rating from Euro NCAP. All Ford S-MAXs get a host of airbags and tyre pressure monitoring, automatic braking, and a system that recognises road signs and adjusts the car's speed accordingly.
Inside, loads of cubbies and storage bins are dotted around the cabin, with a pair of cupholders in the third-row seats. The Easy-Entry system fitted to the middle row allows for easy access to the third-row seats, with the bench tilting and sliding forwards in one sleek movement. The middle row three seats also come with individual ISOFIX points, which can be used simultaneously, making it ideal for multiple child car seats.
In terms of boot space, you get 285 litres with all seven seats in place, which is ideal for any family luggage or weekly shopping. Fold the rearmost seats flat, and this expands to 965 litres.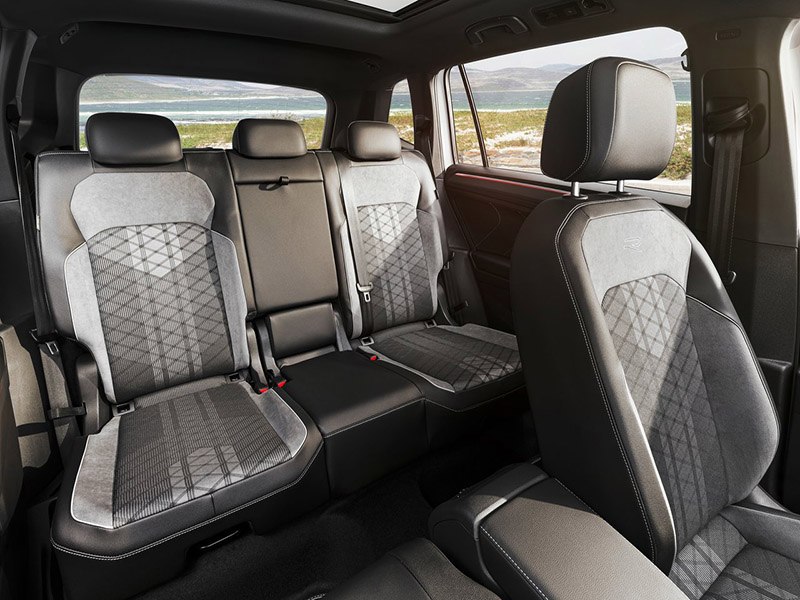 9

.
Volkswagen Tiguan Allspace
The Volkswagen Tiguan Allspace is an excellent seven-seater family car as it offers plenty of practical storage cubbies and adequate boot storage. At 215mm longer than the regular Tiguan, the Tiguan Allspace can also easily carry up to seven people and their luggage.
Inside the Tiguan Allspace, there's enough space for passengers to ride comfortably, although some of its rivals offer roomier interiors. That said, there's more room in the middle row seats than in the standard Tiguan due to Allspace's longer body, with plenty of seat adjustment options in the front seats to help you find your perfect driving position.
Boot size has also improved in the Tiguan Allspace, holding up to 700 litres with the seats folded down and 230 litres with the seats folded up. The Tiguan Allspace comes with a range of safety features as standard, including lane-keeping assist, pedestrian monitoring and emergency braking, and a host of airbags and stability and traction control systems.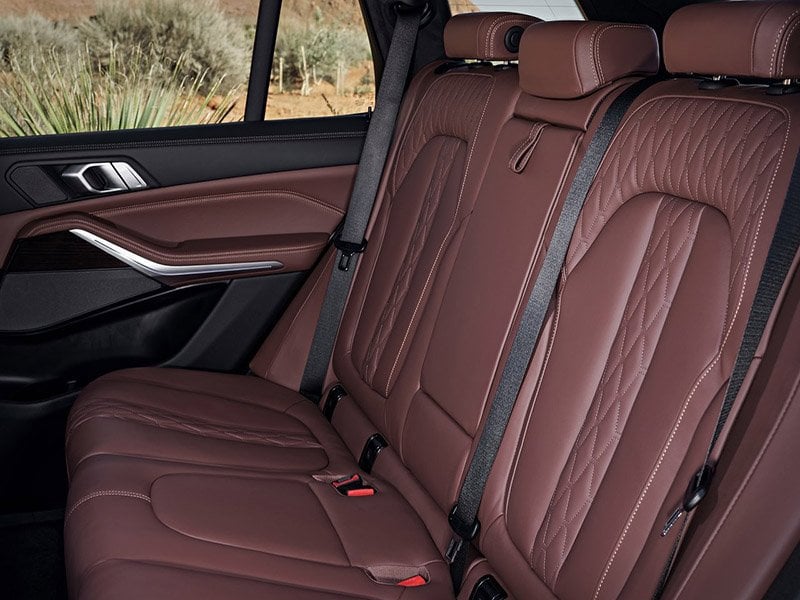 10

.
BMW X5
Finally, if you're looking for a luxury seven-seater, the BMW X5 is an excellent choice. Its stylish, boxy five-door body style maximises utility inside and offers excellent space for passengers. There are supportive seats with full electric adjustment and memory function at the front. At the back, tall adults can sit comfortably behind those in the front, although the third row of seats is best for children due to its limited amount of space.
The X5's boot offers up to 650 litres of space, expanding to 1,870 litres with the rear seat down. The rear bench splits 40:20:40, which is great for loading long luggage items and carrying family bikes. The X5's tailgate is also split horizontally to help load heavy objects and open in confined spaces.
Euro NCAP awarded the X5 a full five-star safety rating thanks to its advanced safety tech, including intelligent cruise control with lane-keeping assistance, Electronic Brake-Force Distribution, Stability Control and ABS, all of which help keep you and the family safe while on the road.
Want to know more about family car leasing?
Looking to lease a family car? Nationwide Vehicle Contracts has some fantastic car leasing offers on a wide range of seven-seat cars. View our latest lease deals to bag a bargain or call Nationwide Vehicle Contracts on 0345 811 9595 to speak to one of our experienced sales advisers.
Guide Information