The Best Road Trips with Dogs

By Donna
21st April 2023
Our four-legged friends can appreciate a holiday just as much as we can, and with staycations continuing to be some of the most popular summer getaways there are still plenty of reasons to be heading on dog-friendly road trips when the weather improves.

When holidaying with a dog, it's important to form an in-depth plan so that both your and your pooch remain happy. From dog-friendly accommodation to making sure any attractions or restaurants will allow you to bring a pet, there's much more to consider than when it's just the humans sunning it up.
We've prepared a hands-on guide to dog-friendly road trips. Read on to find more.
The Top Dog-friendly Road Trips
For the best road trips with dogs, there needs to be a number of boxes ticked when it comes to planning. Does your hotel or Airbnb allow dogs to stay in your room? Are there dog-friendly beaches nearby for some relaxing strolls and much-needed exercise?
Some of the best dog-friendly road trips include scenic routes in Wales, circular routes in the Lake District and even options to the south of the country too.
Cardiff to Tenby – approx. 149 miles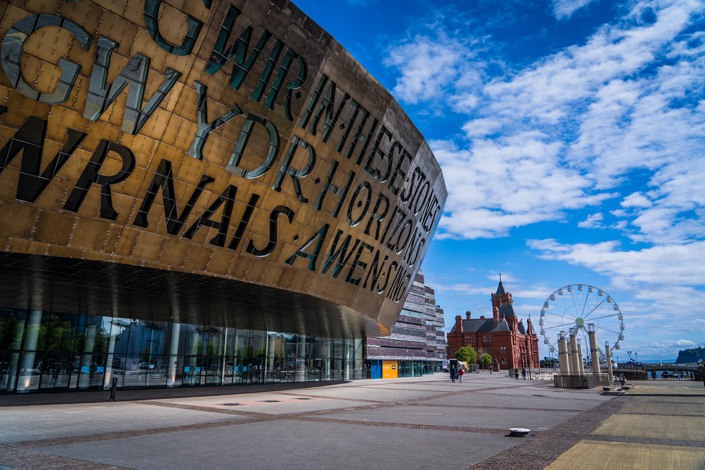 Cardiff to Tenby itself could be done in around an hour, but where's the fun in missing out the exciting, hidden beauty of Herefordshire's Hay-on-Wye?
Cymru's capital city is certain to energise those on four and two legs, with plenty on offer for both dogs and owners. Visit Bute Park and Cardiff Castle for exciting visuals and plenty of room for exercise or hike the six-mile-long Bay Trail. Cardiff is a pedestrianised city, but it's a perfect start for a dog-friendly road trip.
Hay-on-Wye's bookshops might not be dog-friendly so if you're a solo dog owner you might miss out on your next page turner, but there's plenty of pubs and cafés that dogs and humans alike can unwind in on this second leg of the trip.
Tenby, the final destination in the road trip has plenty to offer for the whole pack – from walks to boat trips, and beaches to hidden eateries.
There's also plenty of pet-friendly places to stay in each destination – but this trip could certainly all be done in one day if needs be!
Plymouth to Southampton – approx. 170 miles

Fancy a road trip that means you can take in three cities, two towns and two national parks across a 170-mile stretch? The national parks alone make this one of the best road trips with dogs, but the residential areas are great for our four-legged friends too.
Starting in Plymouth, there are plenty of dog-friendly establishments, green spaces, and beaches for your furry pal to peruse, before you move on to Dartmoor National Park. Dartmoor is excellent for dogs, but it's worthwhile remaining aware that you'll need to keep your dog on a lead while you're walking on the Dartmoor land. Plymouth
Next up are Exeter and Dorchester, two dog-friendly road trip destinations with plenty of hotels, cafes and restaurants that welcome pups. There are a range of self-guided heritage trails, forest parks and more for you all to sink your teeth into, metaphorically.
The final leg of the journey includes Bournemouth and the New Forest National Park, with the former offering an array of dog-friendly beaches like Alum Chine and Sandbanks, before you head off to the spanning green reaches of New Forest, before finishing your road trip in Southampton.
There are plenty of areas to sleep, eat, drink, and enjoy yourselves on every step of the way on this road trip for dogs.
Edinburgh to Inverness – approx. 232 miles

Take in everything the Eastern edge of Scotland with your pooch as you visit Edinburgh, Aberdeen, and Inverness on this best road trip for dogs. There's even the opportunity to add in Dundee and Elgin if you fancy further stops on your trip.
Our starting destination, Edinburgh, was named the UK's most dog-friendly tourist destination in 2021. With secret beautiful beaches, exceptional pooch-friendly hotels, plenty of places to stroll and a number of taverns to rest up in, you can't wish for a better place to start your trip.
Aberdeen, the middle leg of the journey may be famed for grey architecture, but the city is a perfect haven that picks up one of the higher amounts of sun in Scotland. With over forty parks and gardens, a number of beaches and promenades to walk along and a number of great B&Bs and hotels that will house you and your hound, it's a great stop on this road trip for dogs.
Finishing in Inverness, you and your pooch can head to Loch Ness to try and spot the legendary monster, play catch on sandy beaches or head on one of many spanning walks through green belt – before you rest up in dog-friendly restaurants, pubs, and cafes in the city.
Kendal to Keswick – approx. 41 miles

Fans of the Lake District will know how dog-friendly this short road trip can be. Starting at Kendal and taking in Windermere, Thirlmere, Grasmere and finishing in Keswick, there are wide, spanning walks and plenty of places to rest and eat on the way for dog owners and their furry friends.
There is also a plethora of dog-friendly accommodations in the Lake District, from family-owned guesthouses, chain hotels and even rentable cottages too.
Tips for Dogs on Road Trips
When you travel with your dog, there are several top tips for dogs when on road trips. Make sure you are not breaking the law and that you're making your pooch as comfortable as possible while you're undertaking a road trip.
It's wise to restrain your dog with a good quality harness, crate or guard as the Highway Code states that motorists must ensure "animals cannot distract you while you are driving or injure you or themselves if you stop too quickly".
Travel water bowls are a necessity while on long trips, as cars can get hot even when they're on the move. Your dog may even benefit from window shades (often used for babies and toddlers) to help keep cool. Bringing food on long journeys is also important in case you get stuck in traffic.
We recommend not opening windows fully or letting dogs lean out of windows, as they could get injured or even jump out of a moving vehicle. It's also wise not to feed your dog just before you start your journey – this can upset your pet's stomach and bring on motion sickness.
Making sure you've made a sensible choice for carrying your canine is important, too. There are a number of manufacturers that offer some of the best dog-friendly cars on the market currently available to lease from Nationwide Vehicle Contracts.
How Often Should You Stop on a Road Trip with a Dog?
Wondering how often to stop on road trips with a dog? Most veterinarians recommend that you should stop every two to three hours when you're on a road trip with a furry friend, giving them the opportunity to go to the toilet, rehydrate properly and even potentially eat if necessary.
Stopping every two to three hours on one of the above dog-friendly road trips allows your pooch to get a good amount of exercise and stretch their legs too. It's good to be aware that different breeds may need more time to stretch their legs, and that different breeds will need to go to the toilet more often than others. Each dog should be considered on a case-by-case basis.

Undertake One of the Best Road Trips with Dogs
Whether you're heading up north, down south or feel like a trip in the Midlands is for you, undertaking one of the best road trips for dogs is sure to provide a summer full of memories for you and your family.
Head off on a great road trip for dogs in a brand new lease car thanks to a lease deal from Nationwide Vehicle Contracts. Contact us today to find out more.
Guide Information