Fergus is a talented automotive writer specialising in automotive and sports content. He has a Level 3 qualification in content creation and previously worked for Boxxer and The Best of Bolton.
Maserati Levante Review 2023
The Maserati Levante, the latest addition to the Maserati lineup, combines luxury, style, and exhilarating performance. With its distinctive Italian design and powerful performance capabilities, this SUV has established itself as a force to be reckoned with in the luxury SUV segment.
Rivals to the Maserati Levante include the Range Rover Sport and Porsche Cayenne Coupe.
Our Maserati Levante review covers:
Maserati Levante Key Features
Captivating exterior design with its signature Trident emblem and prominent grille
Meticulously crafted interior that epitomizes luxury
580-litre boot, expanding to 1,625litres with rear seats down
Impressive engine options with remarkable performance and a thrilling driving experience
Four trim levels are available: GT, Modena, F Tributo and Trofeo
Maserati Levante Pros and Cons:
Pros:
Luxurious Comfort
Striking Italian Design
Powerful Performance
Cons:
Expensive
Reliability Concerns
Higher Ownership Costs
Design, Practicality and Boot Space
The design of the Maserati Levante is a true testament to Italian elegance and flair. The Levante commands attention on the road with its muscular and athletic stance. The front grille, adorned with the iconic Maserati Trident emblem, exudes confidence and prestige. The sculpted lines and smooth curves create a harmonious balance between power and sophistication. Every detail, from the sleek LED headlights to the distinctive rear haunches, showcases meticulous attention to aerodynamics and aesthetic appeal. Overall, the Levante's design is a blend of sportiness, luxury, and timeless beauty.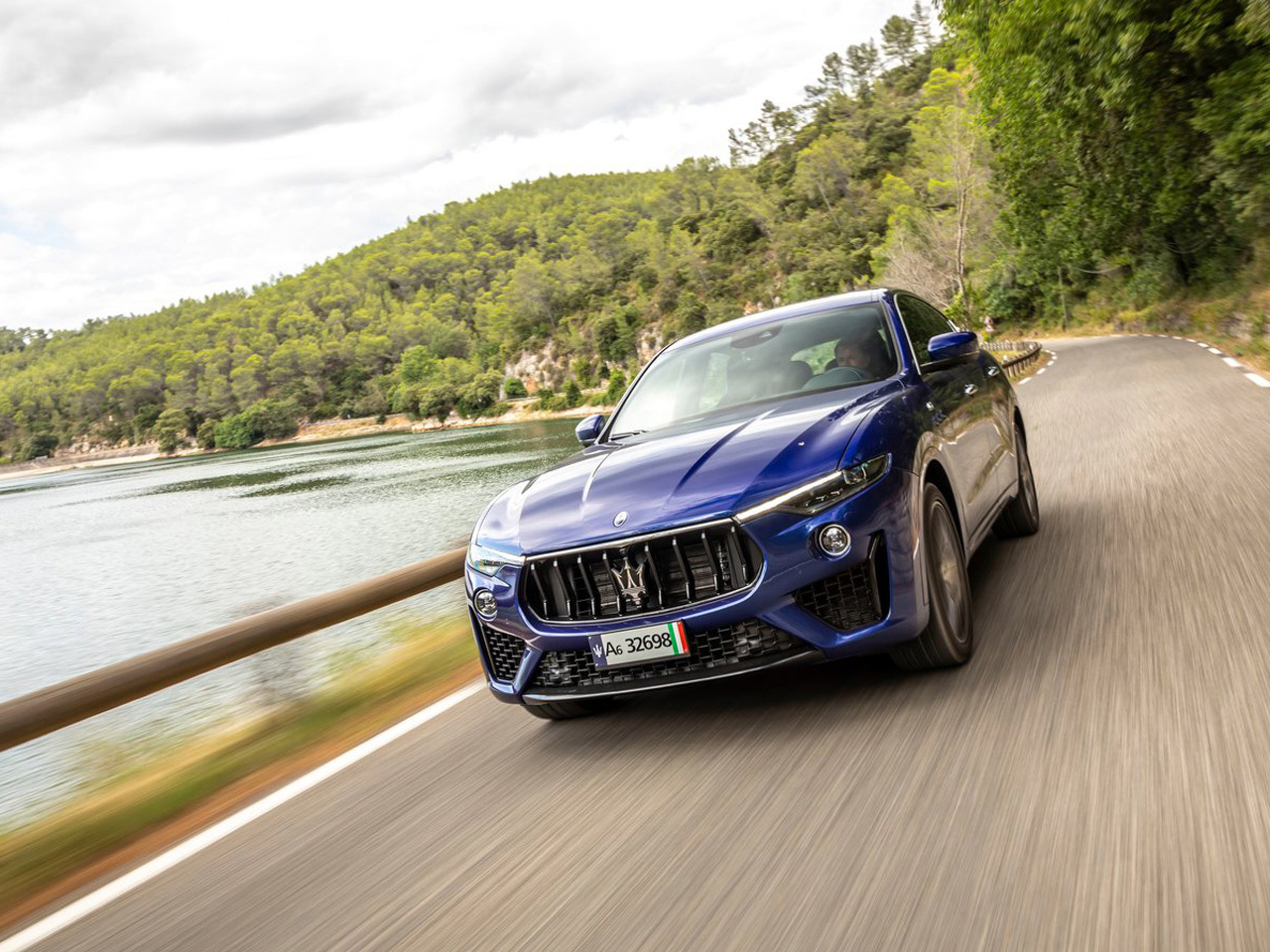 While the Maserati Levante prioritizes style and performance, it still offers a practical driving experience. It comfortably seats five passengers, providing ample headroom and legroom for both front and rear occupants. The ergonomically designed seats ensure long journeys are comfortable, and the option for power-adjustable seats further enhances customization and support. The Levante's cabin features several storage compartments and cup holders, offering convenient storage solutions for everyday items. Additionally, the SUV's ride height and available all-wheel drive make it suitable for various driving conditions, enhancing its practicality as an everyday vehicle.
The Maserati Levante offers a respectable amount of boot space for a luxury SUV. With the rear seats in place, it provides approximately 580 litres of cargo capacity. This is enough to accommodate several suitcases, groceries, or other medium-sized items. The rear seats can be folded down in a 60/40 split configuration for added versatility, expanding the cargo area to 1,625 litres. This flexibility allows for larger or longer items to be transported when needed. While the Levante's boot space may not be class-leading, it offers practicality for everyday needs and occasional larger loads.
Interior and Trims
The interior of the Maserati Levante is a sanctuary of luxury and refinement. Step inside, and you'll be greeted by a meticulously crafted cabin that exudes elegance and sophistication. Premium materials, including fine leather upholstery, wood trim, and brushed metal accents, create a sense of opulence and craftsmanship. The attention to detail is evident throughout, from the precise stitching on the seats to the tastefully integrated controls and displays.
The driver-oriented cockpit provides an engaging and comfortable environment. The ergonomically designed seats offer excellent support, ensuring a pleasant driving experience even during long journeys. The available power-adjustable seats with heating, ventilation, and massage functions add an extra layer of comfort and customization.
In terms of technology, the Levante boasts a range of advanced features. The centrepiece is the high-resolution touchscreen display, which serves as the command centre for the infotainment system. It offers intuitive controls and seamless integration with smartphone connectivity, navigation, and audio systems. The available digital instrument cluster provides clear and customizable information for the driver, enhancing the driving experience.
Four trim levels are available: GT, Modena, F Tributo and Trofeo.
The GT trim sets the foundation for the Levante and includes many luxurious features and technologies. It offers high-standard equipment, including premium leather upholstery, power-adjustable seats, dual-zone climate control, a touchscreen infotainment system, and a suite of advanced safety features.
The Modena trim focuses on enhancing luxury and comfort. It includes features such as upgraded leather upholstery, ventilated front seats, a premium sound system, and additional interior customization options. It offers an even more refined and lavish experience.
The F Tributo trim is geared towards sportiness and performance. It adds sportier exterior styling elements, including larger wheels, aggressive bodywork, and a sport-tuned suspension. Inside, it may feature sports seats, carbon fibre or aluminium trim accents, and a sport steering wheel.
The range-topping Trofeo trim represents the pinnacle of performance and luxury. It is equipped with a more powerful engine, exclusive exterior styling cues, high-performance brakes, a sport-tuned exhaust system, and additional performance-focused features. The interior may boast unique upholstery options, carbon fibre accents, and sportier elements.
Power and Performance
In terms of fuel efficiency, none of the engine options are particularly economical. The GT Hybrid achieves an official figure of 27.6mpg, while the Modena drops to 22.8mpg, and the Trofeo, with its powerful V8, offers just 19.6mpg. It's important to note that these figures are based on official test results, and real-world fuel consumption is likely to be lower.
Regardless of the engine choice, the Maserati Levante provides a comfortable ride over bumps and offers an entertaining driving experience, especially for a large SUV. However, if you're looking for a model that truly embodies Maserati's racing heritage, the V8 Trofeo is the standout option. Derived from Ferrari, its V8 engine delivers exceptional performance and arguably the most captivating exhaust note among SUVs currently on the market, albeit at the cost of higher fuel consumption that may dent your wallet.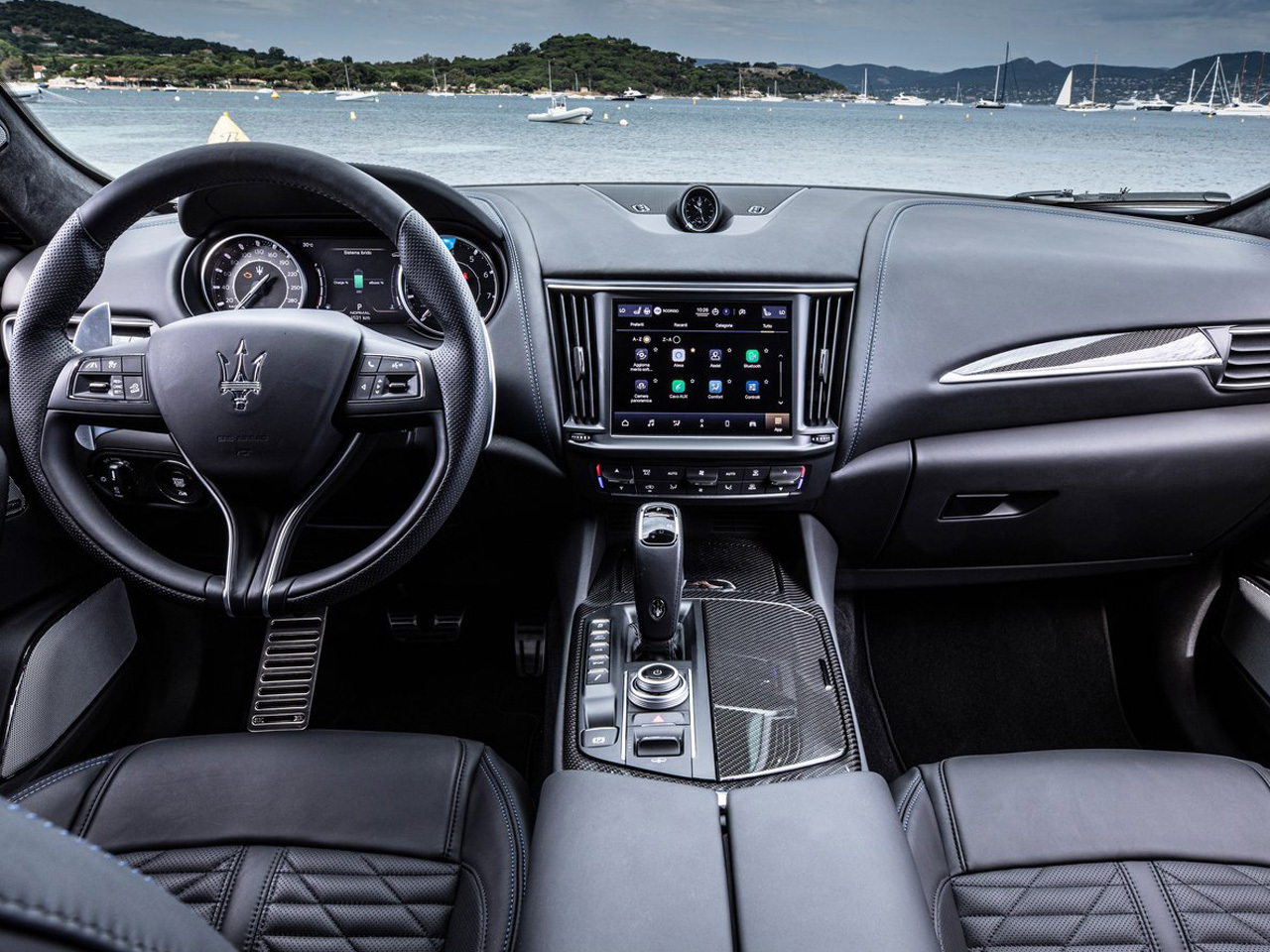 The choice of engines are a 2.2-litre diesel engine or a 2.0-litre turbocharged petrol.
The 2.2-litre diesel engine option has a 43.5mpg, making it the best option if you spend most of your time on the motorway.
The petrol options are available with either 194hp or 241hp. The lower-output engine has more than enough power, but the additional 50hp is noticeable if you want a sportier saloon. Both petrol engines use an eight-speed automatic gearbox and return 35.4mpg.
The Genesis G70 is decent to drive, with great Manoeuvrability around town, nicely-weighted steering, and good visibility. However, comfort levels aren't as good as rivals such as the Mercedes C-Class, with a few too many knocks and bumps from the road coming into the cabin.
Overall, the Genesis G70 is an excellent saloon leasing option that looks good and is well-equipped with the latest technology. However, if you are after a more premium option, you are best looking at the Audi A4 and Mercedes-Benz C-Class.
Leasing vs Buying
The Maserati Levante is now available for purchase at a starting on-the-road price of £76,210.00*, or it can be leased with monthly payments starting from £1,006.73.
If you're considering leasing a Maserati Levante, we proudly offer excellent car leasing services in the UK. Our leasing deals include a manufacturer's warranty, road tax, breakdown insurance, and free delivery to most areas of the UK mainland (excluding specific regions).
Leasing a Maserati Levante can often be a more financially advantageous option compared to purchasing outright, thanks to the fixed monthly payments, variable mileage options, low initial rental, and flexible contract durations.
It's important to note that the 'on-the-road' price mentioned includes a year's road fund license, DVLA first registration fee, and a number plate fee. Please be aware that this price is accurate at the time of publication and is subject to change. To get the most up-to-date information, we recommend contacting your nearest Audi retailer.