Martin Gurdon is a freelance motoring journalist, writing for the Sunday Telegraph, Evening Standard and Diesel Car magazine.
Mercedes-Benz A-Class Hatchback
The Mercedes-Benz A Class started off as a clever supermini, but has morphed into a bigger, top ten selling aspirational hatchback rival to the Audi A3 and BMW 1 series.
It's well liked by Nationwide Vehicle Contracts' customers – for whom the 180d diesel is the most popular version. They give it four out of five stars for looks, performance, comfort and equipment, with one customer remarking: "My Mercedes is the most comfortable car I have driven. Running costs are great. I cannot fault it and would definitely have another Mercedes. Highly recommended."
Practicality
With its narrow headlamps, big grill and broad rear, the A Class is a distinctive looking five-door hatchback – and there's also a four-door saloon. Inside you'll find room for five, just, and four would find it a pleasant environment, with rear passenger head and knee room being pretty good for all but the very lanky. Front seat occupants have plenty of space, the driving position is good, and the car is roomier and has better oddments storage space than its slightly claustrophobic predecessor.
Hatchback load space with the rear seats in place is 370 litres. They have backrests that split three ways when folded forward, creating a 1,210 litre luggage deck, accessed through a broad tailgate.
Interior
The interior looks sharp and modern, with only a few elements, such as the row of centre console switches feeling slightly cheap.
The dash itself is clever and sophisticated with distinctive turbine air vents and twin-display control centre with screen (available in 7 and 10.25 inch forms), steering wheel and touch pad controls. This offers an apparently endless selection of systems, including voice control, and in some versions sat nav that mixes real world video of roads and junctions with road sign-like virtual reality graphics. This is clever and effective, and like most of the car's controls intuitive to use.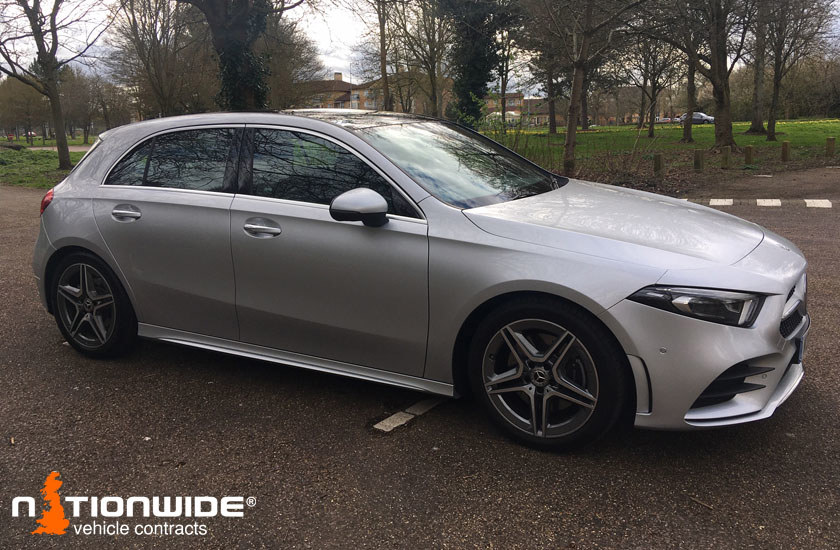 The safety kit list is a long one, and includes window and driver's knee–level airbags together with automatic front passenger airbag deactivation if a child seat is fitted in the front. The A Class has a suite of modern active and passive safety systems including lane keeping, speed limiting and pedestrian detection. The car achieved a five star Euro NCAP crash test rating.
What's it like to drive?
The current A Class appeared in 2018, and other than an expansion of engine choices the car has barely changed since. It's offered in SE, Sport and best-selling AMG Line trim levels, with a selection of options packages from the £1,395 Executive pack to Premium Plus, costing £3,595.
Engine-wise you'll find 1.4 and 2.0 petrols, 1.5 and 2.0 diesels, and a plug-in hybrid. There are seven and eight-speed self-shifting transmissions or six-speed manuals.
DAB radio, air conditioning, alloy wheels and keyless entry are all standard, along with the car's distinctive twin screen, virtual reality instruments. One Nationwide Vehicle Contracts' customer commented: "The gadgets are great and the car looks great inside and out."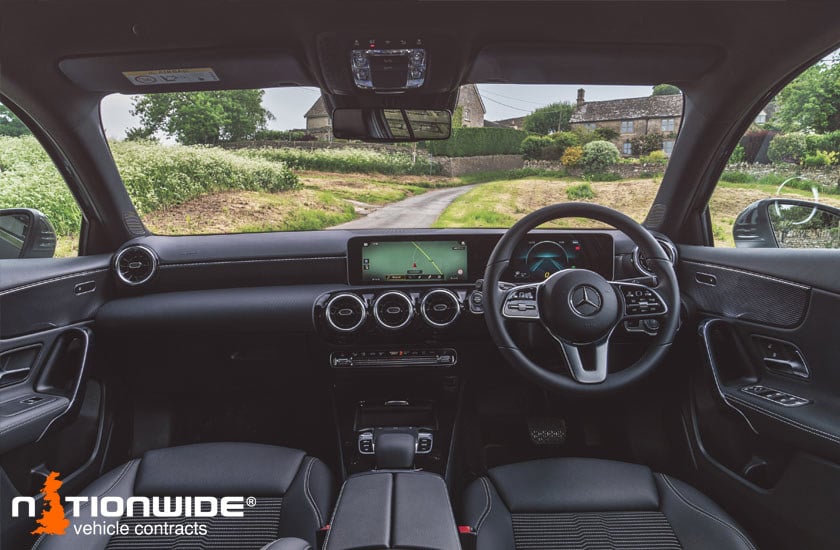 The 2-litre diesel 220d AMG Line we drove was a quick car. Think seven secs 0-62 and 146mph top speed (along with a claimed fuel consumption of 65mpg and emissions 114g/km). It had an eight-speed self-shifting transmission that was rapid and smooth. The engine was slightly course when accelerating, but refined at cruising speeds, and provided instant power when required. Wind noise and tyre roar were pleasingly subdued.
Despite being fitted with low profile types and big, twinkly, 18-inch alloy wheels, the car's ride was firm rather than harsh. It cornered very tidily, aided by quick, accurate steering, and it didn't roll much when being pushed through bends. The brakes were excellent. As with less powerful A Class models, it has a 45 and half litre fuel tank. About average size-wise for a model in this class.
Verdict
This is certainly a car with a broad range of qualities and a broad appeal. Very young drivers might well find the insurance prohibitively expensive and would be better off with something like a Citroen C1 supermini, but plenty of people in their later twenties and early thirties are delaying starting driving, and for them, the A Class would make an attractive entrée into car ownership.
Blessed with an aspirational badge, nice to drive, easy to live with and packed with clever features and safety kit, it's not hard to see why the A Class has won Mercedes so many friends. As one A Class-driving Nationwide Vehicle Contracts' customer said: "The vehicle looks good, is easy to drive and I would happily recommend it."