Fergus is a talented automotive writer specialising in automotive and sports content. He has a Level 3 qualification in content creation and previously worked for Boxxer and The Best of Bolton.
Mercedes-Benz EQE Review 2023
The all-new Mercedes-Benz EQE is an impressive electric vehicle that offers exceptional performance, luxurious features, and innovative technology. As a luxury sedan, it's a stylish and comfortable ride that's both eco-friendly and fun to drive.
Rivals to the Mercedes-Benz EQE include the Porsche Taycan, Audi e-tron GT and Tesla Model S.
Our Mercedes-Benz EQE review covers:
Mercedes-Benz EQE Key Features
Distinctive design that combines elegance and sportiness
Intuitive and innovative luxury interior
430-litre boot space
90kWh battery and a range of up to 388 miles
Two trim levels available, including AMG Line and Exclusive Luxury
Mercedes-Benz EQE Pros and Cons:
Pros:
Well equipped
Decent mileage range
Good to drive and is comfortable
Cons:
Expensive
Rear passenger space is tight
No storage under the bonnet
Design, Practicality and Boot Space
The Mercedes-Benz EQE boasts a distinctive and eye-catching design that combines elegance and sportiness. The car's flowing lines and sculpted contours give it a dynamic and aerodynamic profile, while its bold front grille and sleek LED headlights make a bold statement on the road.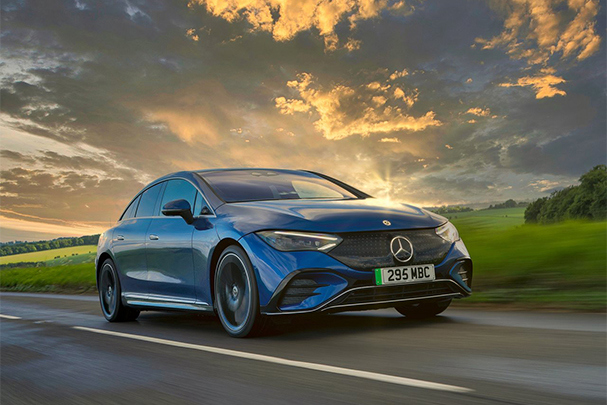 The EQE's interior is equally impressive, with a modern, luxurious design emphasising comfort and convenience. Unfortunately, the headroom in the back could be more spacious. It can feel tight in the rear for taller passengers, who may find it confined, especially when the sunroof blind is drawn.
As for boot space, the Mercedes EQE offers 430 litres of storage. As a result, the EQE can hold more luggage than the Audi e-tron GT's 405 litres and Porsche Taycan's 407 litres boots. However, these rivals have extra storage under the bonnet, which the EQE doesn't offer.
Interior and Trims
The interior of the all-new Mercedes-Benz EQE is a stunning combination of modern technology and luxurious comfort. The EQE's cabin is designed to create an atmosphere of calmness and relaxation, with a spacious and airy layout that offers ample headroom and legroom for all passengers.
One of the standout features of the EQE's interior is the massive Hyperscreen display that stretches across the dashboard. This curved glass display houses three separate screens that seamlessly blend together to create an expansive digital landscape for the driver and passengers. The Hyperscreen provides access to a variety of functions, including entertainment, climate control, navigation, and more.
The interior of the EQE is also designed to be eco-friendly, with a focus on sustainable materials and natural elements. The cabin is decorated with a variety of high-quality materials, such as recycled leather, natural wood, and metal accents.
Two trim levels available: AMG Line and Exclusive Luxury
AMG Line models come with 19-inch alloy wheels, an AMG styling pack, privacy glass and a panoramic sunroof. Inside you get a 12.8-inch infotainment touchscreen and a 12.3-inch digital cluster, AMG sports seats with artificial leather and Alcantara trim, black fabric detailing and brushed stainless steel.
Exclusive Luxury models are one of the most premium-feeling vehicles adding 21-inch alloy wheels, chrome detailing around the windows and grille, and additional grey trim pieces. There's also open pore wood on the dashboard, black and grey leather upholstery, climate control seating in the front, heated seats in the back and a heated steering wheel.
Power and Performance
Under the bonnet, Mercedes-Benz offers the EQE in two variants with the same 90kWh battery.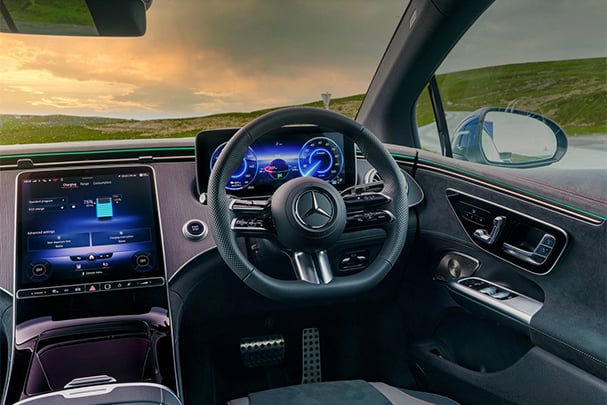 The Mercedes EQE is currently available in the UK with either the 300 model or the pricier AMG EQE 53 variation. The EQE 300 has a singular motor generating 245hp and can go from 0-60mph in 7.3 seconds. The AMG 53, on the other hand, is equipped with two motors, all-wheel drive, and boasts 625hp.
Despite their performance differences, both models utilize the same 90kWh battery. The EQE 300 claims a maximum range of 384 miles, though it is more likely to be closer to 300 miles in practical driving scenarios. The AMG version claims a range of 290 miles.
The driving experience of the EQE is also exceptional, with powerful electric motors that deliver a smooth and quiet ride. The handling is responsive and agile, and the advanced suspension system provides a comfortable ride even on bumpy roads.
Overall, the Mercedes-Benz EQE is an excellent electric vehicle that offers a perfect blend of luxury, performance, and sustainability. It's a perfect choice for drivers who want to enjoy the latest in electric vehicle technology without sacrificing style or comfort. If you're in the market for an electric vehicle, the EQE is definitely worth considering.
Leasing vs Buying
The new Mercedes-Benz EQE is available to purchase with an on-the-road price starting from £73,485.00* or to lease with monthly payments starting from Price On Request.
If you have any inquiries about leasing a Mercedes-Benz EQE, we offer some of the best car leasing services in the UK. Our leasing deals come with a manufacturer's warranty, inclusive road tax, breakdown insurance, and free delivery to the UK mainland (excluding some areas).
Leasing a Mercedes-Benz EQE might be a more cost-effective option compared to buying one outright due to the set monthly payments, variable mileage, low initial rental, and flexible contract lengths.
Please note that the 'on the road' price, which includes a year's road fund license, DVLA first registration fee, and number plate fee, is accurate at the time of publication and is subject to change. It's always best to check with your nearest retailer.