Fergus is a talented automotive writer specialising in automotive and sports content. He has a Level 3 qualification in content creation and previously worked for Boxxer and The Best of Bolton.
Porsche Cayenne Coupe Review 2023
The Porsche Cayenne Coupe is a testament to the brand's commitment to luxury, performance, and style. It's an extraordinary SUV that leaves a lasting impression on UK roads.
Rivals to the Porsche Cayenne Coupe include the Audi Q8, BMW X6 and Range Rover Sport.
Our Porsche Cayenne Coupe review covers:
Porsche Cayenne Coupe Key Features

Exterior design has a striking balance of sportiness and elegance
Meticulously crafted interior with high-quality materials and attention to detail
625 litre boot (500 litres on Hybrid models)
Range of potent engines, delivering impressive power and performance
Five trim levels are available: Standard, S, Turbo, E-Hybrid, Turbo S E-Hybrid
Porsche Cayenne Coupe Pros and Cons:
Pros:
Sporty and Stylish Design
Powerful Performance
Luxurious Interior
Cons:
Limited Rear Headroom
Ride Comfort
Expensive
Design, Practicality and Boot Space
The Porsche Cayenne Coupe boasts a design that merges the sporty appeal of a coupe with the functionality of an SUV. The most noticeable feature is the sloping roofline, characteristic of a coupe, which gives it a sleek and dynamic aesthetic. This design choice is not just for looks; it enhances aerodynamics and contributes to the vehicle's overall performance. The front end embodies the signature Porsche style with a bold grille and sharp LED headlights. The rear, with its sculpted lines and wide stance, adds to the sporty appeal. The design is a perfect blend of elegance, sportiness, and practicality.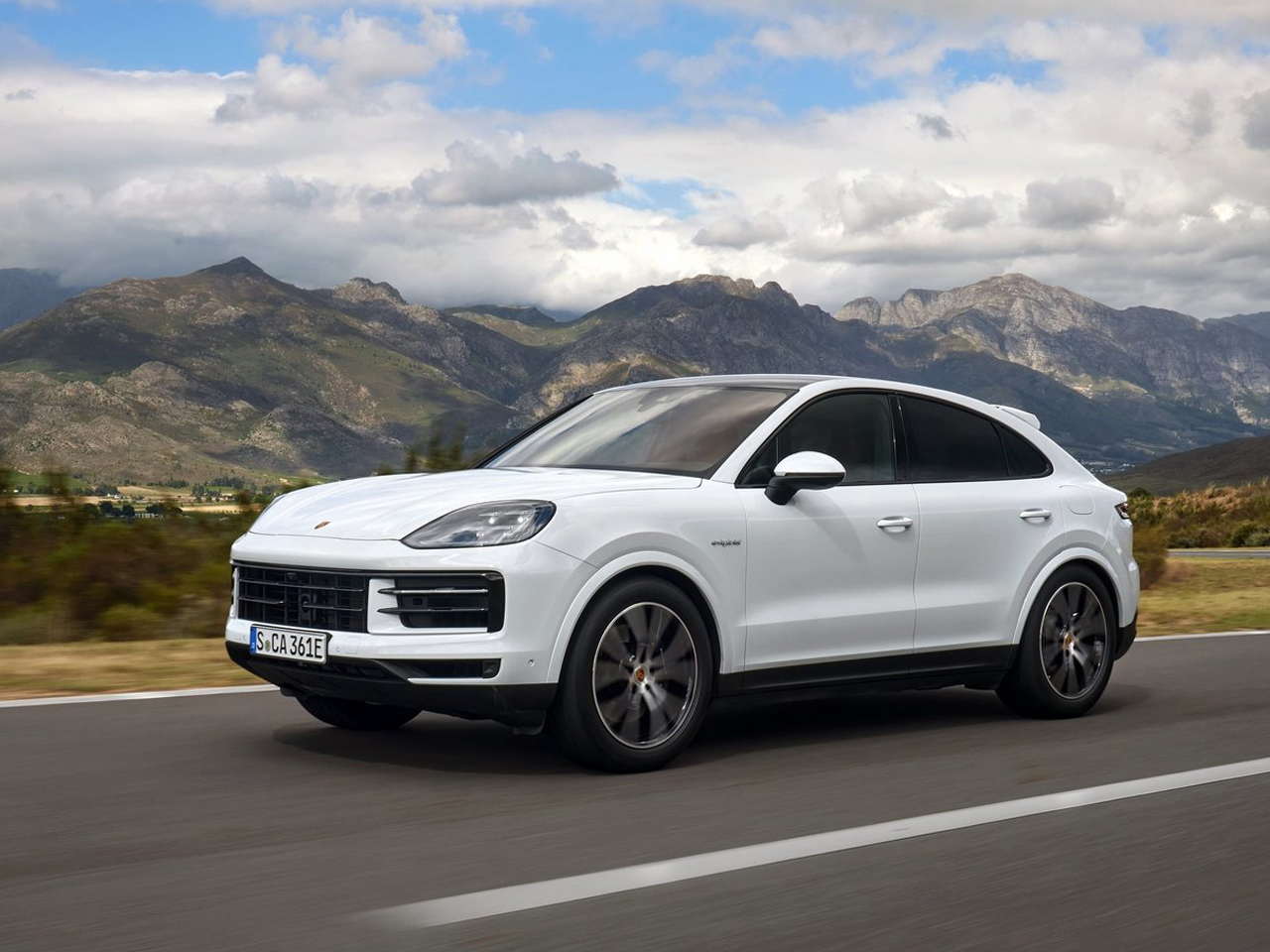 Despite its coupe-like design, the Cayenne Coupe maintains an element of practicality. The rear seats can comfortably accommodate two adults, and although the sloping roofline may slightly reduce rear headroom, it's not overly restrictive. The rear seats are designed to provide ample comfort and support, making longer journeys enjoyable. Additionally, the rear bench can fold down to increase cargo space, allowing for flexibility when it comes to carrying larger or bulkier items.
In terms of boot space, the Cayenne Coupe offers a good balance between the sporty design and practicality. The sloping roofline does affect cargo capacity compared to the standard Cayenne, but it still provides a decent amount of usable space. The exact boot space can vary slightly based on specific models and configurations, but typically, you can expect 625 litres (500 litres on Hybrid models) of cargo space behind the rear seats. When you fold down the rear seats, this expands to over 1,528 litres providing substantial room for larger items or luggage.
Interior and Trims
The interior of the Porsche Cayenne Coupe embodies luxury, precision, and sophistication. Craftsmanship and high-quality materials define the space, ensuring a premium feel for both the driver and passengers. The design is modern and ergonomic, catering to the driver's needs while providing comfort and convenience.
The Cayenne Coupe typically features premium materials such as high-grade leather, real wood accents, brushed aluminium, and soft-touch surfaces. The attention to detail in the finishes showcases Porsche's commitment to luxury and refinement. The seating is plush and supportive, offering a comfortable ride even during extended journeys. Both the front and rear seats provide ample legroom and customizable positions for a personalized experience. The seats are often equipped with heating, ventilation, and massage functions.
The Cayenne Coupe is equipped with an advanced infotainment system, usually around a large touchscreen display. It features smartphone integration (Apple CarPlay, Android Auto), navigation, Bluetooth connectivity, and a premium sound system for an immersive audio experience. The interior is equipped with state-of-the-art technology, including advanced driver-assistance systems, a multifunction steering wheel, a configurable digital instrument cluster, and intuitive controls for various vehicle functions.
Five trim levels are available: Standard, S, Turbo, E-Hybrid, Turbo S E-Hybrid.
The Cayenne Coupe lineup consists of five distinct models, each distinguished by their respective engines. The base model is equipped with a turbocharged 3.0-litre petrol engine producing 340hp. Moving up, the S model is powered by a 2.9-litre petrol engine with dual turbochargers, delivering 440hp. The petrol range is topped by the Turbo model, featuring an impressive turbocharged 4.0-liter V8 engine with 550hp. For those inclined towards hybrid options, there are alternatives as well. The E-Hybrid combines the aforementioned 3.0 V6 petrol engine with electric motors, resulting in a combined output of 462hp. Additionally, the Turbo S E-Hybrid takes the 4.0 V8, incorporates these electric motors, and achieves a formidable 680hp.
Power and Performance
Even the most basic model accelerates from 0-62mph in just six seconds, while the S model accomplishes this feat in five seconds. However, if top-notch performance is your priority, the Turbo model is the one to consider, boasting an impressive sprint time of just 3.9 seconds. All five variants offer a smooth and quiet ride during normal cruising, especially the hybrids when utilizing battery power. Nevertheless, each of them produces a distinctive and captivating sound when pushed to their limits. Porsche's standard eight-speed automatic gearbox operates seamlessly, whether during a leisurely drive or when engaging in manual gear changes using the paddles.
Engaging the Sport driving mode using the steering wheel switch enhances throttle and gearbox responsiveness and stiffens the standard adjustable suspension. In this mode, all three models exhibit impeccable steering, robust grip in tight corners, and an exhilarating experience when pushing their performance boundaries. Among them, the Turbo stands out as the epitome of this, displaying the strongest grip and carrying the highest speed through bends, followed by the most potent acceleration between them.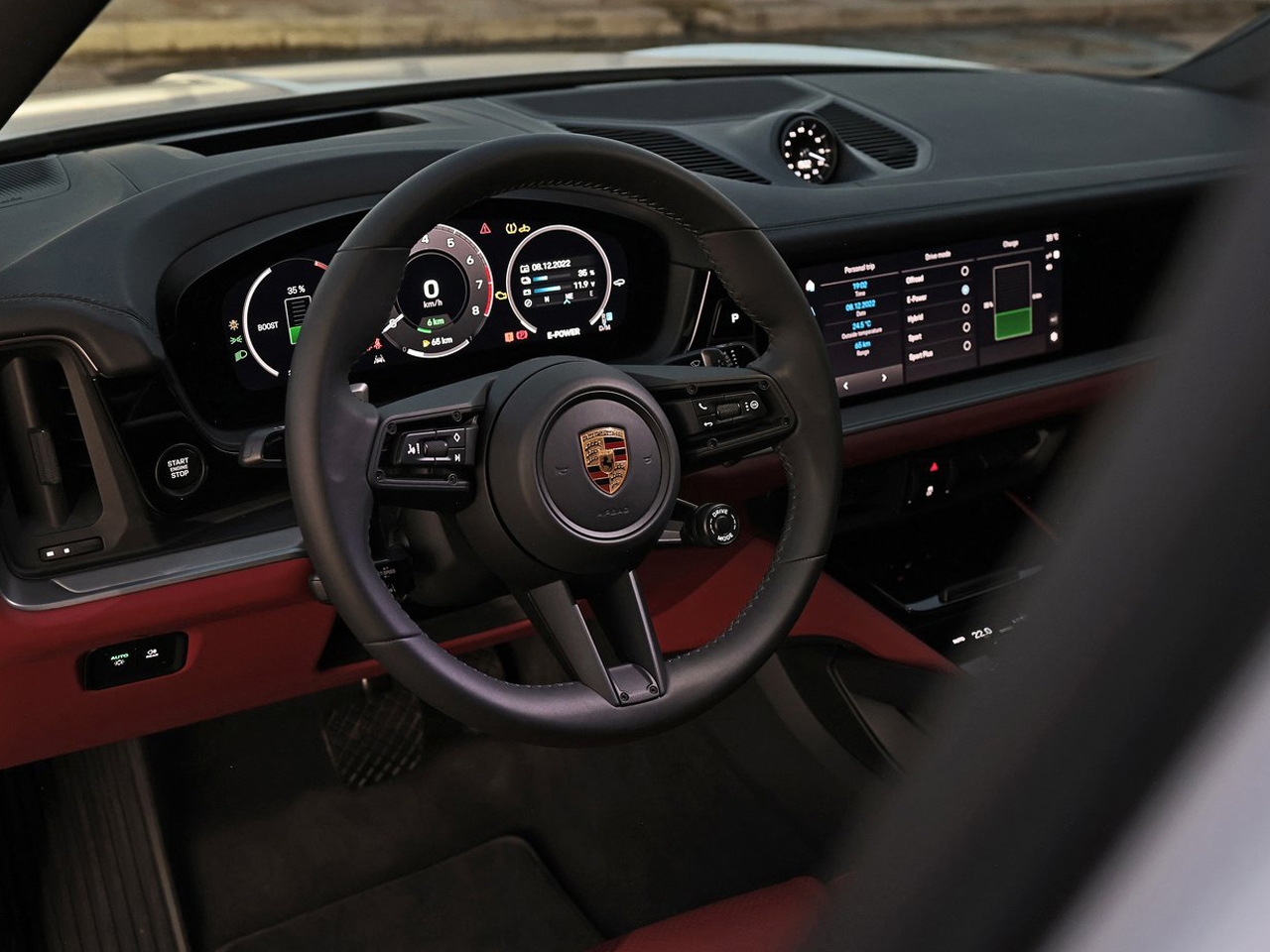 However, switching back to Comfort mode, the Turbo can feel firm while driving around town, despite being the sole model equipped with air suspension as a standard feature. In contrast, the standard model and the S model offer a smoother ride over bumps and undulating surfaces.
Overall, the Porsche Cayenne Coupe is a true epitome of luxury and performance. It seamlessly combines a stunning design, powerful performance, advanced technology, and a luxurious interior. For those seeking an SUV that offers both style and substance, the Porsche Cayenne Coupe is undoubtedly worth considering, making it a standout choice in the competitive luxury SUV market.
Leasing vs Buying
The Porsche Cayenne Coupe is now available for purchase at a starting on-the-road price of £73,300.00*, or it can be leased with monthly payments starting from £799.27.
If you're considering leasing a Porsche Cayenne Coupe, we proudly offer excellent car leasing services in the UK. Our leasing deals include a manufacturer's warranty, road tax, breakdown insurance, and free delivery to most areas of the UK mainland (excluding specific regions).
Leasing a Porsche Cayenne Coupe can often be a more financially advantageous option compared to purchasing outright, thanks to the fixed monthly payments, variable mileage options, low initial rental, and flexible contract durations.
It's important to note that the 'on-the-road' price mentioned includes a year's road fund license, DVLA first registration fee, and a number plate fee. Please be aware that this price is accurate at the time of publication and is subject to change. To get the most up-to-date information, we recommend contacting your nearest retailer.