Fergus is a talented automotive writer specialising in automotive and sports content. He has a Level 3 qualification in content creation and previously worked for Boxxer and The Best of Bolton.
Porsche Panamera Sport Turismo Review 2023
When it comes to merging breathtaking performance with everyday practicality, the new Porsche Panamera Sport Turismo stands as an undisputed champion in the luxury sports wagon segment. With its distinctive design, powerful engine options, luxurious interior, and versatile cargo space, the Panamera Sport Turismo manages to encapsulate the essence of a true sports car while accommodating the demands of daily life.
Rivals to the Porsche Panamera Sport Turismo include the Audi A7 Sportback and Mercedes CLS.
Our Porsche Panamera Sport Turismo review covers:
Porsche Panamera Sport Turismo Key Features
Iconic Porsche design elements with a blend of sleek lines and bold athleticism
Luxury and sophistication interior with high-quality materials and impeccable craftsmanship
520-litre boot, expanding to 1,390 litres with rear seats down
Range of petrol and hybrid engine options
Porsche Panamera Sport Turismo Pros and Cons:
Pros:
Luxurious Interior
Distinctive Design
Outstanding Handling
Cons:
Expensive
Limited Rear Visibility
Compromised Rear Headroom
Design, Practicality and Boot Space
The design of the Porsche Panamera Sport Turismo is a captivating blend of sportiness and practicality. It retains the dynamic lines and sleek profile of the Panamera sedan while incorporating a more elongated roofline and a slightly raised rear section. This unique design not only sets the Sport Turismo apart from its siblings but also enhances its overall versatility. The front end is characterized by Porsche's signature four-point LED headlights, a sculpted hood, and a bold grille, giving the car a commanding presence. The side profile showcases a graceful silhouette with muscular fenders and a distinctive rear quarter window. At the rear, the sleek taillights and integrated spoiler contribute to its sporty aesthetic.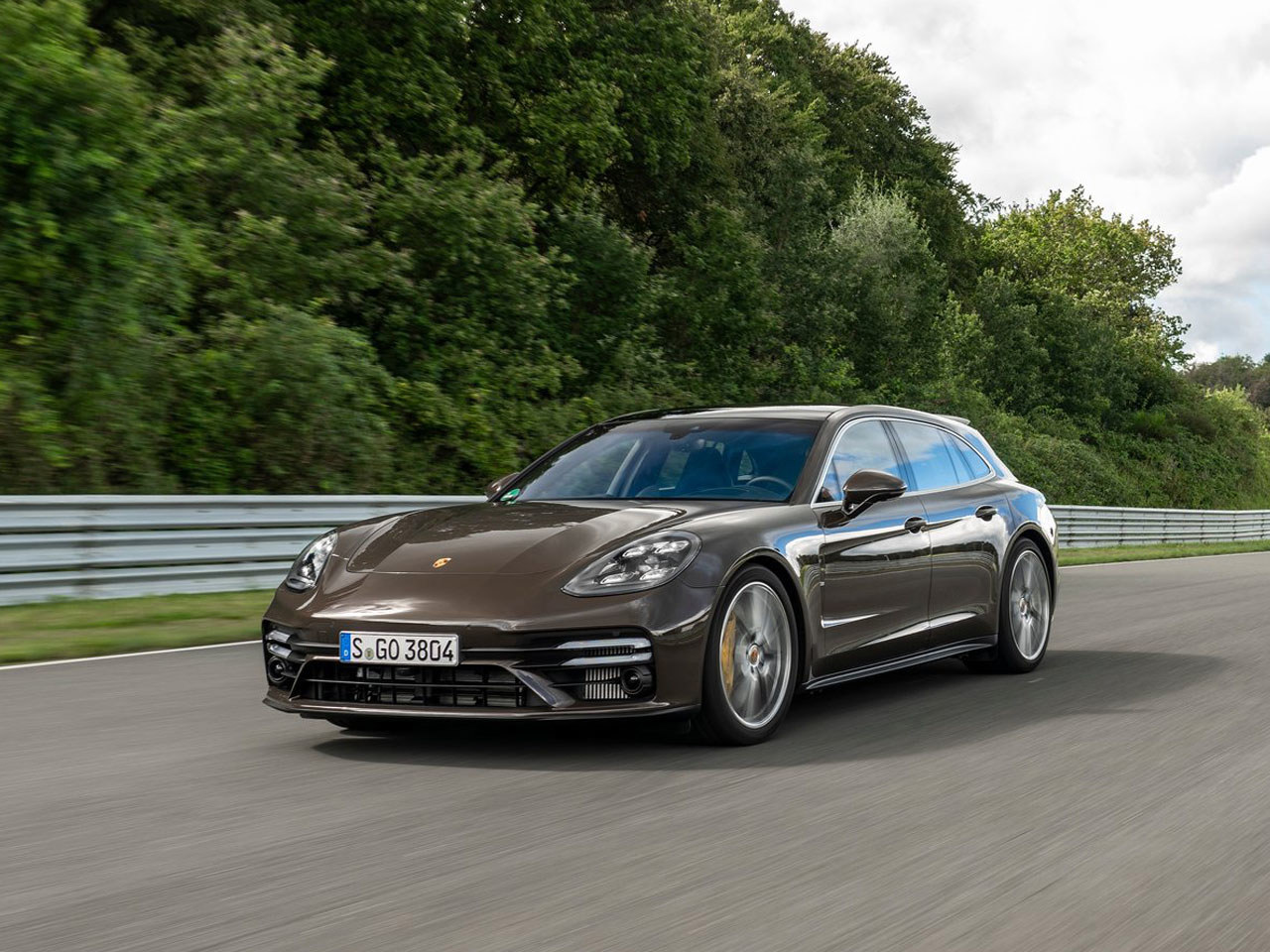 The practicality of the Panamera Sport Turismo is one of its standout features. The elongated roofline not only adds visual appeal but also increases rear headroom and offers more cargo space compared to the standard Panamera. This extra space makes the Sport Turismo a more versatile option for daily commuting, road trips, and even carrying larger items. The rear seats can be folded down in a 40/20/40 split, allowing for a variety of configurations to accommodate both passengers and cargo. Additionally, the raised rear section of the Sport Turismo provides easier access to the cargo area, making loading and unloading items more convenient.
The boot space in the Porsche Panamera Sport Turismo is impressive for a vehicle of its class. With the rear seats in place, it offers around 520-litre boot of cargo space. This is larger than what you would typically find in a luxury sedan and is ample for everyday items, groceries, luggage, and more. However, the true flexibility comes when you fold down the rear seats offering 1,390 litres. Doing so significantly expands the cargo area, allowing you to transport larger items or bulkier loads. While the exact dimensions may vary depending on the configuration and model year, the Sport Turismo's boot space is a key selling point for those seeking a luxury vehicle with practical utility.
Interior and Trims
The interior of the new Porsche Panamera Sport Turismo is a testament to luxury, craftsmanship, and advanced technology. It's designed to provide both driver and passengers with a comfortable and upscale environment, ensuring an elevated driving experience. High-quality materials, meticulous attention to detail, and intuitive layout contribute to the overall premium feel of the cabin.
Premium leather upholstery, soft-touch surfaces, and well-crafted trim pieces are used throughout the cabin, creating a refined ambiance. The layout of the controls and instruments is driver-focused, allowing easy access to essential functions while driving.
Advanced Infotainment: A central touchscreen infotainment system dominates the centre console, providing access to navigation, entertainment, connectivity, and vehicle settings. Smartphone integration, voice control, and various connectivity options are typically included. Depending on the model and trim, the Panamera Sport Turismo might feature a customizable digital instrument cluster that displays relevant driving information.
The base features are consistent throughout the lineup. Every variant includes heated front seats, an adaptable spoiler, dual-zone climate control, keyless entry, a rearview camera, and both front and rear parking sensors. The 12.3-inch infotainment system offers wireless Apple CarPlay, wired Android Auto, navigation, Bluetooth, SiriusXM, and HD Radio functionalities. Furthermore, a standard ten-speaker sound system is provided.
Power and Performance
The Panamera lineup begins with the '4' model, featuring all-wheel drive and a turbocharged 3-liter V6 petrol engine that generates 330hp. This power allows the car to accelerate from 0 to 60mph in less than 5.5 seconds while maintaining a fuel efficiency of around 30mpg in typical driving conditions.
Moving up to the Panamera 4S, you'll find a smaller 2.9-liter turbocharged V6 engine with an output of 440hp. This results in a quicker 0-60mph acceleration in less than 4.2 seconds compared to the '4' model. Porsche claims that the fuel consumption increase is minimal, and you can expect a figure around 30mpg during regular driving.
The GTS model boasts a 4-liter turbocharged V8 petrol engine that produces slightly more power (470hp) and achieves a 0-60mph acceleration only a tenth of a second faster than the 4S. However, fuel efficiency drops to approximately 25mpg.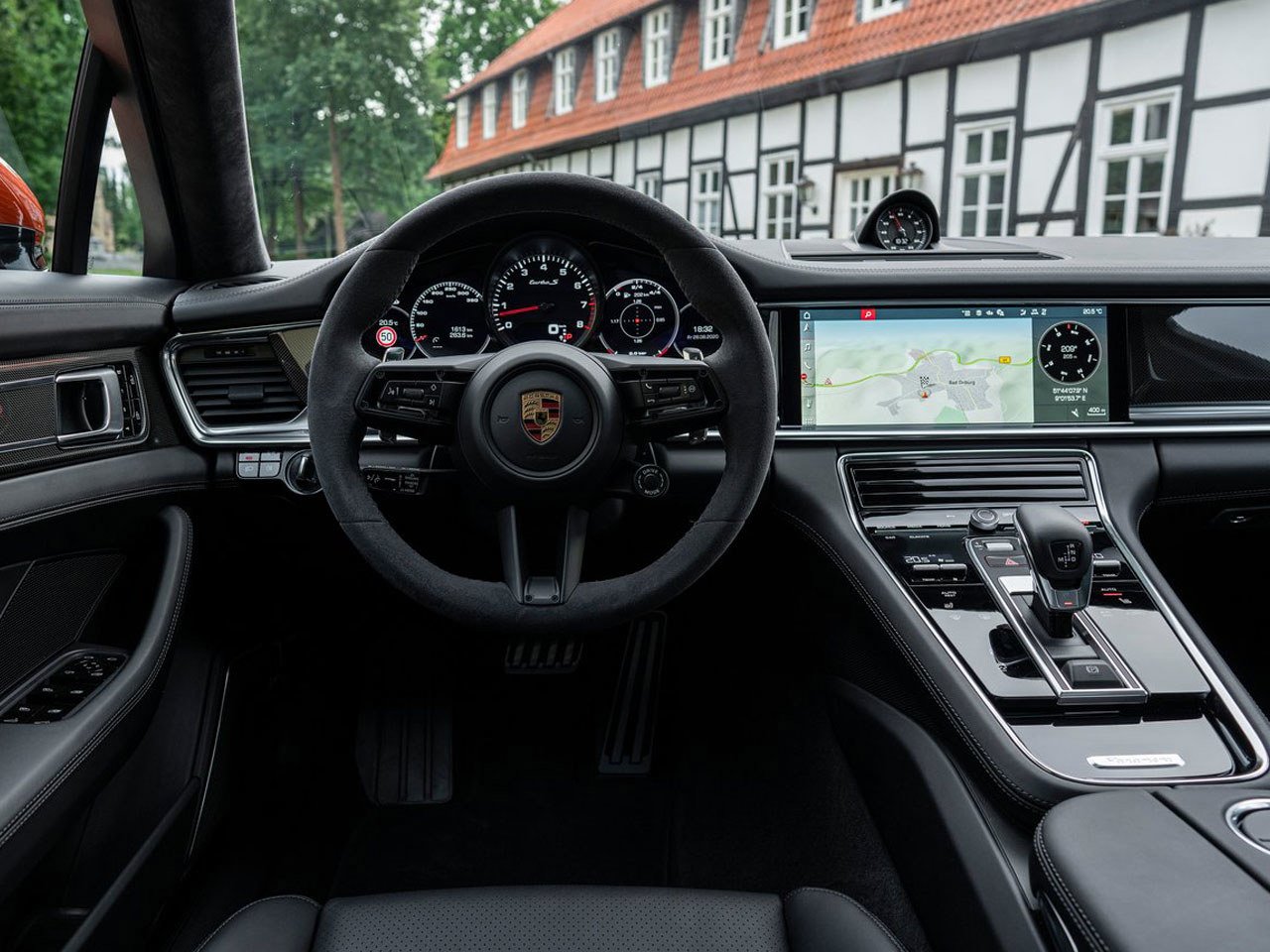 For those seeking even higher performance, the Turbo S offers 550hp from the same V8 engine as the GTS. It accelerates from 0-60mph in under 3.6 seconds, while maintaining fuel efficiency similar to the GTS in normal driving.
Hybrid options include the 4 E-Hybrid and Turbo S E-Hybrid models, each equipped with batteries and a 130hp electric motor. These hybrids enhance acceleration and provide an electric-only mode for up to 20 miles at speeds up to 80mph. The 4 E-Hybrid accelerates from 0-60mph almost a full second quicker than the standard 4, while the Turbo S E-Hybrid shaves two tenths off the standard Turbo's sprint time.
These hybrid variants feature various driving modes that allow you to manage battery power usage. You can drive using electric power only, switch to petrol power, or even use the engine as a generator to recharge the batteries. Porsche estimates around 85mpg and 75mpg for the 4 E-Hybrid and Turbo S E-Hybrid, respectively, though actual figures depend on battery charge and driving style.
Despite their hybrid efficiency, all Panamera models are sizeable, making them feel substantial on the road, especially in tight spaces. Additionally, visibility through the narrow rear windows can be quite limited.
Overall, with its striking design, impressive powertrains, sumptuous interior, and adaptable cargo space, the Panamera Sport Turismo continues to set new standards in the realm of high-performance luxury vehicles. If you're looking for an extraordinary driving experience that marries speed with sensibility, this Porsche is great leasing option.
Leasing vs Buying
The Porsche Panamera Sport Turismo is now available for purchase at a starting on-the-road price of £78,100.00*, or it can be leased with monthly payments starting from £928.42.
If you're considering leasing a Porsche Panamera Sport Turismo, we proudly offer excellent car leasing services in the UK. Our leasing deals include a manufacturer's warranty, road tax, breakdown insurance, and free delivery to most areas of the UK mainland (excluding specific regions).
Leasing a Porsche Panamera Sport Turismo can often be a more financially advantageous option compared to purchasing outright, thanks to the fixed monthly payments, variable mileage options, low initial rental, and flexible contract durations.
It's important to note that the 'on-the-road' price mentioned includes a year's road fund license, DVLA first registration fee, and a number plate fee. Please be aware that this price is accurate at the time of publication and is subject to change. To get the most up-to-date information, we recommend contacting your nearest retailer.