Alex Bradley is a skilled writer and digital content specialist focusing on automotive and sports. He has a degree in Multimedia Journalism and previously worked for The Northern Quota as Head Sports Editor.
Porsche Taycan Saloon Review 2023
The Porsche Taycan Saloon is an electric saloon car that's one of the best four-door sports coupes around. With an excellent drive and a comfortable interior, the Taycan Saloon is an excellent choice for fun-seekers who are looking to go green for their next car.
Rivals to the Taycan Saloon include the Audi e-tron GT Saloon, Tesla Model S, and Mercedes EQE Saloon.
Our Porsche Taycan Saloon review covers:
Porsche Taycan Saloon Key Features
Stylish exterior with a curved bonnet and sloping roofline
Fantastic interior with dual screen setup and luxurious materials
407-litre boot and 84-litre front boot
Single or dual electric motors with either a 79.2kWh or 92.4kWh battery
Five trim levels are available: Taycan, 4S, GTS, Turbo, and Turbo S
Porsche Taycan Saloon Pros and Cons:
Pros:
Looks amazing
Superb electric performance
Comfortable interior
Cons:
Space in the rear seats is limited
Very very expensive
Rivals have a better range
Design, Practicality and Boot Space
Although completely different under the bonnet, the exterior of the Taycan Saloon remains true to the Porsche brand. There's a curvy bonnet, small air intake, and a sloping roofline that makes it look like a combination of the 911 and Panamera.
You'll be pleasantly surprised by the amount of interior space inside the Taycan Saloon. There's plenty of space up front for a pair of adults to get comfortable, while two passengers can easily fit in the rear. Add a third passenger, and space gets a bit tight, but it should be good enough for a short journey.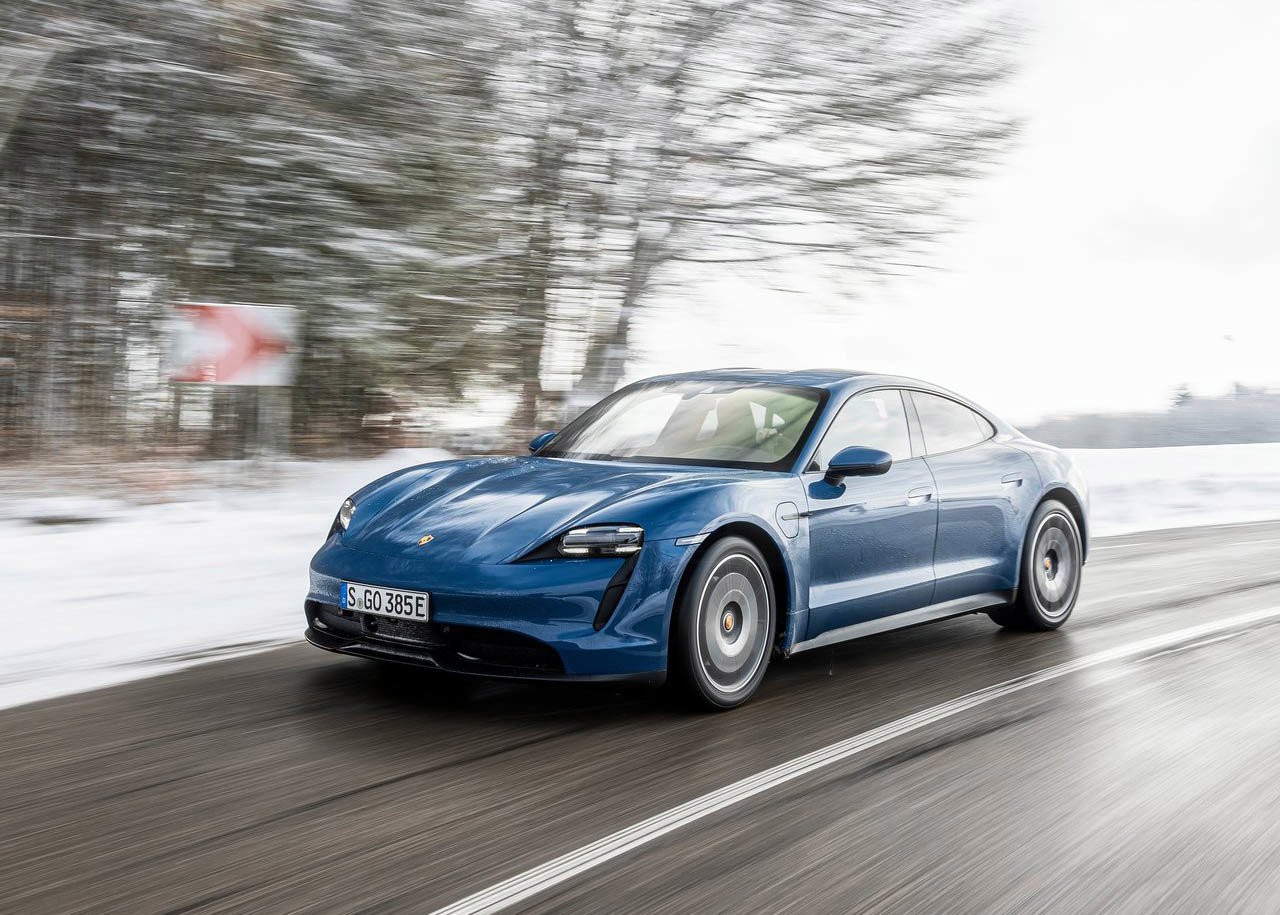 Open the boot, and you get 407 litres of space, which is slightly bigger than the Audi e-tron GT Saloon but falls way short of the Tesla Model S. You also get a front boot that's 84 litres and is perfect for your charging cables.
Interior and Trims
The Taycan Saloon has the best interior on the market. Every touchpoint feels upmarket and well-built, and the dashboard is easy to navigate when behind the wheel. The seats are also incredibly comfortable and come with loads of adjustment as standard.
There's a dual-screen setup in the Taycan Saloon. Just above the central divide is an 8.4-inch touchscreen display with haptic feedback that covers the climate controls, while on the dashboard is a 10.9-inch touchscreen infotainment system with all the usual features. Both are responsive to touch and work great. However, the absence of physical controls can make the lower screen a bit tricky to use.
There's also a 16.8-inch digital display behind the steering wheel that shows all the required information, such as battery level and speed. You can also configure the screen depending on your preferences.
Five trim levels are available: Taycan, 4S, GTS, Turbo, and Turbo S.
Taycan has 19-inch aero wheels, LED headlights, eight-way electric and heated front seats, two-zone climate control, a partial leather interior, keyless start, park assist, a review view camera, wireless phone charging, and a 16.8-inch curved display.
4S introduced all-wheel drive, adaptive air suspension, fancier LED headlights, and an optional i3kWh Performance Battery Plus option for a longer range and quicker charging.
GTS has 20-inch black alloy wheels, increases the power output, and adds a slightly stiffer suspension.
Turbo has bigger front brakes, heated rear seats, a leather interior trim, 14-way powered front seats, and a 14-speaker Bose speaker system.
Turbo S adds 21-inch alloy wheels, 18-way adaptive sports seats with a memory package, and a 761bhp engine.
Power and Performance
Under the floor, you get a choice of either a single or dual motor setup for the Taycan Saloon, while you can also choose between a 79.2kWh or a 92.4kWh battery. Rear-wheel and four-wheel drive options are available, while all units are paired to an automatic transmission.
The entry-level Taycan trim comes with a single electric motor and a 79.2kWh battery that returns 408bhp and achieves 0-62mph in 5.4 seconds. You can upgrade to a 93kWh battery that increases power output to 476bhp and ranges from 231 miles to 268 miles. However, it still falls short of the Audi e-tron GT Saloon and Tesla Model S.
The rest of the engines have dual electric motors and four-wheel drive, ranging from 530bhp to 761bhp. From the GTS trim and above 0-62mph drops below four seconds, while the range-topping Turbo S powertrain shoots from 0-62mph in just 2.8 seconds.
As you increase power output, the electric range remains pretty generous at around the 260-mile mark.
The charging time you get depends on your battery pack. The 79kWh battery can charge using a 270kW charger from 5-80% in just 23 minutes. However, a more realistic representation is using a 50kW public charger, which takes around 75 minutes or a home charger, which takes around nine hours (depending on the charger).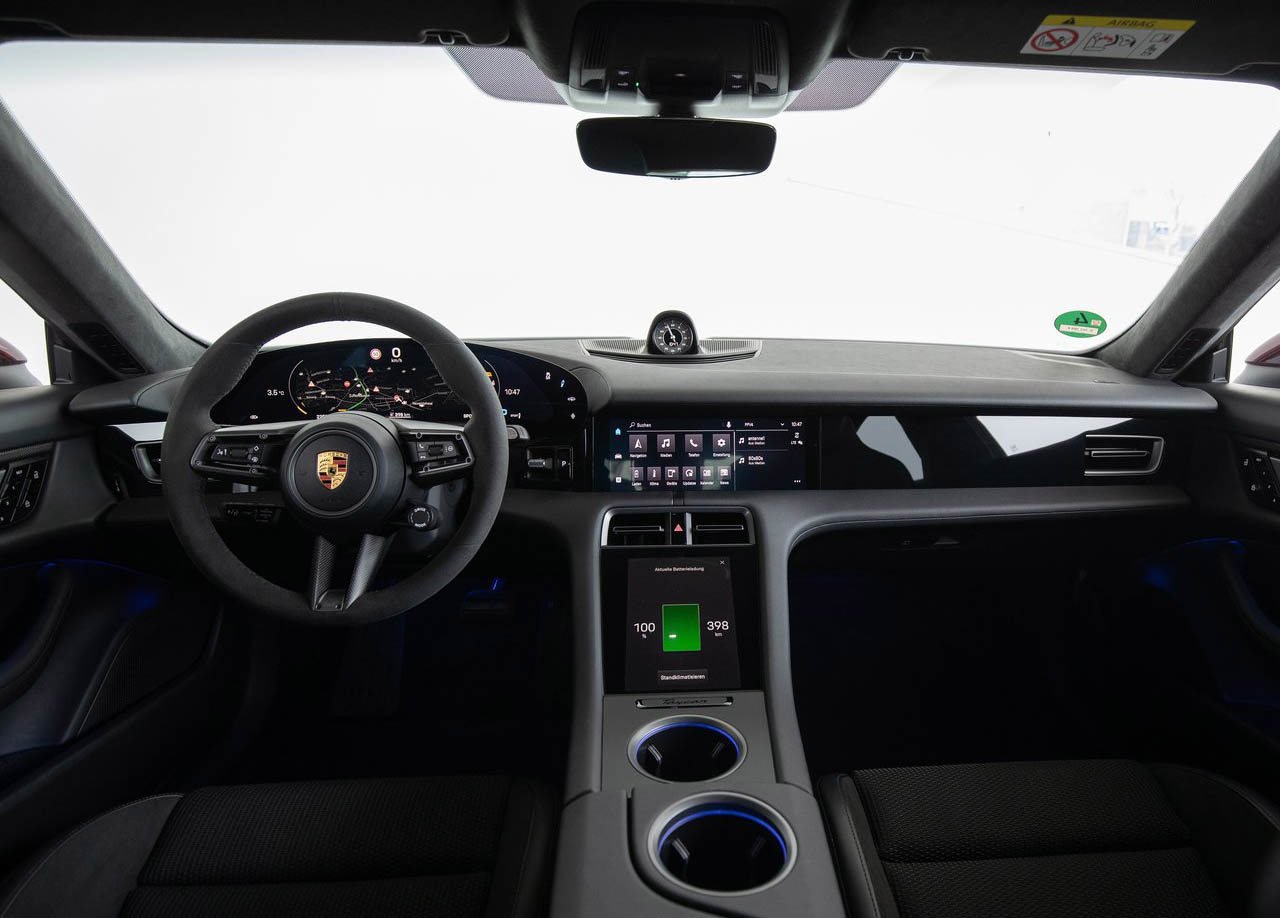 The Taycan Saloon returns excellent performance that's versatile both around town and on a country road.
At low speeds, the Taycan Saloon is great when navigating city streets. Its steering is light, and the standard suspension deals very well with bumps in the road and potholes. Go for any trim apart from Taycan, and you'll get adaptive suspension, which is incredibly comfortable.
As an electric car, the Taycan Saloon is quiet at motorway speeds, and road noise is minimal. You'll also have no issues whatsoever getting up to motorway speed, and the two-speed automatic transmission keeps up the pace well.
On a country road is where the Taycan Saloon stands out. Its steering is cat-like, and the powerful brakes make for a superb experience when cornering at speed. The range-topping Turbo S powertrain is fantastic and delivers a ridiculously powerful kick.
Leasing vs Buying
Prices for the new Porsche Taycan Saloon start from £79,200.00 OTR* or to lease from £1,068.76 per month.
Looking to get behind the wheel of the Porsche Taycan Saloon? Nationwide Vehicle Contracts is one of the UK's largest car leasing brokers and offers a range of leasing deals to suit your every need.
Leasing may be cheaper than an outright purchase, thanks to a low initial deposit and fixed monthly rentals.
*' On the road' price correct at time of publication and includes one year's road fund license, DVLA first registration fee and number plate fee. Prices are subject to change; always check with your nearest retailer.