Mark Nichol is a car journalist with 13 years' experience. He's written for most of the UK's major car magazines and websites and now spends most of his time making video reviews in his own unique style.
Despite being launched all the way back in 2012, the third generation SEAT Leon remains one of the best family hatchbacks money can buy. A fairly minimalistic cabin means it's aged well and still feels modern, while Volkswagen Group parts sharing and engineering make it a very high-quality product. It's also one of the most rewarding-to-drive front-wheel drive cars on sale, regardless of engine and specification.

Highlights include a frugal engine range, including a 1.6-litre TDI diesel that should return well over 50mpg in reality, a large boot and sharply creased styling that's stood the test of time. And for those who want a bit more oomph, the Leon Cupra is one of the most entertaining (and best sounding) hot hatches on the market.

Practicality
The Leon hatchback has a 380-litre boot, which is reasonable by class standards – the Ford Focus has 341 litres – but it's not the most thoughtful and is dwarfed by the SEAT Toledo's 550-litre space. You can't raise the floor flush with the loading lip either, which can make loading or unloading heavy items awkward because the drop is significant. The fact that the rear seats don't fold down level with the boot floor can have the same effect. Odd to say, perhaps, but the Leon's boot feels 'basic'.
Still, a 60/40 split-folding rear bench is standard and rear passenger space is generous in both head and knee terms. Most Leon models are furnished with a dark grey interior colour palette which can contribute to slightly cramped feeling, but in reality it will seat five adults in reasonable comfort.
Interior storage is decent. There's a small cubbyhole in the centre console, the glovebox will hold a bit more than the manual and locking wheel nut (not always a given), and the front seats have map pockets as standard.

Interior
You might expect the interior of a car as sharply styled as the Leon to be a little more exotic than it actually is; SEAT is surprisingly restrained with its interior colour palette, restricted largely to grey.
That said, avoiding garish colours and detailing have helped the Leon cabin age well. It's soft-touch in all the right places (dash top, door cards), has intuitive dials for the major controls, and centres its infotainment on a touchscreen with excellent software. Sadly the Leon's midlife update did away with the earlier version's physical shortcut buttons for functions like the radio and navigation, moving everything to the screen – neater looking, but a backwards step for convenience.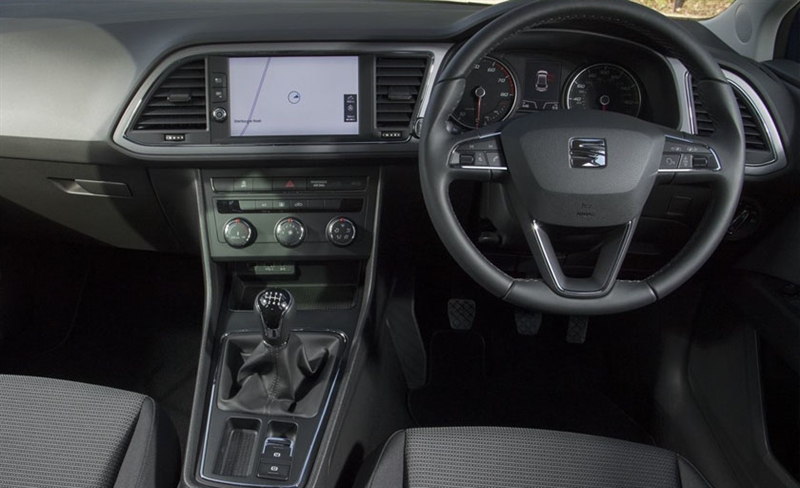 An area the Leon has always excelled, though, is ergonomics. It has a fantastic driving position with loads of adjustment for seat and wheel, meaning all shapes and sizes of person will get comfortable. Visibility all around is good too because the Leon has a relatively tall glasshouse.
SEAT pitches itself as the 'younger' choice within the VW Group meaning a focus on technology, so all models are well-equipped. Trim names change periodically, but they're basically anchored to SE, FR and Xcellence – base level, sporty and plush respectively – and all get alloy wheels, a touchscreen with full smartphone connectivity and air conditioning.

What's it like to drive?

Brilliant…mostly. By taking the well-honed refinement and solidity that the VW Group is famous for but adding a little extra dynamism, the Leon is one of the most enjoyable, rewarding family hatchbacks on the market. Unusually, even basic Leon models come with a mechanical differential – a system that markedly improves handling and is usually reserved for proper sports cars.
There's a little more road and wind noise in the Leon than you'd get in, say, a Golf, but the drivetrains are the same as those found across Volkswagen cars, meaning the diesels are relatively quiet. The three- and four-cylinder turbocharged petrol engines are real highlights though – some of the very best in the business, especially the 1.5-litre TSI EVO whose free-revving nature makes it a joy to push a little harder. You should exceed 40mpg with either the 130- or 150 horsepower version, too.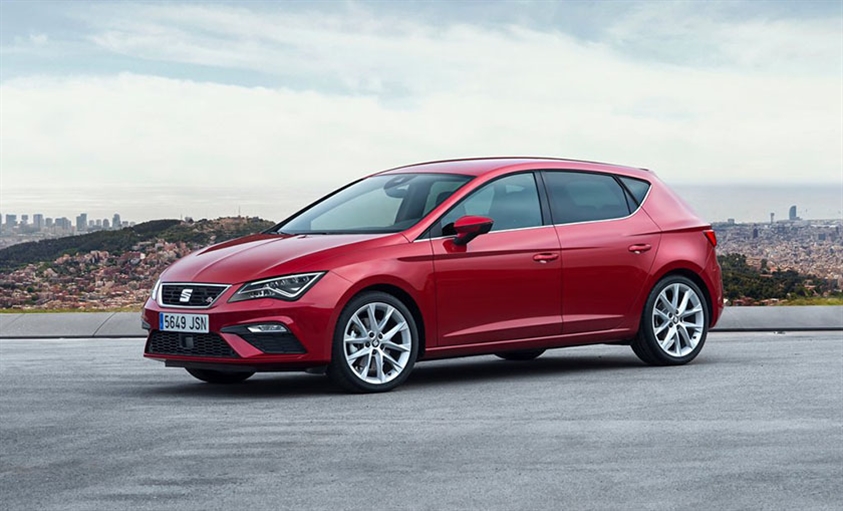 That said,
some of our customers
have taken issue with petrol Leons equipped with the DSG automatic, and that setup can indeed feel a little jerky at lower speeds and make accelerator response sluggish when pulling away. It's not catastrophic though, and shouldn't put you off an auto if you enjoy that convenience generally.
Older model Leons were criticised for crushing ride quality but that's not an issue here: the Leon, regardless of drivetrain choice, really strikes a good balance between everyday comfort and rewarding handling. It's getting on a bit, but it's still one of the best.

Verdict
It's a bit of a cliché to refer to the very closely related Volkswagen Golf when discussing the Leon, but it really does feel like the more interesting of the two. Our customers generally love the Leon, giving it an average 4.4/5 rating with only some minor (and justified) criticism of the DSG automatic gearbox. Otherwise, this is a spacious, high quality and in its own slightly flamboyant way, no-nonsense family hatchback.