The 2-door, 3-seat cabriolet version of the Smart Fortwo allows you to enjoy the sunny thrills of open-top driving at the touch of a button. Its small enough that it can manoeuvre the city streets with ease - parking in those tight urban spaces is no longer a problem. However, despite its compact size, the Smart Fortwo Cabrio offers plenty of space for its two occupants. And with 220 litres of boot capacity, in terms of storage it can even hold its own against other larger city cars.
Nationwide Vehicle Contracts have some excellent leasing offers on the Smart Fortwo Cabrio at competitive UK car lease prices.
Smart Fortwo Cabrio Key Features
• Cheap and easy to run;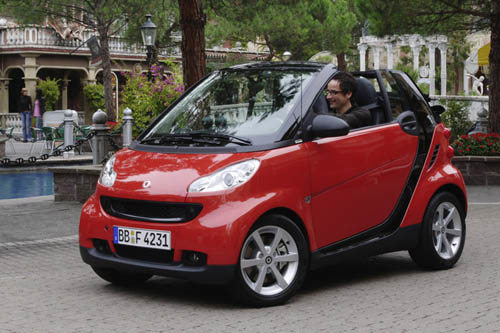 • Green and efficient, with CO2 emissions as low as 86g/km;
• Extensive range of active and passive safety features;
• Touch-button convertible function;
• Choice of petrol and diesel engines


Power & Performance
Whether you prefer petrol or diesel, the Smart Fortwo Cabrio engine range has been designed to deliver simple, efficient and enjoyable city driving.
There's a choice of three petrol engines: a three cylinder available with either 71 or 84hp and a 102hp turbo in-line option. The turbo is the obvious choice for those who value acceleration and power. But the 71hp option, with its micro hybrid drive, is considerably more efficient, with CO2 emissions as low as 99g/km. More efficient still is the three cylinder common-rail 54hp turbodiesel engine, which produces CO2 emissions as low as 86g/km.
The Smart Fortwo Cabrio is fitted with an advanced range of active and passive safety features. The list includes an electronic stability programme (ESP), an anti-lock braking system (ABS), hydraulic brake assist and acceleration skid control. Not only do these systems assure you with peace of mind, they also serve to significantly enhance your steering and control when cornering or swerving.
Simplicity = Enjoyment
With its uncluttered display of big, user-friendly dials and controls, the Smart Fortwo Cabrio is clearly designed to provide a simple driving experience. And because it's as simple as can be, you're free to focus more on the serious business of enjoying your drive.
The emphasis on easy urban driving extends right down to the gearbox. The Smart Fortwo Cabrio comes with a choice of two transmission options. Softip allows you to shift gears without the need for a clutch. All you have to do is tap the shift lever to change it up or down a gear. When the car comes to a stop, first gear is engaged automatically.
Meanwhile, there's an automatic option in the form of softouch, which does all the work for you. However, all you have to do is move the shift lever at any point to engage the manual softip mode. There's also an option of F1 style shift-paddles on the steering wheel, meaning you can change gears without even having to move your hands.
Leasing vs Buying
When you lease a Smart Fortwo Cabrio from Nationwide Vehicle Contracts, the vehicle lease, breakdown recovery and road tax are all contained within a single fixed monthly payment. For a car as simple and stress-free as the Smart Fortwo Cabrio, it seems fitting that you should only have to worry about one payment each month.
We're flexible when it comes to fuel-terms and mileage duration, and we also lease the Smart Fortwo Coupe model.