Martin Gurdon is a freelance motoring journalist, writing for the Sunday Telegraph, Evening Standard and Diesel Car magazine.
The Tesla Model 3 is one of the most significant cars of the past decade. A slickly executed electric rival to the BMW 3 Series and Mercedes-Benz C Class, it's persuading many people that battery power is the way to go.
The Model 3 has certainly drawn a positive response from Nationwide Vehicle Contracts customers, achieving an average star rating of 4.6 out of 5. "The Model 3 is a pleasure to drive," said one. "It's swift and very smooth, the infotainment system and in-car comforts are a cut above anything else I've ever driven. The range is great for an electric. I'm regularly getting 250+ miles on a full charge. Being electric the running costs are very low too."
A number of respondents did say however that the build quality, particularly inside, wasn't quite as good as the Tesla's conventional rivals. "Some interior materials not as good as other £50,000 brands," was a typical response, but overall the ownership experience has been a positive one.
Practicality
Although the Model 3 has a fastback profile, it isn't a hatchback, which to some extent limits what it can carry. The boot itself is long and reasonably spacious. There is also a front luggage locker suitable for two or three soft bags of clothes or shopping.
This is a five-seater car with plenty of room in the front. The rear bench seat is a comfortable place for two adults. Three would find it a bit of a squeeze and the really tall might wish for a little more headroom.
We drove the entry-level Model 3 Standard Range Plus, which has a claimed range between charges of 278 miles, although using a lot of ancillaries or driving in cold conditions will reduce this somewhat. Tesla owners benefit from the company's own 'Supercharging' sites in locations such as motorway services. The car can be up to 80 per cent charged in around 30 minutes at one of these, about 70 minutes with a regular public charger and in the region seven hours using a home wall charger (or 40 miles per charging hour). We spoke to one owner who drove from Kent to Sheffield and rapid charged their vehicle during a comfort stop.
The Tesla Model 3 achieved a five-star Euro NCAP crash test rating and is stuffed with safety kit.
Interior
It might not have quite the tactile class of conventional BMW and Mercedes-Benz rivals, but the Model 3 is hardly cheap and nasty. It's so quiet that any creaks and rattles would become obvious, but there were none in our test car, which was a comfortable place to be.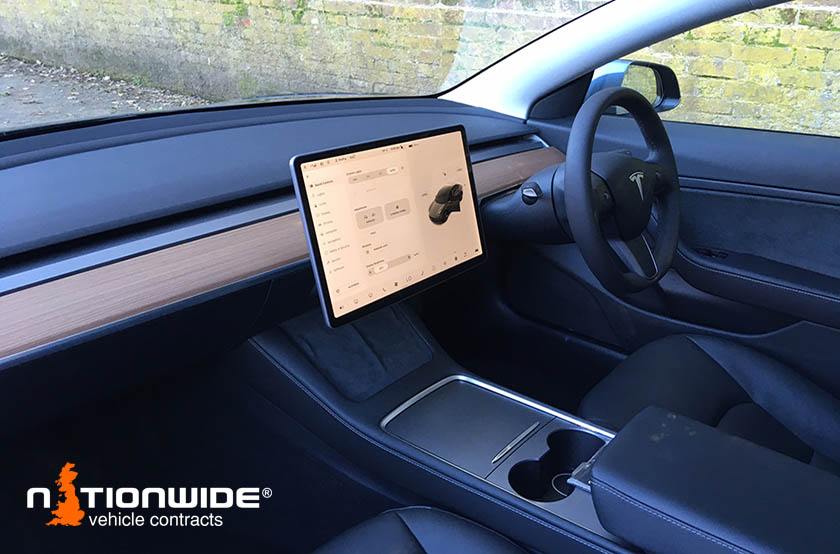 The minimalist dash is dominated by Tesla's distinctive centre touch screen. Using this takes a little getting used to, but the commands are nicely integrated and sequential, and although there are plenty of control options, this is a user-friendly system.
Many of the car's functions, including temperature and entry, can be controlled remotely by mobile phone app, another feature our Tesla-owning customers liked.
What's it like to drive?
The Model 3 drives like a regular automatic. Acceleration is instant (think 5.3 sec 0-60, 140mph top speed) and near silent. Essentially, electric motors only have one moving part, and more of their energy goes into driving the car, so they are very responsive. The Model 3 certainly felt quick.
It rides firmly-but-comfortably, corners with roll-free precision, and has sharp, accurate steering. Our car had two-wheel-drive but costlier four-wheel-drive twin-motor versions are quicker still and have a greater range.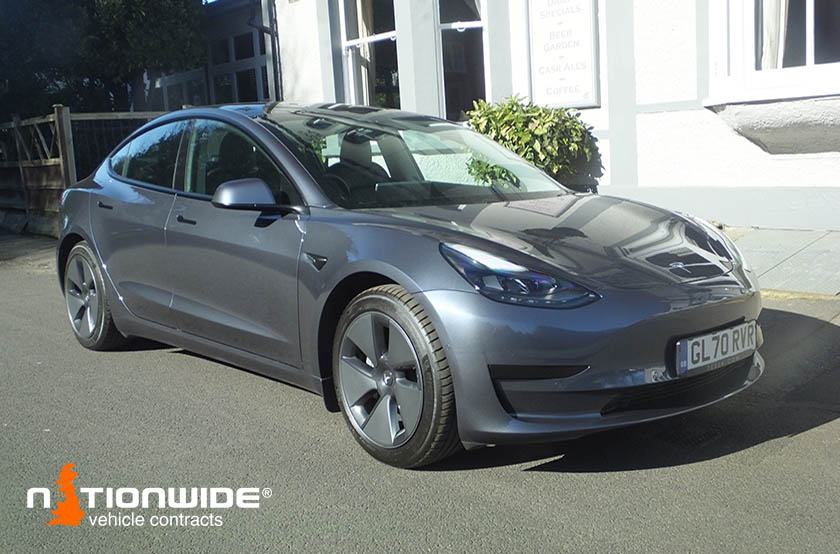 The Model 3 is a technically dense vehicle. Some Tesla owners have reported minor electrical glitches, and for a period, our test car claimed that a door camera was obscured. This wasn't the case and the warning symbol vanished again after a while.
One feature liked by customers is the self-driving function for duel carriageways (an urban-friendly system is also in the pipeline). This works with the cruise control, is easy to set up and cancel and keeps the car safely positioned in relation to other vehicles.
The driver lightly holds the wheel as the car steers and automatic lane changing works with the indicator stalk. When the turn signal is flashing, the car waits for a gap in the traffic and then manoeuvres. The control screen has a graphic that shows where other vehicles are.
Verdict
The Tesla Model 3 is a sophisticated, expensive car, that is a genuinely fresh take on vehicle design. Switching to one from a petrol or diesel compact executive car capable of covering 500 miles between rapid fuelling stops would be a culture shock, but an increasing number of drivers are making this shift and adapting to electric power's limitations to enjoy its benefits.