The world's biggest cheaters on GTA

By Donna
9th May 2023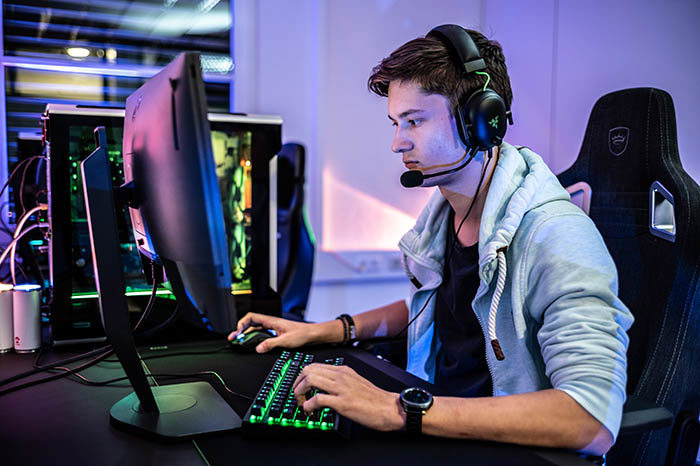 Grand Theft Auto is a series of action/adventure games with the goal of earning money and becoming the leader of your criminal organisation, allowing gamers to have an escape from reality, where breaking the rules and driving your dream car like a Ferrari or BMW is a possibility. According to Statista, 'As of February 2023, Grand Theft Auto V has sold over 175 million units worldwide' and with GTA proving popular around the world, there is no surprise that gamers across the globe are anticipated for GTA VI, despite there still being no official release date.
GTA VI was announced to be underway in February 2022, with recent rumours that the official release date will be announced in May 2023, so gamers are on the edge of their seats waiting for the newest addition, from characters to the fastest cars on offer.
With a variety of cars to lease at Nationwide Vehicle Contracts and with GTA being the king of car games, we wanted to discover the biggest cheaters on GTA. Using search volumes for phrases such as 'GTA walkthrough' to the average price gamers spend on cheats, we have revealed the world's biggest cheaters at GTA and where in the world is most excited for the release of GTA VI!
The countries that cheat the most on GTA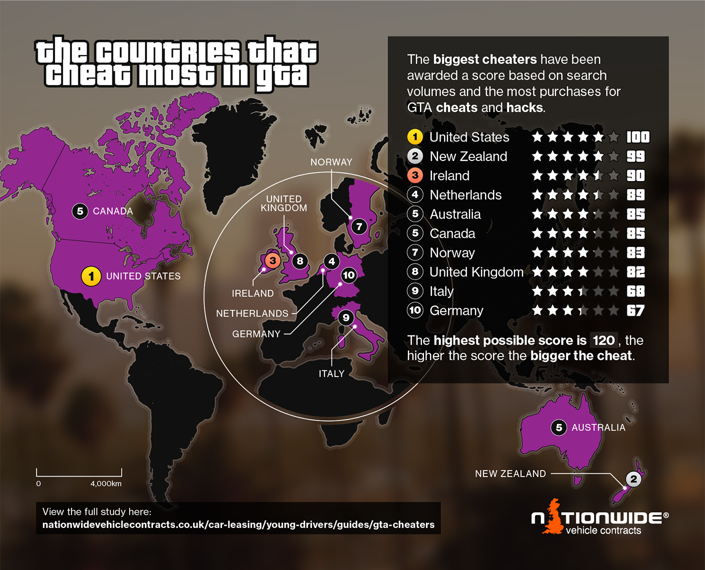 The United States are the biggest GTA cheaters in the world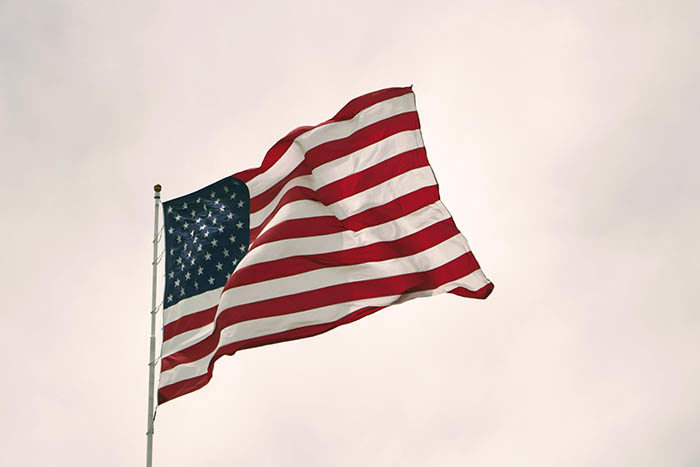 GTA was made in the United States and the games are often set there, so there is no surprise this country came out as the biggest GTA cheats in the world, according to our study. A huge 110,000 U.S. gamers search for 'gta 5 cheat codes' per month, which is 33 in every 100,000 gamers searching for 'gta 5 cheat codes'.60,500 U.S. gamers search for 'money glitch gta 5', proving gamers are eager to find any shortcuts they can to excel as much as possible. According to an article posted in 2022, 'more than half of gamers use cheats' so U.S. gamers who use cheat codes are not alone.
Alongside search volumes, our study also analysed how many people purchase cheats from each country, analysing cheat reviews we found that the U.S. were the seventh highest purchasers of GTA mods and hacks.
New Zealand is the second biggest cheater on GTA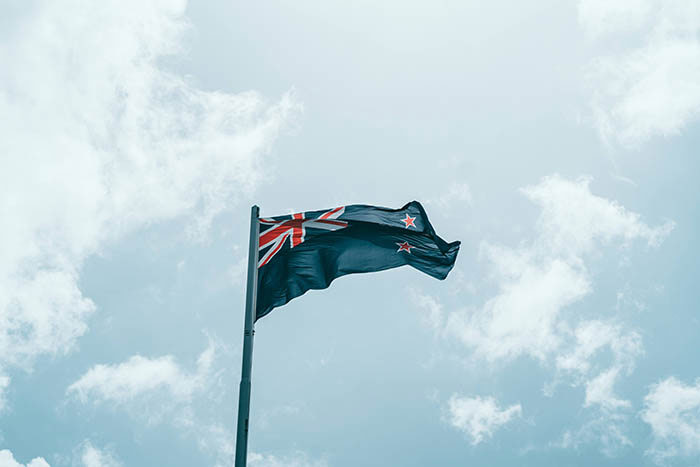 New Zealand ranked as the second biggest GTA cheats in the world, scoring an impressive 99 out of 120 in our index rankings. Our research found that New Zealand's biggest search volume was for 'money glitch gta 5' with 1,000 searches per month, followed closely by 'gta 5 cheat codes' with 880 monthly searches. Gamers in New Zealand are wanting to know cheat codes, especially for money, as the game's main way to succeed is dependent on the amount of money your character has.
New Zealand is certainly a country for gamers, according to gamespace '67% of the population identified as gamers' as well as GTA being the third most popular online game in New Zealand, so gamers in this country are not alone when it comes to using cheat codes for the game.
Ireland ranked as the third biggest GTA cheaters in the world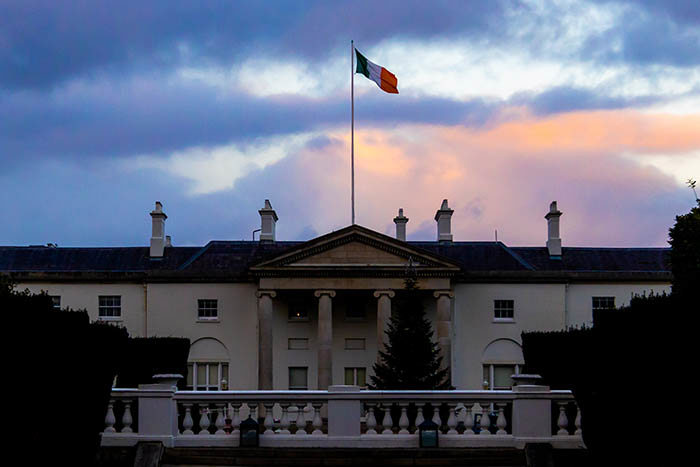 Ireland gamers are big fans of the GTA franchise, with niche details of Ireland in the games not going unappreciated. GTA V, for example, had an Irish reference in the game which was a road sign for Dublin along with the translation 'Baile Atha Cliath' located in Los Sanos. With small touches like this in a multi million game ($265 million), there's no wonder Irish gamers have a lot of love for GTA.
Niche elements like this in GTA attracts a lot of Irish gamers to play, with many looking for cheat codes to enhance themselves in the game. In particular, our study showed that Irish gamers' most popular cheat search is 'money glitch gta 5' with over 590 monthly searches, as well as coming out as the second highest country for purchasing GTA mods and hacks.
The most popular cheats and hacks for GTA V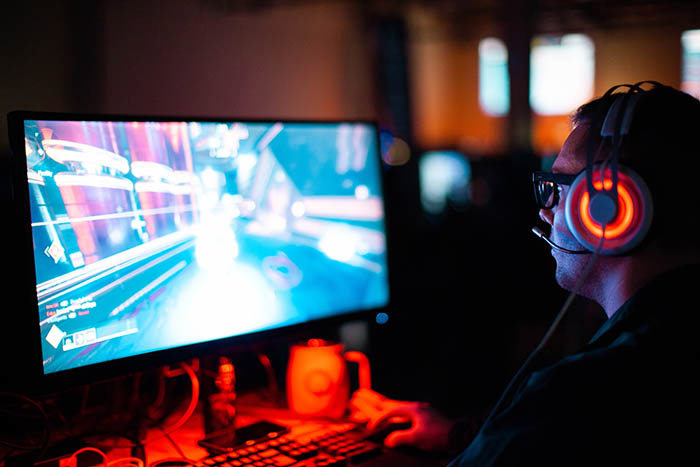 GTA V was released on September 17th in 2013, coming up to nearly ten years ago since the release of the latest installment of the franchise. There are millions of cheats and hacks for the game, but which are the most popular?
The most popular mods for GTA V
| Rank | GTA cheat or hack | Number of downloads |
| --- | --- | --- |
| 1 | Menyoo PC [Single-Player Trainer Mod] | 12,166,476 |
| 2 | Simple Trainer for GTA V | 8,433,024 |
| 3 | Enhanced Native Trainer | 3,798,717 |
| 4 | Open All Interiors | 2,402,915 |
| 5 | Map Editor | 2,046,007 |
| 6 | AddonPeds | 1,831,341 |
| 7 | Enhanced Native Trainer | 1,671,888 |
| 8 | Add-On Vehicle Spawner | 1,444,388 |
| 9 | Simple Zombies [.NET] | 1,412,399 |
| 10 | GTA Five: Apartment & Garage (SPA II) | 1,209,962 |
According to our research, 'Menyoo PC [single-player Trainer Mod]' which is a game utility application that works as a trainer mod, is the most popular hack on El Dorado for GTA with over 12 million downloads worldwide. This was followed by 'Simple Trainer for GTA V' with an impressive 8,433,024 downloads and 'Enhanced Native Trainer' with 3,798,717, all with over 4.5 star ratings, proving gamers all around the world have downloaded cheats and hacks for GTA V. Other popular cheats and hacks also ranked in our research, including 'Open All Interiors' and 'Map Editor' both with over two million downloads, rounding off the top five cheats in our study.
How much do gamers spend on cheats and hacks for GTA V?
With all the GTA V cheats we analysed, we also looked into how much gamers were spending on cheats and which were the most expensive. The most expensive cheat was for PS4 and included 'Fast Run, RP Level 777, 7 Billion Cash and maximum strength' for GTA and would set gamers back £1,323.01.
For a little bit cheaper you could get a similar package for PS4 with all of the above but instead would get 'RP Level 999 and 3 Billion Cash' for £1,273.42. For Xbox One, the most expensive cheat was for '300 Million (cash and cars)' costing gamers £1,240.43, with the same deal at the same price also for gamers who own a PlayStation 5.

On the other end of the scale, gamers who played on GTA on PC, can get cheats/hacks for as little as £1.24, but this would just be for 'Rockstar Refresh FiveM Account | Full Access | E-Mail Change'. Xbox One's cheapest hack was for '100lvl + 3 million cash' only costing £4.88, so gamers don't have to break the bank to enhance their in-play experience.
Which countries are the most excited for GTA VI?
GTA VI has been on the mind of many gamers across the globe for some time now, with people excited for the release date and any information on when they can expect to get their hands on the new game. The developer of Rockstar Games confirmed GTA VI was in development in February 2022, and since then there has also been a first look, revealing new details, including GTA VI gameplay, location and characters.
The release date is yet to be confirmed, however it is rumoured to be announced mid-May 2023, so our study has looked into what counties are the most excited for the release of GTA VI based on average monthly search volumes.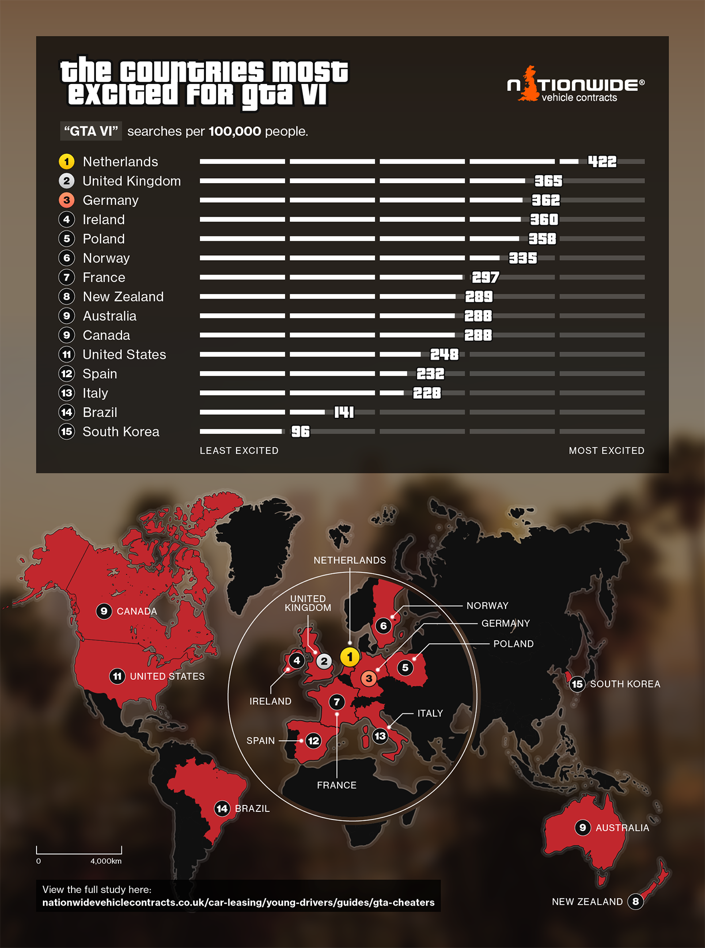 The Netherlands is the most excited country for GTA VI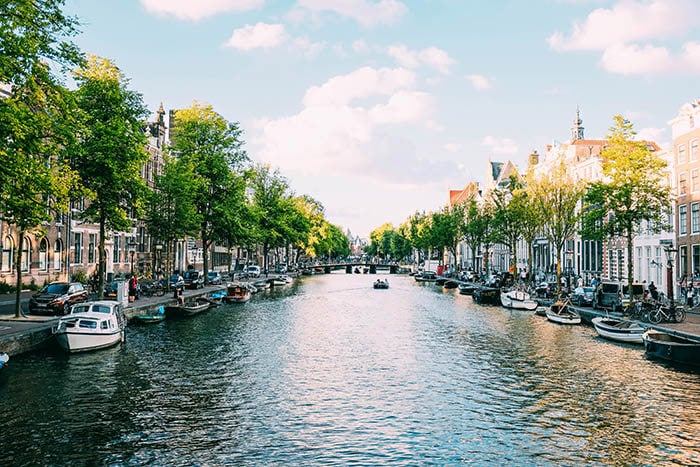 Netherland gamers have come out on top in our study for the most excited country for GTA VI, with 74,000 gamers searching for 'GTA 6' on average each month which is a huge 422 searches per 100,000 people. With many things to look forward to in the new game, from new characters to new swanky cars to drive around in, gamers in the Netherlands are clearly eager to find out.
In GTA VI, the game included a Vysser car that gamers could buy and drive, which in reality is based on the dutch manufacturer 'Spyker' as the car manufacturer's badge is featured on the Neo, which mainly resembles the Spyker C8. Gamers from the Netherlands may be eager to find out if any other cars manufactured in the Netherlands will be featured in the new GTA VI.
The UK ranks as the second most excited for GTA VI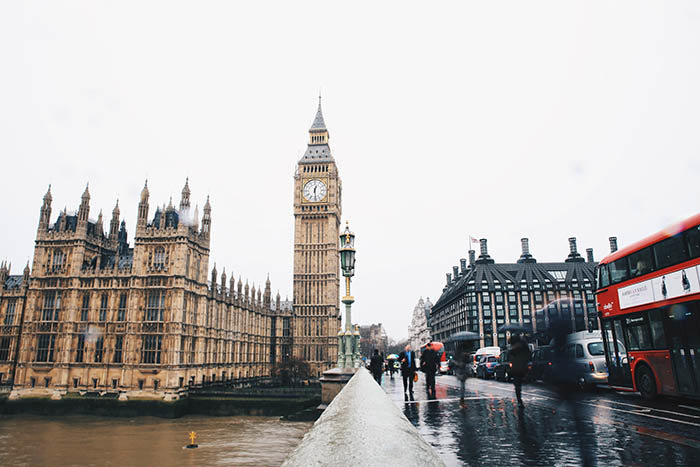 With a massive 246,000 average monthly searches for 'GTA 6' the United Kingdom ranked as the second most excited for the new GTA. UK gamers are looking forward to the new GTA VI location, gameplay and not to mention the new cars up for grabs in the new game.
Cars manufactured in the UK that were in GTA V, included a Gallivanter which was based on a Land Rover, Maxwell which was based on a Vauxhall and an Ocelot based on the Jaguar brand in the UK. Many other vehicles manufactured in the UK were also featured in GTA 5, so there's bound to be some more British car brands featured in the new GTA.
Germany are the third most excited country for GTA VI

Germany has ranked as the third most excited country for GTA VI, with gamers looking for any spoilers for information on the release date and first looks. In Germany an enormous amount of people are searching for 'GTA 6' with over 301,000 monthly searches, which works out as 362 searches per 100,000 people.
So far the game makers have revealed some details on GTA VI, including the location and characters, but gamers are also looking forward to exploring the gameplay and new luxury cars they can drive around in. In GTA 5, the Übermacht was featured, which is based on the Germany manufactured vehicle BMW, so this could be featured again in GTA VI, along with other German manufactured cars.
From racing around in the fastest cars in GTA, many dream luxury cars are featured in the GTA game, but you can also drive your dream car in reality (although much more safely) and lease the cars featured in the game with Nationwide Vehicle Contracts. If you're simply a fan of cars and video games then why not take a look at our round-up of the best car-related Easter eggs in video games.
To determine the countries that cheat the most on GTA we analysed all reviews from Fiverr of the 791 GTA services available, omitting any service or product that wouldn't aid game or online play eg. artwork. The number of reviews from each country was worked out per capita and added to the index score. We also analysed Google search volumes per capita using keywordtool.io for the terms: 'gta 5 walkthrough', 'gta v cheats', 'gta 5 cheat codes', 'money glitch gta 5' and 'gta5 hacks' across 20 different countries, changing the language when necessary. We then gave these a weighted ranking, adding all scores together to create an index of who purchases and searches for the most GTA-related cheats and hacks.
For the countries most excited for GTA VI we analysed average monthly search volume using keywordtoo.io for 'GTA 6', working these out per capita and then ranking high to low to see which countries had the most people per 100,000 searching for the game.
Data relating to popular GTA V mods was taken from https://www.gta5-mods.com as we scraped and analysed all scripts that hack the game. We used data from El Dorado to determine the most popular cheats and hacks purchased by players and the prices of these.
Guide Information