UK Car Insurance Groups Explained

By Laura
18th September 2020
Whether you decide to buy or lease a car, we understand that running a vehicle can be costly, especially for younger or first-time drivers, whose insurance tends to be higher.
Younger drivers particularly bear the brunt of high motoring costs, as age and inexperience are significant factors in determining just how risky a driver is. For many drivers under 25, the desire to own, drive and insure a high-performance car, is irresistible. This 'need for speed' however, comes at a price as these cars usually fall in a high insurance group.
So how can you ensure you keep insurance costs as low as possible when car leasing? Picking a car with a low car insurance group may be the answer.
In this handy guide to UK car insurance groups, Nationwide Vehicle Contracts explaining how car insurance groups work, how the group rating system is calculated and which car insurance groups will help keep your overall car costs as low as possible.
What is a car insurance group rating?
A car insurance 'group rating' is an advisory system intended to provide insurers with the relative risk of private cars and light commercial vehicles. The rating system, created by Thatcham Research is scored from one, being the cheapest to insure (mostly small cars), to 50 being the most expensive (mostly supercars).
High-performance cars and vehicles that are expensive to repair will fall under higher insurance group, while smaller cars with smaller engines, plenty of safety features and cheaper parts will cost less to insure.
Who decides the car insurance group ratings?
The Association of British Insurers (ABI) decides your car's insurance group, from 1 to 50. The Group Rating Panel is comprised from members of the Association of British Insurers (ABI) and Lloyds Market Association (LMA) and members meet monthly to set advisory motor insurance group ratings for new passenger cars in the UK.
How is a car insurance group calculated?
The group rating system relies on the internationally recognised insurance standard 15 km/h crash impact. A team of Thatcham Research engineers then determine the cost of times and parts to return the vehicle it to its pre-accident condition.
The two main areas of research are how much damage a car sustains in a collision and how cheap and easy it is to repair after an incident.
Specific factors used when setting an insurance group include: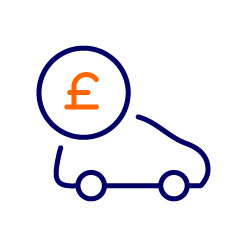 Cost of vehicle parts
The cheaper the cost of the car parts, the more likely that the car will be in a lower insurance group. A total of 23 common vehicle parts are used to compare one manufacturer's parts costs to another, including the engine, battery, radiator, alternator, front axle, brakes, front steering and suspension.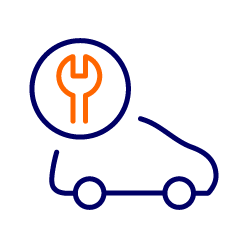 Repair times and costs
The longer it takes for a car to be repaired, the more it will cost. According to Thatcham Research, over half of all money paid out in motor insurance claims goes on repairing the car, so this plays a significant part. The type of paint finishes and the associated costs are also considered here.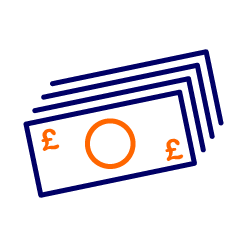 New car values
The price of a new car is also considered to determine how much it will cost to repair or replace. The retail price of a new car and its specifications are a helpful guide to potential replacement and repair costs.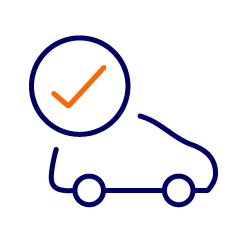 Car Security
A car's security features play an essential part in establishing its UK car insurance group rating. Security features such as alarm or immobilisation systems and high-security door locks all help to reduce insurance claims costs.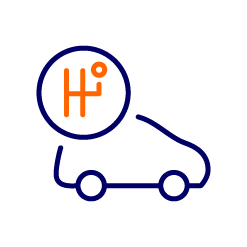 Performance
As expected, a vehicle's performance will determine the insurance group. High-performance cars are at higher risk of frequent insurance claims, so acceleration and top speed are taken into account.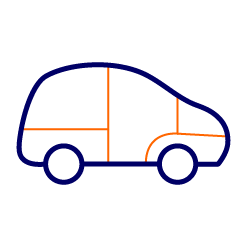 Safety
The higher the car's safety standards, the lower the insurance group. For example, vehicles fitted with AEB (autonomous emergency braking) systems are more likely to avoid low-speed front-to-rear accidents.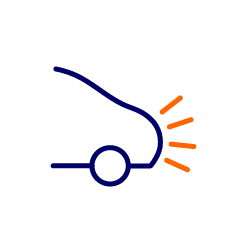 Bumper compatibility
The compatibility of the car's bumper is an essential factor as it determines how a car will perform during an accident. Both the alignment and structure of the bumpers are considered here.
How does a car insurance group affect your car insurance price?
Car insurance groups give you valuable insight into how different cars compare with each other and how much they'll cost to insure. Generally, the higher the car insurance group, the more expensive it will be to insure.
Cars found in group one are considered to be the least risky, because they might have low top speeds, or come equipped with a variety of standard safety features that reassure both the driver and the insurance company.
The riskiest cars are found in group 50. These vehicles tend to have large, powerful engines and can be very expensive to repair in the event of an accident.
The exact price of your annual car insurance figure also depends on a host of other factors such as your age, driving experience, postcode and yearly mileage. Hypothetically, a 42-year-old accountant, who owns a house, and has had a driving licence for nine years with no claims would tend to find insurance cheaper than an 18-year old student who has only been driving a year.
As a younger driver, what can I do to reduce my insurance costs?
If you want a cheap lease deal that isn't in a lower car insurance groups, there are several measures you can take to help reduce your insurance costs. Your car insurance premium is the amount you pay your insurance company regularly, often every month or annually, in exchange for insurance cover.
To help reduce premiums, you can: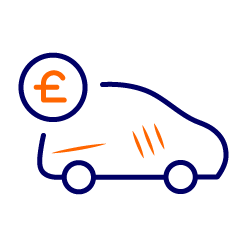 Increase the voluntary excess
The amount of voluntary excess you have can significantly impact the cost of your car insurance premium. Voluntary excess is the amount that you would have to pay if a claim is made on your motor insurance policy and is in addition to the compulsory excess set by your insurance provider.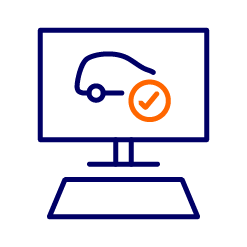 Install a car alarm or tracking device
Having a car immobiliser, alarm, or tracker can help lower your insurance costs. For example, installing a Thatcham approved GPS tracking device can help to reduce your annual vehicle insurance premiums by up to 20%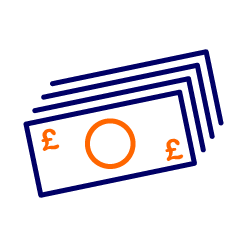 Pay for your policy annually rather than monthly
Paying for your insurance annually rather than monthly can help keep costs down. This is because the car insurance provider is effectively lending you the money to pay the premium, so if you choose to pay by monthly instalments, they will charge you interest on these repayments.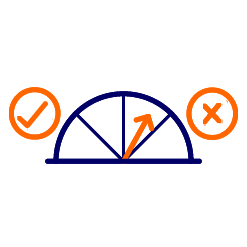 Choose a policy that uses telematics
A telematics box, otherwise known as a 'black box', is a tracking device installed on your car by your insurance company to track your driving activity. With a telematics insurance policy, the amount that you pay depends on your driving style, so careful drivers are rewarded with lower insurance premiums.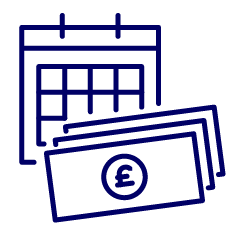 Stay safe to get reduced premiums on renewal
Most insurers will offer no claims discounts to drivers who don't claim on their car insurance. A no claims discount could help you save an average of 24% on your car insurance premium, so it helps to stay safe whilst out on the road.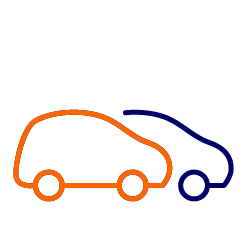 Consider driving an older car
If you drive a vehicle made before 1990, you may be able to take advantage of cut-price premiums with a classic car insurance policy. Be aware, however, that some insurance providers require you to be 25 or older to take out classic car insurance.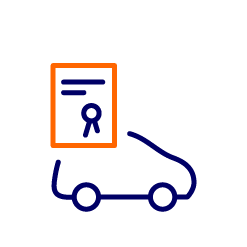 Consider an advanced driving course
Taking an advanced driving course such as IAM RoadSmart or Pass Plus, can help bring down your insurance costs. Many new and young drivers take Pass Plus to help improve their road safety and reduce the risk of accidents. Most insurers recognise these courses and offer a discount.
Does the age of the car make a difference?
Many drivers assume an older car is cheaper to insure, but that's not always the case. Car insurance premiums can be more expensive for an older car because they tend not to have the security features of a newer, more modern car.
On the other hand, older cars are often less valuable, and they may be cheaper to repair, which can help to push premiums down.
What are the cheapest cars to insure?
Typically, the cheapest cars to insure are vehicles that are relatively inexpensive to purchase. For a younger driver who wants to keep costs down as much as possible, we recommend choosing a low-specification model which has a smaller engine and more safety features, as these features will help decrease your chance of having an accident. Example cars include the Citroen C1, Ford Ka and Volkswagen Up! which are typically priced between £3,000- £10,000 depending on the specification.
To help make choosing your new lease car easier, we have put together a list of the top 10 new cars that have a low insurance group, making them cheaper to insure.
Top 10 Cheapest Cars to Insure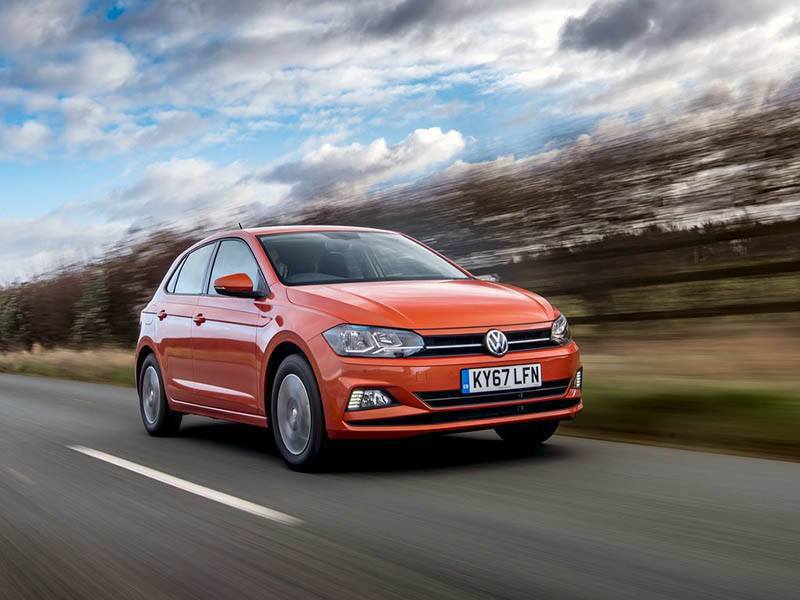 Volkswagen Polo
After 40 years, the Volkswagen Polo is still one of the UK's top ten most popular cars. Mainly at younger drivers, the Volkswagen Polo is remarkably practical for its size and costs peanuts to fuel, service and insure.
Models such as the Polo S and SE fall into lower insurance groups between one to eight, because of their basic features. S and SE models come with a 1.0-litre 65hp engine, allowing motorists to benefit from green motoring, as well as lower insurance costs. A 2.0-litre engine is also available for those who want more power.
Awarded with a five-star NCAP safety rating, the Volkswagen Polo comes with an array of standard safety features to prevent theft and help bring insurance costs. S and SE models come with automatic emergency braking (AEB) as standard, which is designed to detect objects in front of your car and apply the emergency brake. This safety feature helps reduce the chance of fatal accidents, making you less of a risk to the insurance company.
Optional safety measures also include Blind Spot Detector which gives you a complete view of the road and Adaptive Cruise Control, which automatically slows the car if the car in front slows down. These features may increase your monthly lease rental, but they have the potential to reduce your insurance premiums even further.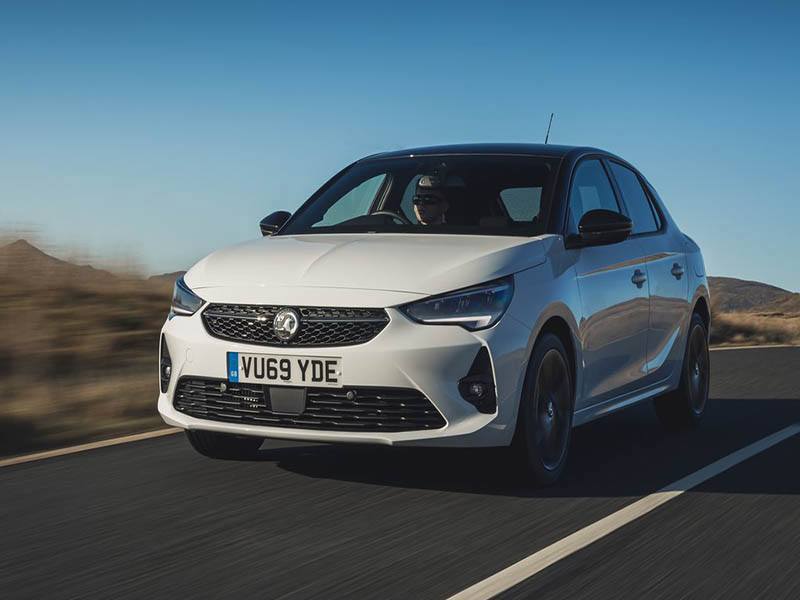 Vauxhall Corsa Hatchback
British Automobile manufacturer, Vauxhall has been producing great cars since 1903, and the Vauxhall Corsa is no exception. The Corsa is a classic amongst learner drivers, with more than just low insurance costs going for it.
Many Vauxhall Corsa models including the 1.2 Design, 1.2 Sri and 1.2 Excite fall into insurance group three or lower. The small 1.2 litre in the entry-level petrol Corsa boasts a top speed of 108mph, while the turbocharged version increases to 121mph.
All of the above models come with a selection of safety features designed to protect you, including six airbags to protect passengers in the event of a collision as well as seat belt reminders. Electronic Stability Control (ESC) also monitors your car's behaviour and helps to avoid skidding. To top it off, Speed Assistance is also installed to help you control your speed and reduce the risk of an accident. Don't forget, insurance companies are all about risk, so if they know your vehicle poses less of a risk, chances are you'll get more of a discount.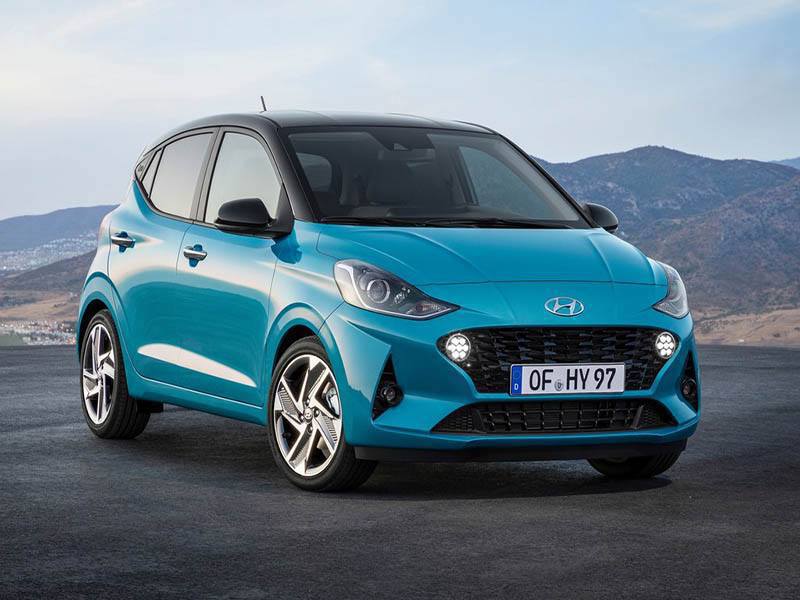 Hyundai i10
South Korean manufacturer, Hyundai, is renowned for building reliable cars so its no surprise that the Hyundai i10 came second in the City Cars category for reliability, in the 2014 JD Power survey.
The second-generation i10 is in car insurance group one, meaning it is far cheaper to insure than previous models. The i10's 1.0-litre engine, entertainment features and substantial security features make it the ideal first car for young drivers.
Models in the Hyundai i10 range include the Play, Connect, SE and Premium, all available with 1.0-litre engines. Drivers can also opt for the newest addition to the range, the N Line, which has a 1.0-litre turbocharged engine with 99hp and 172Nm of torque.
All models with a 1.0-litre engine sit in insurance group one, making them extremely affordable. The average cost for cars in insurance group one and two for drivers aged 25 and below (depending on premiums and other acknowledged factors), comes at around £950 annually.
Models with the 1.2-litre engine also benefit from lower insurance costs, with most falling into insurance groups five or lower. 1.2-litre versions include the 1.2 MPi Premium, 1.2 MPi SE Connect Auto and a 1.2 MPi Premium Auto.
The i10's safety is diverse, with a host of safety features in all models, including Lane Keep Assist, Autonomous Emergency Braking and driver attention alerts. It even includes 'eCall', which automatically alerts the emergency services in the event of an accident, a feature which will make a real difference to insurers. All Hyundai models, including the i10, also come with a five-year, unlimited mileage warranty, including five years breakdown recovery.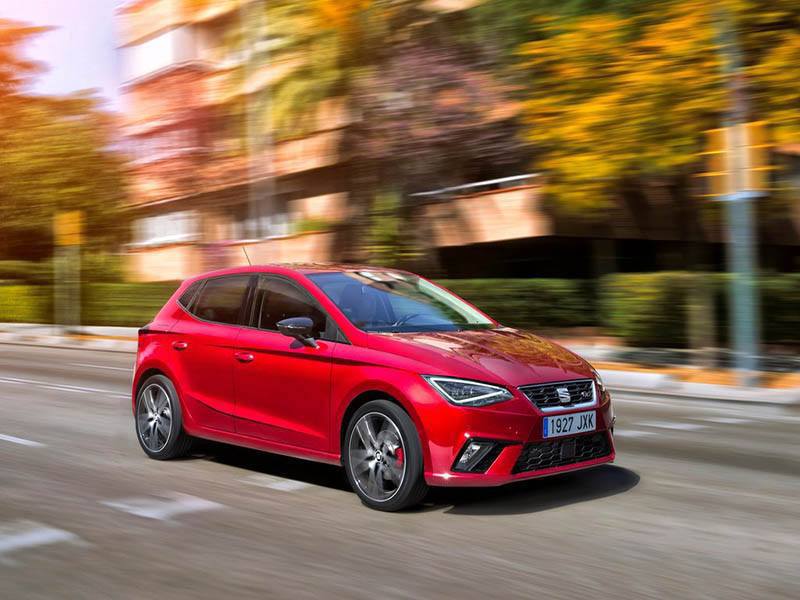 SEAT Ibiza
Over 5.4 million SEAT Ibizas have been sold since the original model was introduced back in 1984, proving this sporty supermini remains as popular as ever.
The SEAT Ibiza is one of the smallest cars on the market to put most models safely in the group two car insurance bracket, but inside, it feels a pretty decent size. The S and SE versions are cheap to insure, with the 1.0-litre engine delivering 74hp, a reassuring factor for insurers. A quick comparison of the market shows the average cost of insurance on the Ibiza is around £836.42 a year.
The SEAT Ibiza scores an impressive five stars by Euro NCAP with the entry-level model, the SE, featuring a range of safety kit, including six airbags, stability control and front assist. Other safety features include Anti-Lock Braking System (ABS), anti-theft wheel bolts, remote central locking and electronic engine immobiliser.
Optional extras which can help bring premiums down include City Brake Assist and Multi-Collision Brake which automatically slows the car if an impact is detected. There's also a clever device called Tiredness Recognition System which sounds an alarm if it detects warning signs of the driver falling asleep at the wheel.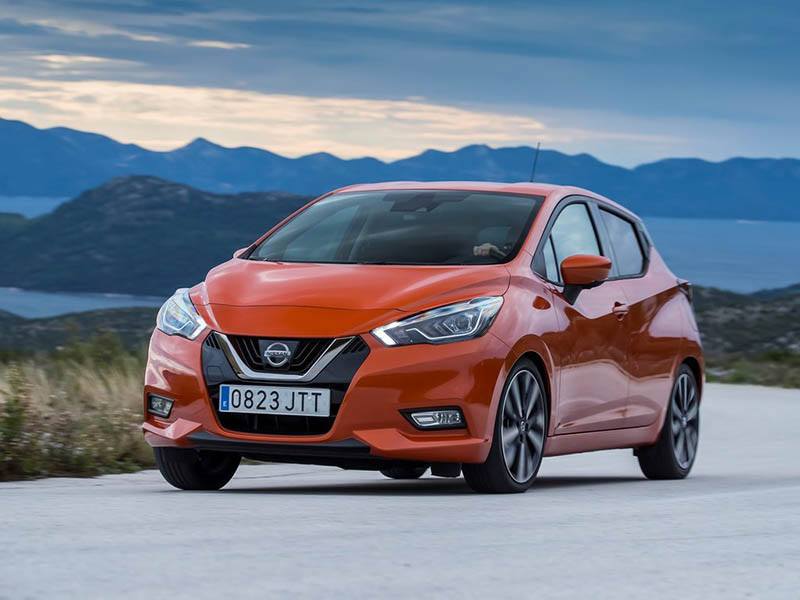 Nissan Micra
Japanese automaker Nissan gave its Micra a makeover in 2017, transforming it from a 'Grannymobile' to a genuinely sharp and sporty-looking supermini. While the architecture has been carried over from the old model, there's plenty of up-to-date technology shipped in from other models such as the Qashqai, to make the Nissan Micra an attractive lease choice for young drivers.
Micra models, including the Visia+ and Acenta, come with plenty of safety equipment and customisation options, making it an attractive low insurance car. If you opt for the 1.0-litre, 71hp petrol engine, you can choose from a range of trim levels, all of which fall into insurance group one. Despite its sporty style, the Micra is practical too, so you don't have to worry about servicing costs as it is generally cheap and convenient to maintain.
Entry-level models come with some great safety features. The Visia+ IG-T 100 and Acenta IG-T 100 have automatic emergency braking, and a lane departure warning system, to help lower insurance costs. 'Active Trace Control' and 'Active Ride' also helps to reduce the risk of accidents, as well as damage, with the latter using the brakes over bumps to ensure the tyres stay in contact with the road as much as possible.
A security feature on the Micra, which helps to guarantee low insurance premiums is the Nissan Vehicle Immobilizer System which prevents the engine from starting without the use of a registered key. This intelligent system helps to prevent thieves from trying to steal the vehicle without the key.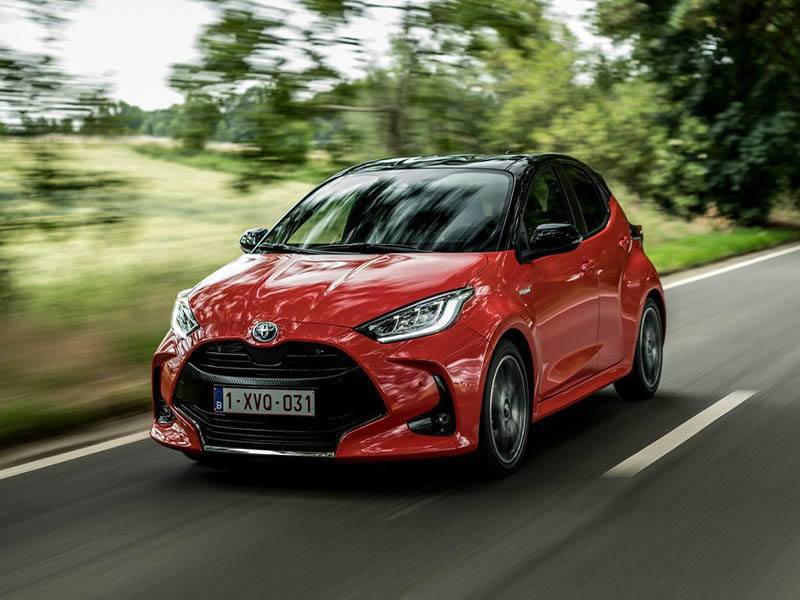 Toyota Yaris
The Toyota Yaris, produced by the Japanese automotive manufacturer since 1999, is a small car that boasts a sporty look with great fuel economy and a genuinely fun drive. Gaining a recent facelift and bolder styling, the Yaris has been given a funkier look but is still a sensible, small car option with a broad appeal across all generations, from first-time drivers to pensioners.
Running a Yaris isn't going to be too financially taxing whatever spec you choose, with low emissions across the board. The basic entry-level 'Active' model with its 1.0-litre engine ticks all the boxes, returning a respectable 49.9mpg, sitting in car insurance group two.
The more powerful 1.5-litre petrol achieves 48mpg, taking into up to group nine or ten. However, you will be surprised to know that the new Toyota Yaris Hybrid occupies insurance group eight, allowing drivers the opportunity to try out a hybrid engine without high insurance costs.
Toyota Safety Sense technology is fitted as standard across the range, helping to bring car insurance premiums down. Technology such as the pre-collision system, automatic high beam, lane departure alert and road sign assist, also all helped the Yaris to bag a five-star Euro NCAP safety rating.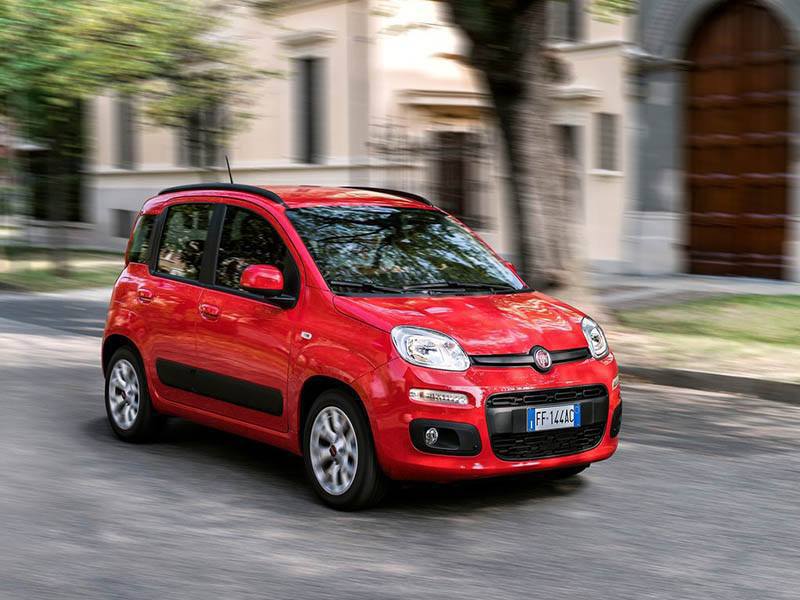 Fiat Panda
The Fiat Panda is a classic and has now been on the market for more than three decades. The latest generation model has recently been modernised with a four-model line-up, putting the regular Panda supermini at around £10,000.
Available in three trim levels ('Pop', 'Easy' and 'Lounge'), the Panda city car comes with a 1.2L 69bhp engine, electric front windows, Electronic Stability Programme and airbags. The lowest spec offering sits in insurance group three, with higher-spec variations climbing into group seven.
The Panda is light and easy to manoeuvre, making it suitable for town and city driving, dealing well with potholes and bumps. Its 0.9L TwinAir engine as the best choice among the available powertrains for being responsive and more economical in the long run, over the cheaper 1.2L alternative.
The Panda is packed with features that will keep your urban journey safe, including four airbags and anti-whiplash. Other safety features include Electronic Stability Control (ESC) and Tyre Pressure Monitoring System (TPMS), which warns you when tyre pressure is getting low, reducing the risk of an unexpected tyre-repair as well as accidents as a result of a flat tyre.
To further help bring insurance premiums down, the optional Active Safety Pack adds hill-hold, rear parking sensors and a city-braking system which stops the car automatically if it detects you're about to run into the vehicle in front. Insurers are sure to consider these extra safety features when providing the cost of a car insurance quote.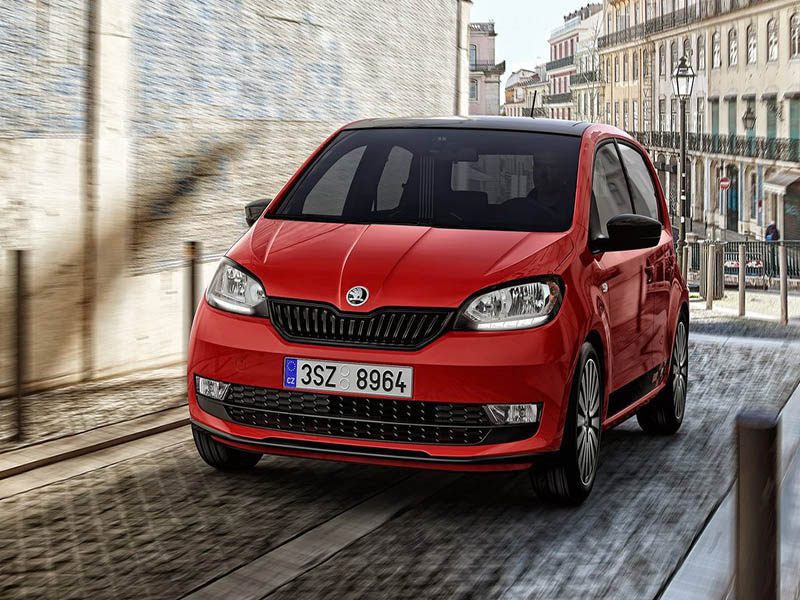 Skoda Citigo
Skoda launched the Citigo back in 2012, and it instantly became a hit. With a slight update in 2017, the Citigo it has won many awards over the years, including 'Best City Car £9,500-£11,000' at the WhatCar? Car of the Year 2018 Awards.
The Citigo is available in either a three or five-door form, and the S, SE and Monte Carlo trims qualify for group one insurance. The 1.0-litre petrol engine, with either 50bhp or 74bhp, is ideal for driving in a busy town or city, while the 50bhp option helps to bring insurance costs down to as low as possible.
Skoda has ensured their vehicles receive a full safety makeover and the Citigo impresses with its strong safety record. When it was crash tested in 2011, it received a maximum five-star safety rating from Euro NCAP, helping to relax insurers. Its safety is aided by its strong body shell, stability control, daytime running lights and tyre pressure monitors.
Another perk to the Citigo is its low servicing costs, with nominal costs averaging at around £140. To give you an idea of how much it would cost to insure your Skoda Citigo with comprehensive cover, Finder.com, averaged it out at around £50 a month or an annual sum of £550.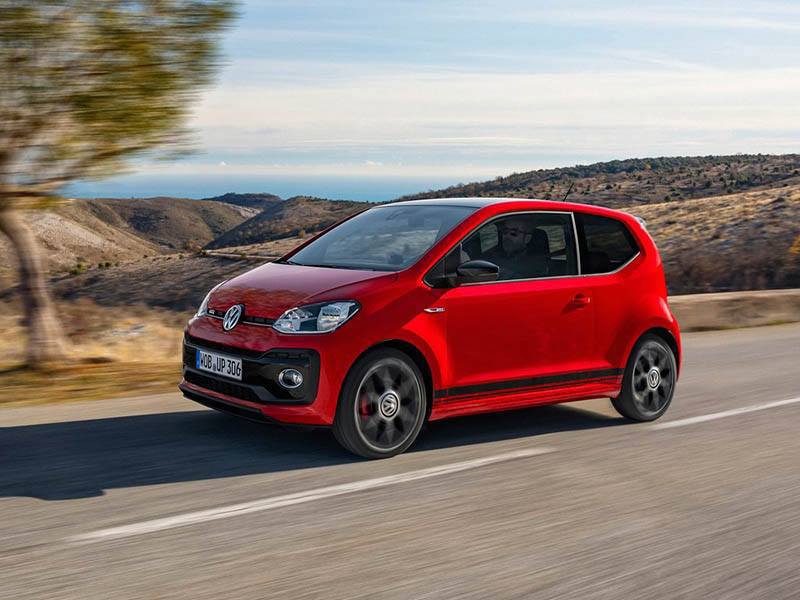 Volkswagen Up Hatchback
German automaker Volkswagen has done it again with the Volkswagen Up!, one of the most stylish and entertaining small cars on the market. Closely related to the Seat Mii and Skoda Citigo, the Up! has an excellent build quality and low running costs, making it an ideal choice for first-time drivers.
The cheapest model versions in the Up! range include the 1 .0 60ps Move Asg 3dr, 1.0 60ps Take Up 3dr/5dr, and the 1.0 60ps Look Up 3dr, falling into insurance groups one and two. Whether you choose a three or a five-door, Up!'s are known for their punchy non-turbocharged 1.0-litre engine which produces 59bhp, returning a fuel economy of over 50mpg and CO2 emissions of 100g/km of CO2. Most 59bhp modes fall into the second-lowest insurance group, whilst R-Line models fall into group three, for low insurance costs.
Scoring a full five-star crash safety rating in its 2011 Euro NCAP test, the Up! comes with plenty of safety equipment like electronic stability control, anti-lock brakes, a seatbelt reminder buzzer, as well as six airbags. These features should help to reduce insurance costs and make driving feel much safer.
Another reason why the Up! is less costly is because of their maintenance costs. Volkswagen offers fixed-price service plans, which mean regular maintenance of your Up! could only cost just a few pounds a month.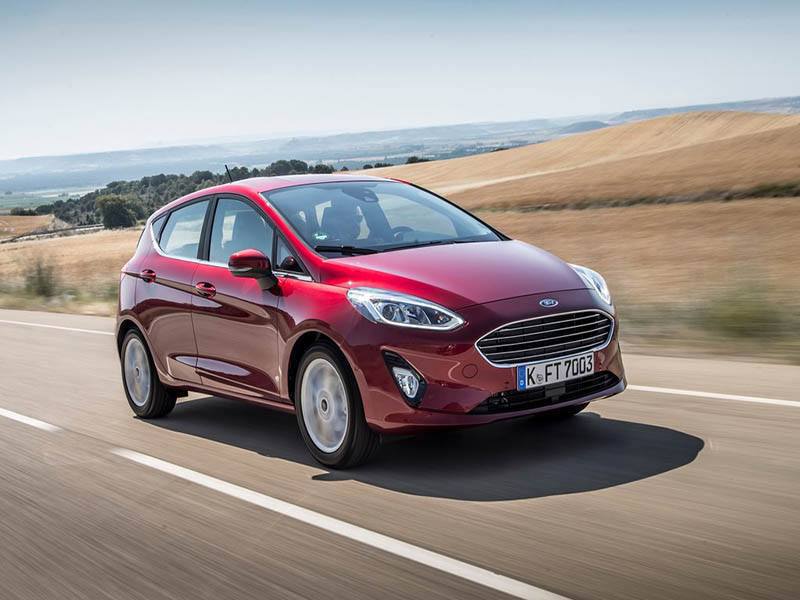 Ford Fiesta Hatchback
Finally, we end on the UK's favourite car, the Ford Fiesta. Everyone loves the Fiesta, and thanks to great PCH (Personal Contract Hire), lease deals, this stylish supermini is more affordable than ever before.
The Ford Fiesta is a great all-rounder with lower-spec models standing out for being particularly cheap on insurance. Low running costs are a key attraction for Fiesta drivers, and even the sportier ST Line offers great fuel economy. The basic three-door 'Trend' model is priced from £16,640 while the 'Style' trim comes with a 1.1-litre petrol engine producing 84bhp, allowing it to fall under insurance group two. For drivers who travel long distance, the 1.5-litre diesel engine is among the most fuel-efficient offered with the Fiesta, with the Zetec 1.5 TDCi 85PS five-door falling into insurance group eight.
All new Fiestas come with a five-star Euro NCAP rating, with the NCAP pack featuring Lane-Keeping Alert, Speed Limiter and auto-headlamps. All elements improve safety and help keep insurance costs down, particularly its Thatcham Alarm, which is perfect for preventing theft.
Ride quality is particularly good for its class, as the Fiesta offers a sophisticated, big car feel when in motion, dealing well with uneven road surfaces. Handling, is both fun and responsive, meaning even in the affordable supermini class, drivers can have fun behind the wheel.
Thinking of leasing your first lease car? Call Nationwide Vehicle Contracts today on 0345 811 9595 to speak to one of our experienced sales advisers to discuss the options available to you or visit our Young Drivers Leasing resource hub for helpful advice on leasing a car as a new driver.
Guide Information