Can You Lease a Car If you are Under 25?
Whether you've just passed your driving test or thinking of leasing a car for the first time, many young drivers are turning to car leasing as a viable alternative to buying a new car with a bank loan or dealer finance. In fact, research from Experian found that 1 in 5 young drivers aged between 18 to 24 years old are choosing to lease their vehicle, more than double any other age group.
With its attractive low monthly payments, low initial rental and flexible contract terms, leasing can be an affordable, often cheaper way to get behind the wheel of a brand new car. But as a young driver, is car leasing right for you?
To help you make an informed decision about leasing your next new car, Nationwide Vehicle Contracts has put together short guide on leasing for young drivers, including everything you need to know about age restrictions, passing the credit check and the types of the contracts available.
Is car leasing right for me?
If you're new to car leasing, chances are you'll have lots of questions about how car leasing works.
Put simply, car leasing is a long-term rental agreement which allows you to use a car for a fixed amount of time, usually 2, 3 or 4 years. At the start of the agreement, you pay an initial rental (usually equivalent to three months rentals), followed a fixed monthly price for a set period of time. When the lease period ends, you simply hand the keys back and walk away or take out a new car lease agreement.
Whether car leasing is right for you depends on a lot of factors including how much money you have to spend (both up front, as well as for the monthly rentals) as well as how much you intend to drive and whether you want to own the vehicle.
Before making a decision about whether car leasing is right for you, consider
Making a decision on car leasing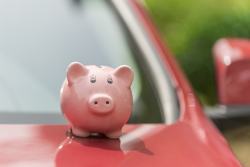 How much money do I have to spend on a new car?
Whether you're buying or leasing, it is important to set a realistic budget before you start looking for your new car and don't forget to factor in any running costs such as fuel, insurance and servicing.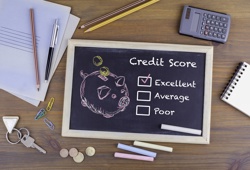 Do I have a good credit rating?
Like other finance products such as a bank loan or dealer finance, car leasing is a credit agreement so you will need to pass a credit check in order to be eligible for finance.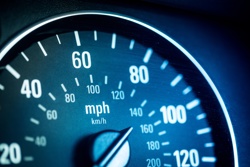 How many miles do I intend to drive?
While high mileage lease deals are available, if you intend to travel significant distances in your car, a purchase deal may be more cost effective.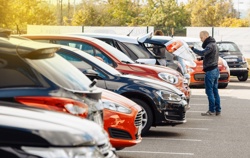 Do I want a new or used car?
Here at Nationwide Vehicle Contracts we only offer lease contracts on new cars so if you're in the market for used car, buying a car might be a better option for you.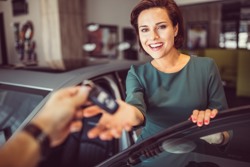 Do you want to own the vehicle?
With a lease agreement, you never own the vehicle so if you want to purchase the vehicle, you may want to look at other options.
As with any major purchase decision, it is important to way up the pros and cons of all options available to you before making a decision on what best suits your individual needs.
What are the advantages of car leasing for a new driver?
Many young drivers prefer car leasing to ownership for a number of reasons. Car leasing offers many advantages including:
You get to drive a brand-new vehicle. All of our vehicles are brand-new and supplied by the franchised dealer network. As such, your new vehicle will come with the full manufacturer's warranty so you can rest assured that if your vehicle develops a fault, you're likely to be covered by the manufacturer's warranty.
Monthly costs are fixed for the duration of the contract. Fixed monthly rentals make budgeting easier, allowing you to better manage your expenses.
Full manufacturer's warranty, breakdown recovery and road tax are included. Road tax rates are included for the duration of the contract and all contracts include roadside assistance for 12 months or three years, depending on the manufacturer.
No need to worry about resale value. Unlike a purchase deal in which you own the vehicle, you do not need to worry about the car losing value (also known as depreciation) or having to sell it when the agreement ends.
Initial rental and monthly repayments are often lower than other types of car finance. Monthly rentals are often cheaper than other new driver car deals, allowing you to lease a vehicle that might otherwise be unreachable in terms of its on-the-road (OTR) cost.
Maintenance and servicing can be included in the monthly costs. By adding an optional maintenance package to your agreement, you can spread the costs of maintenance and servicing over a longer period of time, making budgeting easier.
Flexible contract terms are available. Variable contract duration and mileage terms are available to meet your individual and finance requirements.

What are the disadvantages of car leasing for a new driver?
While car leasing offers many advantages, it is not a suitable product for everyone. As with any type of finance contract, there are many pros and cons to consider. Potential disadvantages include:
You must have a good credit rating. Most funders ask for a good to excellent credit score in order to be accepted for vehicle finance.
You won't own the vehicle. For Contract Hire and Personal Contract Hire agreements, you must return the vehicle at the end of the lease agreement.
Early termination can be expensive. If you need to get out of your lease contract early, this will be subject to early termination fees and penalties, typically around 50% of any outstanding rentals.
If you exceed your agreed mileage, a charge will be payable. Any mileage over the agreed amount is charged at the excess mileage 'pence per mile' rate as set at the start of your contract
You need to stick within fair wear and tear guidelines. Failure to maintain and return the vehicle in "reasonable condition" could result in excess wear-and-tear charges.
Insurance isn't included in the cost. You are responsible for arranging your own insurance on the vehicle and this must be a fully comprehensive insurance policy.
You cannot customise the vehicle. While some small and reversible modifications may be permitted by the funder, permanent customisations are not allowed.
I have no credit history, will I be eligible for finance?
In order to lease a vehicle through Nationwide Vehicle Contracts, you will need to undergo a credit check as part of the finance application process. The biggest issue for many young drivers is that they little to no credit history, making it difficult to obtain finance. This is because lenders tend to prefer lending to established borrowers who they can better assess the risk for paying back debt.
In order to lease a vehicle through Nationwide Vehicle Contracts you must:
Be over 18 years old
Have a full UK driving licence (a provisional licence will not be accepted)
Be able to afford the monthly rentals
Be a UK resident
Hold a UK bank account
Have a regular monthly income
As with any finance agreement, most funders ask for a good to excellent credit score in order to be accepted for vehicle finance. It is worth pointing out that no lender uses your credit score alone to approve or decline you for finance. Many other factors come into play such as your ability to make regular payments on time and any other debts you may have.
If you are a first time borrower with no credit history, you can improve your chances of being accepted for vehicle finance by working to establish a positive credit history. The Money Advice Service offer advice on how you can start to build a credit history. This includes:
Open and manage a bank account. Setting up and using a UK current account will help build your credit history because it demonstrates you have a responsible, ongoing relationship with the bank. Just make sure you run your account responsibly e.g. make sure you have enough money in your account to cover your payments each month.
Use Direct Debits to pay your bills. Set up some regular Direct Debit payments to pay bills such as your mobile phone and other household bills.
Don't miss payments. Make sure you pay all your bills on time, as a missed or late payment will count against you. If the lender has to go to court to get the money, then a county court judgment (or decree in Scotland) will severely affect your ability to get credit and it will remain on your file for six years.
Register on the electoral role. If your name isn't on the electoral register, make sure you add it as soon as you can. Being registered to vote in the UK means lenders can check that you live where you say you do.
Are there any age restrictions when leasing a car?
Provided you are over 18 years old, have a full UK driving licence and are able to afford the monthly rentals, you can apply for a lease agreement with Nationwide Vehicle Contracts. There is no upper age limit.
Unfortunately, we are unable to offer lease agreements to drivers under the age of 18. This is because a lease agreement is a form of credit and a person under 18 is considered a young person and therefore cannot usually be legally held to a contract.
Can a parent take out a lease agreement for me?
It is forbidden for someone to take out a lease agreement on behalf of someone else. This could include a parent taking out a lease agreement on behalf of their son or daughter or a close friend taking out a lease agreement for another person. This is also known as accommodation finance.
While accommodation finance is not actually illegal, it is forbidden by the finance provider. This is because there is a greater risk of the finance company not being able to get the car or their money back in the event of a contract breach.
It is worth pointing out that while accommodation finance is not illegal, not declaring that the person taking out the lease is not the main driver is illegal and both parties involved (the person applying for the finance and the person that they taking out the lease for) could be charged with fraud.
What type of leasing contracts are available?
Here at Nationwide Vehicle Contracts, we specialise in two types of lease contracts – Personal Contract Hire and Business Contract Hire.
If you are applying for vehicle finance as a private individual, you may be eligible for a Personal Contract Hire (PCH) agreement. PCH is the most common form of private car leasing and all personal lease prices include VAT. Check out our guide on Personal Contract Hire to find out more about this type of contract.
If you are applying for vehicle finance as a limited company, partnership, sole trader or LLP, you may be eligible for a Business Contract Hire (BCH) agreement. BCH is a particularly popular option for VAT registered companies as they can claim back 50% of the VAT for the supply of the vehicle. All business lease prices exclude VAT. Check out our guide on Business Contract Hire to find out more about this type of contract.
Have a question about car leasing? Visit our How Leasing Works page to find out more about leasing a vehicle or call Nationwide Vehicle Contracts today on 0345 811 9595 to speak to one of our experienced leasing consultants.
We offer various leasing services, such as a Fast Lease Service, where in-stock cars are available to lease with a delivery time of three to six weeks (times may vary).
Guide Information