Cold temperatures, increased precipitation and reduced daylight hours make winter a far less safe season to take a trip out in your new car lease hire. In this section, UK car leasing company, Nationwide Vehicle Contracts, look at common safety concerns, and how to prepare for this season's sometimes treacherous roads:
While the UK hardly encounters the extremely adverse conditions of many more northerly nations, consistently dangerous conditions can still bring road networks to their knees and eat away at your carefully maintained car. Key cold weather safety issues include:
Winter wear and tear on your vehicle
Worsening road conditions, including winter potholes
Worse visibility and more difficult handling (so see our tips on how to drive on winter roads)
Slower response times from breakdown vehicles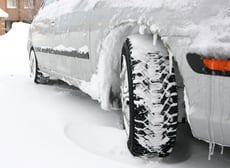 Winter wear and tear
When temperatures plummet, fluids freeze, windscreens fog up and the constant chill and thaw of precipitation corrodes bodywork and components. Winter weather is garage weather, but sometimes you simply don't have that luxury.
The least you can do is be diligent and check for:
Car batteries depleted by intensive use (heater, wipers, lights)
Extra stress on the battery due to cold starts
Frozen water pumps
Frozen cylinder blocks
Frozen radiators
Frozen windshield wipers
Danger from other road users (especially during the party season)
Otherwise, it's important to remember that the dangers of cold weather make all those standard maintenance checks doubly important.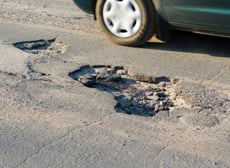 Winter potholes
Potholes aren't solely a cold weather phenomenon, but cold weather certainly exacerbates the problem. Water works its way into cracks and expands when it freezes, a motion that when repeated, causes progressively wider cracks. Add to this the motion of cars over the damage and potholes can spread quickly. It's a multi-million pound problem, and one that can cause you great expense. Low speed collisions with potholes can cause damage to tyres, wheels and steering alignment. At higher speeds, damage can be severe and could result in loss of control, resulting in a crash.
Pothole compensation
The relevant highway authority may be liable for damage to your vehicle, but only in the event that they knew about the pothole and had failed to repair it. Councils become aware of road conditions through their own surveys or from members of the public. If you have encountered a pothole that needs filling, find your local council and ensure they are aware of it.
If you do file a claim for damage with the council, you can ask to see the council's road inspection reports in the event that your claim is rejected. Note that in the case of main trunk roads, the Highways Agency should be your main point of contact.
Avoiding potholes
While local authorities and the Highways Agency are obliged to keep the roads free of potholes, they aren't obliged to inform the public about current pothole locations. Thankfully, there are several internet services mapping trouble spots:
Potholes.co.uk

has an interactive map containing photographs and locations of potholes, alongside descriptions and even entire blog posts about hazards. The site offers additional information on claiming and other aspects of the pothole problem

Fillthathole.org.uk

is run by the CTC, a national cycling charity. Their map is full of older information, and it seems to be rarer for photos to be uploaded. However, the presentation of certain information in the form of lists can be more useful, and the site does have a helpful iOS app
How to drive on winter roads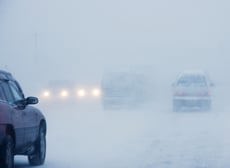 Cold vehicles can fail to start, your vision can be impaired and the road itself is often more dangerous. The following is a step-by-step guide to the challenges of a journey in adverse conditions.
Starting your car
The sun may be rising later and later, but you need to get up 10 minutes earlier. This will give you time to take a quick look at your car, check the travel news (having planned any unusual routes in advance), de-ice your car and let the engine warm up. Getting up early, or maybe even being a few minutes late for work, is a small price to pay for your own peace of mind and safety.
If your car fails to start, it's often the battery that's the problem, especially if it's getting close to the end of its five year typical lifespan. If all you hear is a little click or nothing at all when you turn the key, you'll need a helpful friend and a pair of jump leads. If this happens repeatedly, either your battery needs replacing or you have a faulty alternator.
Setting off
If the roads are genuinely dangerous – covered with snow and ice, with traffic warnings recommending against travel - reconsider whether you need to head out at all. In ice and snow, stopping times can be 10 times longer, so expect to drive slower and make gentle manoeuvers.
A second gear start with gentle clutch movement will help you avoid wheel spin
Apply brakes gently. Disengage the clutch and release the brakes if the car skids
Take downhill stretches slowly and in low gear, avoiding brake use. Leave ample room between you and other road users
Uphill stretches should be taken with similar amounts of space – this allows you to avoid having to stop halfway up. Keep a constant speed and avoid changing gears
If you're driving an automatic in slippery, snowy conditions, put your car in '2' to restrict gear changes or use a 'winter' mode if you have one (this restricts the use of first gear)
The UK is perhaps legendarily poorly prepared for its worst winters, in contrast to other nations where heavy snowfall is a fact of life. However, annual complaints about a lack of grit on the roads underline the fact that one of the worst aspects about UK weather patterns is how difficult they are to anticipate. It's therefore essential to plan ahead, and to always be prepared for the worst. The following section has tips on:
Purchasing and preparing tyres for winter
De-icing your car or van
What to keep in your car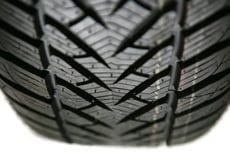 Winter tyres
Elsewhere in Europe, traffic laws actually require motorists to switch to winter tyres for several months of the year. In the UK, with its average annual 33 days of snow and sleet, the extra cost and hassle may make these a non-essential purchase.
What are winter tyres?
They are tyres made of soft rubber compounds with special tread patterns and depth that make driving in snow far easier. They also help greatly in wet weather without massively hindering dry performance.
When and where should I use them?
Winter tyres shouldn't be left on once temperatures consistently start rising above 8 degrees – soft compounds wear down quickly. This limits their use in the UK outside the coldest of months, despite the prevalence of wet weather. These tyres will be more useful for drivers in the north and at high elevations for those in the south.
Are there alternatives to winter tyres?
It is perfectly legal and sensible to drive with standard or all-weather tyres all year round. 3mm of tread is recommended for motoring in freezing temperatures – the legal limit in the UK is only 1.6mm.
The use of snow chains in the UK is recommended only in isolated areas on un-cleared roads. They're cheaper and marginally easier to fit than specialised seasonal tyres, but a lot less useful. In fact, using them is something of a legal grey area: using them when they could cause damage to the road is considered an offence.
What options are on the market?
All of the major tyre brands offer seasonal ranges, as do many of the cheaper alternative brands. The major winter tyre brands are:
Bridgestone Blizzak
Continental WinterContact
Dunlop Wintersport
Goodyear Ultragrip
Michelin Alpin
Pirelli Winter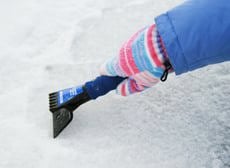 Driving safely: how to de-ice your vehicle
De-icing a car is an essential part of the morning driving ritual, but far too many drivers get lazy or just get it wrong. Simply follow this list of dos and don'ts to learn how to easily and safely de-ice your car:
DO keep a full-strength de-icer and a proper ice scraper in your car
DON'T drive with ice partially or completely obscuring the windscreen or side windows
DO start your engine and get a little heat into your car to assist in the defrost
DON'T pour boiling water onto an icy windscreen – you risk shattering the glass
DON'T use whatever liquids or plastic objects you have to hand as substitutes for proper de-icers and ice scrapers – you may damage your windows or the rubber seals around them
DON'T leave with snow on your car – the law specifically prohibits doing so because it can fall and obscure your vision
Winter survival gear
You should start carrying the following pieces of winter car kit as soon as the cold weather starts – you don't want to be caught out:
Thermal blanket
A warm change of clothes, including boots
Emergency change
A spare flashlight (consider a wind-up model)
A spare ice-scraper
A spare phone or phone battery
A road map
A small shovel
Sawdust or cat litter (to aid traction)
Jump cables
First aid kit (including an extra supply of any medication you take)
Bottled water
Cereal bars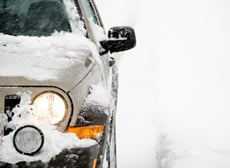 Best cars for winter
Despite our weather's stranger moments, it would be ill-advised for most people to invest in a car solely for cold weather performance. Nevertheless, you may need a more rugged car or van if:
You live in a remote area
You regularly drive off-road or through adverse conditions
Your business or ability to work would be negatively impacted by snow and ice on the roads
Switching to winter tyres wouldn't solve the above problems
Looking for a new lease car to see you through the winter months?
Nationwide Vehicle Contracts has a great selection of in stock car lease deals to help see you through the cold winter months. Call our experience car leasing team on 0345 811 9595 to find a deal that's right for you.
Guide Information